They don't read emails, have an eight-second attention span, and only consume online; these are the nightmares for those who want to develop marketing strategies for Gen Z.
Although they look similar, Gen Z is slightly different from Millennials; they are more screen addicts; that's why social media is much more critical for marketing to this generation. Thanks to their particular characteristics, Gen Z demands innovative marketing methods such as influencer marketing — which tap into their social proof tendencies. This is not exactly what we saw with Millennials.    
It seems like only yesterday that Millennials were the main topic of numerous conversations. They've made such a huge impact on the world around them as they were the first generation to do things differently. 
While Millennials are certainly going to stick around for quite some time, Generation Z will shortly follow. That means that companies need to get back to researching once more to know exactly how to market to this new generation of consumers. 
In this article, I will tell you who Gen Z members exactly are, how they differ from the previous generations, and then I'll talk about the top five Gen Z marketing strategies that you need to consider.
Who Are Exactly Generation Z Members?
Anyone born between 1997 and 2012 is considered Gen Z (short for Generation Z). So, the youngest Gen Z members are now around eight years old, whereas the oldest ones are 23 years old. 
Gen Z accounts for 20.47% of the US generation, closely following the Millennials that make almost 22% of the population.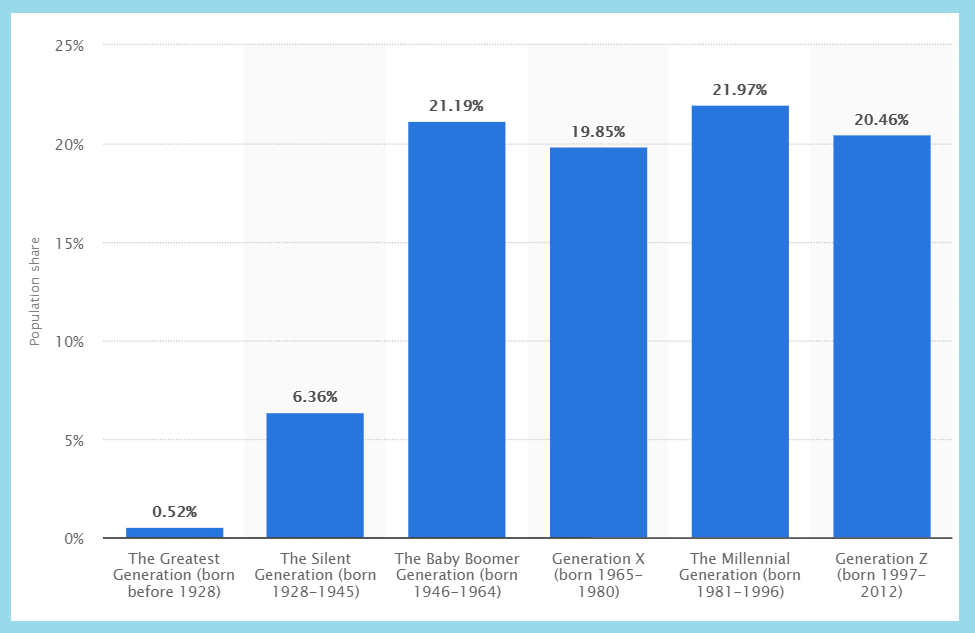 It's worth mentioning that in 2019, Gen Z outnumbered Millennials globally. 
Top 5 Gen Z Marketing Strategies To Consider  
As mentioned above, although Gen Z and Millenials share many characteristics, some crucial differences should be considered when drawing up marketing strategies for them.
In the following, I'll introduce you to the top five strategies for Gen Z that you should never overlook.
1- Say Goodbye to Big Screens And Say Hello To Social Media
Gen Z members are screen lovers, true, but they like the smaller versions. On average, 75% of Gen Z most frequently use a smartphone over computers and other devices. Also, these mobile lovers are twice more likely to want to shop on mobile than Millennials.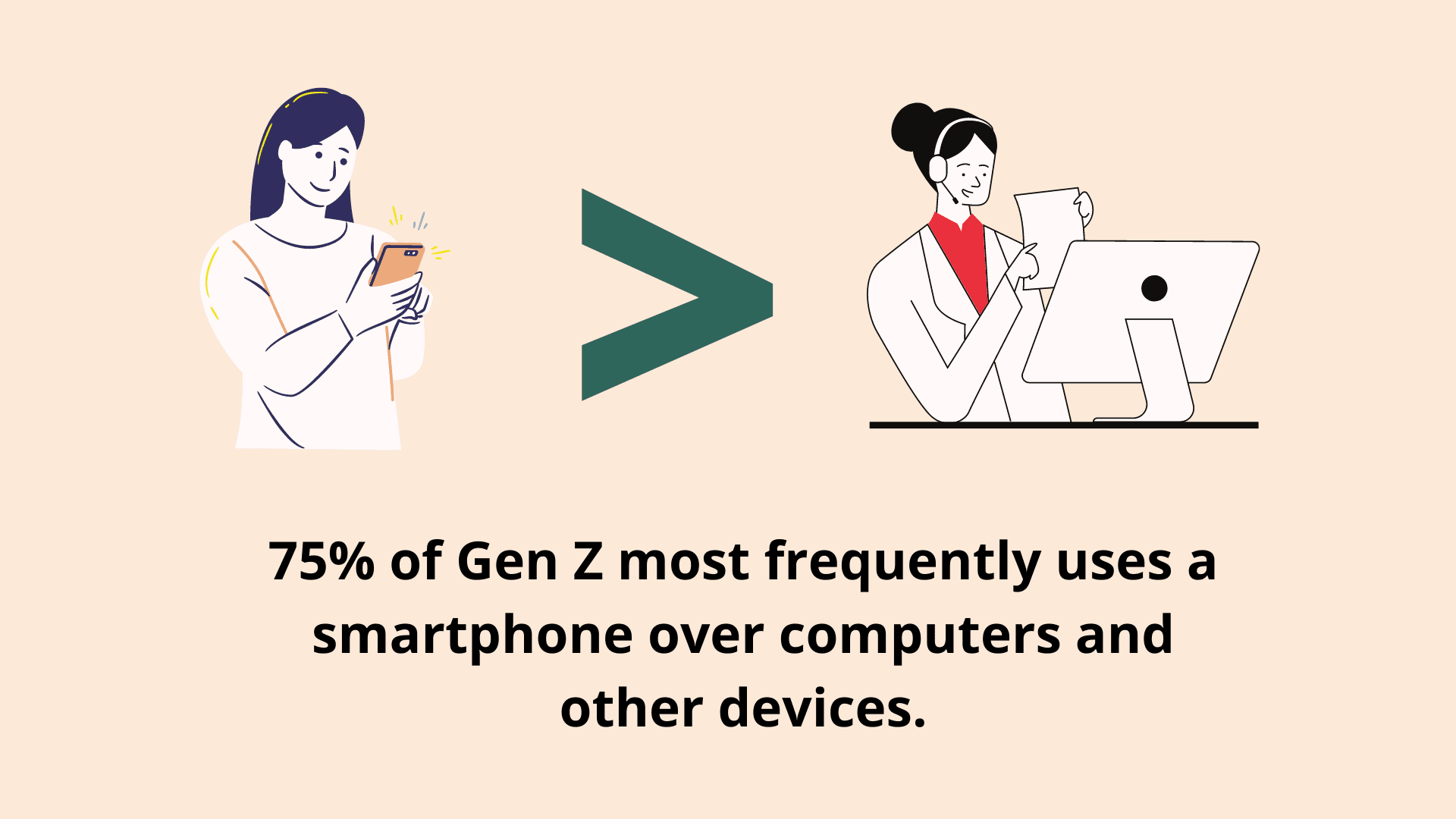 That's why smartphones should be the first player in any marketing strategies for Gen Z. 
As you may have guessed, along with the rise of smartphone popularity among Gen Z, mobile-friendly social media usage has surged too.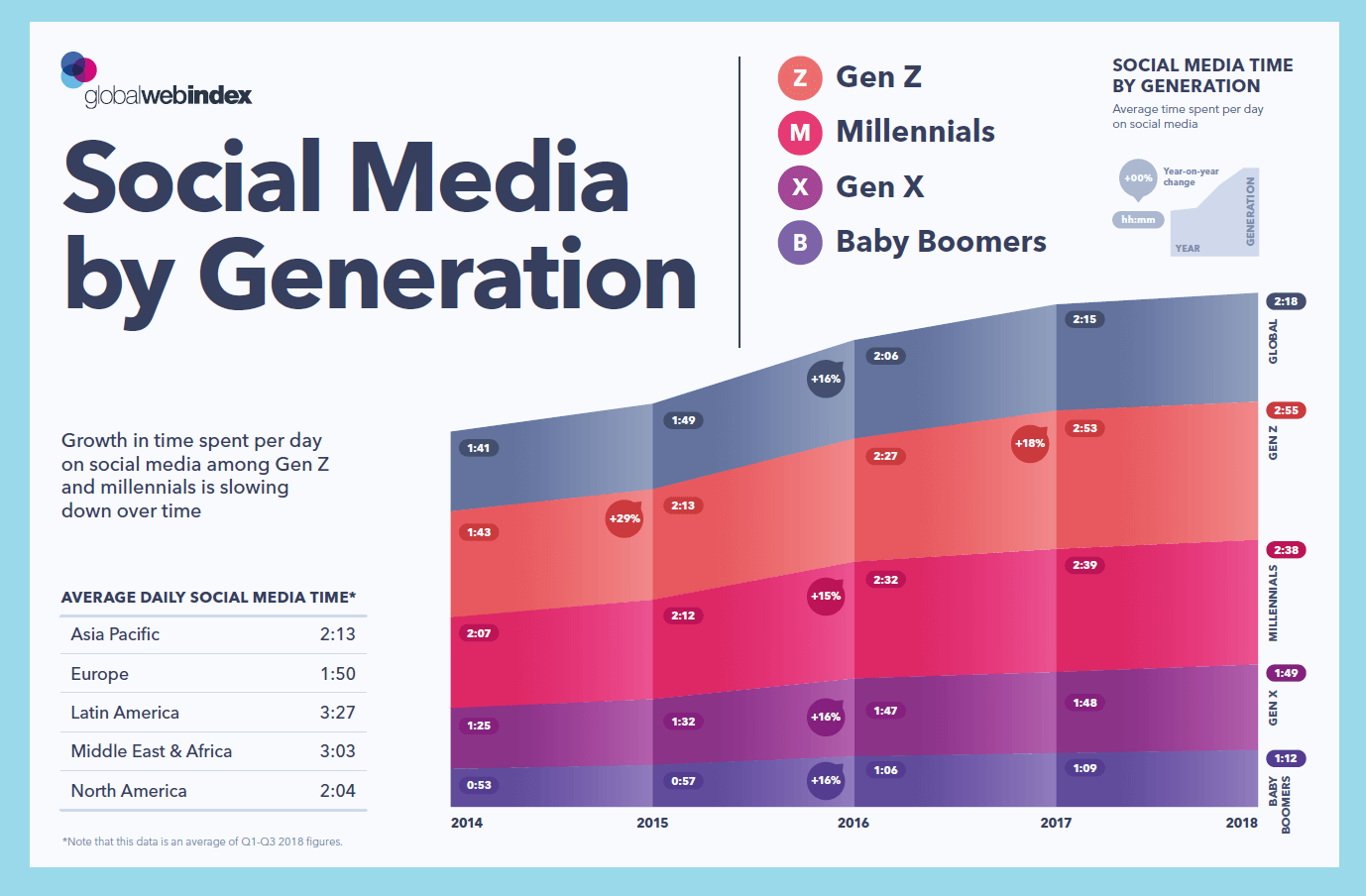 As you can see, Gen Z spends around 2:53 each day on social media, more than any other generation. This trend will continue to grow in the following years. 
So, should you invest in all the social media as the primary marketing strategy to get Gen Z's attention? No.
Why? Because not all social media is equal in the eyes of Gen Z. Look at this chart:

As you can see, Gen Z is more into visual-centric social media such as Instagram and YouTube. So, you may want to focus on these two more than Facebook and Twitter. 
2- E-WoM Is Taking off More Than Ever
There were good old days when you would hire a good-looking actor, shoot a great commercial for TV, and drastically surge your sales. These days, according to InfluencerDB, only 29% of users trust traditional advertising, and the rest (81%) trust personal recommendations over brands. 
See this chart that illustrates the changes in the percentage of different generations watching TV.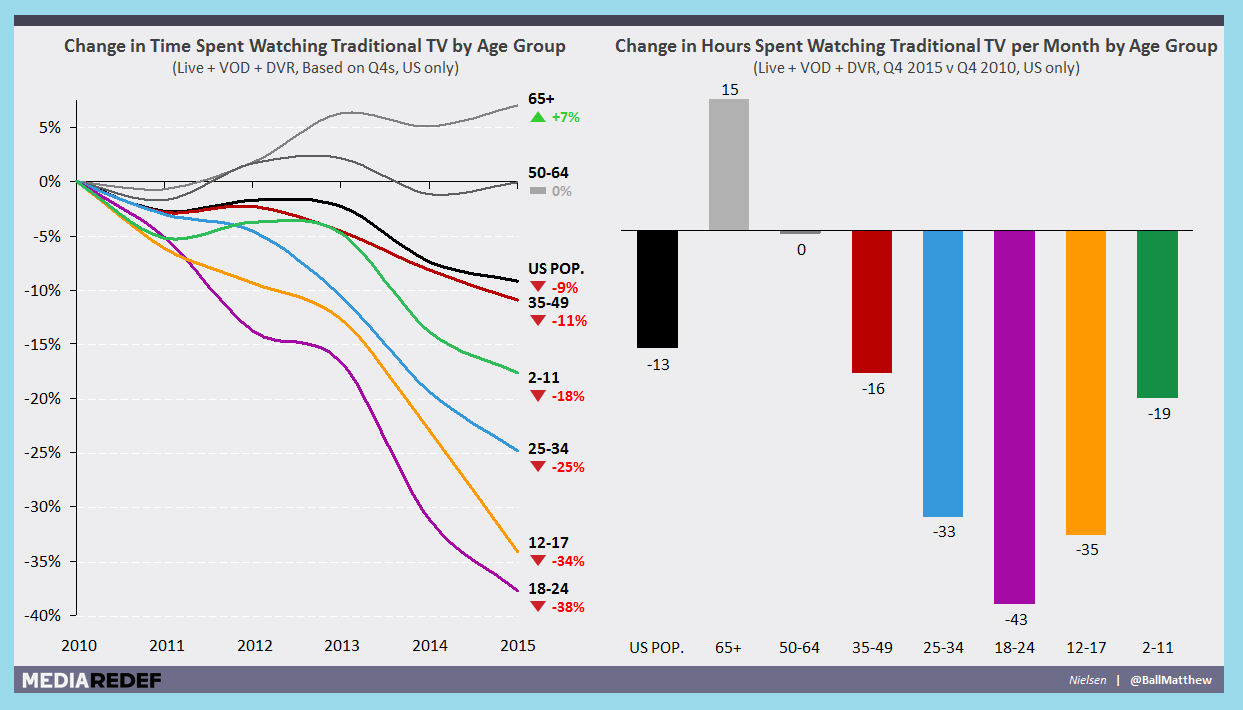 In 2010, Social media such as Facebook, YouTube, and Twitter were perfectly known among people, and Facebook just launched Instagram. See those yellow and purple lines? Those are anti-TV Gen Z. 
Now that Gen Z does not like watching TV nor your advertisements anywhere else (including social media), how can you persuade them to become your customers?
Thanks to social media, this is no longer a problem. 
Studies showed us that 48% of Gen Z had made a second-person word-of-mouth recommendation. If they see something interesting on social media, they just hit the share button and send it to their friends. 
But you can't sit and hope maybe they recommend you to their friends. It would be best to reach out to people who many of the Gen Z members trust and consider their friends. You can call these people social media influencers.
Influencer marketing has always been a great way to reach specific audiences and help your business out. However, the days of hiring top-tier influencers are long behind us. Just remember the commercial Pepsi did with Britney Spears back in the day.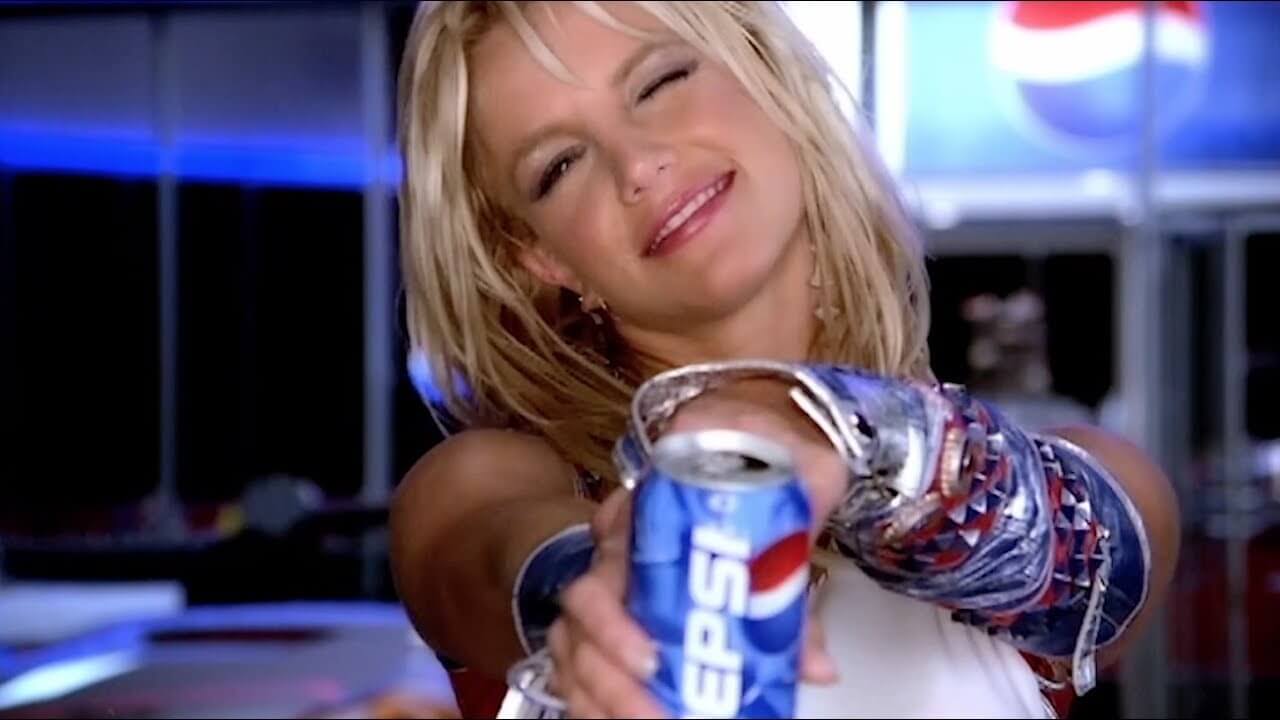 The cost of that campaign reached millions. Nowadays, brands turn more towards social media micro-influencers, especially on Instagram. 

According to a survey by Faktenkontor, half of the people under the age of 20 have purchased a product or service promoted by an influencer. Also, Seventy percent of Gen Z follow at least one influencer on platforms like YouTube or Instagram. So, as you can see, influencers are a big deal to Gen Z!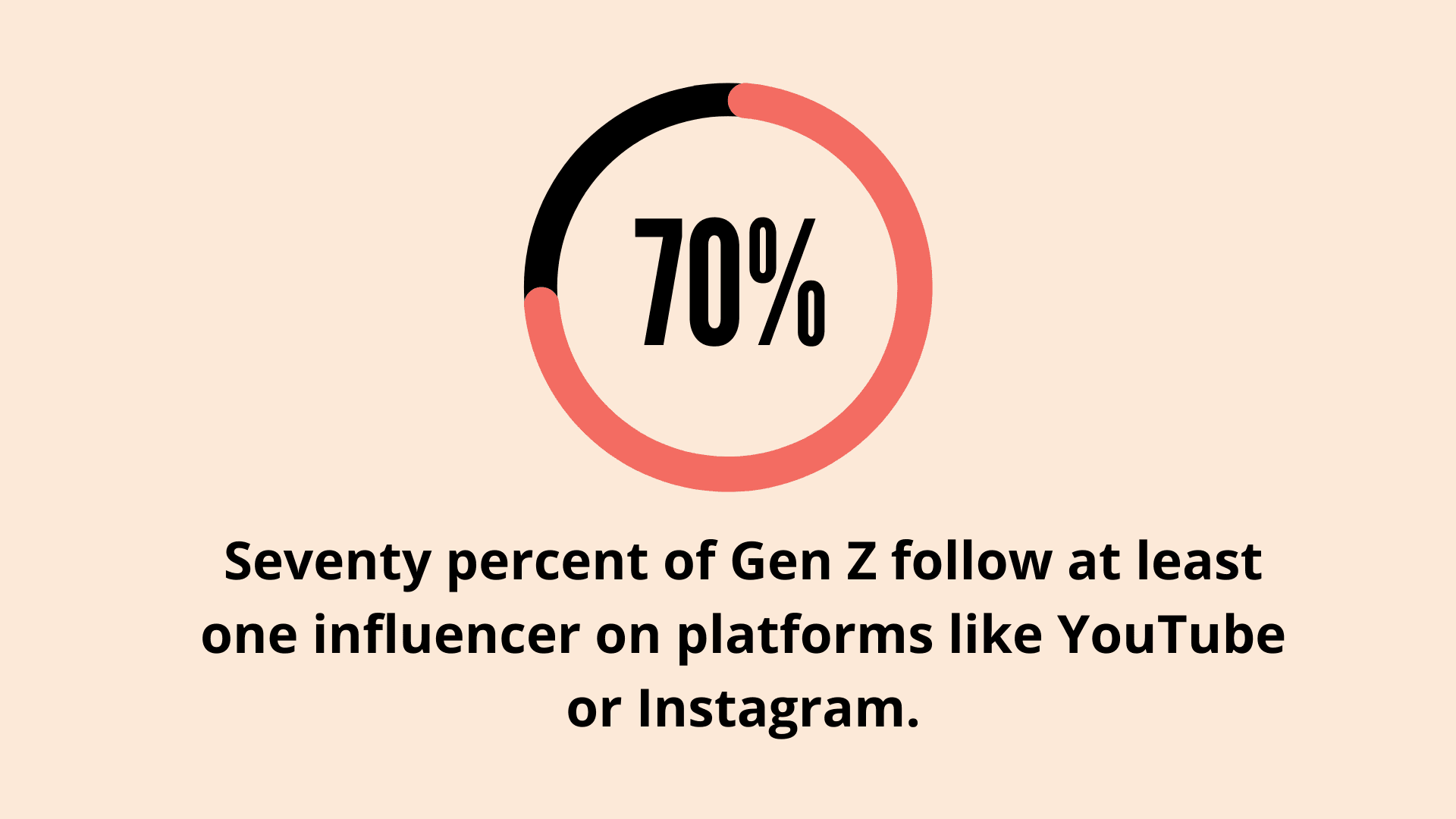 Instagram: The Leading Social Media For Gen Z Marketing Strategies
Instagram has many features that make it unique for both brands and Gen Z. From sharing photos and videos in different formats and interactive Stories to keeping up with the latest trends and even educating content. Not to mention that with the help of Instagram shoppable and close-knit communities, Instagram is becoming one of the primary sources for making money online for both brands and influencers. 
Instagram micro-influencers are all the rage these days. As someone who outlines marketing strategies for Gen Z, you should invest in these types of influencers, especially if you run a small or startup business or want to target a specific kind of audience on Instagram. 
Remember, mega-influencers and macro-influencers might act like a machine gun and target all types of audiences, but sometimes, it's better to have a sniper in your team to do the job neat and clean. 
And want to know the best part? Micro-influencers have the highest Instagram engagement rate among their other big-name colleagues.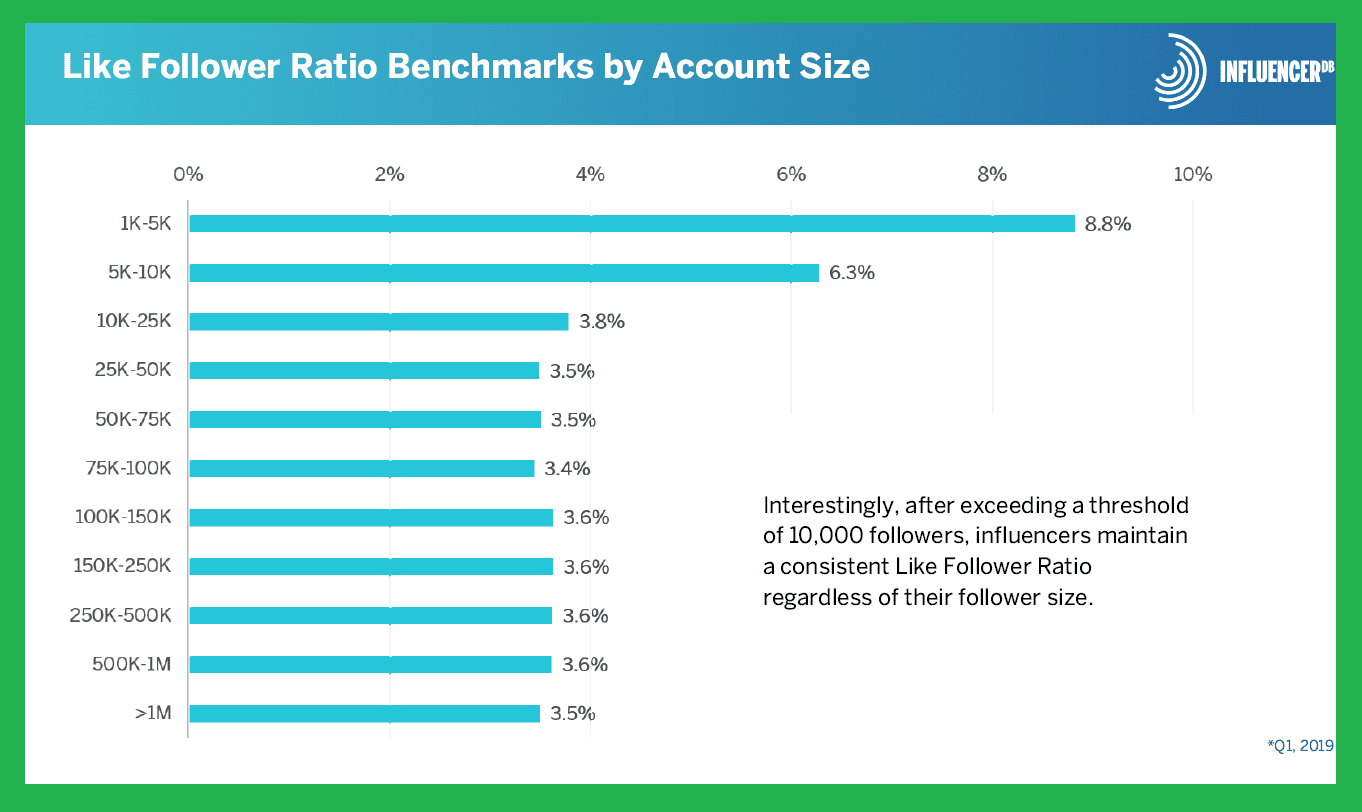 This means you'll get better results using micro-influencers with less than 10k followers. That's why many major brands on Instagram use micro-influencers to promote their product.
Forever21 Plus is a sub-brand of the well-known Forever21 brand, and as the name indicates, it focuses only on sizes XL – 3X. Running micro-influencer campaigns using plus-size models seems to be a perfect strategy for this brand as it has targeted a particular group of audiences. 
3- Bring Gen Z Value to Your Brand
It turned out that Gen Z is a highly value-oriented generation. They put so much value in human equality, family, personal success, financial security, individuality, and, most of all, authenticity and transparency. 
If you pay close attention to the successful brands that market to Gen Z, you'll find these values perfectly woven into their content. 
Let's go over some of these qualities and how you can manifest them in your marketing strategy for Gen Z, and you'll see that it's not strange at all to call Gen Z members old souls in young bodies.
Authenticity and Transparency
Gen Z members are not looking for companies they will do business only once with; instead, they're looking for businesses they can keep working with in the future. To Gen Z, businesses that foster the relationship with their customers are quite appealing. 
And let's face the truth, Gen Z is smart and doesn't fall for marketing traps anymore. They make sure what they buy online is worth their money. Actually, 68% of Gen Z reads three or more reviews before making a first-time purchase.
So, all you need to do is be yourself when you want to promote to Gen Z. Don't exaggerate or use hyperbolic language to persuade them to buy your products. Instead, show them how your products will help them in their everyday life.
Maybe that's why user-generated content campaigns are working so well these days. 

You can even track Gen Z's respect for authenticity in the influencers' trends last year. No makeup posts and low-budget creative videos are some of these examples. 
Moreover, transparency is another key to success. This is particularly true in this day and age. Consumers can nowadays learn all they need to know about a company without even visiting their website. In most cases, modern consumers do just that before they decide to try a brand out. 
That's why businesses need to put transparency front and center. A great example of this is one of the best review websites AskGamblers. Within their niche, in particular, transparency plays a crucial role. That's why, today, AskGamblers is deemed one of the most reputable resource websites in the industry. 
Do The Right Thing
If you want to be the brand that Gen Z chooses among hundreds of other brands, you must try sustainable marketing strategies. In this approach, you need to appreciate their concerns about social equity, charity works, the environment, and other similar values. 
Gen Z members tend to be activists in politics, the environment, and human rights issues. That's why they prefer to purchase from companies that somehow help solve these issues. No wonder their role model is someone like Greta Thunberg. 

There are many ways that you can address these issues while preparing marketing strategies for Gen Z. For example, and you can go green like Dell that announced "no computer should go to waste," or like Mcdonalds that got rid of the foam coffee cups by switching to double-walled paper containers, which are 100% recyclable.

You can also allocate a percentage of your income to human rights organizations, charities, or even protecting the environment. 

Make sure you inform your customers that if they buy your products, they will help too. 

Personal Experience
Gen Z is the generation that grew up with the internet. As such, they've already come in contact with various products and services from a very early age. That's why simply trying to sell them what you have to offer usually won't work. Gen Z is not just looking to make a purchase. They're actually looking for the experience that follows it. 
And you may think as Gen Z members are heavy internet users and make most of their purchases online. Well, it's not the case; actually, Gen Z tends to purchase less on social media!

As you can see, only 25% of Gen Z use social media channels to purchase something. But don't worry, look at the brand Interaction and product research. These charts suggest that Gen Z still has a pretty close relationship with brands on social media, and brand awareness and loyalty are the greatest awards of this relationship. 
That's why companies should focus on putting more emphasis on the said experience. For that reason, companies that offer products and a great idea that follows them stand to gain a lot. 
For instance, brands like Urban Outfitters offer cute and trendy clothes. But they also offer the vibe of edginess and uniqueness that appeals to their audience. Also, take a look at their Instagram account: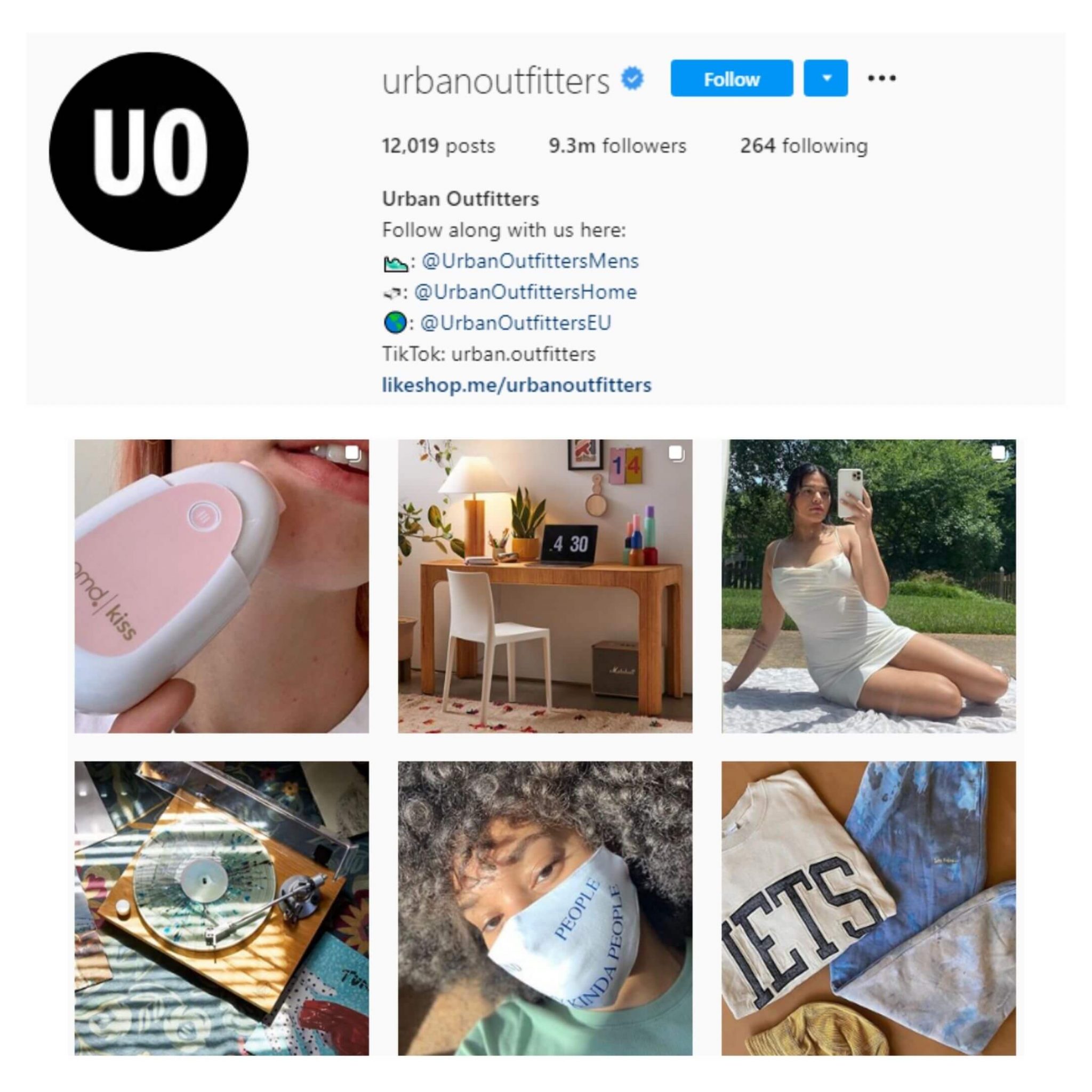 That's why some experts say that, nowadays, 25% of what you sell is your product and 75% is the experience, especially on social media websites like Instagram. So, offer an experience rather than products and improve your strategy to sell on Instagram. 
4- Use Video to Boost Your Gen Z Marketing Strategies
It's no secret that video content is an excellent way to overtake the world of content entirely. Today, it's the most sought-after and consumed type of content, especially for Gen Z, who actually prefers this type of content over any other. Studies showed that Gen Z watches between two and four hours of YouTube and less than an hour of traditional television per day.
That's why marketers need to pay more attention to producing high-quality, entertaining video ads. Again, it would help if you were careful not to shill your offer with your audience. Instead, it would be best if you offered them a chance to learn and entertain themselves as well.  
By the way, one of the best platforms to share short videos is Instagram, especially now that Instagram Reels is available. Actually, if you have channels on YouTube and TikTok, a great way to boost your video views is to share them on Instagram and add CTAs to invite people to watch the videos you have shared. This way, you may need to convert Tik Tok videos to Instagram posts or share a YouTube video on Instagram.
Unfortunately, this is not possible using the Instagram app itself. However, using an Instagram scheduler like AiSchedul, you can make it way easier and share longer videos on your Instagram account. So, go ahead, sign up for free, and give it a try.
5- The Less is More
You'd probably heard that Gen Z has an attention span of eight seconds. That's one of the biggest nightmares of any marketing strategist. But does this mean that younger generations suffer from a lack of focus?
Absolutely not! Actually, these eight seconds are a blessing; it works as a smart information filter! Think about it; Gen Z is bombarded every day with a massive volume of information. Processing every single of this information is literally impossible. To make it short: content is limitless, but not the time.
So, this eight-second filter acts as an immunity system, alarming the user not to waste their time on every content they see.
As somebody who develops Gen Z marketing strategies, you need to pay attention to this important insight. This short span of attention gives birth to new content formats that are short, concise, and informative.
Think about it; Gen Z is the number one fan of TikTok, a platform that allows them to upload short videos. Even Netflix is focusing on mini serials more than ever. If you watch any shows you don't have access to, consider getting a cooltechzone VPN. And finally, microblogging on Instagram is becoming very popular among bloggers.
So, try not to fluff and keep it short for Gen Z, as time is precious to them! 
Final Thoughts on Gen Z Marketing Strategies
As you can see, these strategies that seem to work best for Gen Z aren't hugely different from those that apply to Millennials. These strategies most commonly focus on keeping no secrets and being transparent with everything you do. Nowadays, checking a business out is super easy. So, make sure that anyone looking for your business will only see honest, positive things.