Engaging with your followers and responding to Instagram DMs is just one way to use Instagram for business and gain more Instagram followers effectively. Obviously, sending Instagram DMs on your desktop to your customers is much easier than using your smartphone's tiny screen. 
Interacting with a considerable amount of customers needs a dedicated time and plan. Since April 2020, all Instagramers globally can send and check messages on their PC or Mac desktop, as well as from their phone.
In this article, you'll learn how to send Instagram DMs on your desktop easily and efficiently.
What Are Instagram Direct Messages?
Instagram DMs are private messages between one Instagramer and another one or a group of users.
Instagram DMs don't show up to anyone or in your brand's feed, profile, or search. Solely you and those you are contacting can see the direct messages.
Basically, Instagram DMs are sent by Instagram Direct. This is an Instagram messenger on a desktop or phone where private messages are collected.
To access Instagram Direct to check your Instagram DMs on desktop or smartphone, click on

.
How to Send Instagram DMs on Your Desktop?
Fortunately, everyone can make and reply to Instagram DMs on their Mac or PC desktop without downloading apps or features.
You can send a message on the Instagram desktop by going through the below steps:
1.Log in to your Instagram account
Using a web browser, log in to Instagram.com.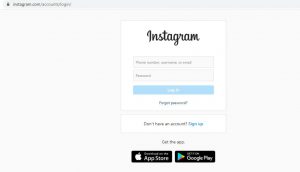 2.Click on the
 In the web page's top right-hand corner, click on

to navigate to Instagram Direct.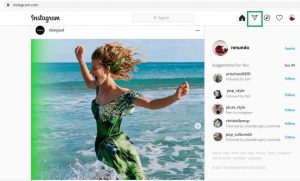 3.All your Instagram DMs are in the List
You will notice all your DMs here, and Unread direct messages will show up first in the list.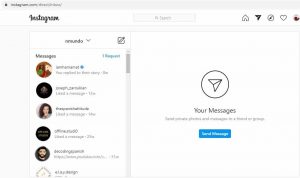 Also, to create a new DM, there is an option here. Therefore, to begin a further interaction, click on the blue Send Message button.
Type in a user's name to begin a new person-to-person interaction. And you can message any brand or user that you follow.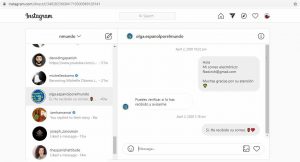 Moreover, it is possible to create an Instagram DM group to boost engagement and build brand awareness campaigns. In fact, you can send DMs to up to 32 people on Instagram Direct.
Additionally, you can like, copy or report Instagram messages on the desktop by clicking on the three buttons next to the Instagram DM.
4.Forward other users' content
In addition to written messages, Instagram DMs can include photos, Instagram Stories, polls, IGTV clips, and GIFs. Likewise, you might want to interact with Instagramers in a DM by sharing other users' content.
In this case, go to the photo, video, or IGTV you desire to share privately. Click on

under that post. After that, pick how you want to share the content.
By clicking on Share to Direct, you can send the content via Instagram DM on your desktop.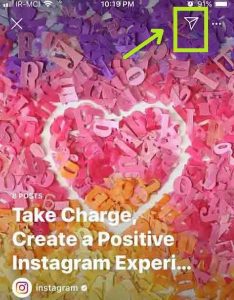 Sending Instagram messages on a desktop using the native Instagram app is excellent. However, you can not send mass DMs or bulk messages, and there is a limitation of users' amount. 
Now, the question is: How to send messages on Instagram desktop more easily?
Send Instagram Direct Messages on Desktop via AiGrow
AiGrow, an All-in-one Instagram management tool, is one of the most popular and trusted Instagram marketing tools available on the market.
Actually, it offers several services, such as a VIP growth service, Instagram scheduler, engagement pods, and a professional Instagram DM tool. Here we are focusing on the DM feature, but you can sign-up for a free account and test all the features.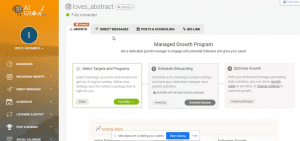 This app lets you send and receive Instagram direct messages on desktop, Auto-send personalized direct messages to anyone on Instagram, receive your direct messages inside the email of your choice (Gmail, Yahoo, etc.), and reply directly from your email inbox. Above all, you can add 80 accounts to your platform and manage your DMs and respond to them by email and manage Instagram direct messages on the desktop for multiple Instagram accounts at the same time.

Manage Instagram Desktop Messages and Reply on Desktop
Find and filter all of your sent, read, and unread DMs and reply directly on your desktop. You can also manage Instagram DM notifications and share links, images, and videos inside your DMs with the same interface as your Emails. Most importantly, you can save a DM video on Instagram in a minute.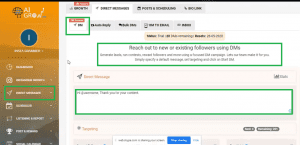 Can you message on the Instagram desktop in different categories?
Yes. Indeed you can select to send DMs to:
New followers

Current followers

Excel List

Influencers Followers

Tags Users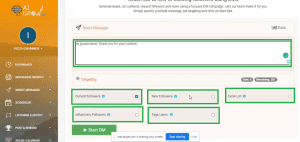 In fact, using this feature, you can send welcome messages to your new followers, select your target recipient from your excel list, and choose an influencer and send messages directly to their followers.
Auto Direct Message on Instagram Desktop
AiGrow helps you send auto direct messages to your target audience and share links and images in your DMs directly from your desktop.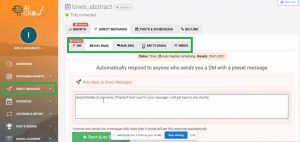 Instagram Desktop Bulk DM
You can easily send bulk DM to make a relationship with a group of your followers and customers.
Therefore, you can set an auto-reply and send it to your selected customers as bulk DM to the followers who have followed you before and send promotion code or coupons to your loyal followers.
Also, using bulk DMs is a good idea for Instagram marketers to host giveaways on Instagram accounts.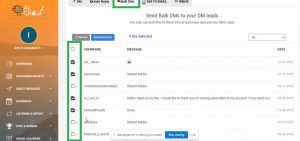 Instagram Desktop Messages to Email
Inside your dashboard, insert your email and activate the feature. Then, you can send and receive your Instagram direct messages from your email inbox on your desktop or any other device.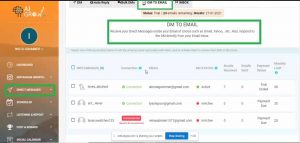 You can check your DM in your inbox and sort and filter your DMs and download photos and videos. Additionally, if you check your DMs from your inbox, you can mark it as an unread message. So your sender will not know whether you have seen their DMs or not.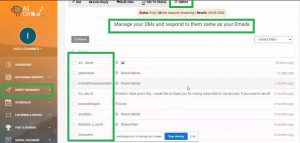 Final Words
Recently, Instagram has been overgrown with its billions of users, and now it is the second topmost popular social media platform after Facebook.
Initially, Instagram was designed as mobile-only, but it keeps adding more features for desktop users, which is excellent news for freelance Instagram marketers. 
To sum up, Instagram DM on the desktop will help you interact with more customers, generate email leads, grow your business, and build brand trust and credibility.