In continuing our series looking at Instagram automation tools from around the web, today we turn to IG Hoot.
All you really need to immediately know about the service can be summed up in this one-liner from IG Hoot's website: "IG Hoot is a free, safe, and spam free Instagram autoliker, auto follower tool developed by Azor Ahai".
We decided to put IG Hoot to the test and see how it compared to our own Instagram growth service, AiGrow.
Our comparison consisted of five categories:
Setup
Connecting Instagram account
Targeting
How it works
Maintenance
AiGrow vs IG Hoot – which one is the best Instagram followers app?
Setup
IG Hoot
There appear to be a couple different ways set up IG Hoot:
The most straight-forward way to is to type "ighoot" into Google and click on the first result, or simply navigate to www.ighoot.com.
Download the IG Hoot app from Google Play Store.
If you choose to download the app, the setup is a little more confusing.
The app you download from the Play Store serves little purpose other than to tell you to download another app. To save you the time, type "ighoot" into Google on your Android's browser and click the second result.
Download IG Hoot from this website. This is the app you want.
Simply type "AiGrow" into Google and click the first result, or go to https://aigrow.me
When on the homepage, click "Free Trial".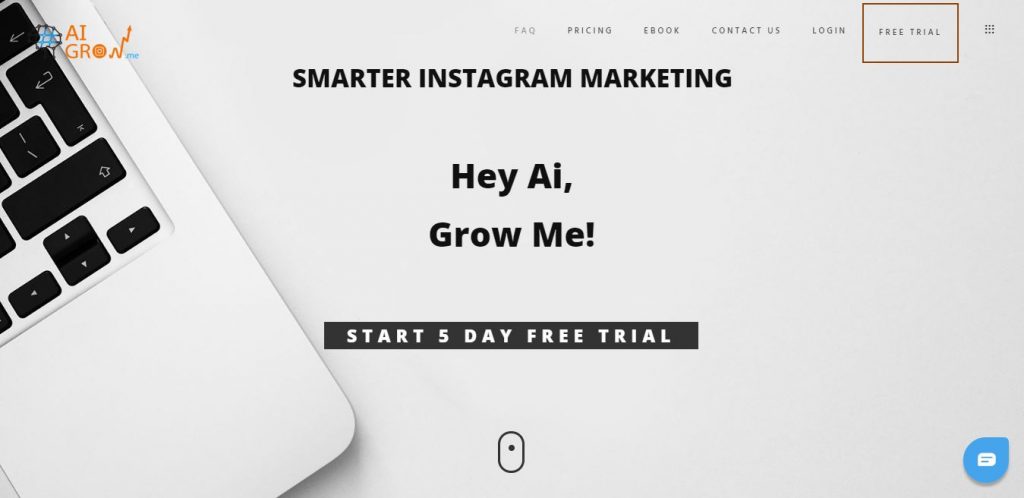 Provide your name, email, and the desired password. Click "Register Now".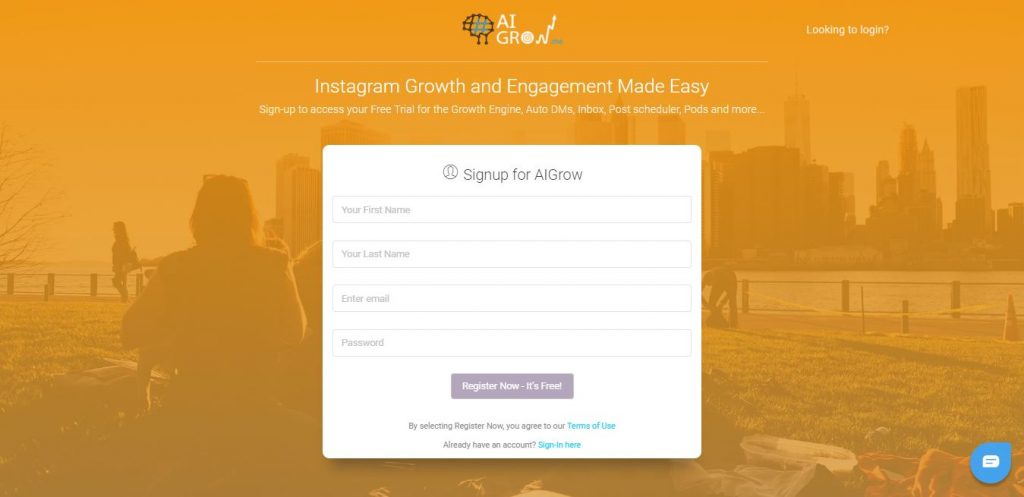 Congrats! You've just set up AiGrow.
Connecting Instagram Account
IG Hoot
After either visiting the website or downloading the app, you will be presented with a login screen. Adding your Instagram account is as simple as entering your login details.
AiGrow
After logging in you will be brought to your dashboard, which looks like this: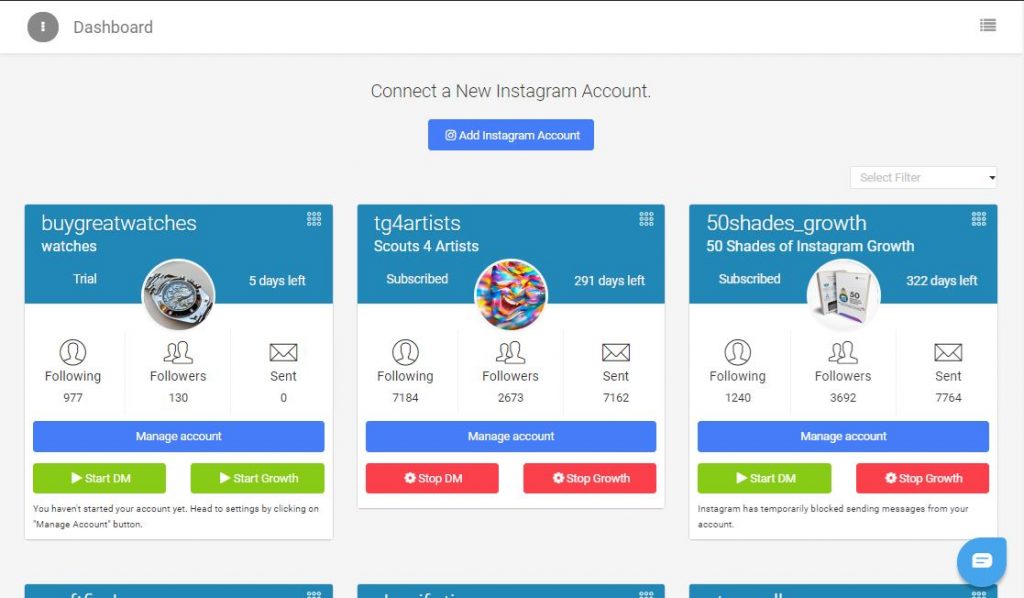 Here you can see all of your connected Instagram accounts (unlike IG Hoot, you can grow multiple accounts at once). To add a new account, click "Add Instagram Account".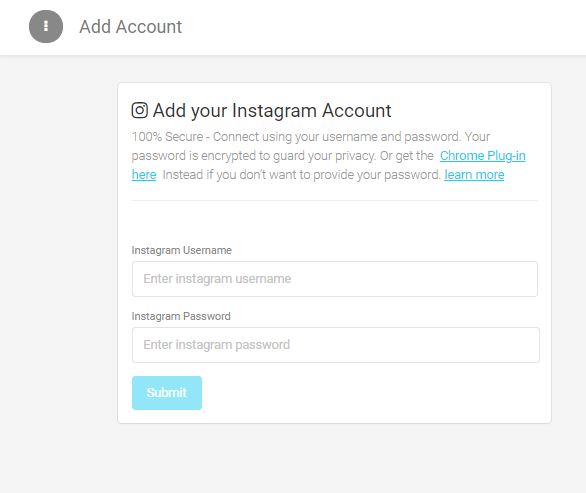 From here, simply log in to your Instagram account as you normally would on your phone.
Targeting
IG Hoot
IG Hoot offers two main features: Auto Liker and Auto Followers.
Auto Like offers the following targeting options:
Option to choose what photo on your channel you want to gain likes for
Option to choose a photo on someone else's channel (just provide the URL)
There are currently no targeting options for the Auto Follow feature.
With AiGrow you can auto like, auto comment, auto follow, auto unfollow, and even auto DM. To gain a sense of the number of targeting options available for each of these features, have a peek at the short video below:
Just some of the targeting options available to AiGrow users:
Location
Hashtag use
Competitor connection
Speed of distribution ("x" number of likes/comments/follows/unfollows per hour)
Follow/unfollow cycles (example – after you follow 100 people, you will begin unfollowing those who haven't followed you back)
How it works
IG Hoot
Although it's not explicitly stated anywhere, it appears that IG Hoot operates on an auto-exchange system. What that means is that it uses its members' accounts to follow and like other members' channels.
This is assumed because of disclaimers like this one:
AiGrow takes the model above, an auto-exchange system, and adds the option for deep customization. Using the targeting options described in the video above, AiGrow uses your account to automatically like, follow, unfollow, and comment on real channels with the intention of driving relevant traffic back to your channel (and ultimately converting that traffic to followers).
Unlike IG Hoot, wherein you don't have the ability to choose who you interact with, you don't have to worry about engaging with irrelevant or risky channels – at no point will AiGrow perform any action from your Instagram account without your permission.
Maintenance
IG Hoot
There is currently a disclaimer on the top of IG Hoot's home page which reads:
It is January 22nd, 5 days after this disclaimer was placed. Figuring the service might be now working and that they may have just forgotten to take down the warning, I tried logging in.
Apparently, the service is still down. These types of halting issues could prove frustrating to people looking for an automated Instagram solution (or… those people looking to actually use the app).
What IG Hoot does have, however, is a contact page with dedicated emails for both feedback and service help.
AiGrow
After setting up your targeting options, simply hit "Start Growth". AiGrow will start to run and continue until you tell it to stop. And if for whatever reason something forces your growth to stop, we will let you know immediately through email and provide possible solutions, as shown in the example below:
Price
IG Hoot
IG Hoot is a free service with no apparent options for paid upgrades or plans.
AiGrow
AiGrow offers a five-day free trial offering the full functionality of the app.
Below is AiGrow's starter price package for consideration after those five days: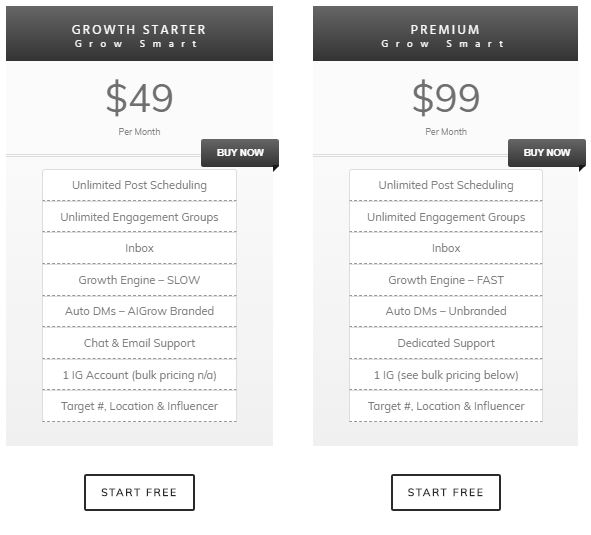 It may not be completely free, but with a small fee comes exponentially more opportunity for growth (the use of automated DMs, a content scheduler (post photos from your desktop for days, weeks, or months ahead), 24/hour support, and the opportunity for unlimited growth on multiple accounts, etc.)
---
Whether you're looking at the ease of initial setup, usability, the number and precision of targeting options, the authenticity of followers gained, or long-term maintenance, AiGrow emerges as the clear victor.
For those interested in trying out IG Hoot for themselves, I would suggest downloading the app on your Android or Windows phone. For those interested in trying AiGrow, here is a link to the sign-up page.
In the meantime, if you're not already using a service like the two described above, read through our article on the benefits of using an automated Instagram growth app to learn what you're missing out on.