The practice of link-building serves as the cornerstone of effective SEO techniques in the field of digital marketing. What works well in one industry might not always produce the same results in another.
Adjusting and fine-tuning your digital marketing strategy, which includes your link-building approach, is nothing short of crucial for businesses operating in niche markets.
In this article, we'll delve into the nuances of link-building in specialized markets and provide you with practical tactics suited to your expertise.
Understanding Niche Industries
Specialization and a narrow audience base are the characteristics of niche industries. In contrast to broad industries like fashion or technology, niche markets serve a small number of customers with incredibly specialized wants and demands.
It is essential to first develop a thorough understanding of what makes these markets unique if you want to succeed at link-building for niche markets. The focus of niche industries is frequently a certain range of goods, services, or pursuits.
For instance, specialized industries with clearly defined target audiences include those that produce organic pet food or collect antique watches. Your ability to create a more targeted and successful Link acquisition plan depends on your ability to recognize the particular qualities of your niche.
How to Design the Perfect Link-Building Strategy
Now that you understand the concept of niche industries, let's go over some of the best tactics that will allow you to design the perfect backlink building strategy: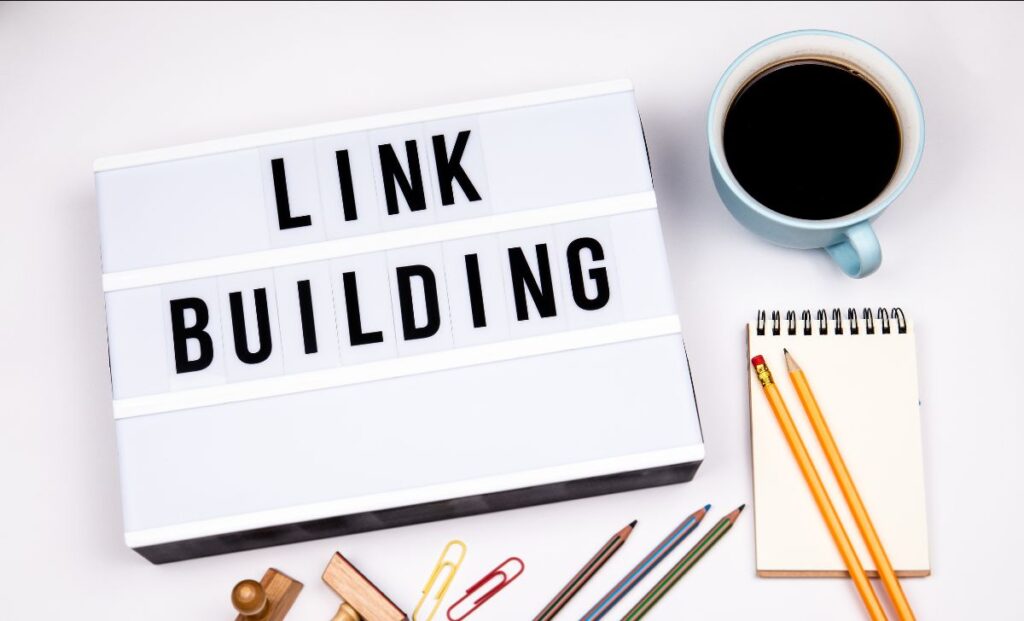 1. Identifying Niche-Relevant Platforms
Finding platforms that are relevant to your specialty is the first step in designing your link-building strategy. These platforms might include discussion boards, blogs, or niche social media pages.
By actively participating in these forums, you not only establish a connection with a particular audience but also establish yourself as an authority.
"It's critical to consider where your audience is located when attempting to create links inside specialist sectors. Start by completing extensive research to identify the groups, websites, and platforms that are most pertinent to your specialty.
Engage sincerely in these conversations, offer insightful contributions, and position oneself as an authority. As a result of your proactive involvement, you will have more chances to generate natural links as other people will reference your work and acknowledge your expertise." – Lieu Dang, Marketing Manager at Ling app
2. Crafting Niche-Specific Content
The creation of content that is customized to the special preferences and difficulties of your audience is the cornerstone of any effective backlink building plan in a specialized market. Niche-focused content increases your influence within the industry and draws more pertinent backlinks.
"To establish links for niche businesses, it can be difficult to create content that truly speaks to your audience. To get past this obstacle, undertake in-depth market research to identify the particular problems, passions, and issues that characterize your niche.
With this knowledge, create informational and thorough material that covers these niche-specific challenges. Your content, whether it takes the form of blog posts, tips, videos, or infographics, should be a go-to source for your niche."- Jeff Romero, Founder of LinkVerse
3. Collaborating with Niche Influencers
Influencer marketing is not just used in traditional sectors of the economy. Your efforts to build links can be greatly influenced by finding and working with influencers or opinion leaders in your niche.
"Link-building can benefit greatly from the interaction between your brand and influential people in your niche. Start by investigating and identifying those in your niche who influence your target audience.
Make contact with them, highlighting how your objectives and principles are in line. Interview people, co-host webinars, or collaborate on content.
Influencers can increase your brand's visibility inside the niche by endorsing it and distributing valuable backlinks through their networks."- Tiffany Hafler, Marketing Manager at Blockchain Lawyer
4. Leveraging Industry Associations
Particular groups, forums, and communities are frequently found in niche sectors. Membership in these organizations and active engagement in their forums and activities can offer priceless chances for link earning.
"Engagement with industry-specific organizations and groups is a frequently overlooked aspect of link-building within specialized sectors. These businesses act as gathering places for experts, enthusiasts, and customers.
Join industry-specific organizations that are important to you and get involved to get the most out of this resource. Attend events, participate in discussions, and offer insightful commentary.
By having a presence within these organizations, you can expand your understanding of the sector and possibly open up new possibilities. To get quality backlinks from the association's websites, work with them on cooperative projects or support their events." – Dean Lee, Head of eCommerce at 88Vape
5. Guest Posting on Niche Blogs
Even in specialized areas, guest writing is still a powerful link-building tactic. Finding reputable topic blogs that welcome guest posts and contributing your knowledge through guest articles can help you build high-quality backlinks and raise your profile within your target market.
"Building high-quality relationships inside specialized industries with the use of guest posting is still a flexible and productive strategy. Start by locating well-known specialized blogs and websites that accept guest posts. Find out about their favorite themes, target market, and content rules.
Create guest blogs that highlight your industry knowledge and the interests of your audience. Include links to your website in your author bio to create a natural and worthwhile chance for link-building.
To increase the chance of future collaboration, make sure your content offers true value to the visitors of the host website." – Timothy Allen, Director at Oberheiden P.C.
6. Tailoring Outreach Initiatives
A one-size-fits-all strategy is rarely successful when looking for Link acquisition chances. Your success rate can be considerably increased by personalizing your outreach communications to demonstrate your expertise in the target market, the value you provide, and how it fits with the recipient's interests.
"Link-building effectiveness depends on outreach, and personalization is essential in niche markets. Outreach messages that are impersonal and generic are likely to be ignored.
Spend your time learning about and comprehending your outreach objectives. Communicate in a way that shows you are knowledgeable of their particular market and how your partnership or content may benefit their audience.
Through targeted outreach, you may develop relationships within your niche that not only improve your chances of obtaining backlinks but also foster long-lasting alliances that can help your brand expand." – Cindi Keller, Communications Manager at THE CRIMINAL DEFENSE FIRM
7. Monitoring Niche-Specific Keywords
Effective keyword research is a critical component of link-building success. Finding niche-specific keywords with reduced competition in the world of specialist industries can give a tactical edge.
By focusing on these keywords in your content optimization, you may improve your search engine positioning and draw in backlinks that are relevant to your industry.
"Any SEO plan still needs to include keyword research, and it takes on a special dimension in niche businesses. To find niche-specific keywords and long-tail phrases that are pertinent to your target audience, start by conducting extensive keyword research.
Consider using keywords with less competitiveness but still high search traffic. You can strategically use these keywords in your content to improve search engine optimization and raise the possibility of obtaining backlinks from relevant websites.
To make sure that your content continues to reflect the interests of your target audience, keep an eye on keyword trends in your niche." – Marie Ysais, Founder of Ysais Digital Marketing
8. Analyzing Competitors
A tried-and-true technique for improving your link-building approach is competitor analysis. Studying your rivals' strategies in niche markets can reveal openings or holes that they may have missed, giving you a competitive edge.
"Keep a close eye on your competitors' Link acquisition tactics if you want to stand out in a niche market. Determine your main rivals in the niche, to begin with, then thoroughly analyze their backlink profiles.
Pay particular attention to the places where their backlinks come from, the kinds of material they use, and the outreach strategies they use. Look for trends and any potential gaps in them. Have they accessed any specific industry journals, forums, or websites? Do any holes in the content that your brand could fill?
You may improve your position in the competitive environment of your specialization by recognizing these possibilities and taking advantage of them." – Daniel Foley, Founder of Daniel Foley SEO Consultancy
Conclusion
It's crucial to keep in mind that creating links in specialized sectors takes time and effort. It will eventually pay off to consistently provide content to your audience and actively look for link-building chances in the form of better search rankings and more brand visibility in your niche.
Your link-building efforts will provide long-lasting results if you embrace the particular opportunities and challenges of your area.
In conclusion, connection development in specialized sectors may have its own unique set of difficulties, but the benefits are well worth the work. You may successfully develop high-quality backlinks, improve your online reputation, and establish a strong presence within your specialized business by customizing your strategy and concentrating on niche-specific tactics.
Therefore, put your hands to work, interact with your specialty community, and start a link-building trip that will distinguish your company in the online environment.