Would you consider using Twicsy to buy Instagram followers and grow your business? If so, you are in the right place. In our ongoing mission of investigating third-party services, we decided to have a comprehensive Twicsy review!
So, reading this review and comparing it with other Twicsy reviews can help you make a wise decision on the growth tool that is right for you. By learning more about these tools, you can avoid spammy ones that negatively affect your Instagram presence and reputation.
You may ask, is Twicsy one of those best Instagram growth services that provide genuine support or one that exploits gained trust to make quick money? Thus, this post will focus on the Twicsky Instagram growth service to analyze it from different perspectives.
Ultimately, we will introduce you to AiGrow as the best Twicsy alternative and explain why AiGrow is a smart choice for those who are truly concerned about gaining organic followers and safe growth.
What Is Twicsy
About this service, you may have lots of questions on your mind, like is Twicsy legit or a scam? Is Twicsy trustworthy, and the Instagram followers it delivers are real or fake? But before addressing such issues, let's see what this service is.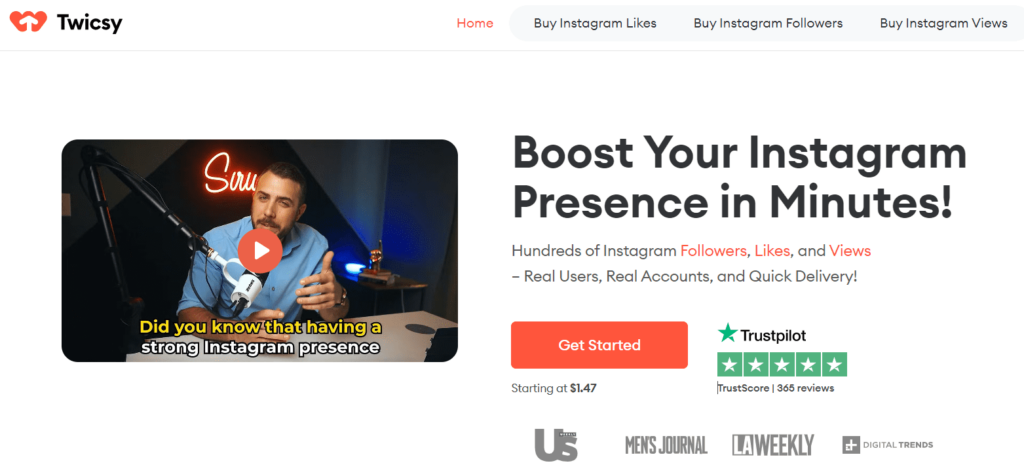 Simply put, Twicsy (Twiczy) is a platform for buying Instagram followers, likes, and views. You may gain social proof by using this platform and satisfy those users who only rely on appearance and numbers!
But as we said before and say it again, buying likes and followers won't increase your engagement rate, which is more important than anything else. However, they claim that it offers high-quality Instagram likes, followers, and views from real accounts and helps improve your online presence instantly.
It may quickly grow your followers, likes, and views of your account on Instagram, but it is unlikely that give you high-quality followers! Twiczy doesn't provide you with active organic growth and engagement based on our extensive research.
What makes us say so? Keep reading to find out more.
Twicsy VS. Buzzoid VS. Rushmax
Twicsy is a product of Buzzoid, a reputable social media growth company. In our complete Buzzoid review, we covered everything related to this Instagram growth tool.
Therefore, Twicsy works exactly like Buzzoid but under a different name. Consequently, it suffers from the same flaws we discussed in our Buzzoid review.
Additionally, there is another service called Rushmax that is the exact copy of this platform with tiny differences. So, what do you take from this?
But let's keep our main focus and see how Twicsy works!
How Does Twicsy Work
This platform's setup is straightforward. You must follow the steps outlined below.

First, you need to go to www. twicsy.com.
Then, you need to select the package that best suits your needs.
Next, enter your IG username and email address.
Choose the number of likes/followers/views you wish to purchase. According to the website, your order will be delivered instantly.
Finally, make the payment via Visa or MasterCard. Upon receiving your order confirmation, your package will begin processing.
If you have any questions, get in touch with their team using the contact form.
Twicsy Features
Now that you know, Twicsy is a social media marketing service that sells Instagram followers, likes, and viewers, you may ask if Twicsy is safe or a scam that will disappoint you in reality.
To know that, let's see what features this platform provides you.

Allegedly high-quality followers and real engagement.
Instant delivery
Automatic Instagram likes and views. This package allows you to build your social proof and generate more awareness and credibility for your brand.
That's it! Are you satisfied with these features? Furthermore, many Twicsy reviews claim that the followers they provide are all fake! In the following section, we will discuss the characteristics of the best Instagram growth services. Continue reading.
What Are the Best Instagram Growth Services
Before going through Twicsy reviews, let's talk about which Instagram growth services are worth it.
There is no doubt that Instagram is one of the leading social media platforms today. With over 2 billion active monthly users from different corners of the globe, it is a good opportunity for marketers and businesses to get more leads on Instagram and substantially increase their revenues and sales.
However, growing your Instagram account can be challenging, especially if you're new to the platform. To gain the attention of IG users and keep them engaged on your page, you need to spend a lot of time creating content ideas for your Instagram marketing account and publishing posts at the best times to receive maximum engagement for your content.
Moreover, you have to interact with your target audience and build solid relationships constantly. Many proven Instagram growth tools can come to your rescue, helping to grow your organic following instantly. They make your job easy by taking care of all aspects of your social boost. That is why millions of people consistently invest in them.
But, with so many choices, all claiming to be the best, is there a way to distinguish the most effective Instagram growth companies from the headaches? There is no guarantee that all services will deliver what they promise and claim.
For this reason, we will focus on Twicsy reviews to check out whether it is worth it or if you should avoid using the service. Here, you will learn more about its background, strengths, and weaknesses to make a more well-informed decision about investing in it.
Twicsy Reviews
The Trustpilot site operates on the premise of being accessible and open to all. A place where consumers can voice their opinions and businesses can also respond and collaborate.
Unfortunately, there were a lot of negative Twicsy reviews on this platform in the past. They are depicted in the screenshots below.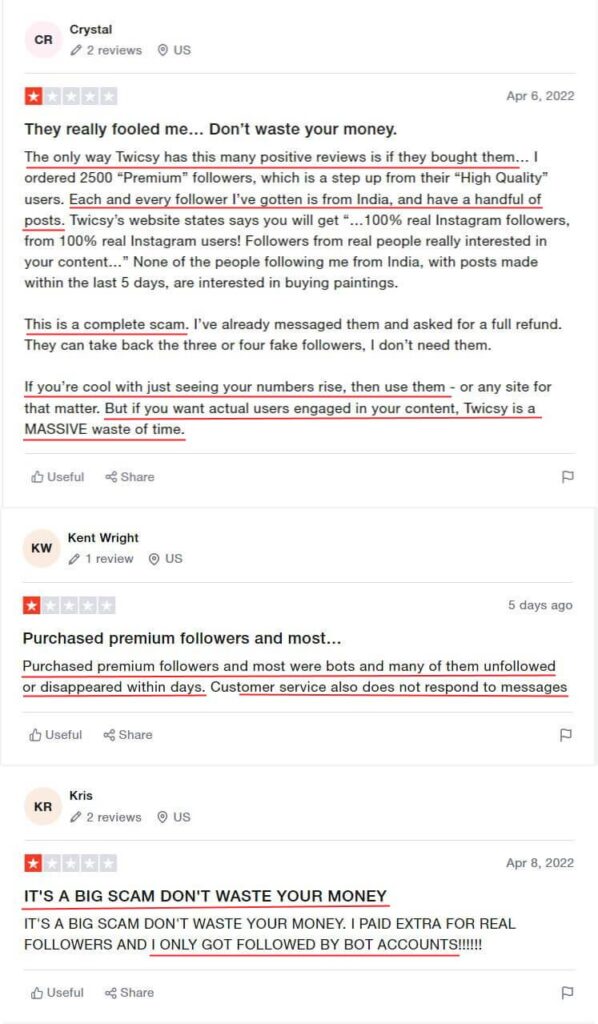 Although Twicsy's trust score on the platform used to be 4.5, when we looked at those reviews, it appeared they had paid many people to say nice things about the Twicsy followers' app. Almost all five-star reviews are one sentence long, and they all generally say positive things about this tool. There were no four, three, or two-star reviews!
Approximately 13% of total reviews complaints about this tool are:
Low-quality and untargeted followers
Terrible customer support
No refund
Sudden loss of followers and likes
Twicys has not even attempted to provide an answer to its unsatisfied clients, which is also very concerning.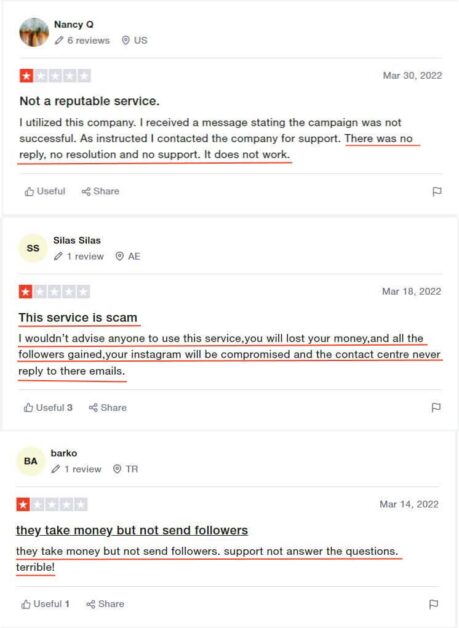 There is no way we can list all the negative reviews here, but we encourage you to read them carefully and critically to avoid falling prey to their false claims.
Moreover, in our recent research, there is not a page on Trustpilot under Twicsy.com as before. It is because this platform is identified as a bad fit! Therefore, do not fall for the fake reviews on their site. It is a poly used by companies like this to bolster their ratings.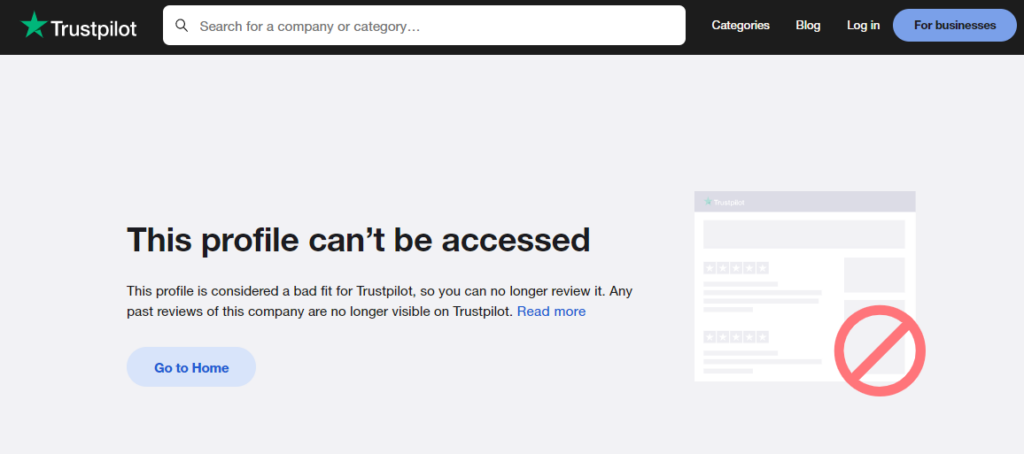 But if you are looking for Twicsy app reviews, you can find user reviews if you search app.Twicsy.com on Trustpilot. Unfortunately, the assessments revealed by users don't show any satisfaction with the app too!
Additionally, we searched the Twicsy Reddit reviews for further customer feedback but couldn't find any.
Let us now look at the prices they have for users.
Twicsy Pricing
The Twicsy cost depends on how many followers, likes, or views you wish to gain.
Followers packages include 100 to 20,000 followers for the High-quality follower package, starting at $2.97 to $49.99. And 500 to 10,000 followers for the Active follower package, from $11.99 to $136.99.
Likes packages vary from 50 to 10,000, starting from $1.47 up to $88.99. There is also a Premium likes package that starts from $3.49 for 50 likes to $199.99 for 10,000 likes.
Views packages range from 500 to 50,000 views delivery, from $1.99 to $74.99.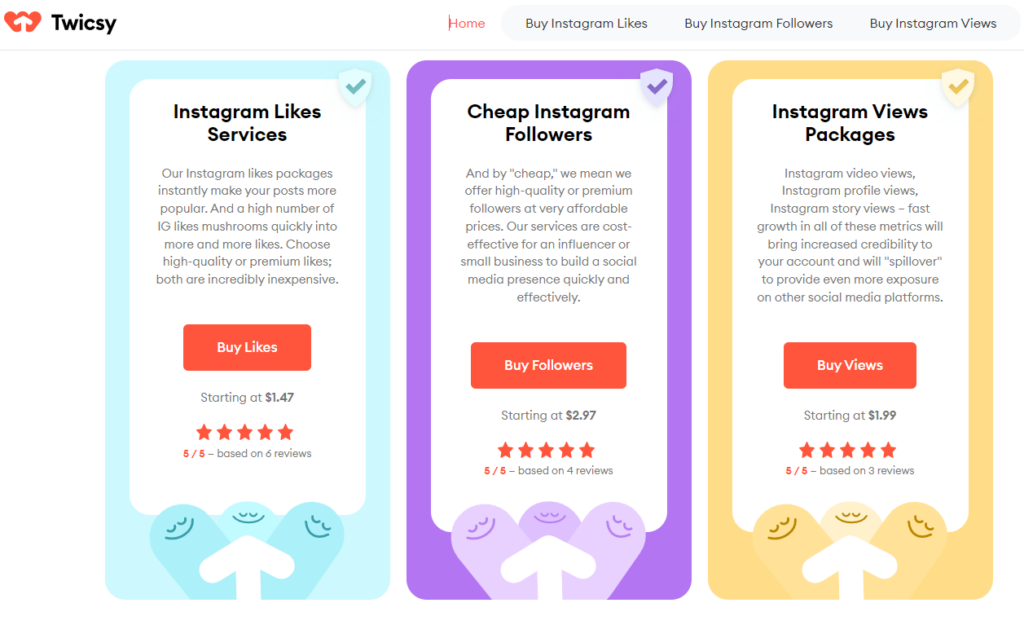 Once you've selected your package, you should choose between high-quality or premium followers. Twicsy premium followers are a step above their high-quality followers. Additionally, premium followers cost about twice as much as high-quality ones.
As you can see, many factors impact Twicsy pricing. Twiczy offers a discount on the standard price when you buy a large quantity.
According to the Twicsy Instagram followers review, premium followers are supposed to be real and highly engaged people. Nevertheless, the Twicsy followers' review page does not provide much information about what you can expect to see. Also, as we will see in the coming sections, most Twicsy clients received bot or fake followers after purchasing Twicsy premium packages.
Twicsy Pros & Cons
In the same way as any other service, Twicsy has its pros and cons. Let's examine its strengths and weaknesses to determine whether it will meet your needs or not.
Pros
Secure HTTPS website.
No Instagram password is needed.
The service has visible prices.
Fast results for your order.
Cons
It has no help and FAQ page. Most legitimate services have an 'about page,' so its lack is concerning.
It has no free trial.
The service is relatively new in the industry.
Live chat and phone support are unavailable. Therefore, there is no way to talk to their team members directly. It also provides poor customer service. Customers cannot contact anyone from the company for help.
There are fake or paid positive reviews on the website.
You may get fake and inactive followers or bots using the service.
Lack of real engagement or sustainable growth.
Twiscy may get your Instagram account banned or deleted.
There is no refund.
Twicsy lacks advanced targeting options.
The identity of its team members is hidden.
Additionally, if you purchase followers through Twicsy, your posts won't appear in the Explore feed because your followers won't engage with them.
In light of this, allow us to present you with the best Instagram growth service that won't get you into trouble.
AiGrow: The Best Twicsy Alternative
AiGrow cares about your growth and assigns you to an experienced and dedicated account manager to help you obtain more engaged and targeted Instagram followers. Your professional account manager will assist you with engagement, growth, and content strategies.
Hence, AiGrow is an organic and manual Instagram growth tool that does not use bots or spammy practices.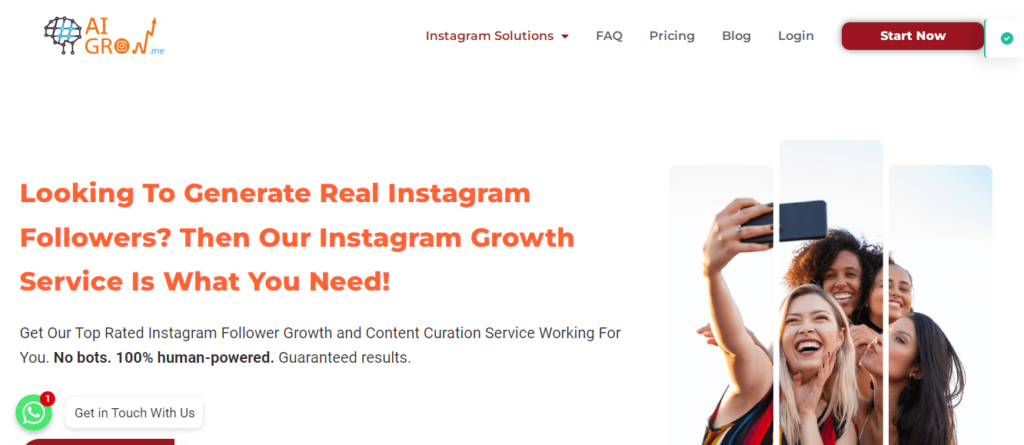 With an excellent user rating on Trustpilot, AiGrow is a well-reputed and trusted Instagram growth service in the industry.
Additionally, AiGrow combines human resources with its advanced AI technology to drive more qualified traffic to your page. It offers 24/7 customer support via live chat, email, and phone.
You can learn more about this fantastic service by reading our complete AiGrow review.
How Does AiGrow Work
Follow the steps below to begin growing on Instagram with AiGrow:
Click on the 'Growth' tab.

Next, choose your target accounts based on your location, hashtags, competitors, or relevant accounts. Note that AiGrow uses advanced targeting options to bring high-quality and engaged followers to your Instagram account.
Following this step, AiGrow will connect you with its experienced team members to help improve your account for guaranteed engagement and following. Using AiGrow's powerful engine, you can generate an Instagram following list of qualified, organic users interested in your products or services.
If your question is not addressed here, you can contact AiGrow's support team via email. They offer free one-on-one appointments to help set up your account successfully and are always available to assist users.
AiGrow Features
AiGrow provides a wide range of valuable features and tools to help grow your IG quickly and safely:
Instagram Post, Story, and IGTV Scheduling Tool: this tool allows you to schedule and publish your posts at the best time automatically.
Post & Reward Tool: the 'Post and Reward' feature manages Instagram rewards campaigns for businesses. You've probably seen those posts asking you to follow a page and tag a friend to win a prize if you're on Instagram. The Post and Reward tool from AiGrow does this for you in an automated manner and with additional features.
PostMate Feature: This feature will assist you in creating content.
Link-In-Bio Tool: lets you hyperlink on Instagram, so you can link to as many social media and websites as you like.
A Dedicated Account Manager
Manual Growth Activities
Content Repost Tool
Mass Delete Feature
AiGrow's Giveaway Picker Tool: This tool will help you host giveaways on Instagram more effectively and pick your winners in no time!
AI-Powered Targeting Options
24×7 Customer Support
Social Monitoring + Analytics Tool
Hashtag Generator Tool
Managed Growth Plans
Mass Unfollow Tool
AiGrow is a complete platform with all the tools and features you may need to grow organically and safely on Instagram.
So, get immediate access to AiGrow now to use all its effective tools!
AiGrow Pricing
AiGrow offers a variety of growth plans. Depending on your needs, you can choose the best option. You can see all the plans and prices on the AiGrow.me a website. Additionally, for new users, AiGrow offers a one-week package. Furthermore, you can cancel it at any time.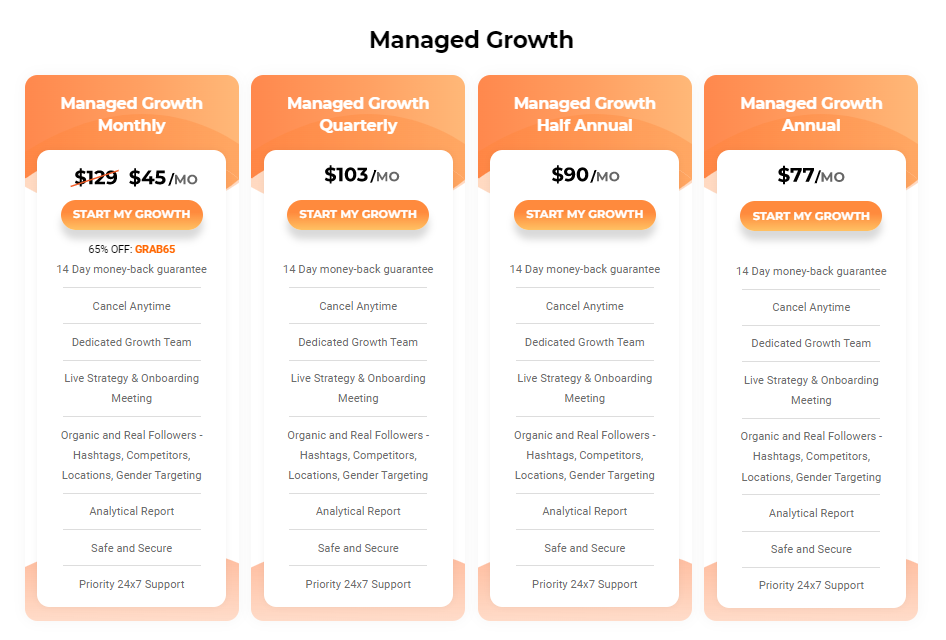 AiGrow Vs. Twicsy; Final Verdict
We gathered all of the characteristics of these two services and compared them to make it easier for you to make a wise decision.
| Features | Twicsy | AiGrow |
| --- | --- | --- |
| Growth service | ❌ | ✅ |
| Quick delivery | ✅ | ✅ |
| Buying Instagram likes & views | ✅ | ❌ |
| Post Scheduling Tool | ❌ | ✅ |
| Automated DM Marketing | ❌ | ✅ |
| Repost Tool | ❌ | ✅ |
| Real and engaged Instagram Followers | ❌ | ✅ |
| Advanced Targeting Options | ❌ | ✅ |
| Real Engagement | ❌ | ✅ |
| Account manager | ❌ | ✅ |
| Providing Instagram content strategy assistance | ❌ | ✅ |
| Sustainable growth | ❌ | ✅ |
| Detailed analytics | ❌ | ✅ |
| Designed templates for content (feeds/stories). | ❌ | ✅ |
| All-in-One Bio-Link Tool | ❌ | ✅ |
| Instagram post deleter tool | ❌ | ✅ |
| Social Media Monitoring Tool | ❌ | ✅ |
| Human-driven + advanced AI-powered Growth Strategies | ❌ | ✅ |
| Track Influencers | ❌ | ✅ |
| 24/7 customer service | ❌ | ✅ |
Conclusion
In conclusion, we do not recommend Twicsy for several reasons. Firstly, there is a lack of vital information on their website. For example, they do not have an 'about page' telling you how long they have been in business or whose company they are.
Even though Twicsy can be a quick option to get more followers on Instagram, it cannot guarantee you will gain authentic and active followers in return for your investment. With Twiczy, there is neither precise targeting nor engagement. Additionally, according to Twicsy reviews, you may receive low-quality followers that will not lead to much more engagement and reach in the long run.
Instead, we propose choosing an established service, such as AiGrow. We confidently say that AiGrow is a more reliable and proven organic Instagram growth service in the field. Its professional human resources and advanced AI technology efficiently deliver highly targeted and engaged followers to your Instagram account.
Additionally, AiGrow offers valuable features and tools to grow your Instagram followers organically and safely. Altogether, these features and tools allow for massive, sustainable growth in the long run.
FAQs
Q1. Is Twicsy Legit?
We cannot guarantee that it is a legit service to buy Instagram followers. Some real customer reviews also consider Twicsy a scam that provides no customer service.
At first, it may sound like a legitimate company, but many clients have tested the service and had unsatisfactory results. According to these Twiccy practical tests, you will lose your Instagram followers after a few weeks. Also, you can receive fake or inactive followers employing the tool. Therefore, the service will not grow your account organically and safely.
Q2. How Long Does Twicsy Take to Deliver My Order?
When it comes to delivery time, the website provides contradictory information, making it difficult to plan ahead.
The service claims that orders start in 60 seconds on the views page. But if you read their FAQ, it says that you'll begin to see results within 24 hours.
They seem to convince you that instant delivery is the way to go. But in reality, their deliveries will take time.
It is a common practice used by many companies like Twicsy, so it makes sense why it doesn't state everything clearly. Thus, it is better to keep your expectations in line with the reality of the service.
Q3. Does Twicsy Refill My Packages If They Drop Off?
On the website, Twicsy claims that there will be no drop in likes or followers with its premium packages. Yet it doesn't mention whether you will be refilled if followers or likes drop off in the future.
Also, there is no mention of the warranty on the website. Nor is there a clear timeframe for the guarantee, so the user does not know how long they will be covered. Not only that, under the terms of service, there is no mention of a drop refill or a warranty.
There are many inconsistencies and missing information on the website.