What's one social media platform that many writers talk about but are afraid to use?
Instagram.
Although it's a visual-first platform, Instagram can help writers connect to the audience, practice various writing styles, and promote their content. All sorts of audiences use the platform, so your readers are there, too.
In this post, we'll show you how to reach them. Here are six tips for using Instagram to promote yourself as a writer and help your career.
1. Promote Your New Content
That's an obvious one.
Let your followers know every time you've got a major content piece published. An Instagram message would drive some traffic to that page and get some exposure.
Here's an example—
Tyler Knott Gregson, a poet, announced the arrival of his book with this post. He gave some background for it and asked the readers to help spread the word.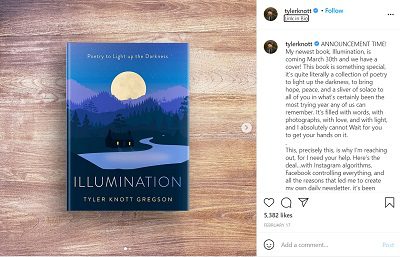 Best practices for writing content promotion Instagram posts:
Describe the content and why people should read it. Even a few sentences will mention the title of the piece and why you think people will benefit from reading it. If you'd like to give some background, go ahead—but make sure to keep it short and sweet
Engage readers. Consider asking people a question about something related to the topic of the piece to encourage them to comment. This way, you can start a conversation in the comments about topics that interest your readers
Finish with a call to action. It's something that tries to persuade people to check out your work, i.e., "Check out the article—it's worth your time!"
And the last thing: try your best not to make your Instagram profile look like an advertising agency—go easy on those promotional posts. Just one in a couple of weeks will do the trick, so choose the best pieces to share.
2. Share Your Quotes
Quote images are everywhere and for a good reason. Quotes can facilitate discussion, make people think, and serve as proof of how great your work is. Plus, they are shareable—so you might get some nice exposure and get new followers.
Quotes work for all kinds of writers: poets, bloggers, screenwriters, lyricists, novelists, and you name it. You just have to find a quote (preferably, by you), make it more visually appealing with an image, and share it.
Tyler Knott Gregson uses the vintage style and makes his quotes appear like they were made with a typewriter.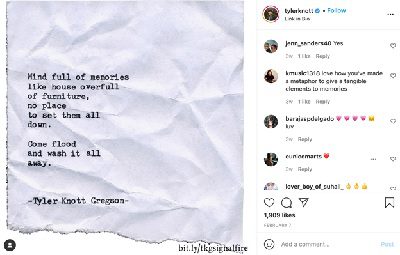 Consider sharing your quotes to get some discussion going. If you're a screenwriter, those could be parts of your favorite scenes. For bloggers and content writers, memorable quotes might include some impressive stats, facts, or findings.
Engaging with comments is also an excellent Instagram marketing idea. Your followers should see you as someone who's easily reachable, relatable, and willing to engage. That's why two-way communication should always be among your priorities as a social media account manager.
3. Publish Non-Business-Related Content
Another way to advance your writing career with Instagram is to post content that's not related to writing. Yes, you read that correctly. People want to see you as a person, and that doesn't always include promotional posts about your books or blog articles.
Just think about it: there's so much interest in the private life of celebrities that it sometimes overshadows the news about their professional accomplishments. People always want to know more about others and connect with them (otherwise, Instagram wouldn't exist).
That's why the best writers from all industries engage in non-writing-related conversations on their Instagram account. Joanna Penn, a famous British author and blogger, often publishes posts about her travels, everyday experiences, and weekend walks.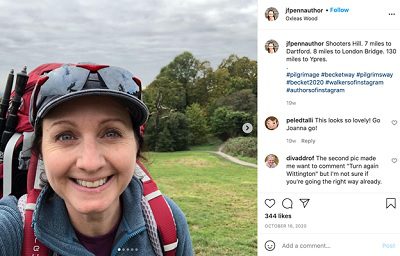 So, let's make your Instagram business account show you as a writer, but also as a talented, relatable, positive, and interesting person as you are.
Here are some ideas for posts:
Show off your workspace and talk about work routine
Ask a relatable question about everyday life
Show your pets and share their stories
Tell stories about events from your everyday life
Share posts of other users who mentioned you in their content.
Consider using some of these ideas to increase Instagram engagement on your business profile. You'll have a much better chance to create a small community of fans around you rather than someone who constantly publishes and talks about their work.
4. Engage with Others to Attract Followers
Building solid followership takes time, and let's get you there faster. The best way to create a community of engaged fans and customers is to engage with Instagram users who are likely to become your follower.
Visit Instagram profiles of other writers, publishing houses, writing service platforms, bloggers, media agencies, or other relevant profiles that your potential customers are likely to follow. One good idea is to use hashtags: for example, book lovers often use #book and #bookstagram to find authors and good reads.
#bookstagram alone has 56+ million posts—plenty of content to find followers.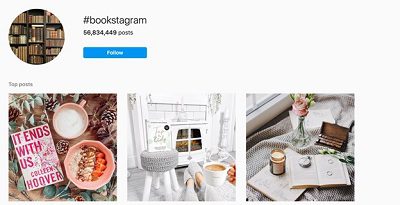 Contribute to conversations by writing comments and replying to others  — but try not to be self-promotional. Focus on the conversations and being a valuable contributor.
While you're at it, consider having this routine for Instagram engagement:
Spend 20 minutes every day writing comments on other accounts
Reply to other people's comments for 15 minutes each day
Take 30 minutes to find and follow new accounts of potential customers.
This routine will help with building an audience to promote your writing to. The more interesting and relevant your comments and replies are, the more people will follow your account.
Related article: How to Find People on Instagram that Might Follow You?

5. Develop a Posting Routine
Create a posting frequency and stick to it. As more and more people will follow your account, they will get used to seeing your posts, so disappearing for a while would be bad for your reputation.
"We want your followers to be able to rely on your content, which is why a content routine is needed," recommends Julie Morgan, a branding expert from GetGoodGrade. "To develop the routine, many authors and business Instagram users make the so-called "content calendar" — a list of posts ideas with publishing dates."
Consider creating a "content calendar" for yourself. Knowing what to post and when would help to be consistent and remove the stress of last-minute content brainstorming. Try planning content for two months ahead — just enough to turn consistency into a habit.
6: Post on Peak Engagement Times
That's right, Instagram user groups tend to be active during specific times during the day. Knowing those times might help you increase engagement on your posts, so it's definitely worth it. Online businesses have made tons of research on this, so we can use that information, too.
So, the best time to post content on Instagram:
Between 11 am and 3 pm on workdays and around 11 am on the weekend.
Here's why these times are the best—
People like to check their Instagram feeds around lunchtime on workdays, which explains the workday posting time. The weekend time shows the time when people typically have "brunch."
Instagram for Writers: Summary
Instagram is a good platform to help you advance your writing career. You can find more potential customers, raise awareness of your content, meet interesting people, and build a community of engaged fans around you.
Many writers from all industries are using Instagram to achieve their career goals, so consider joining them. If you do it right, it'll be a beautiful journey with lots of wonderful moments and conversations along the way.