Social media is no longer just posting what you did on the weekend. It's responsibilities are now so wide that many businesses rely on dedicated social media managers to carry on the daily responsibilities of their social media presence. However, before you go out and hire a full-time social media manager, consider using an Instagram bot instead.
Looking for the best Instagram bot?
Consider the following 8 options:
AiGrow: The Best Instagram Growth Service
AiGrow uses your account to automatically like, follow, unfollow, and comment on real channels with the intention of driving relevant and organic traffic back to your own channel (and ultimately converting that traffic to followers). This way, instead of buying new followers in bulk who don't necessarily fit your target audience (which is especially important if you are a small business or brand), you're gaining exactly the kind of new follower you want for your channel and you're doing it almost as quickly as you would if you purchased them. With AiGrow, you can target Instagram users based on:
hashtags they use
competitors they follow
where they're located
custom lists of usernames
whether or not they're public or private
whether or not you have already followed (and then unfollowed) in the past
You also don't have to worry about engaging with irrelevant or risky channels as you have complete control over the types of users you interact with, and at no point will AiGrow perform any action from your Instagram account without your permission. AiGrow also automatically unfollows any person you follow but who doesn't follow you back within a certain amount of time to keep your follower/following ratio looking natural.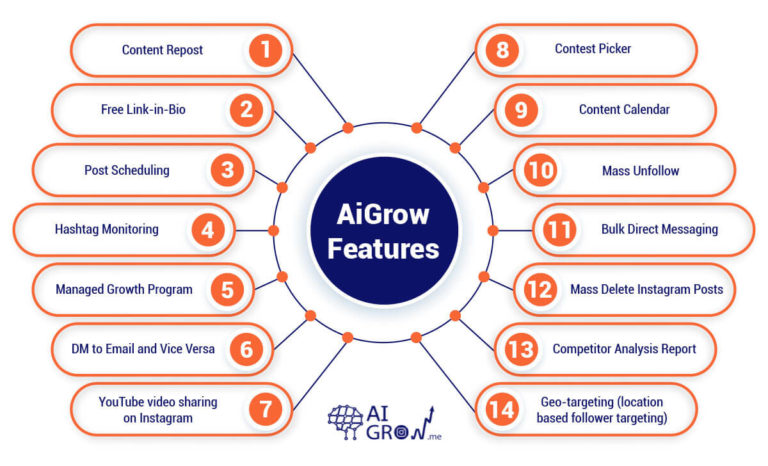 In addition to generating new followers, AiGrow also gives you complete control of your Instagram DM inbox from the comfort of your desktop. AiGrow also gives you free access to over 100 engagement groups which you can use to get more Likes and comments on every new post you upload to Instagram. All you have to do to receive engagement from your engagement groups is a post to Instagram using AiGrow's free desktop scheduler. When your post goes live on Instagram, all members of all groups you are a part of will automatically Like and/or comment on your new post. Likewise, when you schedule a new post through AiGrow's scheduler, all members of all engagement groups you are a part of will automatically Like and/or comment on your new post. Because the process is automatic, all groups are guaranteed to be free of leechers. No leechers means that absolutely none of your effort is wasted. This way, like the growth features of AiGrow, there is little to no maintenance work on your part after initially joing your groups. To gain a better sense of the features offered by AiGrow, have a peek at the short video below:
Targeting options and features available to AiGrow users:
Automated Likes, comments, follows, unfollows, and DMs
Ability to target users based on hashtag use, location, and competitor connection
Ability to target specific users from an excel list
Ability to send DMs, respond to DMs, and manage your DM inbox all from your desktop
Content scheduler to schedule your posts for days, weeks, and/or months ahead (all from your desktop)
Daily safeguards for all actions (Likes, comments, follows, DMs, etc.) to help prevent your account from being flagged
Free access to over 100 engagement groups
Customizable comments
Automated comment responding
Customizable DMs
Alternating tags for comments and DMs (Hey/Hello/Hi/What's up… etc.)
Daily safeguards to help prevent your account from being flagged
Free one-on-one appointments to help get your account properly set up
In-app analytics
Automatic email notifications in the rare case you encounter an issue with our service (and a proposed solution to the issue)
AiGrow works on any operating system, it doesn't require any download, it's much cheaper than hiring a dedicated social media manager, and it will continue to run even if you shut your computer off. It will only stop if you tell it to stop. Because of this, AiGrow deserves the number one spot as the best Instagram bot.
Social Steeze – Organic Instagram Growth Service
Socialsteez provides organic growth for Instagram and is the 2nd best Instagram bot. Not all Instagram bots are safe to use and you can never trust any bot without knowing it properly. Many of the tools like socialsteez provide the real and organic engagement and you can trust this service. One can get organic engagement without purchasing the leads.
Like social – Reliable Automatic Likes & Followers
Unlike the Instagram bots that only waste your money and does not help you with the real followers and likes, Like social never does this and provide you the organic followers. Its results are long-term and deliver you the best experience of real followers and engagement.This service does not harm your Instagram profile feed that makes it most lovable bot by users. Prices are also affordable. For these reasons, it deserves to fill the position as 3rd best Instagram bot.
Plan My Post – Instagram Planning & Scheduling Tool
PlanMyPost can be your personal assistant for the management of IG account and you can easily schedule your strategy using this bot. This bot has a dashboard with all the basic to advance features listed on it, Save your time by using its auto services that schedule and manage the things in the best way. It has many other useful features like bulk images upload, edit them and schedule them for the post.
Social10x – Buy Real Instagram Likes, Followers, & Views
Social10x is available not only for Instagram but you can avail its services on Pinterest, facebook, youtube and twitter. Getting real followers and likes is the basic feature of this bot. This is a worth investing bot to provide your profile or page with the real and organic engagement. Easy to use interface is loved by social media marketers.
Risesocial –  Instagram Growth Service from the Ground Level
It is a time consuming and tiring task to search, create and do editing for the media to post on your profile. It is necessary to post daily to always engage your audience. Hashtags, age, region, and other demographics are important factors that help to achieve real followers and likes. This bot provides you the quick experience to gain natural followers and engagement. Risesocial has a team that interacts with the people related to your niche on behalf of you to engage them.
Follow Adder – Top-Rated Instagram Bot
Follow adder is a high-quality Instagram bot. This is mostly used by the business Instagram profiles who need to manage, schedule, and plan their marketing strategy. It lets you select the specific settings and customize according to your needs. This tool is trusted by IG marketers and is completely spam free. Follow adder is available for Windows and Mac. You can customize your profile settings and get desired engagement without any risk.
Jarvee – Windows-Based Social Media Automation
Jarvee is the best Instagram bot for Windows and helps you manage your Instagram and other social media profiles. It has a step by step tutorial to provide you assistant on how to use jarvee in a best possible way. It also guides you with tackling the issues while using automating bot for Instagram. The pricing plan is awesome including a 5-day free trial that is enough time to judge its quality services.
---
Conclusion
Know of another contender for the best Instagram bot? Please leave you suggestions in the comments below!