Trying to find Instagram accounts that follow you back instantly? Great! Then better read this article, in which I will explain what measures you should take to make this happen. 
As one of the most popular social media, Instagram's main purpose is to connect people together. If you're running an Instagram page, the first and most primary step to have a long-term relationship with your audience is to get them to follow you. But this is not always an easy thing to do. 
In fact, Instagram is exploding with users, many of them are spammers, and now people are more cautious about the accounts that they welcome into their feed. 
Also, you can literally find any business niche that you want on Instagram. This makes it even more difficult for businesses to be heard and seen. It's not the good old days when you follow an account and it would follow you back instantly. Now, in order to stand out from the crowd and get Instagram accounts to follow you back, you need to do things differently. Read the following to see what I mean.   
Here's How to Find Instagram Accounts that Follow Back
Use these methods to get an Instagram follow back in no time!
1- Find the Similar Accounts to Follow
Although similar accounts might seem like competitors, they will usually follow you back at a higher rate than other accounts. For example, if you're running a page about your podcast and start following other podcasters, they will follow you back to keep up with their competitors!
A good place to start is finding the accounts in your niche and start following them. 
2- Find the Right Audience and Follow Them
Instead of randomly following every account that you encounter on Instagram, try to be picky! Only follow the accounts that you know might be interested in your page. How? Here're the ways:
2.1- Follow Your Competitors' Followers
Actually, this is the main idea behind an effective follow/unfollow method. As these people are already shown their interest in your niche by following similar pages as yours, there's a higher chance of getting a follow back from them! 
One of the drawbacks of this method is that it might take so much time and energy. Also, don't forget that the Instagram algorithm is constantly changing, meaning that it changes depending on your account activity. This can lead to problems such as crossing daily limits and being shadowbanned. 
To resolve these issues, you better use a safe and secure Instagram growth service such as AiGrow.


AiGrow is a smart Instagram management service with various features to grow your account instantly. But one of its most popular features is the growth plans. Using these plans, you can simply define your ideal follower persona, then AiGrow uses a hybrid of human knowledge and AI technology to find the best matches for you. 
As a result, you easily find Instagram accounts that follow back instantly and your account won't be spammed by those who show no interest in you.     
2.2- Using Relevant Hashtags
You can use hashtags to find potential followers and also help them to find you! 
When writing a post, use the hashtags that you wish to optimize your post for it. Try not to use saturated hashtags and focus on more niche-focused ones. 
You can also search for the same hashtags and start following the top accounts that use them. This way, there's a higher chance that they give you a follow back soon. 
Related Article: Instagram Hashtag Hacks You Wish You Knew Earlier
3- Optimize Your Bio and Feed
Instagram bio and feed are like the shop window for your account. They show briefly who you are and what you do. So, it's important to be as creative as possible when taking care of these parts. Here are some of the most important things that you can do to optimize your bio and feed: 
3.1- Link Your Instagram to Other Social Media
You know who's interested in following you on Instagram? Those who already followed you on the other platforms! The best way to let them know that you are on Instagram is to cross-promote your social channels. 
Also, if you have your fans on your contact list, you can simply use that to find them on Instagram and follow them. This way, they know that you're on Instagram and follow you back instantly!  
3.2- Write Catchy Bio
Most people check the bio of the accounts that followed them. Apart from a great profile photo, you can make a good first impression by writing a catchy bio. 
Try to make it concise and cover the most important things about your business or personal brand. 
3.3- Have a Theme
Another thing that can make the visitors more interested in your account is to have an aesthetic theme for your page. Look at this page, for example: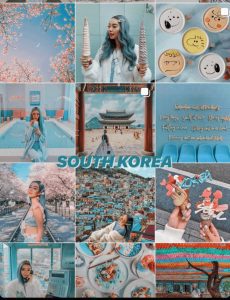 Could you not follow this account with its stunning feed? 
How Do You Know Who's Not Following You Back on Instagram?
Sometimes, you follow some users, they follow you back, and then after a short time, they unfollow you. Well, that's not fair!
To detect these followers, you can use a third-party app such as FollowMeter and Unfollow Users to get rid of these users and make your following list fresh and clean. 
Final Words
In this article, I showed you the ways that make Instagram users follow back instantly and how you can get rid of the followers who don't follow you back. Hope you've found it useful!