Have you noticed that some Instagram posts are linked to a website? What's this new feature?  Well, the US Election 2020 is on November 3. In June, Facebook announced that starting in July, everyone will be able to join the voting information center on the Facebook app and know how to register to vote. However, right now, apart from Facebook users, Instagrammers have the opportunity to join the Instagram voting information center. Hence, they can make their voices heard at the ballot box. 
But what is the exact reason for having such an information center? What can you find on it and how can it help you? These are the questions that I'll cover in the following. Stay tuned and get informed about this temporary feature launched on Instagram. 
What Is the Instagram Voting Information Center?
This Instagram voting information center acts like a one-stop-shop in which people can find information about how to register to vote and Election-related news. This tool also allows users to sign up as poll workers across the US and link users to state websites or trusted partners. 
Actually, this is very similar to the COVID-19 information center and the main reason to launch it is to tackle any misleading data. But to know more about the reasons behind it, keep on reading. 
What's the Reason Behind This Information Center?
During the presidential Election back in 2016, misleading information available on social media platforms confused the US citizens. To avoid a similar chaotic situation, this year, the company decided to launch a Facebook and Instagram voting information center combating deceptive data and protect the integrity of elections.
What Can I Find in the Instagram Voting Information Center?
Using this tool, Facebook and Instagram users will be provided with accurate and authoritative information about the US Election. Additionally, by adding a feature to allow US users to turn off seeing political ads, these platforms prevent being accused of spreading misinformation. 
Also, due to the pandemic, many states may have to change the voting process. Facebook will send notifications at the top of Facebook and Instagram apps. These notifications target users by their age and location, giving them relevant information about respective states.
It's easy to access the Instagram voting information center. This shows up as banners about voting on posts you see on your Instagram feed. Also, there will be reminders about registering to vote before an Election in your state, voting by mail, and voting on Election day. For reminders, you can easily tap on "X" to the right of them. However, you cannot remove the banners.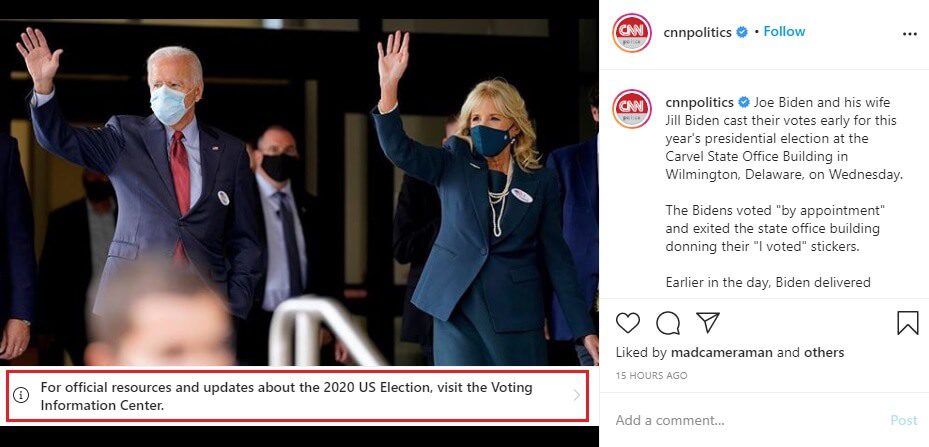 What you'll see in this information center is as follows: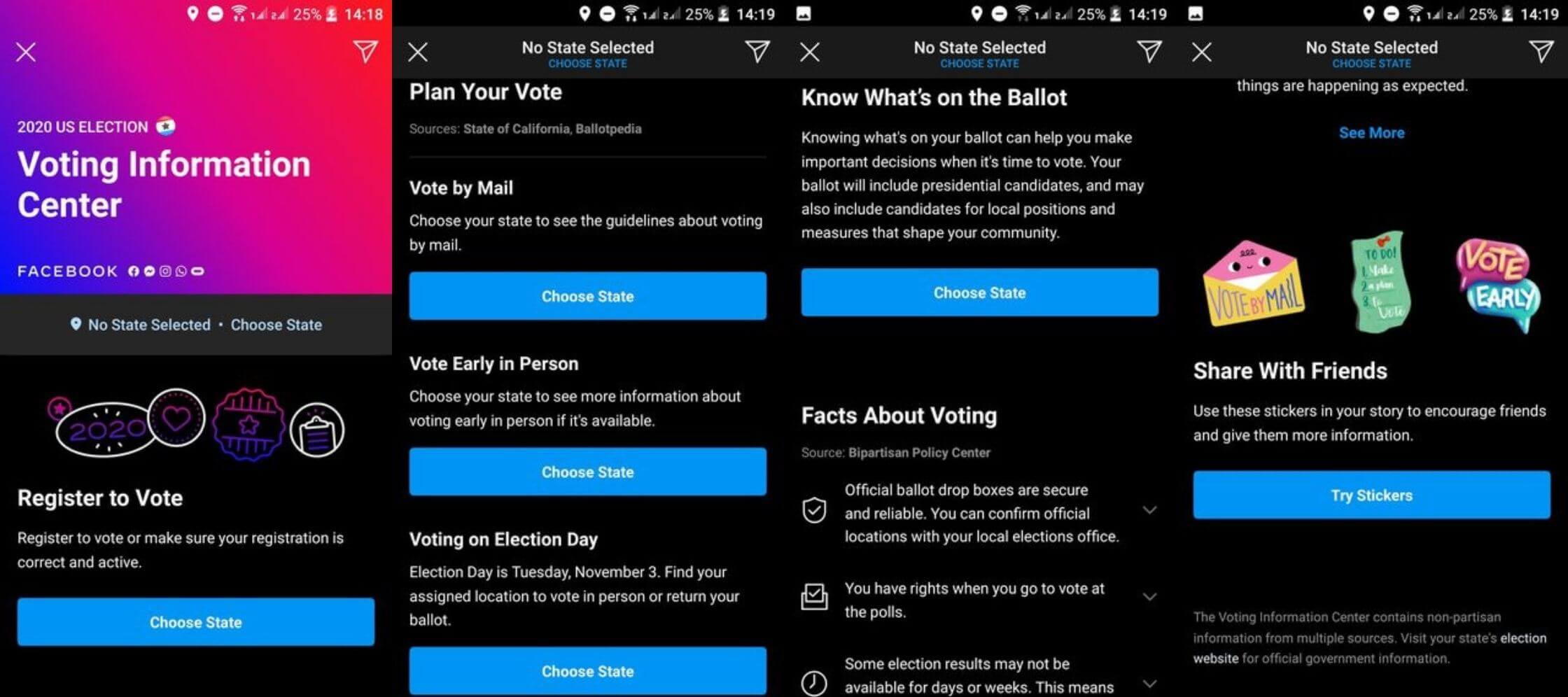 The type of information you can find here includes:
Places to vote in each state

The type of identification you need to vote

How to vote in your location 

Information about voting by mail and early voting
And information about the assigned location to vote in person on Election day.
All you have to do is to choose your state and get news and information from trusted sources. 
Why Should I Even Try The Instagram Voting Information Center?
Instagram claims that what you see on the Instagram voting information center is collected from state and local governments, and some trusted non-partisan partners such as Ballotpedia. Following news and information available on this center, you can make sure that your voice is going to be heard. 
And don't worry; your followers won't know anything about your location, voting information, and registration status. 
This Seems to Be a Link on Posts! Can I add Links to My Posts?
Unfortunately, the platform adds links to the Instagram voting information center automatically. You cannot add or remove them manually and if you post an Election-related content, the banner will appear on your post, even if you change the caption. 
As far as I am concerned, right now, users are just able to add links to their bio or Instagram stories. No one knows if there will be a feature to add links to Instagram posts and stories without a business account or not. 
However, here's a great tool that enables you to add an Instagram shop link to your posts, share coupon codes, and get email addresses from Instagram followers to spread your information about different topics and run your own information campaign. 
MyURLs.Bio: Add Links to Your Instagram Posts
If you are looking for an easy way to add external links to your Instagram posts and share more information about whatever you shared, try MyURLs.Bio.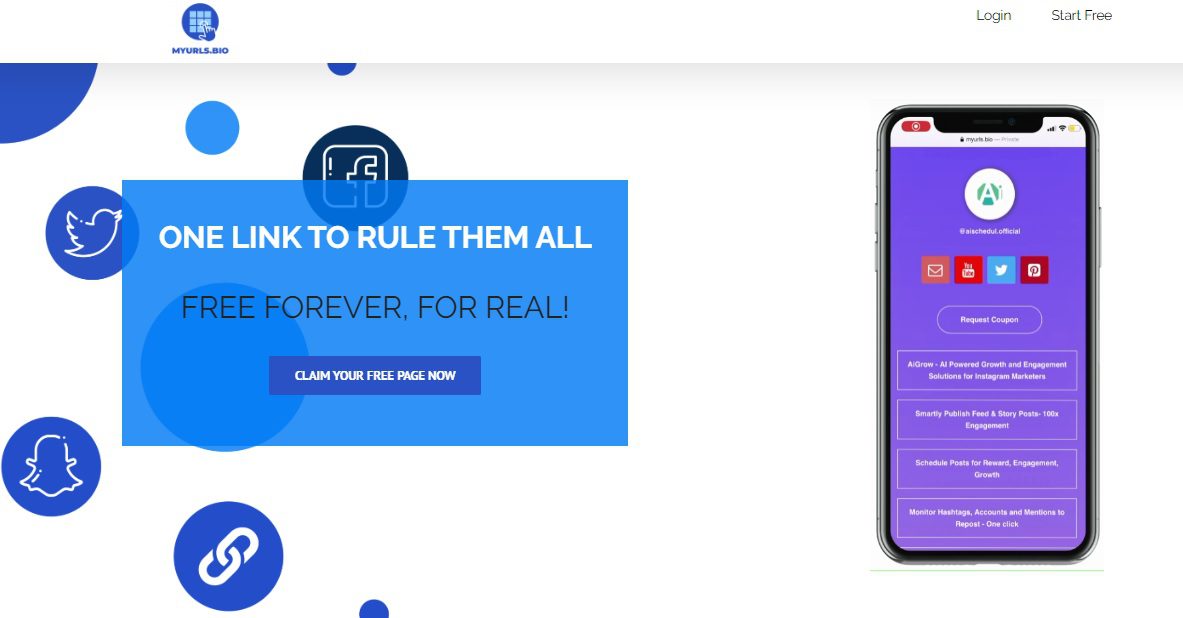 Using it, you can add unlimited links to your posts, stories, and bio. This free tool helps you link to all social media accounts at once and run more efficient social media campaigns. Moreover, providing you with the opportunity to keep track of your bio link clicks, allows you to come up with new strategies for your Instagram information center, advertising campaigns, and Instagram shops. Try it for free and become fully linked to the things that matter most to you. 
Final Thoughts
As Election day draws nearer, Instagram users are noticing that Instagram adds links to some posts on their feed. This raises the question! Is Instagram adding a new feature to add clickable links to Instagram posts? Actually, the answer to this question is NO! The reason behind these added links is that Instagram is launching the Instagram voting information center to keep people connected with the right news and data. By the way, if you want to add links to your posts, click here and try MyURLs.bio for free.