Your Instagram bio, also known as your Instagram description, is the first thing people see when they come to your page. So, the easier it is for people to identify with your brand, the easier it is for them to want to follow your account and like your posts. 
In order to maximize your likes and followers, here are a few tips on how to optimize your own Instagram bio to have a better Instagram description for your brand or business. This is an essential part of your job if you want to make money from your Instagram.


The Headline Is The Main Part of Instagram Description
The headline is the bolded section of your bio and will ultimately be your brand name. Since potential followers may not know who you are, you could also add in keywords relevant to your business. Keep in mind that everything you include in the headline will be searchable. Write a catchy Instagram bio and add some SEO tricks and you'll see the jump in your profile reach.

Body Section of Your Instagram Bio
 For the body section, show off your expertise, maybe include your mission statement or slogan. You could also add some social proof, which gives you credibility. For example, you could list any magazines or publications you have been featured in. This section provides your followers with an idea of who you are and helps build trust. 
Use a Call-to-Action Phrase to Optimize Instagram Description
This is probably our most applied tip. This will immediately grab people's attention and entice them to click on your link. This could be things like check out our spring collection below or watch our latest video blog. Try to incorporate engaging CTAs in your Instagram bio.

Multiply Your Bio Links, Multiply Your Instagram Income
Adding a link is the most important part because this is what will increase your sales. But what about turning your Instagram bio link into a full-featured web page in just a minute. Here is where you need a smart Instagram marketing service like AiGrow to add all of your links in one Instagram bio link. 

The result is a stunning page that resembles your feed and is fully linked to the things that matter most to you, such as:
eCommerce product pages

Blog posts

Other social media channels

Soundcloud or Youtube posts… and more
Here's how it works: 
1.Sign up free and connect your Instagram account.
2.Claim your bio link URL
Visit the MyURLS.Bio tab in the dashboard and set a name for your link.
3.Create social links and buttons for your page
Add fully customizable buttons and social links to your page
4.Setup links for your posts using a simple drag and drop interface
Set which feed posts will appear on the page and add links for each post. Also, add all of your other social media links like your YouTube channel.
5.Publish your link to your Instagram profile
Save and publish your page and it will instantly appear in your Bio link on Instagram!
you can also customize the theme, set your desired background and add as many widgets and buttons as you wish.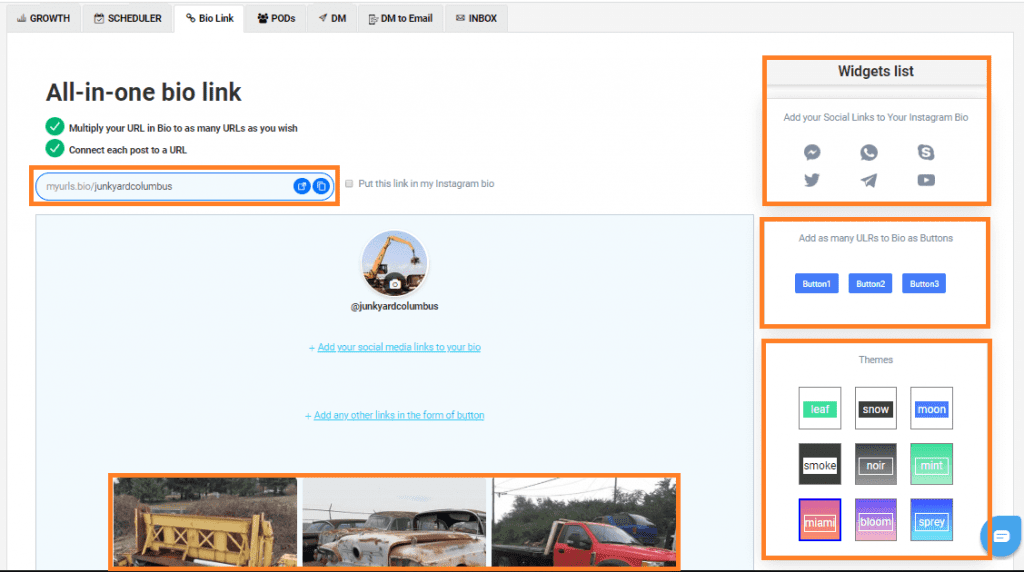 Use Bullet Point Format for a Succinct Description
Last but not least is implementing that bullet point format. This makes it easier to guide people through your bio. To get this look, simply login to your Instagram account on the desktop, and you can quickly enter spaces in the bio. 

Conclusion
Your Instagram bio is an Instagram description of your brand at one glance. Since people decide in the first 5 seconds whether or not to continue viewing your page, Instagram bio is the essential form of real estate. Therefore, make sure you follow all these tips to make a great first impression.
Thanks for reading this article until the end and stay tuned for our next articles where we will be covering how to create your own signature style.