Surfing around youtube, has it ever happened that you liked to share a youtube video with your Instagram friends? Well, we are here to help you go, from youtube to Instagram!
Youtube Vs. Instagram
Instagram is super popular. No one denies that. But do you any idea how popular youtube is?
For your record, youtube is the number 2 search engine_I do not assume I ever have to say which one is on top. After all these years, it seems like people still do not get bored with watching videos online, and youtube has the history in this matter since the first video was uploaded on 23 April 2005.
Youtube is the second platform on the internet after Instagram and has 2 Billion monthly active users. Every minute, 400 videos are uploaded, and on average, each session lasts 40 minutes. The most viewed video with 6.32bn views on youtube is "Despacito" by Luis Fonsi and Daddy Yankee.
On the other hand, the effect of videos can not be compared with photos and texts to get more likes. Videos are more amusing, transformative, and engaging. So it is not a quite bad idea to send videos from YouTube to Instagram.
Keen on the idea? Stick with me!
How to Send Youtube Videos to your Instagram posts and stories
Let's keep it quick; an easy way to post videos to your Instagram feed or story is to download the youtube video with a tool like youtubemp3mp4 and then use a tool like AiGrow to upload and post (or even schedule) it to your Instagram.
Tube2gram; Post Youtube Videos to Instagram & Twitter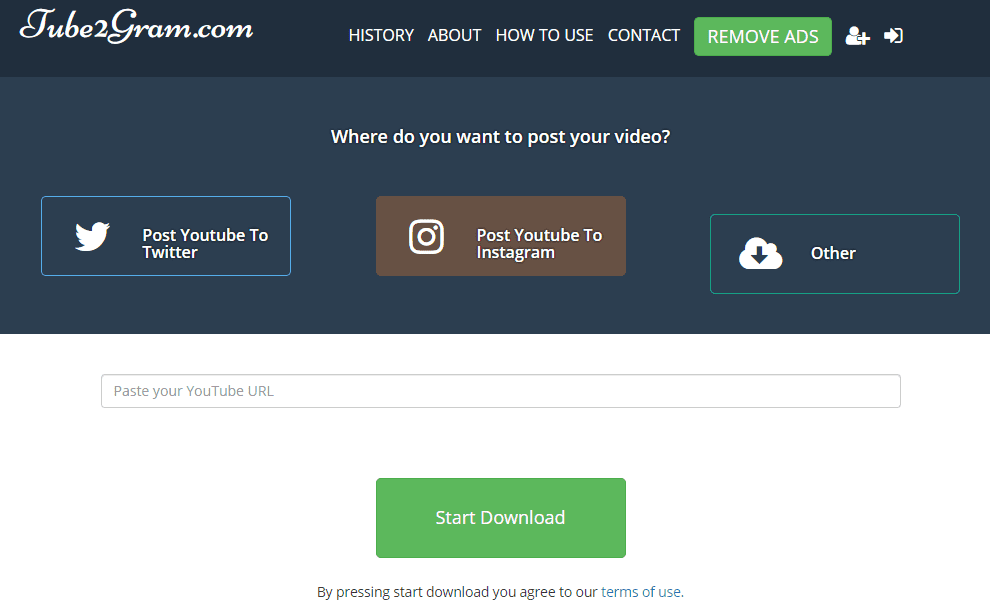 Tube 2 Gram sends videos from YouTube to Instagram, as its name suggests. The steps are a lot less complicated than the mentioned way.
Copy the URL of the YouTube video

Place it over the one-minute section

Download the video and post on Instagram
Super easy, right? But it has a withdraw. By Tube 2 gram, you can download only one minute, which is okay if you want to upload it as your story on Instagram.
Kapwing; Resize any Video to fit Instagram
Follow the steps below to send a Youtube video to Instagram using Kapwing:
Find Kapwing Resizer Here.
Find the YouTube Video on Kapwing
Copy the YouTube URL and paste it in the box on the homepage to import the YouTube video. 
Resize the Transformed Video for Instagram
In the left-hand column, click the square (1:1 aspect ratio) to optimize for Instagram.
Download and Publish on Instagram
Once you're done resizing the video, click "Create." Then download the video to publish it to Instagram.
Note
:
Keeping resizer is capable of only resizing 30-minutes-video.
Why Sending Videos from Instagram to YouTube at all?
Such a good question. I am glad that you asked!
Do you run affiliate marketing promotions? Sending a video from YouTube to Instagram can drive traffic back to the original channel on YouTube. Of course, it must not include all parts of the video. One minute of it or its trailer will suffice. Make sure you take care of copyright law.
Final Words
YouTube videos are sometimes the best feed possible for the followers of your Instagram account. They can be uploaded as you post or story.
You got all you need. Try it right now!