In today's digital age, social media has become integral to any successful brand marketing strategy. As social media platforms continue to evolve, it's crucial for social media marketers to stay up-to-date with the latest tools and technologies.
With millions of apps available on the App Store, finding the best iPhone apps for social media marketing can be daunting. In this article, we'll take a look at the top iPhone apps that can help social media marketers manage their social media accounts, analyze performance, create engaging content, and more.
Whether you're a social media manager, entrepreneur, or freelancer, these apps will help you stay ahead of the game and drive your social media marketing efforts to success.
10 Top iPhone Apps for Social Media Marketers
There are many iPhone apps, such as iPhone cleaner apps, social media scheduling apps, community management apps, etc., that can be helpful for social media marketers. Here are some of the best ones: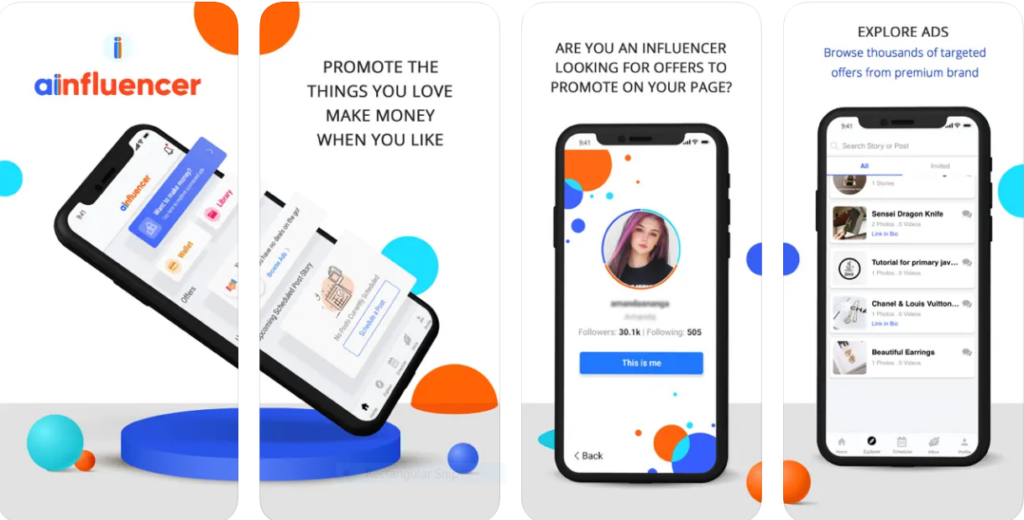 Ainfluencer is the ultimate DIY marketplace for small and medium-sized businesses looking to use the power of micro influencers on Instagram and TikTok to reach millions of potential customers and produce high-quality content.
Businesses can use Ainfluencer to leverage the creativity and power of micro influencers to increase brand awareness, increase sales, and establish themselves as industry leaders in an authentic, cost-effective, and viral manner.
Ainfluencer is also a thriving marketplace that brings together talented influencers with thousands of exciting brands.
As an influencer on Ainfluencer, you'll have the chance to collaborate with businesses and brands in your niche to showcase your creativity and personality to your audience. You'll gain exposure, build your personal brand, and earn money by creating engaging and authentic content that resonates with your followers.
2- Hootsuite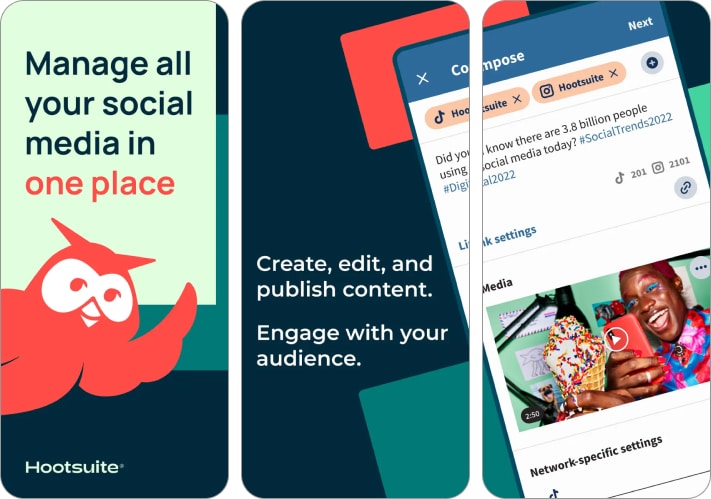 Hootsuite is a social media management tool that allows users to manage multiple social media accounts from a single platform. It provides features like scheduling posts, monitoring social media activity, and analyzing social media metrics.
For social media marketers, Hootsuite can be a valuable tool as it allows them to efficiently manage their social media presence across various platforms like Facebook, Twitter, Instagram, LinkedIn, and more. Here are some of the ways in which Hootsuite can help social media marketers:
Saves time: Hootsuite's scheduling feature allows marketers to plan and schedule social media posts in advance, saving time and enabling them to focus on other important tasks.
Improves productivity: With the ability to monitor and manage multiple social media accounts from a single platform, Hootsuite helps social media marketers to be more productive and efficient.
Enhances collaboration: Hootsuite enables teams to collaborate and work together on social media campaigns, providing a centralized platform for communication and coordination.
Provides insights: Hootsuite's analytics feature provides valuable insights into social media performance, allowing marketers to make data-driven decisions and improve their social media strategy.
Supports customer engagement: Hootsuite's social listening feature enables marketers to track mentions of their brand and engage with customers in real-time, enhancing customer experience and loyalty.
Overall, this app allows you to manage all your social media accounts from one place, schedule posts, track engagement, and monitor keywords and hashtags.
3- Buffer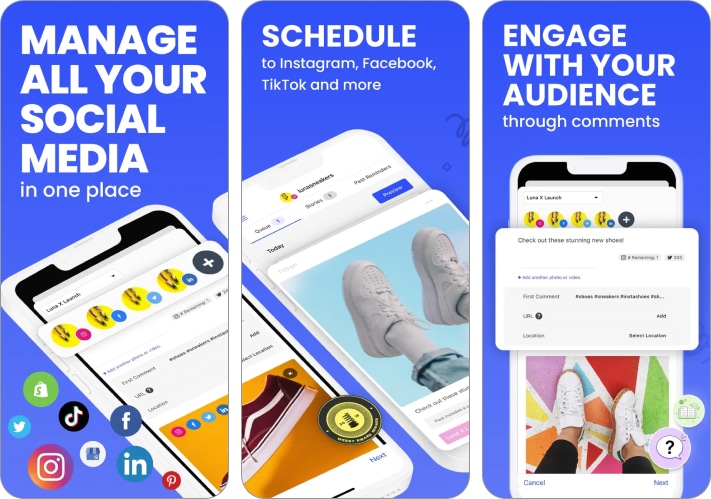 Similar to Hootsuite, Buffer lets you schedule social media posts, track performance, and analyze engagement.
Buffer helps social media marketers in several ways:
Saves time: Buffer helps save time by allowing marketers to schedule posts in advance, which frees up time for other tasks. Instead of manually publishing content on each platform every day, marketers can use Buffer to schedule posts weeks or months in advance.
Consistency: Buffer helps maintain a consistent presence on social media by ensuring that content is published regularly, even when marketers are busy or unavailable.
Analytics: Buffer provides analytics and insights that allow marketers to track the performance of their posts and adjust their strategy accordingly.
Multiple platforms: Buffer supports several social media platforms, including Facebook, Instagram, Twitter, LinkedIn, and Pinterest, among others. This makes it easier for marketers to manage all their social media channels from a single dashboard.
4- Canva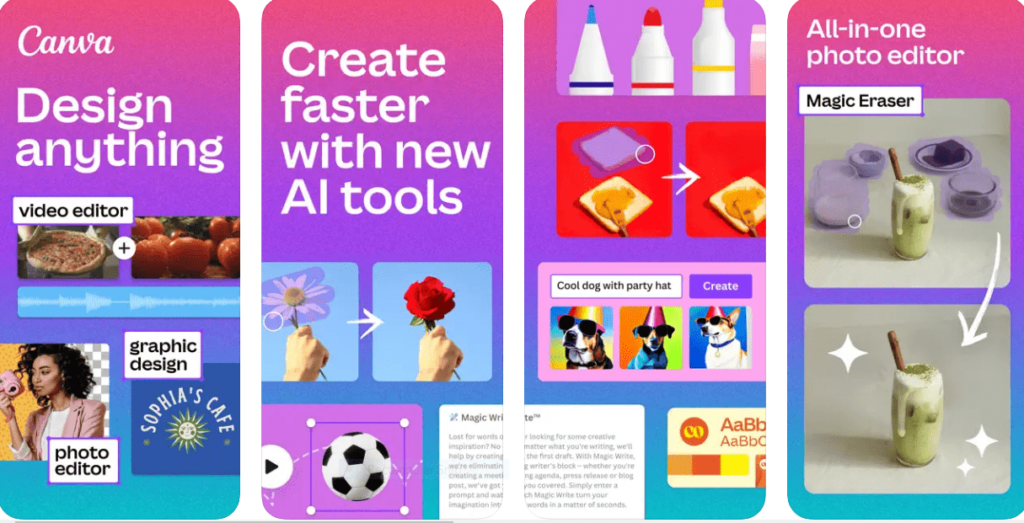 Canva is a web-based graphic design platform that allows users to create a variety of visual content, such as social media graphics, posters, presentations, and logos. It provides users with access to pre-designed templates, illustrations, icons, and stock photos, making it easy to create professional-looking designs even on your custom postcard without having to be a skilled graphic designer.
Canva can be a powerful tool for social media marketers because it allows them to create high-quality visual content that can help to engage their target audience and promote their brand. Here are a few ways that Canva can help social media marketers:
Creating visually appealing social media graphics: Canva offers pre-designed templates for various social media platforms like Facebook, Instagram, Twitter, LinkedIn, etc., which can be customized to fit the brand's aesthetics. This helps the social media marketer to create visually appealing graphics that can capture the audience's attention.
Designing branded assets: Canva allows social media marketers to create branded graphics that can be used across different social media platforms. This helps in establishing brand consistency and recognition.
Creating marketing materials: Social media marketers can use Canva to create marketing materials like brochures, flyers, and presentations that can be used in offline marketing efforts.
Collaborating with team members: Canva allows team members to collaborate on designs, making it easier to create high-quality designs in a shorter time.
5- Google Analytics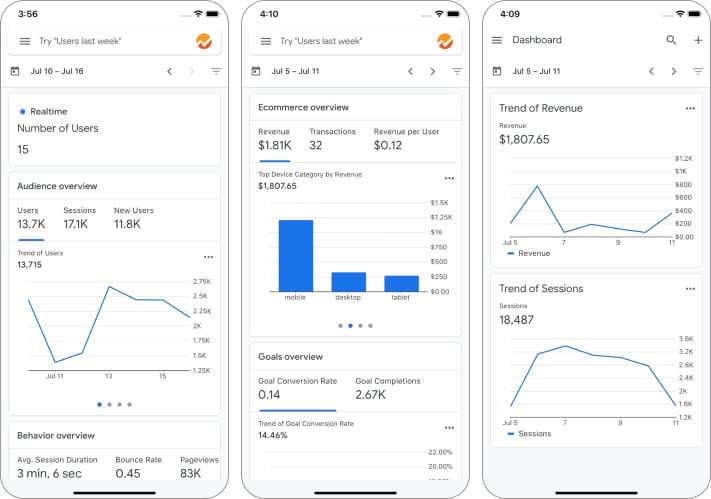 Google Analytics is a free web analytics service offered by Google that helps website owners track and analyze their website traffic. It provides detailed information about the visitors to a website, such as their demographics, interests, behaviors, and the sources that led them to the website.
Social media marketers can use Google Analytics to gain valuable insights into the effectiveness of their social media campaigns. By integrating Google Analytics with social media platforms, marketers can track how much traffic is being generated by their social media campaigns and which social media platforms are driving the most traffic.
They can also track how visitors behave once they arrive on their website from social media, such as the pages they visit, the time they spend on the website, and whether they make a purchase or complete a desired action. This data can be used to optimize social media campaigns, refine targeting and messaging, and improve overall website performance.
In addition, Google Analytics provides social media marketers with detailed reports on the performance of their social media campaigns. These reports can help marketers identify areas that need improvement and provide insights into how to optimize campaigns for better results.
6- Slack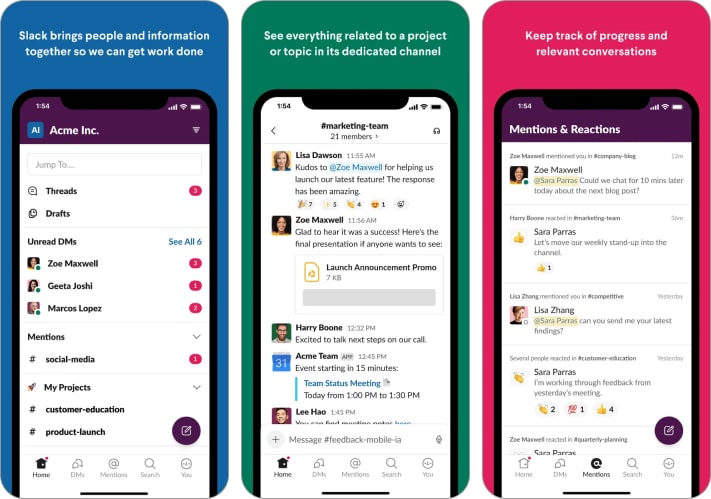 Slack is a cloud-based collaboration platform that facilitates team communication and collaboration. It allows teams to communicate and collaborate in real-time via chat, voice, and video calls. Slack provides a centralized platform for messaging, file sharing, and integrations with other tools.
Social media marketers can use Slack to improve their workflow and productivity. Here are some ways in which Slack can help social media marketers:
Improved team communication: Slack allows social media marketing teams to communicate in real-time, which helps to improve collaboration and decision-making. Team members can easily share ideas, feedback, and updates on projects, which can help to ensure that everyone is on the same page.
Efficient file sharing: Slack allows team members to share files and documents easily, which can help to streamline the workflow. Social media marketers can use Slack to share images, videos, and other content with their team members, which can help to speed up the content creation process.
Integration with social media tools: Slack can be integrated with various social media tools, such as Hootsuite and Buffer, which can help social media marketers to manage their social media accounts more efficiently. For example, marketers can receive notifications for new social media mentions or schedule posts directly from Slack.
Centralized communication: Slack provides a centralized platform for team communication, which can help to reduce the number of communication channels that social media marketers need to manage. This can help to reduce confusion and ensure that everyone is on the same page.
Conclusion
In conclusion, there are a variety of great iPhone apps for social media marketers that can help increase productivity and leverage their success. Each app has its own unique features, so it is important to review each one closely to determine which best suits your needs. Whether you need help tracking analytics, organizing content, or creating beautiful visuals, these apps can make the job easier. With these tools in hand, social media marketers have the opportunity to take their business to the next level.
FAQs
1- What apps do social media marketers use?
1- Hootsuite: A social media management platform that allows marketers to manage multiple social media accounts, schedule posts, and track engagement.
2- Buffer: Another social media management platform that enables marketers to schedule and publish posts, analyze engagement, and manage multiple social media accounts.
3- Sprout Social: A social media management and optimization tool that helps marketers with scheduling, publishing, analytics, and engagement.
4- Canva: A graphic design tool that allows marketers to create visually appealing social media posts, ads, and other graphics.
5- Adobe Creative Suite: A collection of graphic design tools, including Photoshop and Illustrator, that allows marketers to create customized social media graphics and other marketing materials.
6- Google Analytics: A web analytics service that provides marketers with detailed insights into website traffic, audience demographics, and other key metrics.
7- SEMrush: A tool for search engine optimization (SEO) that helps marketers with keyword research, competitor analysis, and backlink tracking.
8- Mailchimp: An email marketing platform that enables marketers to create and send email campaigns to their subscribers.
9- Hubspot: A marketing automation platform that includes tools for social media management, email marketing, lead generation, and more.
10- Trello: A project management tool that allows marketers to organize their social media campaigns, track progress, and collaborate with team members.
2- What is the most used social media app for advertising?
Facebook is the best social media site for advertising globally and is easily the most popular as well.