Social media networks turned out to be an essential part of a successful marketing strategy. Using these networks enable you to expand your business, sell products on a worldwide scale, and gain new followers and customers every single day. But, getting started seems to be a little challenging. In this article, I'll show you how to get your first 300 followers on Instagram, Facebook, and Twitter. Stay tuned and grow your business right now!
Get 300 Followers on Social Media Channels
In the following, you'll find some tips that'll help you get your first followers on different social media channels in less than a month. 
How to Get 300 Real Targeted Instagram Followers per Month?
Actually, we have previously taught you how to attract your target followers on Instagram. Additionally, I beg you all know that to get more organic followers on Instagram, you have to: 
Post consistently at the best time possible, 

Interact with your followers, 

Write comprehensive captions, 

Come up with a captivating Instagram bio, 
And some other tips that can be found all over the internet. So, let's don't waste time and jump into the gist of the matter. Getting the first 300 followers on Instagram, especially followers that are really interested in your business and trust you without you having a great number of followers is going to be really hard and time-taking! So, what can you do? 
Well! Here's an amazing solution. I recommend you to use Instagram marketing packages to boost your business instantly. One of the best packages you can use is AiGrow, an Instagram marketing service that gives you the chance to have a dedicated Instagram manager and grow organically, without using any bots or buying followers. 
This service offers different packages and using all of them, you get at least 300 followers per month: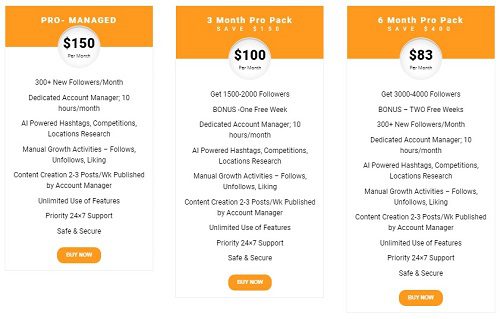 Using it, apart from growth services, you'll have unlimited access to a scheduler, repost app, DM automation tool, and more. To know how it exactly works and its other features, read the complete AiGrow review. 
How to Get Your First Facebook Page Audiences
Facebook is a great place to make passive income. As you may already know, Instagram and Facebook are now two integrated channels and this point will definitely help you in your business. Right now, you can simply manage your Instagram account, monitor Instagram DMs, and promote your business through Facebook which brings more your audiences to Instagram. But how can you spread your business through Facebook? 
Well, the strategies that'll help you get 300 followers on Facebook are almost the same: 
Run giveaway contests,

Start influencer marketing campaigns, 

Run Facebook ads,

Create viral content,

Share posts that cannot be shared on Instagram (link to your blog, share long-videos, etc)

Engage with your community, 

Promote your Facebook page on your newsletter, 
And invite people to like your page! Yes! As you may have noticed, on Facebook, people can like your page or follow it. 

Actually, the main difference between likes and followers is that your Facebook followers receive updates from your page and they have more interactions with your posts. But likers are just your fan and they see your posts whenever they check their liked pages. However, if you have more likes and share valuable content, you'll turn them into followers easily. 
Moreover, create an all-in-one bio link and promote your Facebook page on your Instagram account for more organic followers on both channels. 
Read More: Facebook vs Instagram: Which One Makes You More Famous?
How to Gain More Twitter Fans
Among all social media channels, growing on Twitter might be the toughest one. This might be because of the word limit; you can write only 280 characters. So, when sharing an idea out there, you must really summarize it and write concisely. 
To get 300 followers per month on Twitter: 
Tweet frequently, 

Write a descriptive bio and link to your social media channels and websites,

Share your marketing solutions with people having the same problem, 

Retweet content from other small businesses and make a partnership, 

And cross-promote your account on other social media channels.
Following these tips, you will grow organically and continuously. 
Also Read: Twitter vs. Instagram: Best Social Media for Business
FAQs about Growing Social Media Websites
Here are some questions that you may also ask while growing your business on social media networks: 
How Fast Can I Get 300 Followers?
It really depends on your current followers. If you have just started, it may take about 1-2 months to get 300 real and active followers. But in case you have 10k+ followers, you have more chances to be seen, and hence, you may get 300+ followers every single day. However, on networks like Instagram, make sure not to exceed Instagram's daily limits. 
What Does It Say About You If You Have 300 Followers On Instagram?
To be honest, having 300 followers is not a cornerstone for Instagram marketers. Most Instagrammers want to get 10K followers to unlock new features and reach more people. By the way, when you get your first 300 followers, Instagram users who are not following you will be more likely to trust you and your business and hit the follow button. 
How Many Likes Should I Get With 300 Followers?
In summary, the average likes-rate on different social channels are as follows: 
For Instagram, it's about %3-%5. So, with 300 followers, you should get about 9-15 likes per post. But of course, if you share eye-catching and inviting posts, you'll get more likes. 

Average Facebook users like 13 posts per month. So, you can expect to receive about 10-15 likes on your Facebook posts.  

And on Twitter, an average rate of %0.5-%1 is considered to be a good engagement rate. 
Final Thoughts
To wrap it up, growing on social media channels takes a great deal of time. However, if you come up with creative ideas, keep yourself updated about new marketing strategies, and follow the tips mentioned in this article, you can get 300 followers per month continuously.