Instagram recently rolled out some major updates that have the potential to change the way you market your business on the platform. One of these outstanding updates is the ability to add links to your Instagram stories. This way you can push your leads directly to your page or even to your store. Keep reading to learn about some tricks to best use the 'swipe-up' feature to boost your business growth un Instagram.
Can anyone add links to Instagram stories?
The newly introduced feature is only available to accounts with more than 10000 followers or verified accounts. But it's very likely to be available to all users soon in the future. There are also some tricks you can use to add CTAs to your Instagram stories, even if you don't have 10,000 followers.
Read more: 7 Creative Ways to Best Use Instagram Stories
Why you may need to include links in your Instagram Stories
One of the biggest downsides for businesses has always been the restriction for adding links to their posts. That's why they have always tried some other creative options to promote their website content, like using links in your bio.
With the new updates, now users can easily tap on or swipe up the 'see more' option to be redirected to your product page/website directly.
some inspiring examples of using links in Instagram stories
@Ticketmaster's Lawntourage Campaign
To offer discounts has always been a great way to drive traffic to your website. Ticketmaster used the feature to push Instagram users to a landing page on his website and let them purchase any discounted tickets they wished.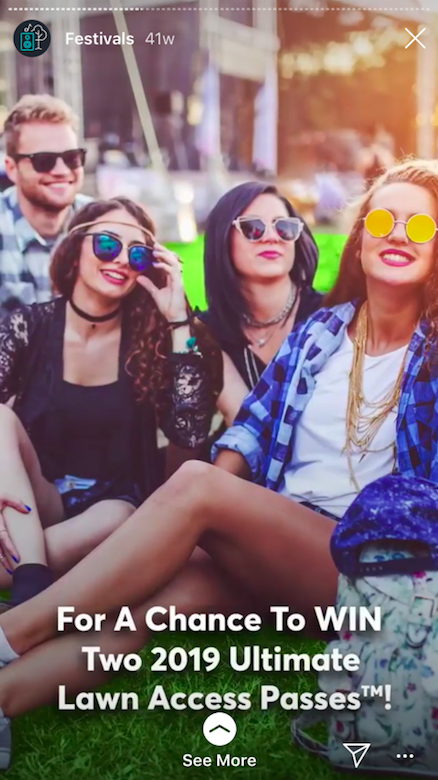 @Aetna's Stress Relieving Tips
Another great way to use links in your Instagram stories is to post questions or some tips to your Instagram stories and then include a link for those who wish to read more about the topic.
The health care company Atena is getting the best out of this option by sharing tips on his stories and then linking to his article for those who want to dig deeper.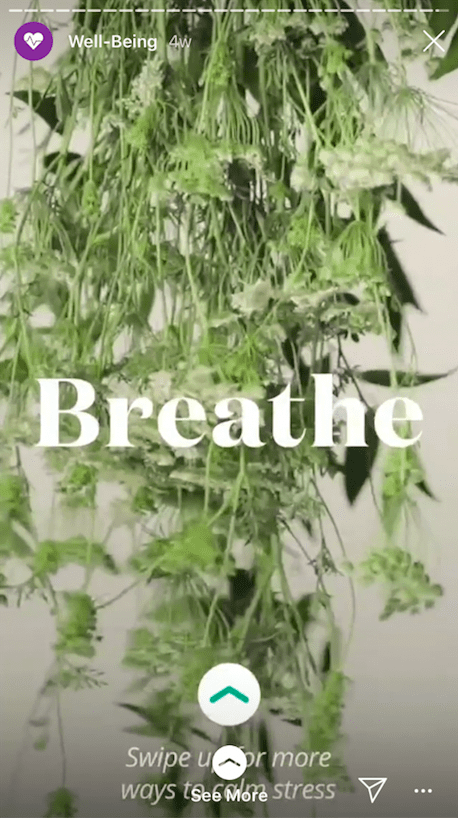 How to add a link into your Instagram story
You can easily add a link in your story, to do this follow the below steps and make your Instagram story more engaging.
Step 1: Click the camera icon to create a new story
Select the camera icon at the top left of your Instagram main screen to begin your Instagram story. It is just above the word Stories. You have the possibility to take a picture, video, or boomerang from there after you have opened the camera icon. Another work to do is swipe up and enter your library and post any photo or video captured in the previous 24 hours (or if it has already crossed 24 hours, take an image screenshot to put it back ).
Step 2: Tap the chain icon
Now click the link icon for the chain and add a link to the given text box. By typing or pasting in a URL, you can do this. (Note: Instead, you can add a link to an IGTV video.) Try to ensure you click on the finished or green check mark once you have entered your link successfully.
Note, the chain icon where you can attach links will only exist if you have a verified account or if you have a professional profile with more than 10,000 followers. If you don't have 10,000 followers, there is no need to worry. You can increase your followers fast and organically by using the AiGrow platform.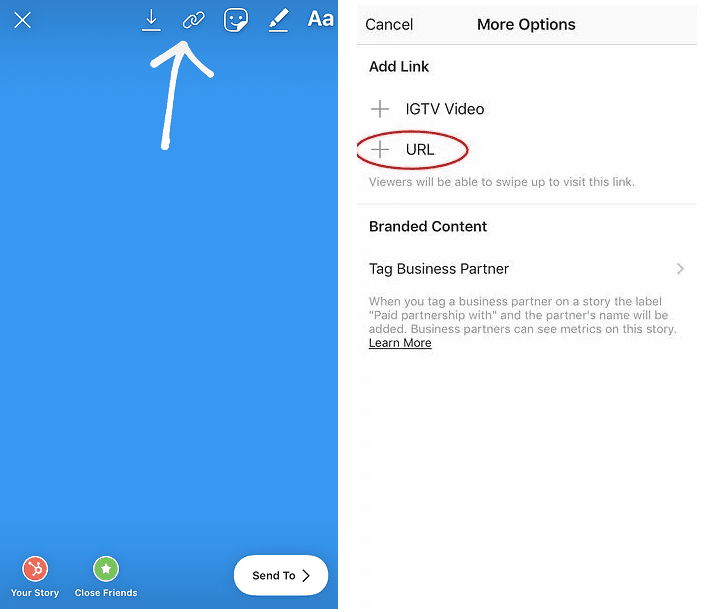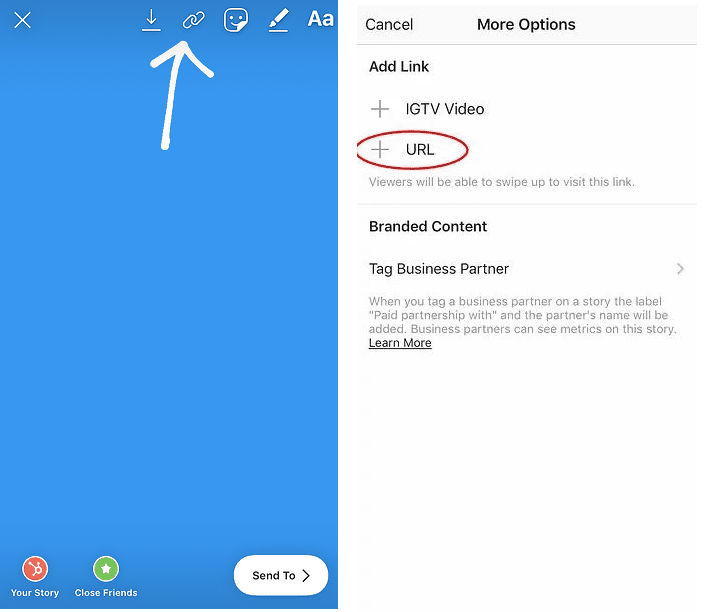 Step 3: Ensure your followers will click on the link
Before you press the "post your story" button, first edit your story and create a call-to-action. If you have inserted a clickable link to a picture, it will be available on the screen for a second before the next story arrives, so make sure your viewer is informed to swipe up to click the link. Although at the bottom of your story a "see more" sign will show, people will still need to be guided to click on it. For example in the above picture, there is a note "swipe up for the tutorial" which leads people to swipe up the link in your Instagram story.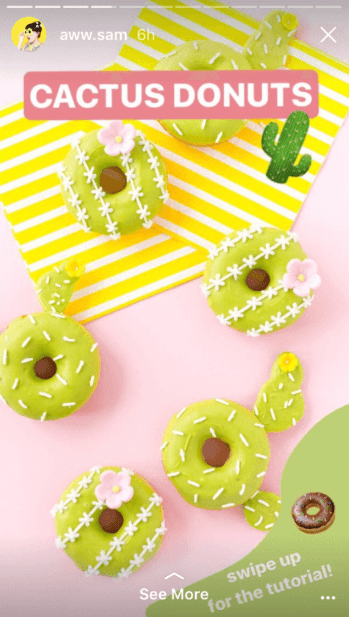 What else you can do to make your stories more engaging?
If you don't reach any of the criteria for adding links to the Instagram story, don't worry. Because this feature has been gradually rolling out to more and more users across the social media platform, it is likely to become accessible to everyone soon. There are still a few ways you can boost the Instagram of your business until then:
Making your feed look more professional on Instagram.

Tag other businesses on Instagram to create a network.

Schedule upcoming posts so that your profile still looks fresh and updated.
Increase your Insatagram engagement, so that your stories will reach out to more people.
Grow the number of targeted followers to your page.
do you know any other ways to make visitors engage with your Instagram stories? leave us a comment below 😉