Note: not interested in the details? Add Link to Instagram story without Being Verified With This Free Tool.
Have you ever noticed the "see more" button below some of Instagram stories? This is what we call Instagram swipe-up feature, and by swiping up the screen, you open a link. But this feature is just available for those with 10K Instagram followers and a verified account. Here, I show you how to add a link to an Instagram story without being verified. Stay tuned and add links to your stories. 
How To Add Links To Instagram Story (Swipe Up Feature)
Before going to see how to add a link to an Instagram story without being verified, let's see how you can use the swipe-up feature first! Here are the steps you must take to be able to add swipe up links to your stories:
Step 1: Click the camera icon to create a new story
First, tap on the camera icon on the top left corner of the Instagram homepage and add your photos or videos to your story. 
Step 2: Tap the chain icon.
Now, click the link icon for the chain and add a link to the given text box. By typing or pasting in a URL, you can do this. (Note: Instead, you can add a link to an IGTV video.) Ensure that you click on the finished or green checkmark once you have entered your link successfully.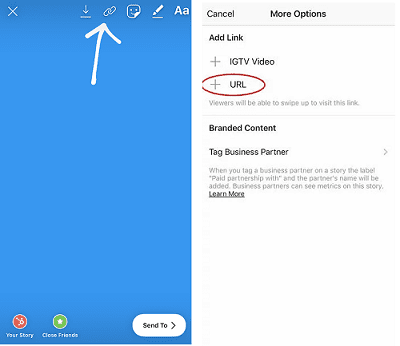 Note that the chain icon only exists if you have a verified account or a professional profile with more than 10,000 followers. So, before going to add links, you may need to get 10K followers on Instagram without being banned. 
Step 3: Ensure your followers will click on the link.
Before you press the "post your story" button, edit your story, and create a call-to-action. If you have inserted a clickable link to a picture, it will be available on the screen for a second before the next story arrives, so make sure your viewer is informed about swiping up to click the link. Although at the bottom of your story, a "see more" sign will show, people will still need to be guided to tap on it. For example, in the picture below, a note "swipe up for the tutorial" leads people to swipe up the link in your Instagram story.
How to Add Link to Instagram Story Without Being Verified?
But what if you still do not have 10,000 followers. Are deprived of this feature? What if I say you can still include a link in your Instagram story? Quite fancy, huh? But that's right; Swipe Up Can Still Happen on your Instagram Account Even without 10K Followers.
Well, the good news is that we know how to swipe up without 10K followers. Stick with me! Here are 3 simple ways to add a link to an Instagram story without being verified:
Let's see how each one works. 
How To Add Link To Instagram Story Without 10K Followers through @mention
Make a regular Instagram story-sized image,

add a camera roll

, or

put a picture on your Instagram Story

.

Include a CTA (preferably a button – CLICK HERE) in your design.

Add a

@ Mention sticker

over the button or CTA.

Change the color of the @mention sticker to be the same as the button.

Shrink it so that it won't be visible but still clickable

Mention your Instagram account (or you can create another account for this purpose).

Place your link in the Bio of the mentioned Instagram account.
However, this method has a withdraw! And that's the limitation of the number of links in your bio. You can only have one URL in your Instagram bio at a time. But don't worry, we've found a solution for that.
Fortunately, some services help you add multiple links to your Instagram Bio.
How To Add Link To Instagram Story Without 10K Followers through IGVT?
Produce a video using IGTV

Go to your main Instagram feed, and tap the camera icon in the top left corner to create an Instagram Story.

Take a photo by Boomerang or video.

Upload it on the Instagram story (You can additionally swipe up to access your library of already taken photos or videos)
Tap on the chain link icon and add "call to action." Your IGTV library will show up, so you will select the video related to the story you're publishing. The video below is also describing the same method:
How to Get Swipe Up on Instagram Without 10K Followers Using MyURLs.Bio?
There is another way to connect your Instagram stories to external links. This will not work the same as the swipe-up feature, but it is practical, especially if you own an e-commerce shop or blog.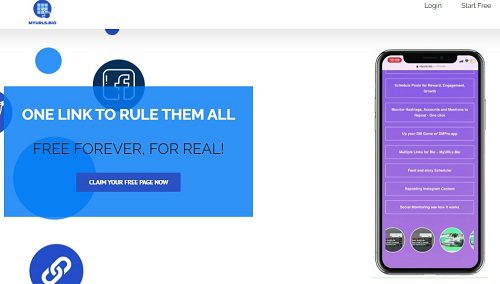 MyURLs.Bio is an all-in-one bio link tool that helps you add external links to your Instagram posts and stories. This is totally free and using it, and you get a landing page for your Instagram bio link that includes all your links. Additionally, all the linked URLs will be permanent, and there's no need to save your stories on your highlights to let your followers access your links anytime they want! Here's an example of what it looks like: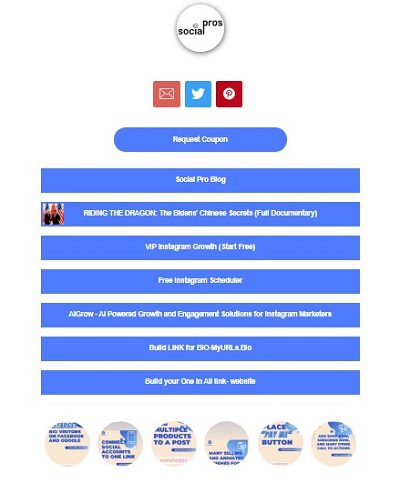 Cool, right? Sign up for free right now and get the swipe up on Instagram without 10K followers. 
Final Thoughts
To sum it up, the Instagram swipe-up feature allows you to add external links to your Instagram stories and get more traffic on your website, promote your products and services properly, and lead people to purchase pages. However, to add links using it, you need to have 10K followers or a verified account. Here, we showed you how to get the swipe up on Instagram without 10K followers and add a link to an Instagram story without being verified. Try the mentioned tips and leave us a comment if you know any other ways.