There is no argument that having a social media presence is now crucial to growing and maintaining a successful business.
For example, consider these three stats:
Over a billion users now use Instagram
60% of users find new products on Instagram
75% of users take action after seeing a post (visiting a website, for example)
The problem with social media is that it can require as much time and energy as running your actual business.
Read more '30 Social Media Management Tools You Need in 2019'
Fortunately, that's where social media managers can save the day. A good social media manager will take the responsibilities required to successfully run your business's social media completely off your hands so that you can focus on the equally-essential day-to-day responsibilities of running your business.
Best social media manager should provide the following three things for your business:
Engagement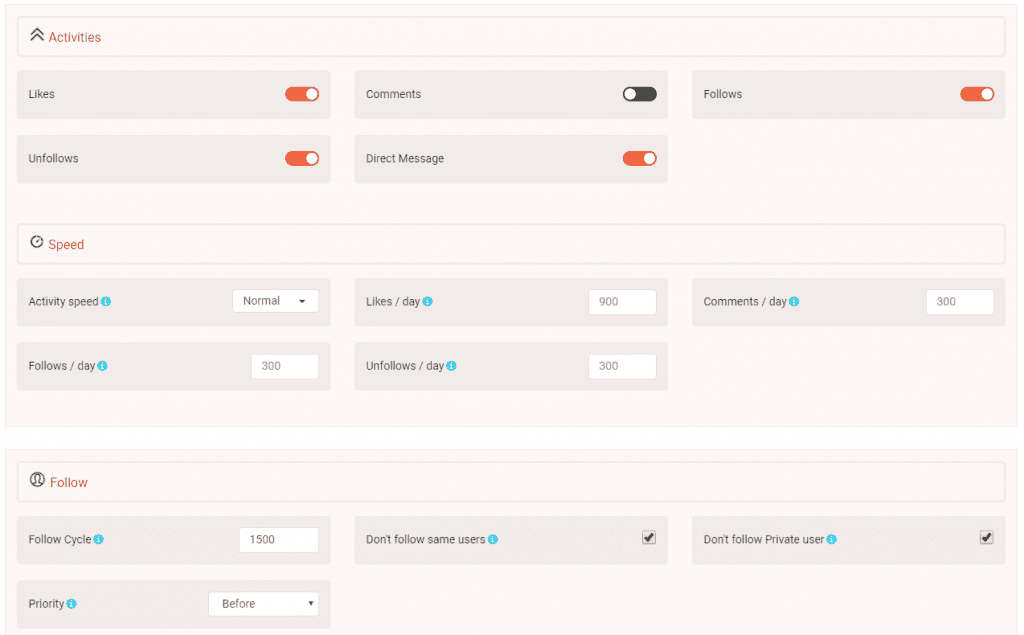 It's not enough to post stellar content and expect to grow and maintain your follower base.
To grow your social media presence, you need to be engaging with your community. Engagement means Liking, commenting, DMing, following, sharing, and so on.
Choose the best social media manager for engagement:
Researching who you should be engaging with, thinking of thoughtful comments, and crafting individual messages on a daily basis, however, can become extremely time-consuming.
A good social media manager knows who to engage with and can help automate the more monotonous actions such as Liking and following.
Even for actions that require more thought such as comments and DMs, a good social media manager can still help optimize and speed up the creation and sending. For example, if you have a message that applies to more than one person, a social media manager will allow you to mass send that one message to a group of people instead of each individual belonging to that group, one-by-one.
One such social media manager is AiGrow. After providing the hashtags that people you want as followers are using (you can find these hashtags by reading this article on choosing the best hashtags for your specific niche), as well as their location, your AiGrow manager will begin Liking, following, commenting, DMing, and generally engaging with only people on Instagram fitting your target audience with the intention of driving them back to your Instagram page and converting them to followers.
With the use of AiGrow's VIP account, you actually hire an expert and dedicated Instagram manager that will boost your account in every aspect!
Customer Service

One of the easiest and quickest ways to handle customer service is through social media. It not only eliminates the need for customers to take the extra step to email you, but with 89% of messages to brands on social media being ignored, responding to a customer's message is an easy way to stand out from the competition.
How to choose the best social media manager for customer service:
Where handling customer service from social media platforms can become a hassle is when you start receiving hundreds of messages a day. This is because, with Instagram, for example,  you are only able to send and receive messages from your phone. This is okay for smaller companies receiving a small number of messages, but for larger companies receiving hundreds of messages a day, having to respond to each one from a small phone screen is simply counter-intuitive.
Therefore, a good social media manager will allow you to take the messaging experience on your phone and move it to a desktop. It will also allow you, as touched on above, to send mass messages where it makes sense, such as for answering common questions, welcoming new customers to your business, making company announcements, providing discounts to your followers, and so on.
A tool like DMPro provides you with a full Instagram DM inbox on your desktop. You can send and receive messages, filter your messages (read, unread, sent, and all), and search for messages from specific people. In addition to having a functioning desktop inbox, you can also send automated DMs to current followers, new followers, users using specific hashtags, users following a specific account, and specific users on an excel list.
Content Scheduling

In order to maintain high engagement rates and continue gaining followers, your social media feed should have a continuous stream of fresh content. This means posting content on a regular basis, which can be difficult to fit into a busy professional's life.
Read more '50 Things To Post On Instagram in 2019 (For All Niches)'
How to choose the best social media manager for content schedule:
Scheduling content in advance ensures that your followers will always have fresh and engaging content. The best social media manager for your business will offer a content scheduler that allows you to plan out your posts for days, weeks and months in advance.
Because of the number of posts you're scheduling at a time, a good social media manager will also allow you to upload and schedule your posts from your desktop.
This is important for a couple of reasons. The first reason is that being able to upload from your desktop encourages you to create content with devices other than your phone, which can lead to a higher overall quality of your content. The second reason is that desktop scheduling makes it easy to ensure that your social media pages constantly have fresh content being uploaded, even at times when you wouldn't otherwise be able to upload.
If you are managing pages on multiple social media platforms, you can use Buffer to schedule posts across all of your different pages. If you are only focusing on one social media platform like Instagram, for example, you can use a tool like AiSchedul.
To get the possible results, you can even do your own research into when your audience is online and most active. You can then use what you find to schedule your posts for the best possible impact.
---
The best social media manager for your business will make it simple to add followers to your Instagram feed, stay in touch with those that follow you and answer any questions/concerns that they may have, and schedule your posts for days, weeks, and months ahead. All of these three features are offered in the AiGrow's VIP account. But if you are interested in using just DM feature or Schedule feature of the VIP account you can use DMPro or AiSchedule platforms.
As a good place to start, sign up for social media manager AiGrow or DMPro or AiSchedule and try the features described above for free.