Looking for the third party service to manage Instagram? Then better sit tight and read this article till the end!
Thinking about expanding your business on Instagram and gain some followers who can become your potential customers? Well, what an excellent choice! Instagram is the best platform to promote your brand. But have you thought about the time and energy you must invest in getting favorable results? Running an Instagram account to its full potential is a full-time job, and surely you cannot devote all of your time managing it. You can either hire someone to do it for you or pay a small amount of money and use Instagram third-party services to manage it.
In this article, we're going to introduce you to the best third-party service to manage Instagram. With this app, you can make the most of all the Instagram features without allocating much time. But first, let's learn what they are and why you should use these services.
What are Instagram third-party services?
Instagram third-party services are applications that can help you to promote your account more efficiently by using all the features on Instagram. They do these promotional activities on your behalf, and sometimes, they provide tools that enable you to do activities that you cannot do on the Instagram app.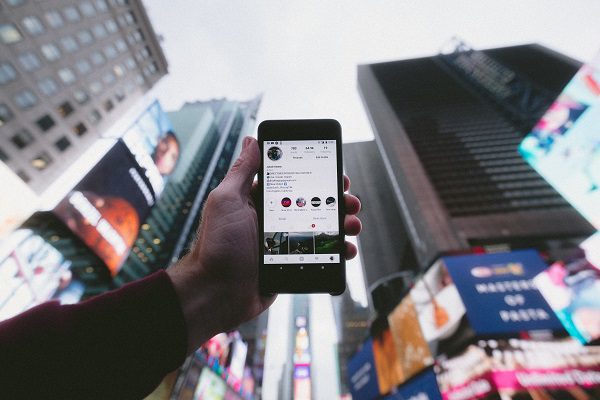 These Instagram third-party services come in many shapes, from online web applications to mobile applications, desktop software, and even plug-ins.
Why should you use Instagram third-party services?
There are many reasons why you should use a third-party service to manage your Instagram. First of all, as mentioned above, you cannot dedicate all of your precious time doing promotional activities such as liking, leaving comments, and gain more followers. A good Instagram third-party service can do all of these dull tasks for you. You can use your time for less time-consuming and more critical tasks such a planning Instagram strategies.
Secondly, although Instagram is a great platform to promote your brand, it is also an extremely crowded community. Imagine trying to improve your Instagram account among one billion other active users with bare hands.
And finally, if you choose an excellent Instagram third-party service, you leave your Instagram with those who are experts not only in your niche but also on Instagram. But you must only expect this type of result from a few such apps. If you want to know about the best third-party service to manage Instagram, keep reading!
What is the best third-party service to manage Instagram?
There are many apps out there that claim to be the best on the market. But you should pay close attention to what service you choose. A lot of these services are either using destructive bots or are ineffective. Luckily, we happen to know the best option for you: AiGrow.
AiGrow: the best third-party service to manage Instagram
AiGrow is an Instagram manager that can handle all the promotional activities of your account. It offers several tools that can effectively turn your Instagram account like a magnet for your potential followers. With AiGrow, not only can you manage the regular Instagram features such as likes, follow, posting, and commenting, but you can also use additional features such as Bio Link that are not available on the app. Let's take a closer look at each of the tools that AiGrow offers to its users.
Virtual assistant
AiGrow offers unique ideas for promoting your account. We start with the best of them: Instagram virtual assistants.
When you sign up for AiGrow, you access many different plans for promoting your account. Each plan is tailor-made for different tastes and needs. These plans start from basic features such as scheduling accounts and reposting to more complete plans like VIP and Pro plans.
With a VIP plan, for example, you will get a personal virtual assistant that will dedicate 30 hours per month working on your Instagram. When you add your account to the AiGrow dashboard and define your area of activity on Instagram, a member of AiGrow, who is professional in your niche will take over your account, making sure you have the right strategy to manage it.
These assistants are aware of the latest Instagram algorithm. So, they guarantee to keep your account safe by not reaching Instagram limitations. These professionals also ensure 500+ new real and organic followers per month. Many of these new followers can become potential customers of your brand. The good thing about an engaged Instagram follower is that they make you an extra $10 compared to an engaged follower on Facebook.
What makes AiGrow the best third-party service to manage Instagram is that it has excellent customer service and support. You can directly get in touch with your assistant to go through all the little details of your promotional plans.   
BIO LINK
Bio Link is an incredible tool for those who want to use external pages on their Instagram. AiGrow Bio Link enables you to add unlimited external links not only to your bio but also to your posts and stories (even if you don't have 10k followers yet)!
This item is especially great if you want to sell products and services on Instagram. You can easily connect your website, shop, and other social media to your Instagram.
DM TO EMAIL
Getting tired of Instagram notifications and prefer to communicate with your followers via email? No problem! With AiGrow you can receive and reply to all the direct messages. DM notifications have always been an annoying issue for users. Sometimes you get multiple notifications for a single message, and another time you don't get any notification at all! Luckily, with AiGrow, you can easily turn off your Instagram notification and handle your DMs from your email.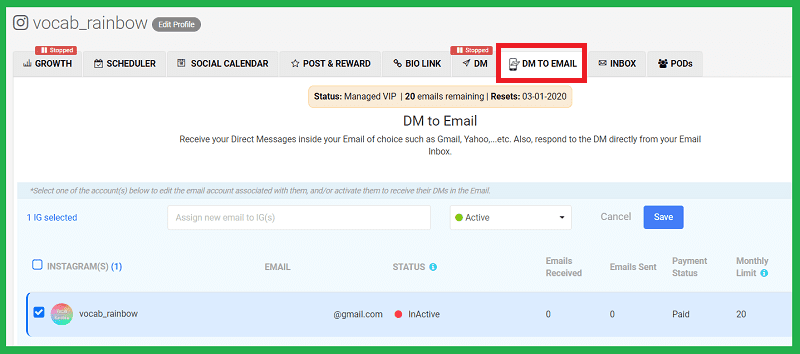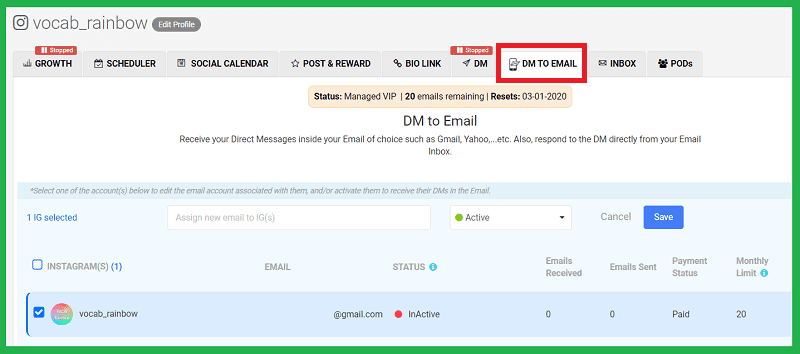 Advantages of using AiGrow as the best third-party service to manage Instagram
     

24h support

     

Risk-free growth

     

Reasonable price

     

Multiple accounts

     

Professional assistants

     

Avoid fake Instagram DM notifications
Final words
Instagram is too big to be alone. If you want to be a winner on this popular platform, you must get some help from professionals. Third-party services can greatly help you to achieve your promotional goals. But be careful about which service you choose!