Graphic Interchange Format, or commonly GIFs, are simply image formats like JPEG and PNG. Unlike the typical image formats, GIFs are animated images. GIFs have always been on the Internet, yet these days, they are more popular than ever. In the real world, we can communicate with others by gesturing and nuances in our tone. However, we cannot use any kind of body expression on social media. That is precisely what made GIFs so special. They can convey our feelings and emotions without words. Using GIFs on Instagram posts and stories has always had an attraction to many users. However, many Instagram users still have difficulties with GIFs. This article will individually explain how one can convert a GIF to a video for Instagram and vice versa.


Convert Instagram Video To GIF
There are many ways to convert a video to a GIF. The best solution of all is to use an online converter. But as we are now talking about Converting Instagram Videos, we need to find a way to save a video on Instagram. So in the following, we will provide you with a thorough explanation of the two steps.
#1 Download The Targeted Video From Instagram
Unfortunately, Instagram does not let users download directly from the application. So if you want to download Instagram videos before converting them to GIF files, you need to use a third-party assistant. Here we recommend you get help from AiSchedul. Aischedul is one of the best Instagram tools available online, with many additional features. Significantly, this scheduler helps you repost and download Instagram videos without watermarks on your desktop. Before downloading Instagram videos using this incredible service, please be sure to read Instagram terms and policies. AiSchedul can also help you with scheduling your feed, story, and IGTV. Read here for a complete AiSchedul review.
#2 Convert Video to GIF
Now, we assume that you have your video on your desktop. You can easily convert it to a GIF file. To do so, again, you need to get help from an online converter. In the following, we will provide a step-by-step guide on how you can convert your Video to Gif using EZgif.
Go to

EZgif

.

At the top of the homepage, go to the

Video to Gif

tab.

Again choose the

Video to Gif

tab right under the first tab.

Click on the button

Choose file

.

Find the address on your PC.

Click on the blue

Upload Video

button.

You will be able to

edit

the video before turning it into GIF, as demonstrated below.

After you are done with editing, scroll down and click on the

Convert To Gif

button.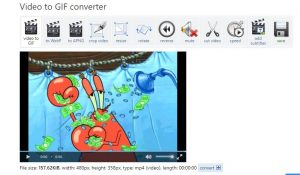 After taking the steps above, your GIF appears at the bottom of the page. Right-click on the GIF and Save the image on your drive. That's it! You can now post the GIF on Instagram or any other social media.
GIF to Video Conversion
Now that we mentioned how to convert a video file to a GIF, it is time to explain the converse, i.e., turning a GIF into a video. For this purpose, we again use the EZgif and then AiSchedul to upload the output to Instagram!
#1 Convert GIF to Video via EZgif
To convert a GIF file to an Instagram video, take the following steps:
Go to EZgif.

At the top of your page, choose the Video to GIF tab. 

Next, choose the GIF to MP4 tab right beneath it.

In the middle of the page, click on the Choose File button.

Upload the target MP4 file.

Click on the

Upload Video

button.

Edit your video with the available tools if it is necessary.

After you edited the GIF file, scroll down and click on the Convert to GIF button.
And then, you will be able to see the output MP4 video at the bottom of the page. Righ-click on the file and download it to your PC.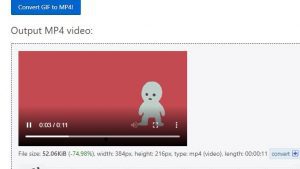 #2 Upload The File From Your Desktop via AiSchedul
Note that in this case, your result video is on your computer. It may be an unnecessary task to transfer the video file to your phone. As you may already know, the users can't post on Instagram from the app's web version directly. However, this may seem inevitable sometimes. Again, here the AiSchedul comes to your aid just at the right time. As we have said before, AiSchedul is a professional online assistant that helps you with all your scheduling affairs. So sign up for free and then try to upload the video to Instagram from PC. AiSchedul interface is so user-friendly that one can find their way as soon as they are logged in. Besides, the incredible support team is always available if you had any questions.
Wrapping it Up
As GIFs are getting more popular day by day, Instagram users had been encouraged to use gifs on their posts and stories. Even though this task may seem a little complicated at first, in this article, we have rigorously explained how to turn Instagram videos into GIFs and, in return, how to convert GIFs to video files using Ezgif. Besides, we demonstrated a great scheduling tool, AiSchedul, which helps you upload and even download files quickly on your PC. If you had any questions about the above statements, please feel free to contact our incredible support. They are more than willing to help.