Facebook used to be a wonderful place to hang out with old friends online. Although it remains one of the most popular social platforms for people to connect, it's evolved into a social media behemoth used for many business purposes. Marketers use it for promotional and commercial purposes. Business owners use it to gather valuable insights into their customers. And even ordinary people consider Facebook a reliable source to make passive income. All in all, Facebook is now an integral part of every person's social media marketing efforts.
In addition to the platform's popularity for people of all trades, Facebook is also the favorite spot to run advertisements. Data shows that Facebook is home to about 3 billion daily active users. Americans spend approximately 40 minutes a day on the platform. So you can understand that you stand a great chance to succeed in your ad campaigns on Facebook. However, without having the right Facebook ad strategy, you may end up spinning in circles while others speed past you. So it's crucial to adopt the very best advertising strategies to get the best results. 
Now you may be wondering what the best Facebook ad strategy in 2021 used by leading experts is? This article will answer that question in detail. In different sections of this blog, we'll discuss several Facebook ad targeting strategies you probably haven't heard of until now. You'll also find information on everything from setting up a campaign to ad creatives and optimization to launch effective ad campaigns on Facebook.
Types of Facebook Ads Formats
Before going through our Facebook ad strategy, let's learn about various Facebook ads types. So hold your horses and read about 13 Facebook ads formats that you can use in your ads on Facebook before learning how to advertise on Facebook.
1- Photo Ads
Photo ads are excellent types of Facebook ads to commence with Facebook paid to advertise. You can design one of these ads using a photo of your Facebook Page. Of course, they are simple to create, but still, people get attracted to them. 
Specs:
Headline: 40 characters

Link description: 30 characters

Body text: 125 characters

Campaign objectives: All except video views
2- Video Ads 
People love moving pictures, so make the most of these types of Facebook ads to captivate their attention. You can drive video ads in your News Feed, Stories, or longer Facebook videos. Indeed, you can showcase your team or your product in action through video ads.
Designing GIF-like graphics and animations is a unique method to boost brand awareness. So make the most of them in your Facebook ad strategy.
Specs:
Headline: 40 characters

Link description: 30 characters

Body text: 125 characters

Campaign objectives: All except catalog sales
3- Poll Ads
Poll ads are the Facebook mobile-only ad format that includes an interactive element by applying a two-option poll to a photo or video ad. Then, you and the people who answer will notice the tally of responses to each poll option.
4- Story Ads
Story ads are a type of Facebook advertisement located directly in your target audience's storyline, among organic stories. Also, your viewer can watch without being distracted by other things on their newsfeed as they display on a complete vertical screen. Additionally, they are short and have a "swipe up" feature that instantly leads your landing page to your website.
Specs:
Text: Set 250 pixels text-free on the top and below your ad.

Campaign objectives: You can include all except engagement and store visits.
5- Carousel Ads
Carousel ads are one of the creative types of Facebook ads that lets you showcase your products or service in up to 10 images or videos as a carousel ad. Also, this format provides users with an opportunity to highlight various benefits of a product. Besides, you can use all the photos collectively to create a magnificent panorama image and add a link to each image.
Specs:
Headline: 40 letters

Body text: 125 letters

Link description: 20 letters

Campaign objectives: You can include all except engagement and video views
6- Messenger Ads
Facebook Messenger Ads are an almost new ad feature that lets users notice your ads start a text conversation with your business by clicking a button. Here are different types of Facebook's Messenger Ads:
Destination ads

Sponsored messages
Specs:
Headline: 40 letters

Link description: n/a

Body text: 125 letters

Campaign objectives: Conversions, catalog sales, traffic, app installs, messages
7- Collection Ads
The collection is an ad format that allows people to step up from discovery to buy smoothly. Each collection ad highlights an introductory video or image with three smaller accompanying photos below in a grid-like layout.
8- Slideshow Ads
Facebook slideshow ads are video-like advertisements that utilize motion, sound, and text to narrate your story gracefully across devices. 
Despite some video ads, slideshow ads load swiftly and play appropriately at every connection speed. Also, they are affordable and accessible to create in minutes from desktop or mobile. Furthermore, you can use an existing video or build a slideshow ad out of stock images free in the ads creation process.
Specs:
Headline: 25 characters

Link description: 30 characters

Body text: 125 characters

Campaign objectives: All
9- Playable Ads
It is essential to use the proper format for your Facebook advertisements and cash in on each of them to see what they grant you.
The results of Facebook ad campaigns vary based on some variables like ad quality, financing, industry, budget, audience, and more. The only way to discover the effectiveness of Facebook advertising for your business precisely is to create the ads using the guidelines, try it out and then monitor the results.
10- Instant Experience Ads
Instant Experience ads or Canvas ads on Facebook are a full-screen ad format that loads much quicker than a website on mobile.
Specs:
Button text: 30 characters

Blocks of text: Up to 500 words 

Campaign objectives: You can include all except lead generation
11- Augmented Reality Ads
Wanna have a unique experience in Facebook advertising? Try Augmented reality ads. These exciting types of advertising on Facebook utilize features like filters and animation to let people interact with your brand helping you extend your reach. 
For instance, the filter could help ladies watch what a shade of eyeshadow would look like on their eyelids or how a dress might fit their body. Moreover, the Augmented reality ads let users take selfies with the filter and share them on their channels. 
12- Lead Ads
Lead ads are more than just a form of advertising on Facebook. Indeed, they can help you drive goals from the top of the funnel-like brand awareness. They also reach through customer purchase. Therefore, optimize your lead ads for quick follow-ups or higher-quality leads with custom features.
13- Dynamic Ads
Dynamic ads let you promote targeted products to the right and interested customers. For instance, you can advertise in your customers' Facebook feed the specific product they visited on your website and add to their cart with dynamic ads. 
This is how you remind the potential customer to complete their purchase. Indeed, it is an effective Facebook advertising strategy for stores and selling products.
In addition to the product selection that can be dynamic, you can manage the language settings for ads to expand more.
Steps to Developing a Facebook Ad Strategy
Can't wait to practice Facebook advertising strategy? Here are the most helpful step-by-step Facebook ads tips that you can practice to boost your outreach and conversion rate.
#1 Determine A Goal in Your Facebook Ad Strategy
First of all, you need to define your objectives. Therefore, log into Facebook Ads Manager and go through the following steps: 
Select the 'Campaigns' tab

Click 'Create' to start a new Facebook ad campaign.
Here, you'll see 11 marketing objectives based on your Facebook offers ad strategy that you can align with business objectives:
Brand awareness:

Present your brand to new people.

Reach:

Show your Facebook ad to as many audiences as possible.

Traffic:

Drive traffic to a particular blog or Facebook page.

Engagement:

Grow the number of likes, comments, or page follows. Also, boost participation at your event or encourage people to claim a special offer.

App installs:

Make the audience install your app.

Video views:

Convince more audiences to watch your clips.

Lead generation:

Take new chances into your sales funnel.

Messages:

Inspire the audience to contact your business using Facebook Messenger.

Conversions:

Get people to take a particular action on your website, with your app, or in Facebook Messenger. For instance, subscribing to your list or buy your product.

Catalog sales:

Link your Facebook ads to your product catalog to present people ads for the products they may want to buy.

Store traffic:

Inspire nearby customers to consumer-to-business stores.
After picking your objective, let's learn other Facebook ads tips to grow your business ASAP.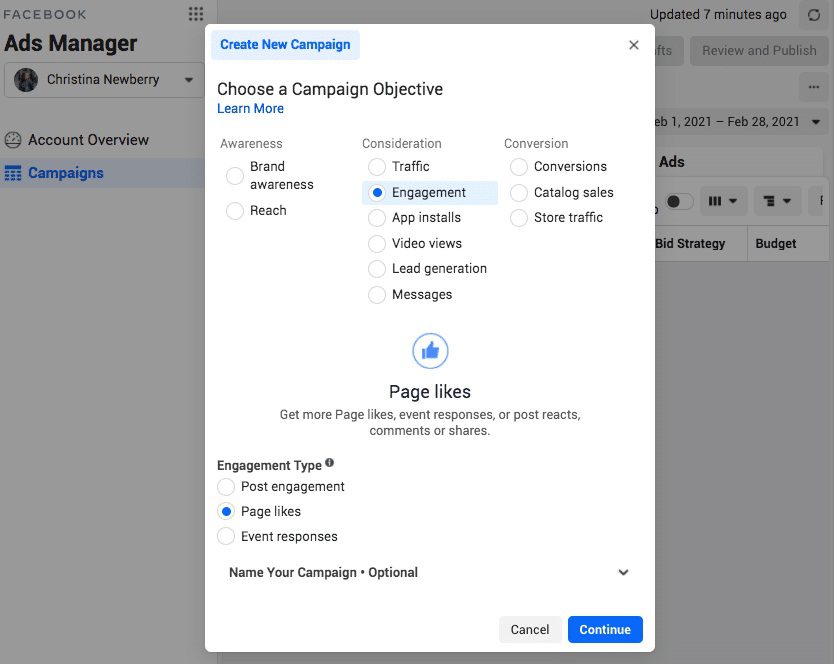 #2 Set Up a Facebook Campaign 
It's time to create a Facebook Campaign and optimize it for traffic. 
However, if you have no idea how to do it, build an audience based on your website traffic. Then name your Facebook ad campaign and indicate whether your ad fits into any particular categories. Also, you can choose to turn on budget optimization.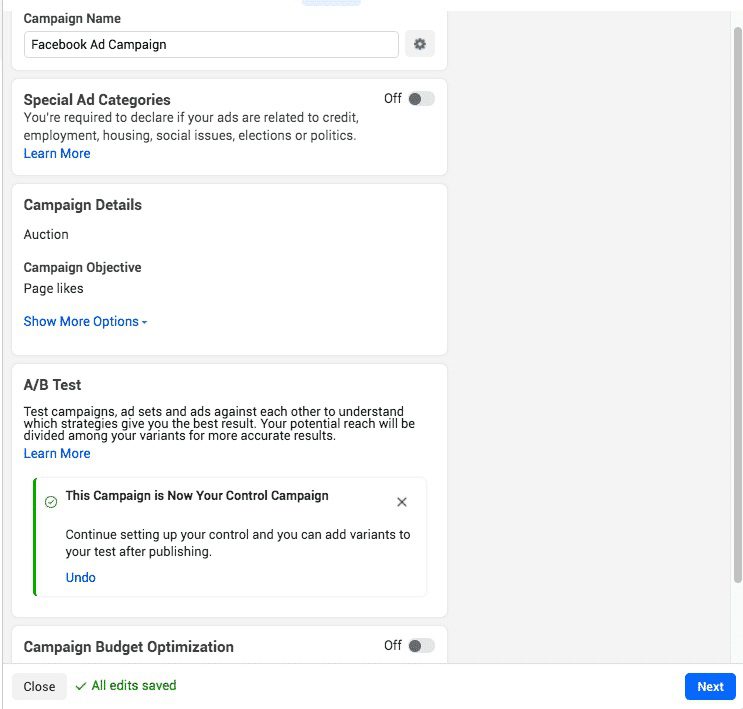 #3 Target Your Audience
After running your Facebook campaign, it's time to choose and target your best audience. Therefore, select your target location(cities), age, gender, and language. This Facebook ad strategy actually will lead you to point to the right customers.  
Facebook ad targeting offers three audience collection tools for smart ad targeting:
Core Audiences
You can leverage Core audiences to reach potential customers who have no idea that you exist. This option allows you to define audiences based on their location, interests, behavior, demographics, and connections.
Custom Audiences
A Facebook custom audience is an excellent way to engage with people who have already shown interest in your business. Indeed, they can be your customers or people who have visited your website or used your application.
Lookalike Audiences
Lookalike audiences are fast and effective in joining users with people likely to respond to your ads. That is, they are popular among advertisers.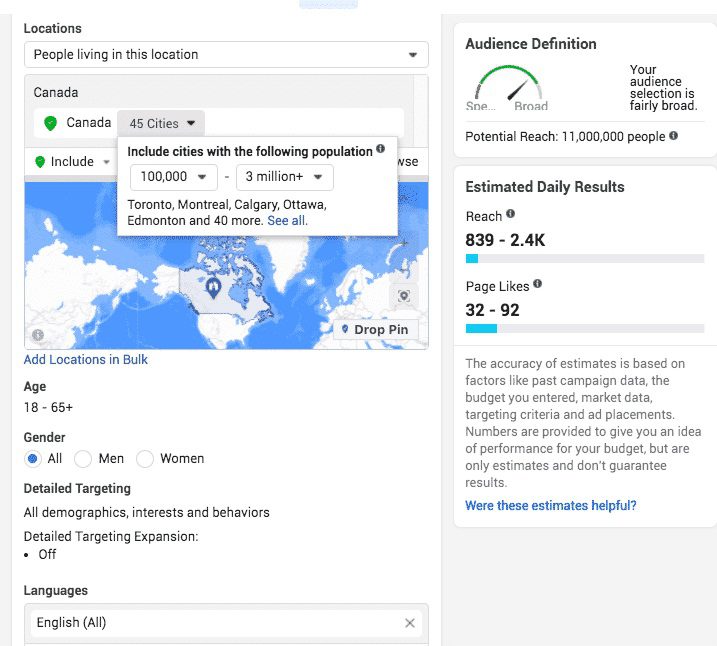 #4 Choose Your Facebook Ad Placements
After identifying your target audience, choose where you will showcase your ads. So you can opt for 'Automatic Placements' to let Facebook place your ads on Facebook, Messenger, Instagram, and the Audience Network. 
However, you may want to place your Facebook ads in specific locations. So your options will alter based on your chosen campaign objective but may include the following:
Device type:

Mobile, desktop, or both.

Platform:

Facebook, Instagram, Audience Network, and Messenger

Placements:

Feeds, in-stream (for videos), Stories,

 search, messages, in-article, and apps and sites.

Mobile devices and OSs:

Android, iOS, and all devices.
#5 Schedule Your Facebook Ads
If you run your Facebook paid ads at the best times using a social media calendar, they'll get the most visits. However, posting on social media always at the best time is a hard nut to crack. In this case, you need to utilize beneficial tools for scheduling your social media posts and spending your tie and budget efficiently. Therefore, to ease and perform your tasks effectively, it would be best to make the most of a Facebook scheduler app.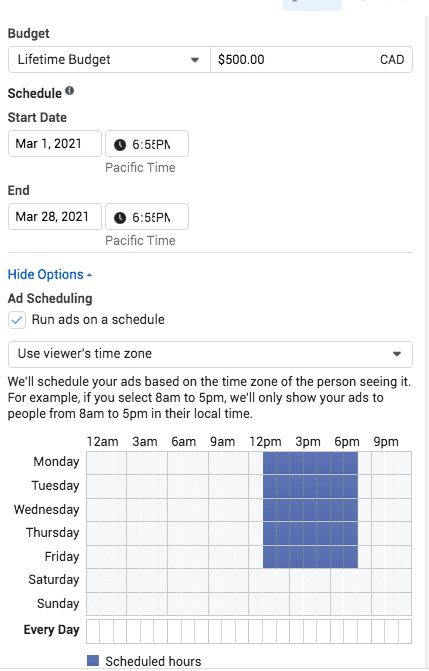 #6 Set brand safety and cost controls in Facebook Ad Strategy
In the Brand Safety section, you can eliminate any content that would be improper to appear with your ad. For instance, you can decide to avoid nudity content. Also, you can Blocklist some websites, videos, and publishers. Here, you have three options:
Full Inventory

Standard Inventory

Limited Inventory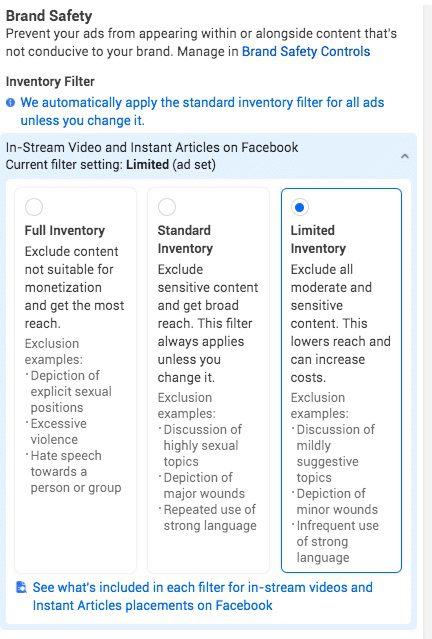 #7 Create Your Facebook Ad
Now, to create your Facebook ad follow the steps below:
Choose your ad format.

Next, Click 'Turn into Video' to create a short animation. Or, click 'Create Slideshow

'

to build a Slideshow ad with the built-in Video Creation Kit.

At the right of the page, practice the preview tool to ensure your ad looks appropriate.

Lastly, click the 'Publish' button to launch your ad.
Afterward, it's a good idea to monitor the estimated number of Page likes. Also, you can check the size indicator on the right of the screen to identify your potential ad reach. 
How Much Do Facebook Ads Cost?
It may cost an arm and leg if you don't know how to begin with Facebook ads. However, you don't need big bucks or training to make creative ads that work on Facebook. Marketers are finding success using their Facebook advertising strategies.
Some fundamental factors affect Facebook ad costs like timing, bidding strategy you take, ad relevance and placement, and target audience. 
Keeping all of this in mind, in-depth research by AdEspresso in 2021 shows the average Facebook ads cost as below: 
The average Facebook ads CPC(cost-per-click):

$0.5 – $3,5

The average Facebook ads CPM(cost-per-mile):

$2 – $20
On the other hand, the same company determined the average CPC for Facebook ads in Q3 2020. Considering campaign objective, the average costs were:
Lead generation:

$0.67

Impressions:

$0.98

Conversions:

$0.25

Link clicks:

$0.16

Reach:

$1.03
How to Optimize Your Facebook Ad Strategy
If you are a perfectionist or want to know how to advertise on Facebook flawlessly, take the below tips to optimize your Facebook ad strategy.
#1 Track & Optimize Facebook Ad performance
Marketers can evaluate their advertising strategy on Facebook using the Facebook Ads Manager dashboard. Therefore, you can track and monitor how your campaigns perform there. Besides, you can gather customer insights from social media. If you're just starting or a drive isn't functioning well, put your money into ads. Once you've identified what performs best, use the leading ad as your first campaign. After a while, you'll determine how to boost your Facebook ad conversions and start making big bucks out of it. A Facebook meta-analysis indicates that ads generated by testing and refining had a 26% lower cost per action. Another useful tool for evaluating your Facebook advertising strategy is the Facebook Ads Library. This feature allows you to search for and view ads that are currently running on Facebook and its affiliated platforms, including Instagram. By reviewing ads that are successful in your industry, you can gain valuable insights and inspiration for creating effective ad campaigns. Additionally, the Facebook Ads Library can help you stay up-to-date on your competitors' advertising strategies and ensure that you're not inadvertently duplicating their efforts.
#2 Cash in on Facebook Pixel
The Facebook pixel is a code you can apply to your website. Then, it reports any action an audience takes when visiting your website. As a result, it leads to a more substantial influence on your Facebook ad campaign.
Undoubtedly, it is a unique way to record tracking and starting the steps to retargeting. Indeed, Facebook pixel set up will automatically generate a custom audience of people who visit your site. Additionally, it ables you to show your audience targeted ads for items they have earlier viewed on your website. It is highly encouraged in a Facebook ad campaign even if you're not ready to engage in some of Facebook's advanced pixel strategies,
#3 Facebook Ad Testing
Assumption is the mother of all mistakes! So it's crucial not to make assumptions about what will perform and what will not in your ads on a Facebook campaign. As a creative marketer, you may desire to try new ideas. Therefore, it would be best to test it against previous data to check whether you're improving the vital social media metrics and goals.
Indeed, A/B testing is an excellent method to test minor variations in marketing strategy to recognize which is most effective with your campaign. 
#4 Use Facebook Mobile Ads 
Mobile ads bring managers 94% of Facebook ad revenues. Is your landing page mobile-optimized? It definitely must be. 
Admittedly, mobile Facebook ads deliver exceptional results over different enterprises, from consumer products to B2B. So you can test if it works for your brand.
Also, you can use both Facebook and Instagram mobile ads to get people to subscribe. Compared to desktop ads, mobile ads display the headline with a smaller font, making the main ad text the essential part of your Facebook ad.
#5 Run A Free Giveaway Campaign
Fancy Facebook ad clicks? Offer something of high value.
Like Instagram and other social channels, Facebook giveaways and contests are highly engaging.
You can ask entrants to vote on their favorite product and then enter the competition. Remember, you don't have to focus 100% of the time on sales in your Facebook contests. Alternatively, reckon deep-rooted benefits like increasing brand awareness and new leads entering your conversion funnel. In this case, you can select 'Reach' as your campaign objective(first Facebook ads tip) to let Facebook deliver your ads to the maximum number of people.
Top Tools to Create a Facebook Ad Strategy
There are tools to help simplify and even automate the process of creating, monitoring, and tracking your Facebook ad strategy procedures. In the following, there are three most potent tools that you can make the most of in your advertising on Facebook. 
AdEspresso
If you are a manager who wants to create, manage and optimize your Facebook ads instantly, you can rely on AdEspresso. Its platform is a multi-tasking digital advertising suite that allows you to run campaigns in Facebook Ads and other ad channels like Google. Indeed, AdEspresso is an ideal tool for agencies, solo marketers, and small to medium-size businesses.
It actually facilitates your team's ad management by providing you with a centralized place for collaboration, analysis, reporting, and optimization.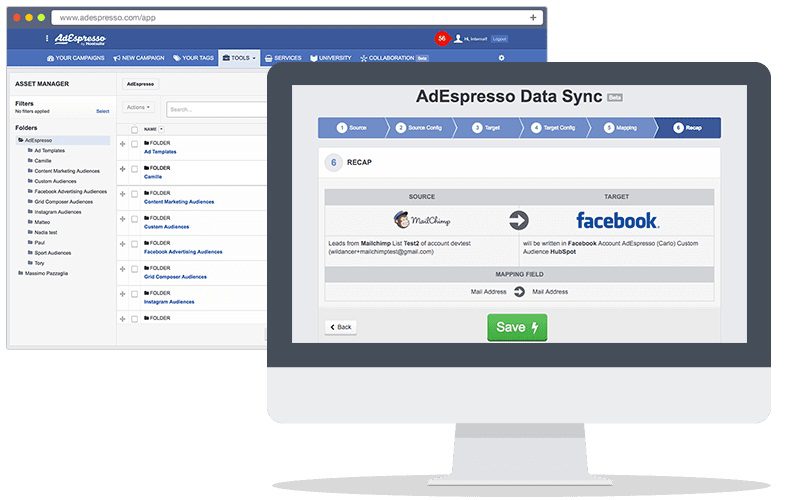 Canva Facebook Ad Creative
Any advertiser needs the best tools to design innovative and eye-catching ads for their business. Canva is a perfect choice for DIY Facebook ad creative creation.
Using its free online templates and design tools, you can create a winning Facebook ad in a wink of an eye. Also, as mentioned above, each facebook ad model has slight differences in optimal image sizes. Using its Pro-tools makes it possible to convert ad creative into different sizes automatically. Furthermore, there's a huge selection of animated stickers that adds scroll-stopping art to your graphics.

Hootsuite Ads
If you collaborate with a large organization, Hootsuite Ads fits your demands. Hootsuite is an all-in-one social media management tool with essential capabilities like bulk post and schedule. From the dashboard where you monitor all your social media accounts, you can create and test several Facebook ads at once. Then, using facile analytics, you can distinguish your best ads immediately.
Besides, it lets you share out your budget from your low to high performing ads. Accordingly, you can start new Facebook campaigns based and enhance performance further with automatic, daily recommendations.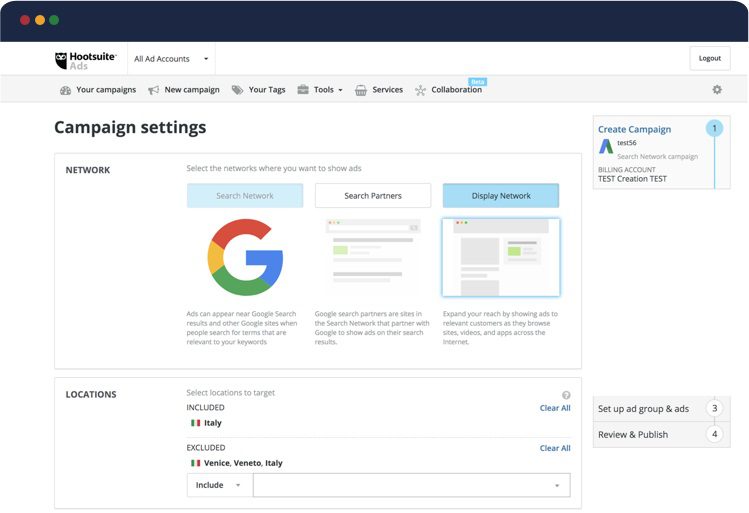 Facebook Ad Best Practices
After understanding the platform's ad format types and targeting options to get the best results, let's look at Facebook ads' best practices. 
1- Monday.com: Facebook Photo Ad
Monday.com is a task-management tool that provides multiple operating systems on desktop and mobile. Here, the company remixes its logo in the original rainbow colors of the Apple brand to represent its compatibility with Mac computers. In this case, it captures the attention of Mac users to use a brand new task-management tool that operates on their computer. Indeed, they used a unique and creative Facebook ad strategy to pivot off their brand awareness. 
On the other hand, the "Learn More" CTA underneath the ad is a clear invitation to discover more about this product's usage on Apple hardware.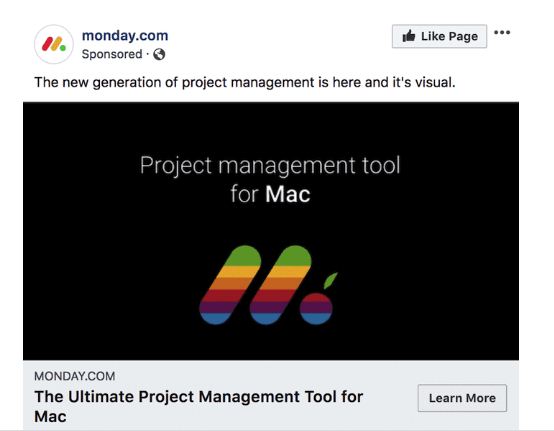 2- Big Agnes: Facebook Video Ad
Big Agnes is an open-air gear retailer that uses a sizable amount of characters in its marketing. It also includes humor and rarity in its ad by inviting audiences to camp out on their balconies to bypass lockdown. 
Also, it uses some of the best Facebook ads practices in a single ad, like invoking user-generated content, showing your products in use. Besides, its ad is weirdly relatable that their audience will enjoy.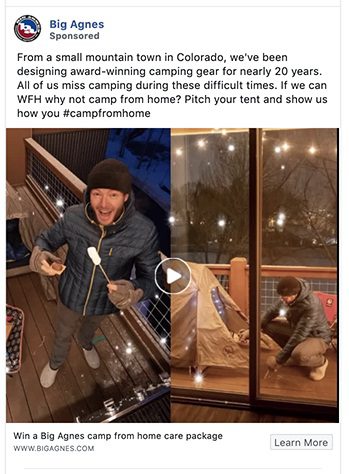 3- Shutterfly: Carousel Facebook Ad
Shutterfly has announced a multi-product or Carousel ad through the images in the ad. In each image, they have different offers promoting products. Indeed, they are consistent in the look and sense of the Shutterfly brand. This is an essential quality of ads that showcase more than one item and picture.
Everyone who saw this cute cat loves taking photos and creating inspirational gifts. 
On the other hand, it advertises 40% off for each product which is a noticeable value for the user. This ad also shows the various ways people can use Shutterfly.
Lastly, as it specifies the ideal time, people know they need to use this before February 17th. So it encourages them to take action right away and before the expiry.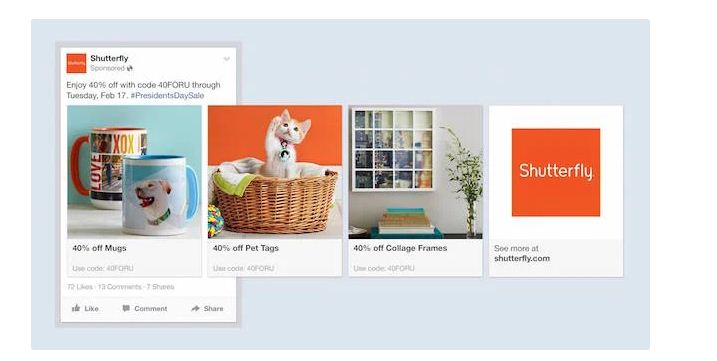 Recap
Finally, it's time to bring all your Facebook ads strategy knowledge into action. Create and launch Facebook campaigns, monitor results, and optimize performance to seize the most out of your advertising budget. Just be patient and remember Rome wasn't built in a day!