Recent Instagram updates and algorithms have made it an excellent platform for marketers to introduce their business on social media as in the real world. Social media marketing is now becoming one of the most competitive environments. Attracting followers is one of the most crucial factors in business growth. In this situation, getting organic followers without using Instagram tools like GrowBot Automator is nearly impossible and rather unwise. Besides, choosing between different tools is not easy.
In this article, we are going to give details on GrowBot Automator for Instagram. This bot is a google extension that claims it can help you grow your account. We will mention GrowBot Automator's pros and cons. Then, we will introduce an alternative growth application.
GrowBot Automator for Instagram: Features and Services
GrowBot Automator is a "bot" that can help you manage your lists. Especially if you are using the follow-for-follow method on Instagram, this bot may come in so helpful. GrowBot Automator will provide the users with the features below.
Automatically follow all of someone's followers, followings, and likes.

Unfollows people who are not following you.

Unfollows the accounts that you have followed before a specific date.

Automatically likes related posts on your feed.

Automatically likes posts from specific hashtags.

Detects accounts with maximum followers or

 minimum followings.

Detects accounts with the maximum ratio of followers to followings.

tracks down the accounts with Maximum numbers of posts.
In the next section, we are going to mention a few pros and cons of using GrowBot Automator for Instagram.
Pros and Cons of Using GrowBot Automator
Like every other Automator, GrowBot has its own assets and flaws. In this section, we are going to list what makes GrowBot worth using, and also what are the downsides of this Automator.
Advantages of Using the GrowBot Automator for Instagram
In general, GrowBot Automator will provide users with many counting and statistical features. Many Instagram users choose the GrowBot Automator for mainly the two reasons below
#1 Following and unfollowing people with different filters
As we have stated above, GrowBot will provide the users with great features to filter their following and followers lists. These features have been designed in a way that helps users and influencers to get followers more efficiently and wisely.
#2 It is budget-friendly
GrowBot is not a free application. If you want to use it, you have to pay for its features. The pricing is $6.99 per month or $69.99 per year. This is almost budget-friendly and economical compared to other premium bots. So if you feel you are out of budget, GrowBot can be a good choice for your account growth.

Disadvantages of Using GrowBot Automator for Instagram 
There are so many good things about the GrowBot Automator for Instagram. However, there are still many reasons that social media experts do not approve of the GrowBot. In the following, we are going to give brief explanations on each of those reasons.
#1 GrowBot Automator for Instagram Is Not Risk-Free
The first and most important reason is that GrowBot is a bot! The extension will provide you with tips to help you remain undetected. Yet, there is still a high risk of being caught by Instagram. The risk is not unimportant at all as you may lose your account entirely as a result. 
#2 GrowBot's Performance Is Unknown
As Instagram once had no charges against bots, the older reviews are not reliable these days. Yet, it is still impossible to find real comments on GrowBot Automator for Instagram these days too. We do not know if this bot is successful in its claims. By this, we mean that there are no reliable sources to tell us if the followers that the GrowBot has brought to its users' accounts are valid.
Also Read: Are Instagram Bots Illegal to Use? What Are the Solutions?
#3 GrowBot Is Not User-Friendly
Instagrammers have many different factors to deal with while organically growing a business on Instagram. The solution is simple. They must get help from a user-friendly interface. However, many users have described the GrowBot Automator for Instagram confusing. This is true as it may take quite some time to get used to it before you want to use it professionally.
#4 There is no customer service
As you may have noticed, the GrowBot Automator's website consists of only a few lines of explanation. You can not find any customer service part on their website. This drawback is something serious as you may encounter many issues on your way to grow your account.
AiGrow: Best GrowBot  Alternative
According to the previous section, you may have wondered about the alternatives to The GrowBot Automator for Instagram. As an answer, we recommend you the AiGrow. AiGrow is an Instagram management service. AiGrow is a third-party application that will help you a great deal with your account growth in general. It will give all those features related to your followings and followers lists and provide you with a few other growth services. Signing up to the AiGrow is free, as well as many of its features. For the premium features, you can get free trials and then decide. There is absolutely a customer service team that is more than willing to help you with your issues.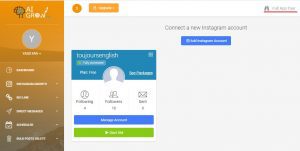 AiGrow interface is designed user-friendly. Anyone can figure out how to work with it once they have signed up. There are reliable resources to tell you about the incredible efficiency and authenticity of the AiGrow. Further, all followers are confirmed to be genuine. By AiGrow you can get Instagram followers fast and free. You can use more than just statistical methods to boost your account using AiGrow. Read the complete review of AiGrow here and see how it helps you grow organically. 
Final words
The GrowBot Automator for Instagram is a reliable solution for your growth. Like any other bots, it has cons and pros. The fact that Instagram may detect it suggests that you use an alternative if possible. In this case, AiGrow Management Service is ready to help you as the best option out there. please feel free to contact us if you had any issues with the remarks above.