When you start growing your followers on Instagram, you can manage all your tasks from your mobile phone easily. But as soon as your brand goes more popular, checking the vast mass of posts, comments, and DMs gets difficult. Therefore, you may think about how to check DMs on Instagram from your PC and ditch your mobile phone.
Building a brand on Instagram is about publishing high-quality posts, interacting with people, and getting more engaged audiences. That is, sending DMs on Instagram is an excellent way to interact with your audience. 
This article will guide you on how to check DMs on Instagram from your PC. 
Let's dive in!
You May Like:
Is It Possible to Check DMs on Instagram From Your PC
 Once you set up your account, you will check your DMs on Instagram from anywhere. That means you can be away from home and still be able to check your DMs on Instagram for updates. Also, if you are using your laptop while you are away, you may find it easier to download the pictures to your computer and then upload them to your account.
Actually, an excellent idea of using DMs is building brand awareness campaigns.
If you're using Instagram professionally, you probably have some DMs on your account waiting for your response.
Most importantly, there are many ways to get more Instagram engagement, and one of them is Instagram Messages.
Above all, you can contact influencers of your niche directly and drive brand engagement with Influencer Marketing.
Now, you want to know how to check DMs on Instagram from your PC?
There are a few different ways to do it, but I'll show you the best method to have all of the benefits without having to mess around with settings and such. It's pretty easy, and if you follow these steps, you won't even need to mess with your settings at all.
How to Check DMs on Instagram from Your PC
First, to check DMs on Instagram from your PC, you will need to head over to the Instagram website and click on the big "Create Account" button. Once that's done, you'll need to choose a username. You should keep your default username, which is just your name, but you can choose something unique as well. You'll fill in your interests and other information here and then select a photo for your profile. You'll also need to click "Create Account," and you'll see a screen prompting you to check whether or not you'd like to send a custom link via direct message.
In this new version of Instagram, one can easily send a DM from the phone or even check out the desktop area's latest pics.
Also, it allows you to pin any photo or video directly to your desktop. Actually, the internet is merely full of amazing things, which will be available in your email.
You can send a message on the Instagram desktop by going through the below steps:
1. Log in to your Instagram account
Open a web browser, log in to Instagram.com.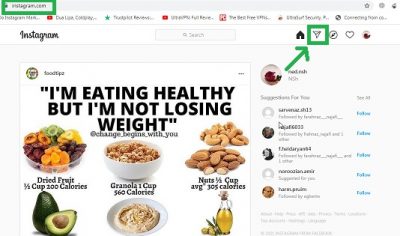 2. Select the
On the top right-hand corner, click on navigating to Instagram Direct.
3. Check your Instagram DMs in the List
All your DMs are here, and the Unread ones show up first in the list.
4. Forward other's content
Actually, if you are interested in other users' content, you can easily forward them to your friends and customers: 
Select the story or the photo you want to share

Forward Stories
Click on the

Choose the user from the list or type their username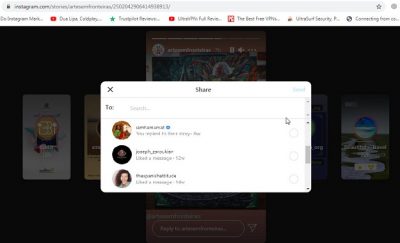 As a matter of fact, all these are the primary methods to check DMs on Instagram from your PC, but as an Instagram marketer, you need to do all your tasks more effectively.
How to Check DMs on Instagram from Your PC Effectively
AiGrow, an All-in-one Instagram management tool, is a popular and safe Instagram marketing tool available on the market.
This app offers several services, such as an Instagram scheduler, engagement pods, VIP growth service, and a professional Instagram DM tool. 

Moreover, AiGrow has a unique "DM to Email" feature that connects your DM inbox to your Email inbox and allows you to read Instagram messages without being seen, unread Instagram messages, and read unsend messages on Instagram quickly.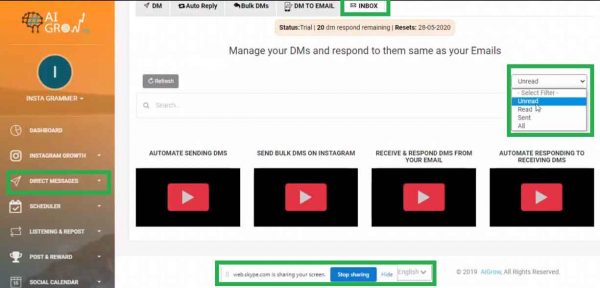 Also, here are some other DM features you can count on to check DMs on Instagram from your PC more effectively: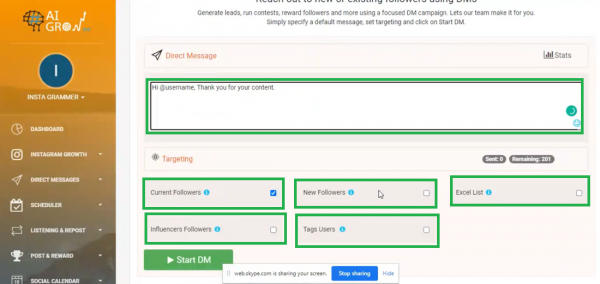 So sign-up for a free account and test all the features.
Final Thoughts 
Undoubtedly, growing your Instagram followers can help your businesses and increase your brand reach. On the other hand, Instagram DMs are like one the cylinders of your heavy duty! So, I strongly recommend you to make most of your Instagram Messages. In this case, you are one step ahead to fulfill your mission and reach your objectives.