Want to know how to get that magical blue check on Instagram, the one that stands for many qualities such as fame, authenticity, and being professional? Great! Having the Instagram verification helps you increase social proof abilities and have a greater impact on followers. In this article, I'm going to show you the importance of getting verified on Instagram, how you can apply for it, and what you can do to increase the chances.
So, let's start with the basics.
What Is a Blue Check and Why Is It Important?
Instagram verified sticker is the little blue checkmark that appears next to the account name. Instagram first introduced this feature in August 2018. This symbol appears on the users' bio, in searches, and in the comments.

  This little but mighty mark opens up more opportunities for you and your business. Don't get me wrong; this blue check won't give you any special feature or Instagram tool. It's more like a prestigious badge that shines on your profile, stating that you are one of the few! 
Actually, all Instagram accounts are equal, but some Instagram accounts (blue marked ones) are more equal than others! 
In particular, a blue check helps to:
Showing how much your page and brands are exclusive

Gain new followers much easier

Increase your

brand awareness

Micro-influencer can

become a public figure faster

Show users which account is real

Win others' trust more easily 
Who should get a blue check on Instagram? Well, overall, celebrities, artists, brands, politicians, artists, creators, or any other public figures are the best candidates to get a blue check on Instagram. But remember that there's no limitation in applying for a blue check. You might not be as famous as Beyonce or Nike but still, get the blue check. 
But how to get a blue check on Instagram? Read the following to find out!
Related Article: Instagram Cheats You Need to Know in 2021
How to Get Verified on Instagram?
The process of submitting your request for Instagram verification is not difficult. Actually, it'll take you less than five minutes. However, before submitting your request, you need to make sure you have certain qualifications. For example, you should:
1- Have a Unique Account
In other words, to get that attractive blue mark, your account needs to be unique. This means only one account per person or business (brand) can be verified, except for language-specific accounts or brands with different sub-brands.
For example, Beyonce can only have one personal Instagram accounts:

But here are Nike's different accounts: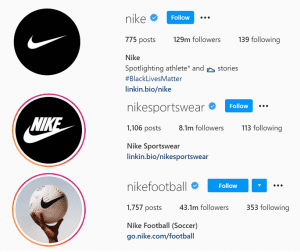 2- Have a Complete Profile

One of the fundamental criteria for getting the Instagram blue check symbol is to have a complete bio and profile. This is important because it shows who you are and what you are doing on Instagram. 

So, before applying for the Instagram blue badge, make sure that you have a profile photo and write a good bio. Don't forget to add at least one photo to your feed. 

Related Articles:
3- Being Authentic
In order to get verified by Instagram, your account must belong to a real person or a sophisticated business or brand. In other words, you should be exactly the person or business that you claim to be. That's why many general accounts won't get accepted. And never apply with false information because you put your account in danger of being banned by Instagram. 
4- You Should be (Kind of) Famous
As you may already know, brands and people that get the blue check on Instagram are usually famous or public figures. So, those with highly searched profiles or those who have featured in news sources have a better chance.
And no, you cannot pay these sources or use promotional content to get you the Instagram blue check. It doesn't work that way.  
How to Submit an Application for Instagram Blue Check?
First of all, and in addition to the qualities that we discussed above, you must also follow Instagram's Terms of Service as well as the platform's Community Guidelines. Now that you're fully aware of the rules.
Let's begin!
This is the easiest part of the process. To submit your application for getting an Instagram blue check, simply follow these steps:
Go to your profile and tap on the three-line icon

Tap on Settings.

Tap Account, then tap "Request Verification"

After you've filled out the form, tap Send we will review your request.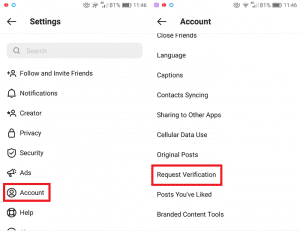 When you tap on the "Request Verification," you'll see a form like this: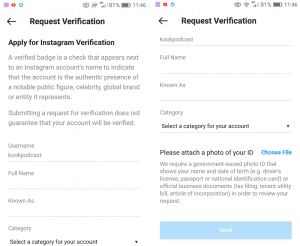 In this part, you have to add your legal and real name, select your category, and then upload a photo of your ID. This ID has to contain your date of birth; so, it can be a driver's license, passport, or national ID.
Also, it is possible for businesses to upload an official document such as tax filing, recent utility bills, or an article of incorporation. 
Instagram Blue Check Q&A
Here are some of the questions that you might have during the process of getting a blue check on Instagram.
How Long Would It Take to Get a Blue Check?
After submitting your request, it'll take a few days (sometimes up to two weeks) to get the results. This is because the Instagram team will manually review your application to find out if you are eligible to have the blue badge or not. You'll get the answer by a notification. 
Can I Submit Another Application If I Rejected?
Yes! It's pretty common to get rejected by the Instagram verification team at the first time. So, don't lose your hope and try again in 30 days. 
How Many Followers Should I Have to Receive a Blue Check?
It doesn't matter! Instagram hasn't mentioned any limitation for the number of your followers when submitting your application. However, a sophisticated and impressive number of followers can be greatly helpful to get you verified. 
Want to gain an impressive number of followers? Then better try this Instagram management app:


AiGrow is a complete Instagram manager that will help you in numerous areas such as gaining new followers, social listening, and scheduling feed posts and stories. 
Read about AiGrow and How it works in this article.
Can You Buy Instagram Verification?
NO! The process of getting a blue check is done completely by Instagram staff. So, you certainly cannot buy Instagram verification from any sources. 
Final Words
In this article, I showed you how to get a blue check on Instagram. If you feel like you are eligible to apply for the Instagram verification, don't hesitate and do it now. It doesn't cause any harm, and if the odds were in your favor, you might get a blue badge soon!