Have you ever thought about how to get email addresses from Instagram followers? Wouldn't it be great to create an email list of your IG fans and then use it for an email campaign? Luckily, it is possible to collect email addresses of your followers on Instagram. How? Keep reading!
There are several ways to get email addresses from your Instagram followers. But before we start, let's see why emails are important for your business or even for your personal page?
Why collect your followers' emails?
Old but gold! Email might seem a little bit old-fashioned, but still, it is one of the essential parts of every digital marketing strategy. In 2019, nearly 3.9 billion emails were sent and received per day and it is estimated that this figure reaches 4.3 billion in 2023. As you can see, email is a robust way of communication in this modern world. Also, email is the most proper way of contacting your audiences and also running advertisements. Here are some of the advantages of using email as a marketing tool for your Instagram:
Emails have the highest return of investment (ROI)
If you think email marketing is getting weak with all the current and new marketing channels available now, you are 100% wrong! For every $1 that you spend on email marketing, you get $42 back. With this outstanding ROI, can you resist not thinking about setting up email marketing? I don't think so.
Here is another comparison made by the famous digital marketer Neil Petal that clearly shows the advantage of email: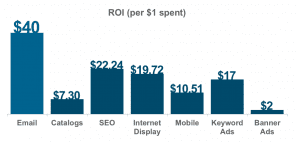 Add the fantastic engagement rate of Instagram (1.6%, which is the highest rate among social media) to the email stats just mentioned, and you get an unbeatable and incredible combination that will never let you down.
More promising email addresses
As you collect email addresses that belong to your Instagram followers, there is a higher chance of success for your email campaign. Think about it; these people already showed their interest in your page by following you; they are undoubtedly eager to receive discounts, news, or product and service descriptions from you in their inbox.     
Message received, guaranteed!
Compared to other types of marketing channels, the beauty of email marketing is that you can be sure that your targeted audiences will get the message. Some of them might not open your email, but at least they see your subject line. Actually, an email opening rate of around 20% is perfectly fine. Take a look at the average email opening rate of different companies based on their size, offered by MailChimp: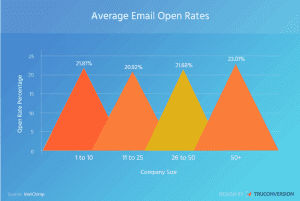 As you can see, no matter how big or small your business is, you will get a sweet 20% of opening mail rate.
Also, if your followers miss your promotional posts on Instagram for any reason, they can still know about them when you send them an email.  
Email is free!
Once you collect Instagram followers' email, you don't have to pay for sending emails, even for bulk emails. There are many free tools that you can use for this!
How to get email addresses from Instagram followers?
Now that you know the importance of emails let's see how to get email addresses from Instagram followers. Here are our best suggestions:
#1: Use AiSchedul to collect emails easily
AiSchedul is a fantastic Instagram marketing platform designed to help you take care of your Instagram account(s) in the best way. It offers services such as feed and story scheduler and social calendar, which help you to grow your Instagram. But in this article, we're going to introduce you to one of the best AiSchedul tools named "BIO LINK" that can be handy to collect your followers' email addresses.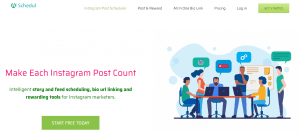 Bio link helps you to make your bio more practical. With this tool, you can connect as many URLs as you wish to your Instagram page, from other social media accounts such as Twitter and YouTube to any website like Etsy or your personal blog. Besides, you can even add URL to individual feed posts and stories on your account. But how to get email addresses from Instagram followers on AiSchedul? Here is how AiSchedul can help you with collecting emails:
Collect email addresses with the "Contact Me" button
To enjoy the fantastic features of the bio link, first, sign up for AiSchedul and add your Instagram account(s) to your user-friendly dashboard. Then go to the "BIO LINK" tab and start your adventure!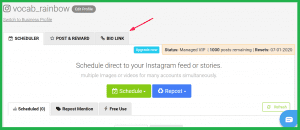 Then claim your unique bio URL address. This address will be placed on your bio and will lead your followers to a page like this: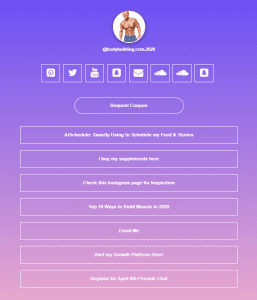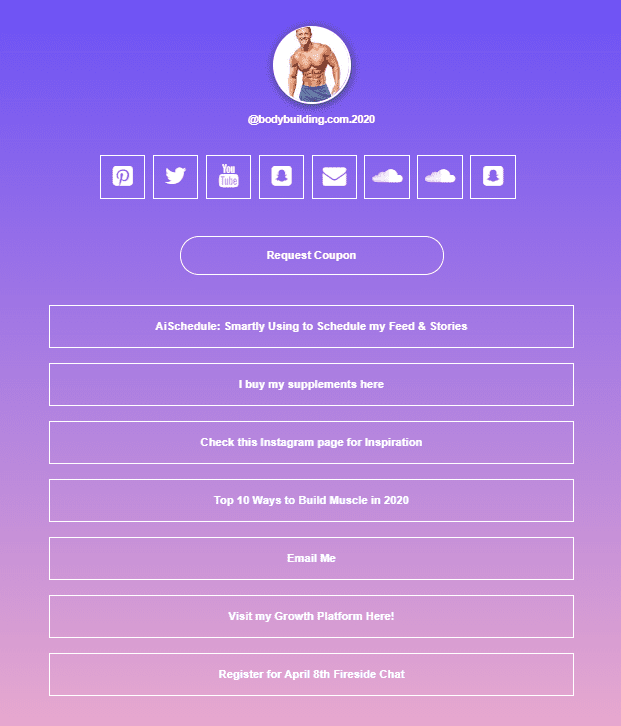 To build a beautiful landing page for your Instagram, you should add some buttons and links to your Instagram through AiSchedul. In your bio link tab, drag and drop the "Contact Me" button to the left and add your email address. This email address won't be shown to the followers.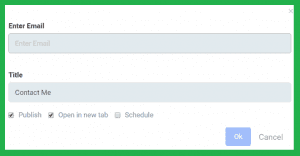 Here, instead of DMs, your followers can easily send you an email only by adding their email address and their message. This way, you will create a valuable list of your followers' email addresses that you can use to run an effective email campaign. To persuade your followers to send a message to you using this feature, you can occasionally publish a post on your feed or throw giveaways.
Collect email addresses with the "Request Coupon" button
Another way to get email addresses from Instagram followers when using AiSchedul is the "Request Coupon" button. You can run your promotional activities like discounts and giveaways using this button. Just like the "Contact Me" button, simply drag and drop this button to the left, and then edit the text as you wish.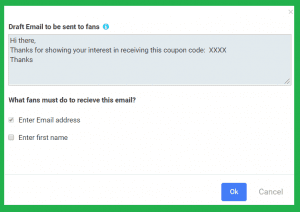 When followers enter their email addresses through "Request Coupon," an email will be sent to them automatically containing the discount code or any other promotional coupon that you've promised them. You can encourage them to participate by regularly reminding them about it in your feed. In this case, using scheduled posts or reposting can be very handy. Luckily, AiSchedul offers you both of these tools!
#2: Instagram contact options
This option will enable followers to see your email address on Instagram. To add an email address button to your bio, click on "edit profile" and scroll down and go to contact options. Remember, to use this option you must have a business account.
Choose "contact options" from the "Edit Profile":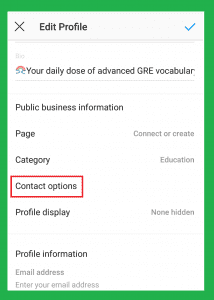 Here you can add your email address.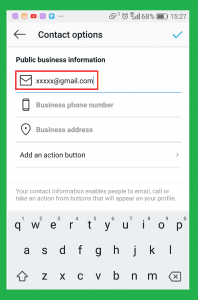 How to use email addresses from Instagram followers?
Now that you got a great list of email addresses from your Instagram followers, you can run various Instagram email marketing campaigns by sending them different types of emails. To do this activity right, let's take a look at the types of emails that will help you to reach your campaign goals: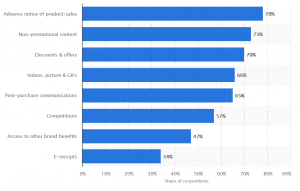 As you can see, emails, which are about advance notice of product/sale, non-promotional content, and discounts and offers, can significantly help you to establish a strong relationship with your potential customers through email.
Conclusion on how to get email addresses from Instagram followers
Although considered one of the oldest marketing strategies, email marketing has many advantages over the modern ways of marketing. Surely, you need useful tools to collect and handle your followers' emails on Instagram. So, why not use AiSchedul to manage your email collecting easily?