As you all know, Instagram stories are temporary posts that disappear automatically after 24 hours. Now, the question is how to see old Instagram stories of ourselves or other Instagram users? Well, this is what we are going to discover in the following sections.
But why do you even need to access old Instagram stories? Actually, sometimes it happens that you share some photos on your stories and after a while, you delete it from your phone gallery for some reason. In this case, Instagram can be a good place to recover a photo. Additionally, since you have to keep consistent on Instagram to grow organically, you may need to repost Instagram stories. So, accessing old stories you have shared, or even have seen on other pages can help you to share content and keep in touch with your followers. So, let's see how to see old Instagram stories!
How to See Old Instagram Stories in-app?
Luckily, Instagram lets you access all the stories you have shared from the beginning unless you have deleted the story before it disappears automatically after 24 hours. But how to see old Instagram stories of yours using the app? Just follow these simple steps:
First of all, you have to go to your stories archive. To do so, open your Instagram profile and tap on the three lines icon on the top right side of the screen.

Then, tap on the

"Archive"

icon.

And after that, tap on the

"Story Archive"

on top of the screen.

Now, you can choose and tap on the intended story, save it to your gallery or reshare it on your own story again, or even share it as a post.
However, when you reshare the story on your own story in this way, the story will look like the last photo of the following image:

So, the only way that remains to share a story just as usual, without these borders and usernames is to save them and re-upload them to your story. But this takes a lot of time. So, let's go to the next section and find how to see old Instagram stories and repost them quickly!
How to See Old Instagram Stories of Someone Else?
Unfortunately, using the official Instagram app, you cannot view someone else's Instagram stories, unless your target users save the stories in the highlight section. But using a third-party app like AiSchedul and trying its tracking tools, you simply save stories to watch them later. For this, you just have to follow 3 simple steps:
Sign up for free and add your Instagram accounts. Note that you are allowed to add up to 80 accounts to your dashboard and manage them all in a single place. So, don't hesitate to do that.

Under the scheduler tab, open the "

Listening & Repost

" section.

Here, right under the "

Account Monitoring

" tab, add all the accounts you want to track and see stories from after expiration.
That's it! Now, whenever one of the added accounts shares a story, AiSchedul saves it for you automatically and you always have the chance to view, download, or save them.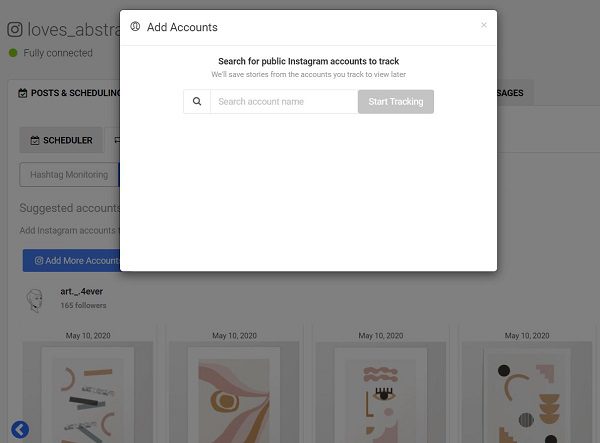 Read More: How to Save Someone's Instagram story? Safest Tool
How to See Your Old Instagram Stories that have been Deleted and Repost them Directly?
As discussed in the previous sections, Instagram only allows users to access and repost the old stories that have not been deleted before being automatically expired. What if you have deleted a story unintentionally? Is there a way to repost it without uploading it again? Or what if you want to repost your story without the borders that Instagram creates?
Fortunately, there is a way to do all these things easily and without wasting time! Actually, the solution to all these issues is in AiSchedul! Actually, to access your old stories using AiSchedul, you have to share them using this amazing tool. To be honest, it doesn't help you access all the stories you have shared from the official app or other social media schedulers. However, if you schedule and share your stories via AiSchedul, you have the chance to access them even if you have deleted them on Instagram. So, watch the video below and find out how to schedule posts and stories using AiSchedul.
Now, follow these steps to see your old Instagram stories:
First, under the "Scheduler" tab, click on the "Posted" tab, and then click on "Story". Here, you can see all the stories you posted on Instagram, even if deleted. Also, you can reschedule and repost them.
That's it! Following this way you can easily access your old stories and even repost them! So, go ahead and try AiSchedul for free.
How to Save Someone's Instagram Highlights?
Now it's time to know how to save highlighted Instagram stories of other Instagrammers! As you may already know, Instagram doesn't support any repost and reshare features for Instagram stories unless you have been mentioned in them. So, if you ever wanted to repost someone else's Instagram story, even if it is saved as a highlight story, you can do it using AiSchedul.
For this, under the "Scheduler" tab, click on the "Repost" button. Then, click on "Story". Now, enter the username of the Instagrammer from who you want to reshare a story. Finally, under the story you want to reshare, click on the "Repost" button. Also, you can see all the highlighted stories and repost and schedule them as well.
So, sign up right now and try it for free.
Final Thoughts
To see old Instagram stories you must go to the Instagram archive and view all the stories you have shared using your account. However, if you want to see and also repost content, you'd better use a third-party app like AiSchedul. Moreover, using this tool you can see and repost highlight stories of other people. So, read the article, try these tips, and share your experience by leaving a comment. 🙂