Instagram has evolved into something bigger than just a social media platform. It's now become a thriving ecommerce platform as well.
For example, consider these three stats:
Over a billion users now use Instagram
60% of users find new products on Instagram
75% of  users take action after seeing a post (visiting a website, for example)
Whether you are creating your business from scratch or already have a business, here are 6 ways you can start selling on Instagram today.
How to Sell on Instagram #1: Integrate Your Store Into Your Instagram Page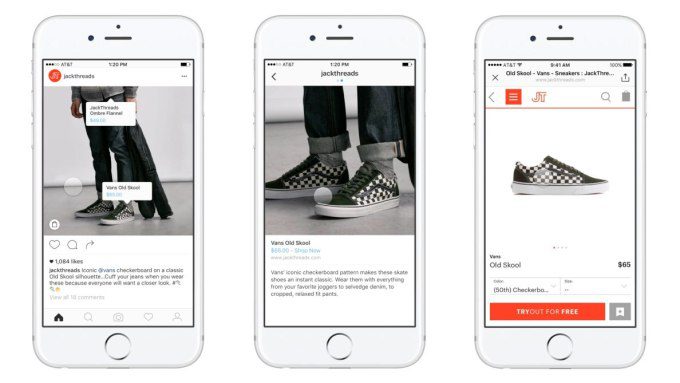 While you can use an app to make a more shoppable Instagram, Instagram itself has also launched the ability to make your feed more shoppable by offering a business account feature that lets you make shoppable posts. By connecting to your business's Facebook store, you can tag products in your Instagram posts that your audience can hover over and click on. They'll then be taken to your store where they can make a purchase (see above).
To integrate your store into Instagram, you must fit these requirements as outlined by Instagram:
Have a connected Facebook Page.

 Your Instagram business profile must be 

connected to a Facebook Page

. Facebook Pages with country or age restrictions or use the Message to Buy button, will need to adjust these options in their Page settings before they can use shopping on Instagram.

Primarily sell physical goods. Your Instagram account must be a business that primarily sells physical goods. We are continuing to test this feature and hope to expand availability to more accounts in the near future.

Have your Business Profile connected to a Facebook Catalog.

 Your business profile must be 

connected to a Facebook catalog

. This can be created and managed on Catalog Manager or Business Manager on Facebook, or through Shopify or BigCommerce platforms.
You also have to be located in one of these markets: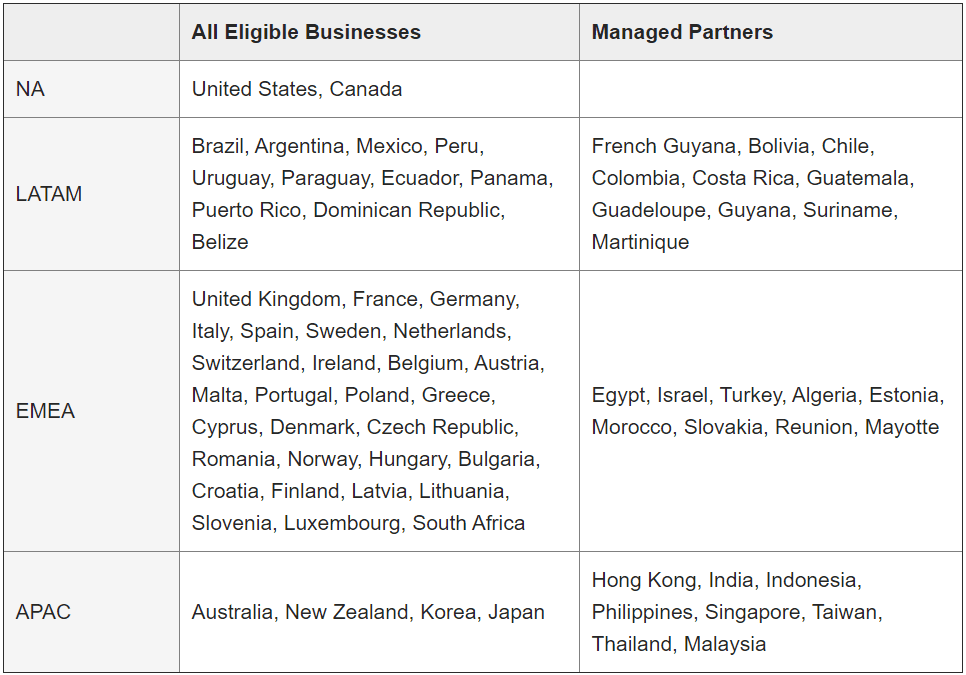 The simplest way to see if you are eligible for shoppable Instagram posts, however, is by taking this test created by Facebook.
If you fit all these requirements, then follow these simple steps to integrate your store into your Instagram:
Go to your profile and tap 
Tap Settings
Tap Business.
Tap Shopping. Note: The option to tap Shopping is only available to accounts that have been approved for shopping on Instagram.
Tap Continue
Select a product catalog to connect to your business profile.
Tap Done.
Or, for more clarification, watch this video created by Euclid, an ecommerce integration business:
Plus, as I'm writing this, Instagram is rolling out its new in-app checkout for its shoppable posts.
This means that when you click on a product that is tagged in a post, you no longer will be taken out of Instagram. You can click on the product and make the purchase from right inside of Instagram.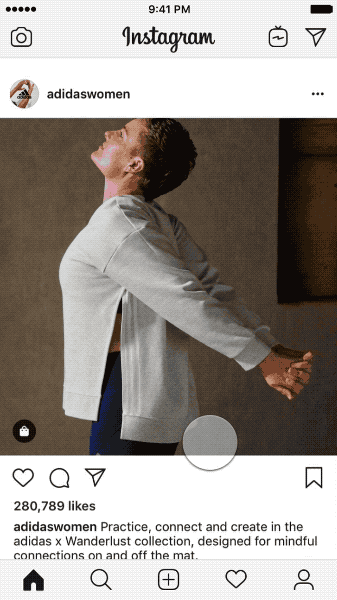 Note: While this feature is only currently available for major retailers like Nike, Burberry, Uniqlo, and some larger internet-native brands, like Kylie Cosmetics, Outdoor Voices, and Warby Parker, Instagram plans to make the feature available to more retailers down the road.
In the meantime, if you are having trouble getting your business accepted by Instagram, you can also use 3rd-party tools like Spotful.
Spotful  lets you create interactive videos that have a hotspot embedded in them to let the viewer know where your product is sold and how to get their hands on it.
How to sell on Instagram #2: Link to Your Store in Your Bio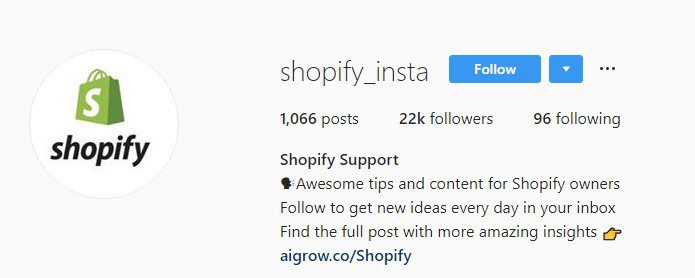 The easiest way to sell on Instagram is to include a link in your bio that leads directly to your store.
Your bio is often the first thing visitors to your page see and is the only place on your page where you can add a clickable link. It makes sense then that you add a link to your store.
You can then track the clicks from Instagram to your store through the link in your bio.
You can do this with a free tool like Bitly.
Bitly not only shortens your store URL so it looks cleaner in your bio, but it also tracks the number of people that click on your link, the time they clicked on it, what site they came from (Instagram, in this case), where they're from in the world, and a number of other helpful measurements.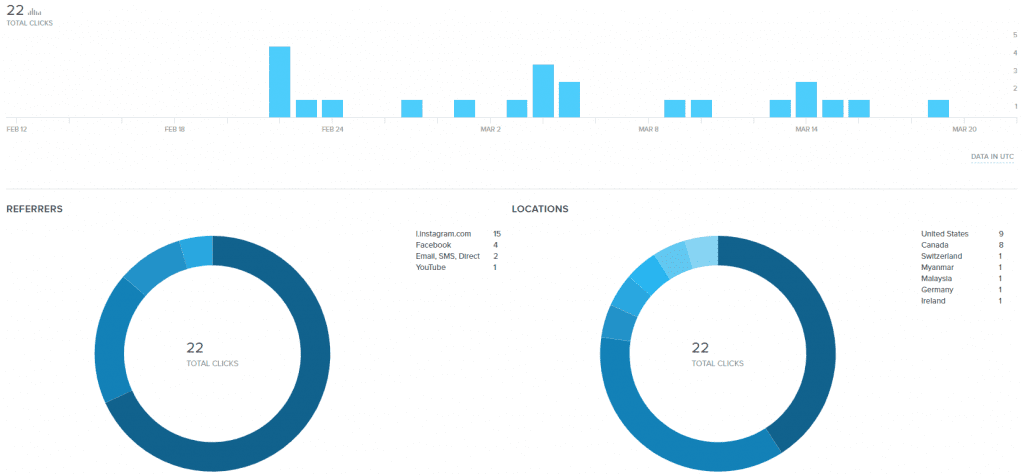 How to sell on Instagram #3: Direct New Followers To Your Store With DMs
When someone starts following your business on Instagram, send them a DM to welcome them to your page with a link to your site and/or direction to the link in your bio (or both).
A welcome DM makes new followers feel more acknowledged, and by adding a clickable link leading to your store, you are making it easy for new followers to learn more about your business and possibly make a purchase.
While you can send these DMs manually every time someone starts following your page, this can be extremely time consuming.
Instead, it makes more sense to use a tool like DMPro to automatically send customized DMs to every person who begins following your page.
See how it works in the quick video below:
As explained above, you can also use a tool like Bitly in this scenario as well.
If you are interested in how many people are coming from the link in your bio as opposed to the number of people coming from the link in your DMs, you can create a separate Bitly link to put in your DMs and track them both independently.
How to Sell on Instagram #4: Link to Your Store in Your Captions (or Direct Attention to Link in Bio)
You can't include a clickable link in your captions, but you can still include your full website URL for people to easily copy and paste.
Even if they don't copy and paste, having your website in as many places as possible is going to improve people's ability to recall your website, which in turn could improve the number of people who visit your store later down the road.
Or, if you don't want to include the link right in the caption, direct attention to the link in your bio.
Again, if you do want to include the link in your captions, you can create a separate Bitly link to track traffic coming from your caption link separate from traffic coming from your bio link and DM link.
How to sell on Instagram #5: Link to Your Store in Your Instagram Stories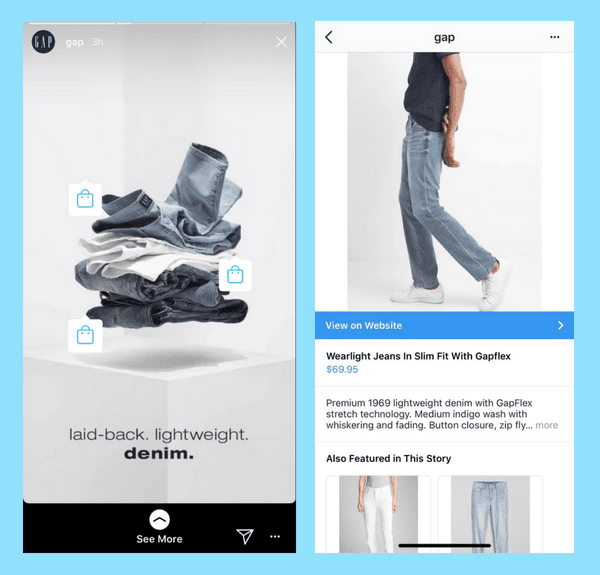 500 million people are viewing Instagram Stories every day.
To take advantage of that, you want to be tagging your products in your Instagram Stories.
There are a couple ways you can use Instagram Stories to promote your business and sell your products.
1) Businesses with over 10,000 followers
Businesses with over 10,000 followers have the option to include a link in their Instagram Stories accompanied by a Call to Action (CTA).
Here's an example: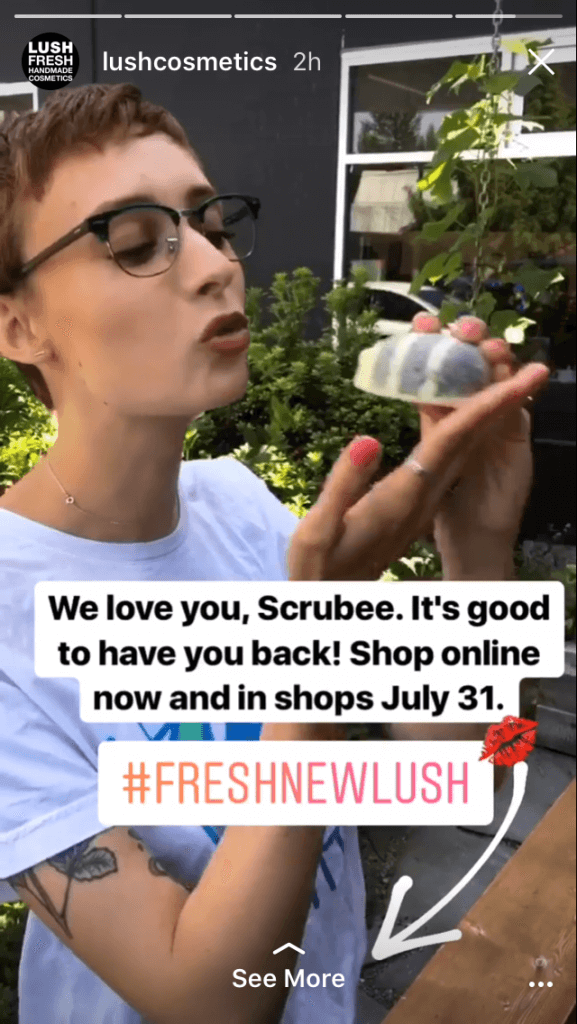 Viewers can then swipe up on the Story and they will be taken to where the URL leads to (your store, in this case).
However, this feature is only available to businesses with over 10,000 followers.
2) Businesses with under 10,000 followers
Similar to the recently introduced checkout in-app checkout feature described above, businesses with under 10,000 followers now have the option to include product stickers in their Instagram Stories.
After successfully making your Instagram shoppable and integrating your product catalogue (see the first section of this article for instructions on how to do that), you can include clickable stickers into your Instagram Stories that lead to your store.
Whenever you advertise a product in your Instagram Story, you can add a sticker that leads directly to a place where the product can be purchased.
The nice thing about this feature is that it's available to all businesses who fit the requirements described in the first section of this article.
…
Conclusion
Use the tactics above to create the ultimate shoppable Instagram experience for your followers and/or customers.
With your shoppable Instagram experience set up, use a service like AiGrow to ensure you have a constant supply of new potential customers flooding into your page.