Influencer marketing is a key component of new marketing approaches, and micro influencers on Instagram help both businesses and individuals to this end. Marketers and businesses who are just starting out on media channels will need them to outreach target audiences.
Brands try to find the best influencers on Instagram and other social media channels to work with. Individuals, on the other hand, try to become influencers and make big bucks.
Instagram micro-influencers have fewer followers than other big names and celebrities on the platform but can hugely impact their audience. That's why they have many advantages for brands.
This is a complete guide to micro-influencers for both brands and those who wish to become micro-influencer on Instagram. So, if you want to know the benefits of working with an influencer and being one, read this post.
We'll also walk you through the steps and teach you how to use the best marketplace, Ainfluencer, for finding influencers and executing the most successful influencer marketing campaigns. So, let's start!
The Impact of Influencers
Nowadays you can't overlook the impact of Influencers, for example, if you ask a kid, "what do you want to be when you grow up?" they probably won't answer engineer, lawyer, or astronaut. Instead, their answer is probably 'social media influencer.'
Hard to believe, but it's true; becoming a social media influencer is the second most popular career among teenagers between 11-16.
It's one of the new trends in the past decade; just take a look at the 'influencer marketing' phrase searched by people around the world through 2016-2020, that's how it increased!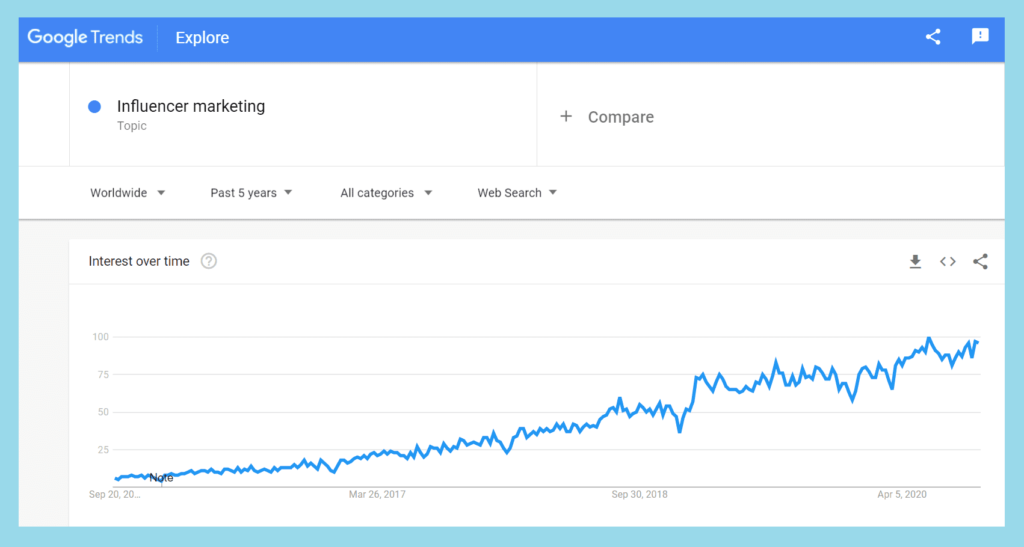 Before we begin, let's define influencers and microinfluencers, as well as the various types of Instagram influencers. As a result, you can gain a more comprehensive understanding.
What Are Influencers
As you've seen, being an influencer seems like a dream job. But what is an influencer, and what do they do?
According to the influencer definition, an influencer is a person who has the power to persuade potential customers to purchase a good or service by endorsing or promoting it on social media. They can also help businesses to attract target audiences.
So, if you become even a micro influencer on Instagram, brands may contact you to run ads for them and maybe send you on vacation for a project. Influencers mainly use Facebook, YouTube, Instagram, Twitter, and TikTok.
They are active, especially on Instagram, which is now the main platform for this job. Thanks to the social proof phenomenon, you can make easy money by just being on social media and publishing posts.
Well, being an influencer can be so dreamy. Still, certainly, it's not an easy task, especially now that there are more than 500,000 active micro-influencers on Instagram — that's nearly 40% of all Instagram accounts.
So, you might think the competition is tough, and only those with a huge number of followers will win. But you're wrong! When it comes to Instagram, less is more. That's why micro-influencers on Instagram are the center of attention these days.
Who Are Instagram Influencers
An Instagram influencer is someone who is a celebrity, expert, or creative in a specific niche and mainly uses Instagram. However, they might also be active on other social media platforms like TikTok, Facebook, etc.
By promoting your services or products, an influencer will help you turn your followers into paying customers.
According to the number of followers they have, some divide influencers into four categories, as shown in the image below, while others divide them into five categories.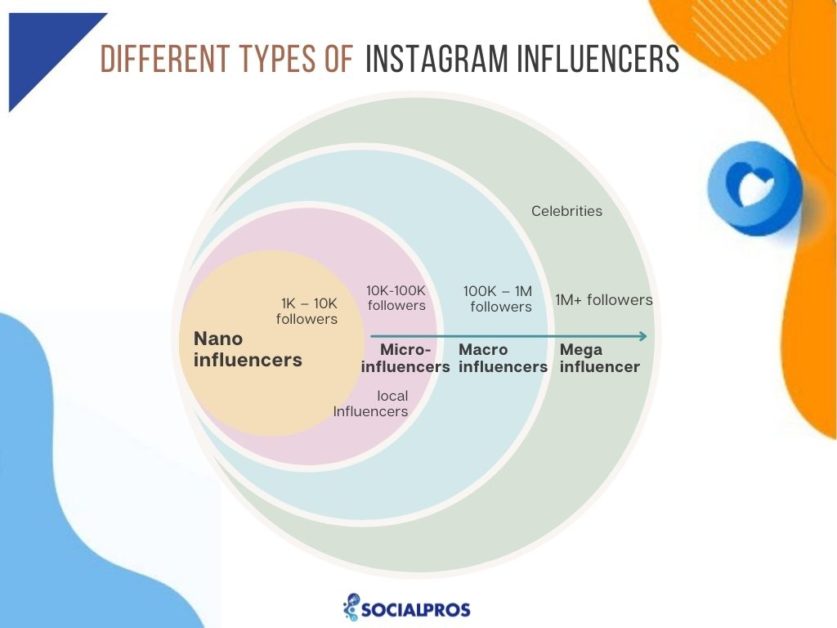 If we want to be more exact, we can divide Instagram influencers into these categories based on the size of their following:
1- Nano-Influencers
They have 1,000 to 10,000 followers and are the smallest group of influencers in terms of followers. These are suitable for small businesses and brands tight on budgets or wanting to promote a unique niche product.
2- Micro-Influencers
Those Influencers who have between 10k-50k followers are considered micro-influencers on Instagram. These Instagrammers have several advantages over the other ones, such as having a particular audience that makes them attractive to small and major brands.
Microinfluencers on Instagram are famous for their excellent engagement rate, which we'll talk about further.
View this post on Instagram
3- Mid-Tier Influencers
This category exists between micro-influencers and macro-influencers. Those who have between 50k and 100k influencers fall into this category.
It's worth mentioning that some Instagram marketing experts consider this group as micro-influencers too.
4- Macro-Influencers
Any influencer that has between 100k and 1 million followers is a macro-influencer. Macro-influencers charge brands more money for advertisements and usually become experts in the brands that they are endorsing.
View this post on Instagram
5- Mega-Influencers
Celebrities and big names fall into this category. They have more than one million followers, and many of them even become brand ambassadors and brand reps for major companies.
Now that you know the difference between different types of influencers, let's see what makes Instagram micro-influencers so attractive to brands and even their followers.
What Is A Micro Influencer
A micro-influencer on Instagram, in particular, has fewer followers than average celebrities and well-known figures. According to the micro influencer definition, a microinfluencer is someone who has a social media following that is bigger than that of an ordinary person but smaller than that of a celebrity.
Above we mentioned how many followers a micro influencer has. They use their following to promote products related to their interests or expertise for monetary gain or simply because they enjoy them.
Why Are Micro-Influencers So Important
As mentioned above, micro-influencers have certain characteristics that make them appealing to brands and Instagrammers. Here are some of the most important reasons: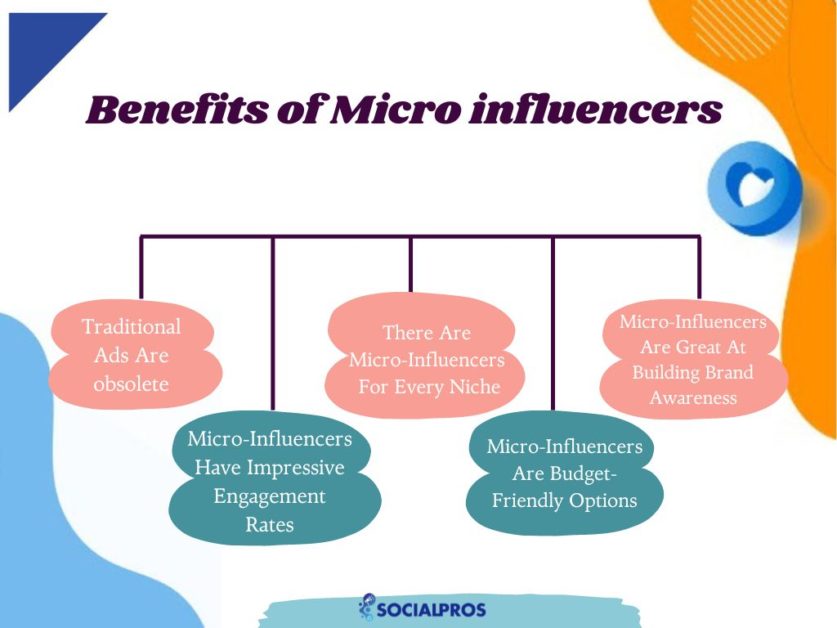 #1. Traditional Ads Are (Almost) Dead
It seems the reign of TV commercials is at the end. People spend less time on TV and, instead, more time on the internet.
If you run a brand, you need to focus on social media such as Instagram and carry on your promotional activities, especially for Millennials and Gen Z, known as screen addicts.
Another problem is that people might still block them even if you create really cool official ads on social media.
A study by InfluencerDB showed that 81% of people prefer recommendations over brands, and only 19% still believe in traditional ads such as TV or radio commercials and the rest.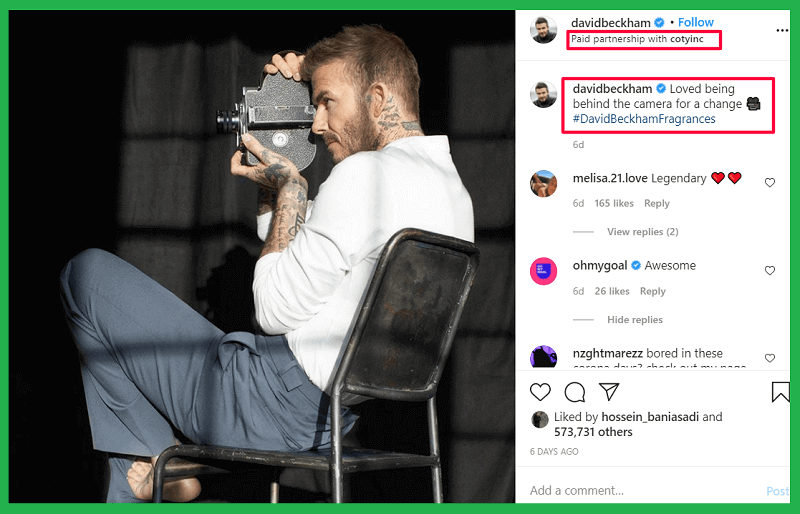 So, what can brands do to gain people's trust? Well, micro-influencers on Instagram are exactly that lost link between brands and people. They can act as a bridge between these two and recommend their favorite products to their followers, who put immense trust in them.
Actually, last year, micro-influencers posted 84% of all sponsored posts in the world.
If you try to gain a certain number of followers, you can start working like other micro influencers on Instagram who make money!
You can find brands to work with by using an influencer marketplace like Ainfluencer. You can read the Ainfluencer review to learn more about how it works.
#2. Micro-Influencers Have Impressive Engagement Rates
Another reason that makes micro-influencers so precious for online marketers is that they actually pay off. Due to their supportive and close-knit community, micro-influencers have one of the highest engagement rates among influencers.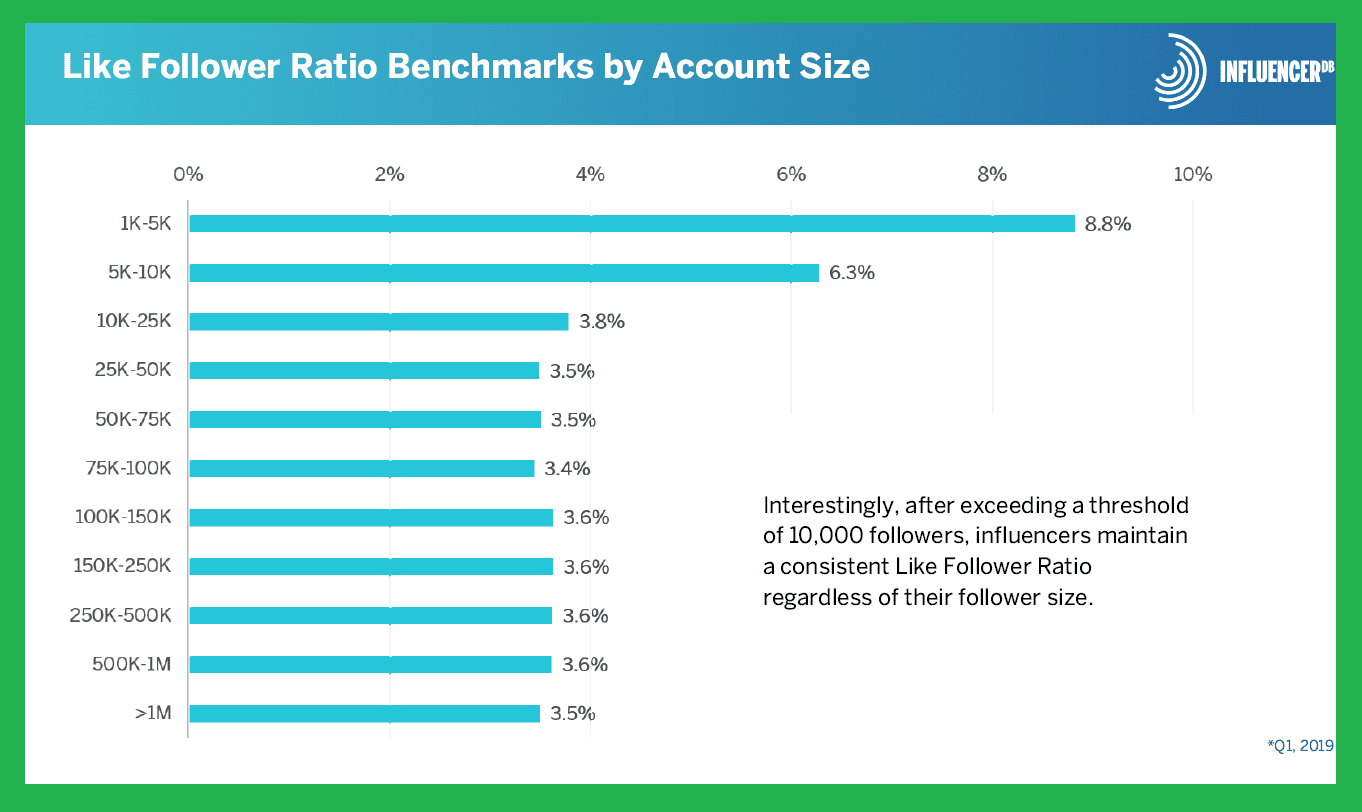 As you can see, micro-influencers have an impressive engagement rate on Instagram and other channels. After reaching the threshold of 10K, things start to plateau for influencers.
And we know for a fact that because of the ever-changing Instagram algorithm, it's much more challenging than before to gain engagement on Instagram.
Working with an influencer, brands can take advantage of this valuable opportunity that they offer.
#3. There Are Micro-Influencers For Every Niche
It's easy to find a food micro-influencer or fitness freaks on Instagram. Here are some of the most popular niches on Instagram: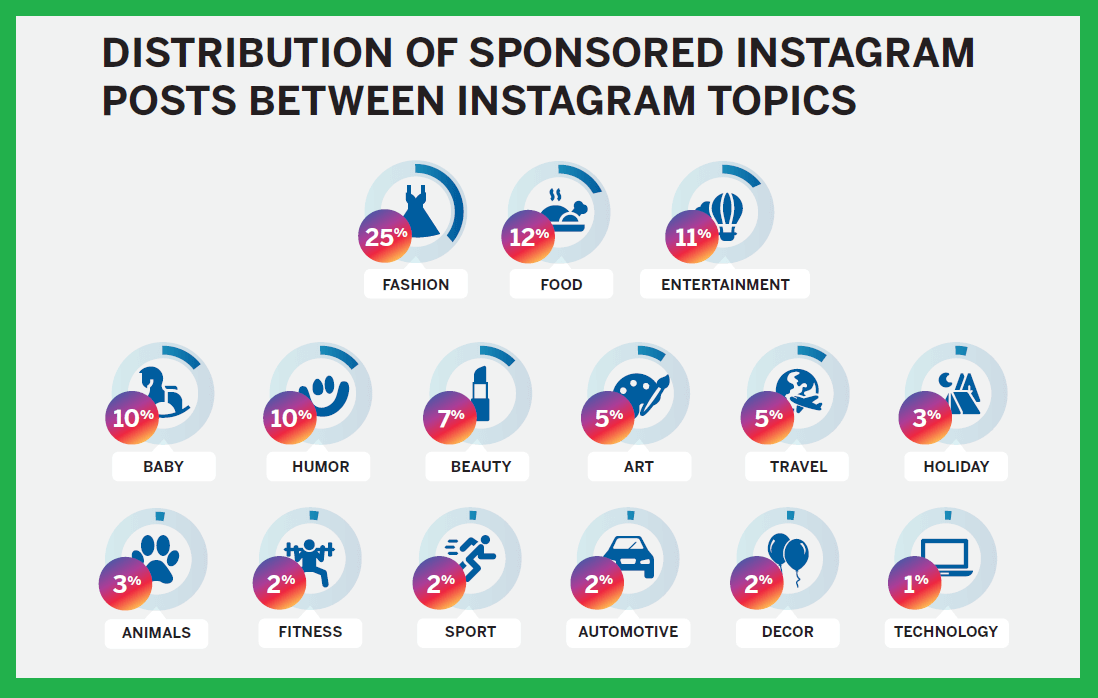 It's true that there are a lot of Instagram micro influencers who primarily work on popular Instagram niches and make a lot of money. For example,
But how about more peculiar or rare niches? What if you want to endorse a reusable drinking straw or clothing made for certain body types?
Don't worry; for any niche, there's a micro-influencer out there.
For example, @mothmeister creates creepy images out of people's nightmares. Yet, many brands collaborate with them to promote their products.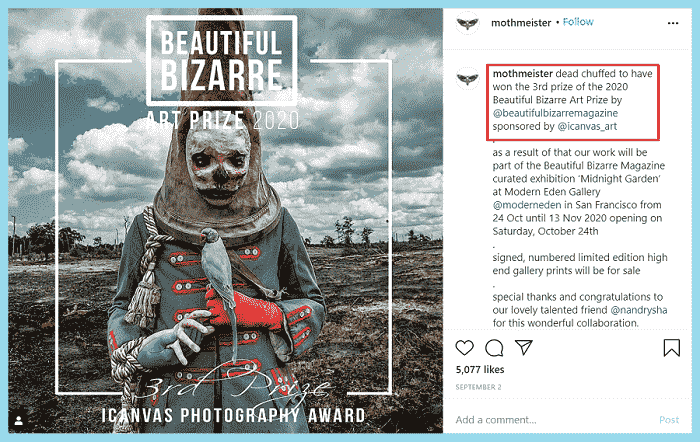 #4. Micro-Influencers Are Budget-Friendly Options
Compared to macro-influencers and mega-influencers, micro-influencers on Instagram are much more affordable. As you may know, brands normally pay influencers based on the number of their followers.
But it's not the only way to calculate an influencer's salary. We'll talk more about this later, but for now, here's the average price per post for influencers in popular niches: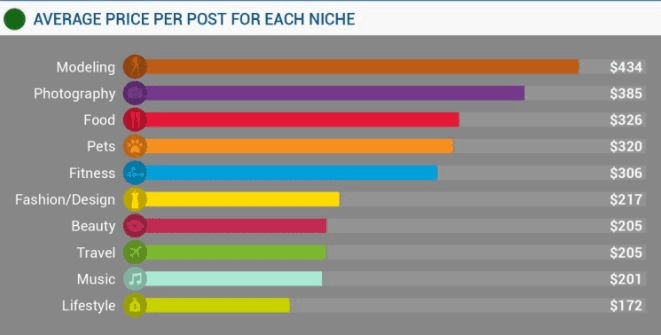 #5. Micro-Influencers Are Great At Building Brand Awareness
Besides selling, increasing brand awareness is one of the main reasons why brands use Instagram. If there's one thing that influencers are good at, it's spreading word of mouth.
That's why they are great for building brands and raising awareness, especially if they are superfans of that brand too.
Because many micro-influencers are experts in a particular niche, they receive freebies from brands to review them on their Instagram. Just a simple mention by influencers can add thousands of new IG followers to the brand's page.
The good thing about micro-influencers is that most of them are selective regarding the brands they want to endorse. They only choose the products that go well with their interest and, more importantly, their community. This helps them to stay authentic in the eyes of their followers.
So, now that you understand the value of micro influencers on Instagram and other social media platforms, let's look at how to find the best and most relevant ones.
How To Find The Perfect Micro-Influencer For Your Brand
With more than 500,000 micro influencers on Instagram, it seems pretty hard to find your brand's perfect influencer. Finding the best micro-influencer on Instagram might be a time-consuming process, but some shortcuts get you there more quickly.
1- Define Your Goals
The first step for finding micro-influencers is to precisely define your goals for having one or multiple micro-influencer campaigns. Of course, every brand wants to increase its sales, but some goals are equally important, such as increasing brand awareness, launching new products, and targeting new customers.
Although running a micro-influencer campaign can help you to achieve all of these goals, it's a good idea to have a clear mind about your goals before finding micro-influencers and contacting them.
It's worth mentioning that micro-influencers use indirect advertising methods like promoting your product through holding giveaway contests, creating branded content, etc. They are perfect choices if you want to build brand trust and target new customers.
However, they can directly do advertising for you using affiliate marketing.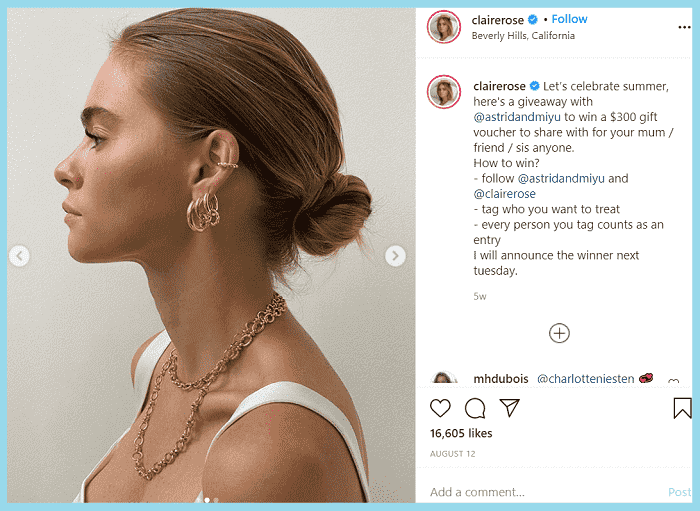 2- Search For Micro-Influencers
There are a few ways that you can find micro-influencers on Instagram. One of them is to search for them on google or social media channels and groups. Here are some other ways to find micro-influencers:
2.1- Find Your Superfans
One of the best ways to find micro-influencers is to look at your posts and see your avid followers. Those who have already shown their interest in your brand by creating UGC content for you and maybe sending you DMs are great candidates.
Micro influencers on Instagram are probably your superfans and the best options, as they know your brand well.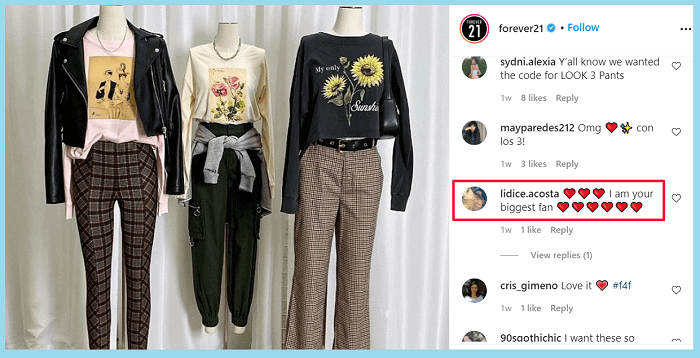 Sometimes, it's difficult to find all the followers who tagged you or mentioned you on Instagram. One good way to manage all these and find people who can become your micro-influencers on Instagram is to use AiGrow.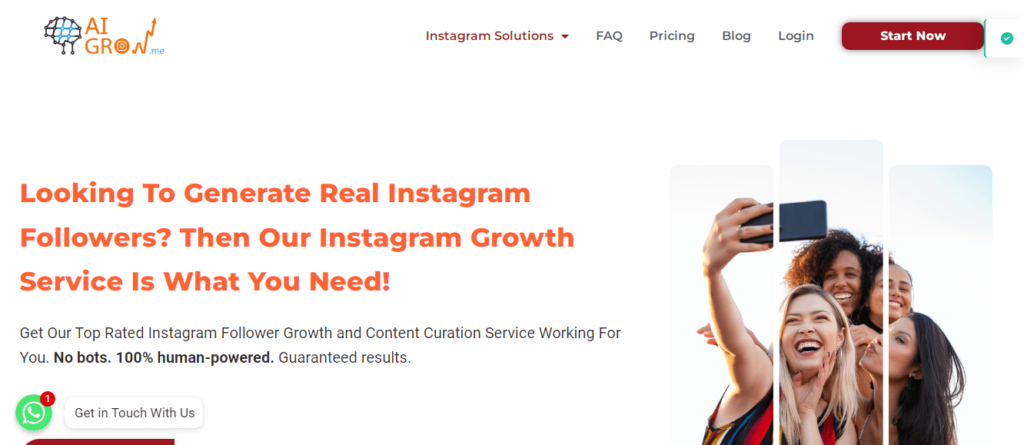 AiGrow is an Instagram management service with many features that help you grow your account sustainably and organically. We talk about AiGrow more in-depth, but now, we're going to introduce one of its unique tools to help brands find their superfans, and it is 'Listening and Repost.'
As a brand, you may receive tons of Instagram notifications every day, and you might lose some of your messages along the way. Using AiGrow, you can glance at all of the posts that you were mentioned or tagged in and see the followers that most engage with you.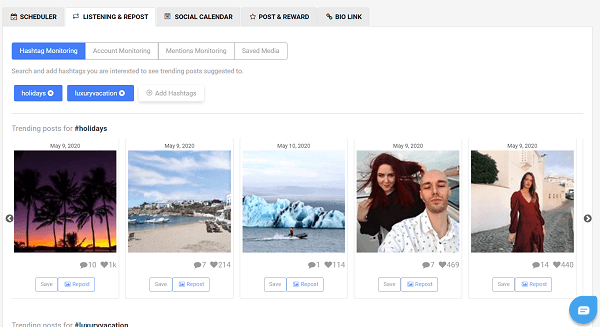 You can even find valuable user-generated content this way and repost it to curate your Instagram feed.
AiGrow also has a lot of other capabilities for growing your Instagram account organically. So, read the AiGrow review and find out everything about this IG growth service.
2.2- Use Influencer Agency Websites
If you can't find any micro-influencers on your list, you can always use influencer marketplace websites like Ainfluencer. These websites act as a bridge between brands and influencers.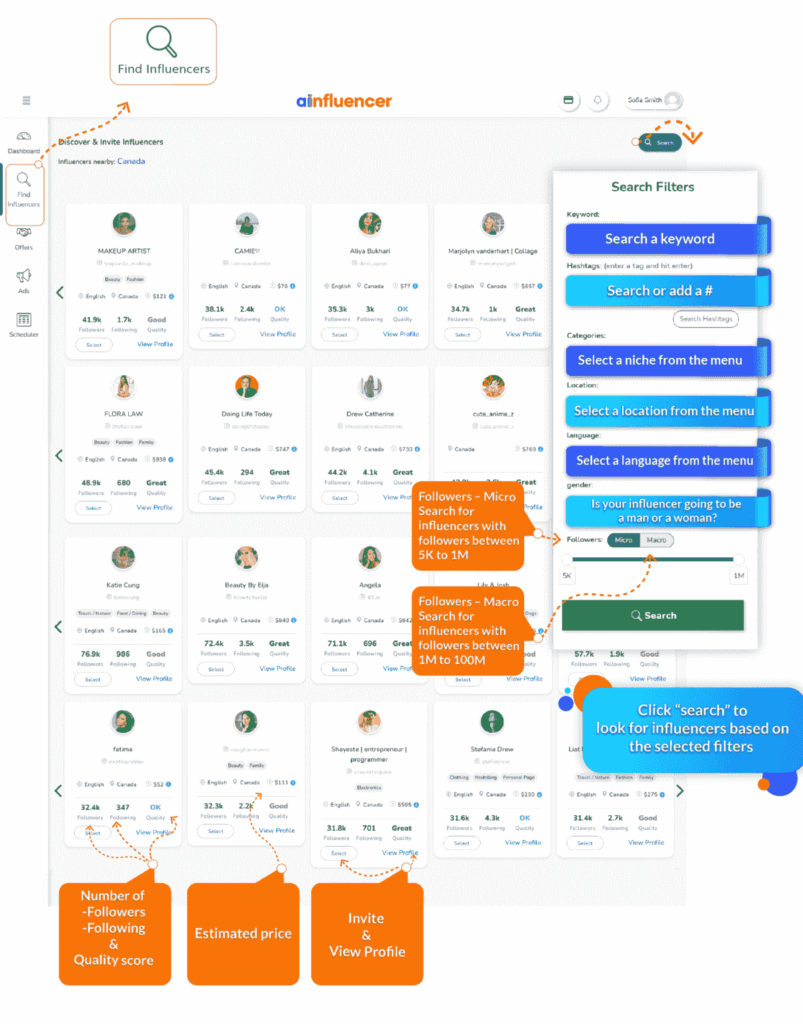 Influencers are categorized based on their niche and the number of followers, so you can simply visit their profiles on the website, find their Instagram page, and see if they are a perfect fit or not.
3- Narrow Down Your Choices
At first, you might find many suitable candidates. You need to choose at least the top 10 of them to check them further at this stage.
When finding a micro-influencer for your brand, you need to consider if that person is a picture-perfect face. The micro-influencer that you choose must reflect all the core values of your brand.
The good thing about Instagram influencers is that you can grab most of the information you want only by looking at their content on their page.
Before contacting them, take some time and go through their posts to check their writing tone, style of photos, and how they communicate with their fans.
See if they have the potential to deliver the message that you want. A great way to examine this is by checking the previous campaigns that they ran. Were they successful in creating a buzz around the products that they endorsed?
This way, you can find the most relevant micro-influencers for your brand.
4- Examine Micro Influencer Engagement Rate
Another important factor to consider is the influencers' engagement rate. See how much they are successful in communicating with their fans. Do they reply to the comments? Do they take time writing good captions, or do they just type in some emojis?
When you consider all of these important points, narrow down your choices and only focus on the best candidates. The next step is to contact them.
5- Connect With Micro-Influencers
How do you connect with micro-influencers? Well, there are several ways to approach them. You can simply leave a comment on their posts: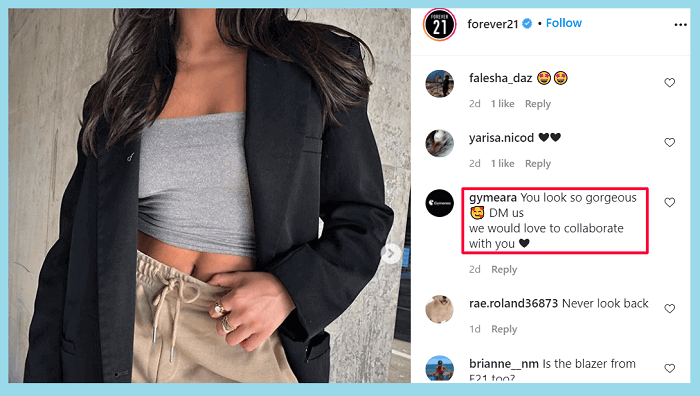 And don't worry if it's not a suitable way to do it. Actually, big companies do the same; they just leave a simple comment.
Or, find their email address on their profile, and write to them. Here's an email template: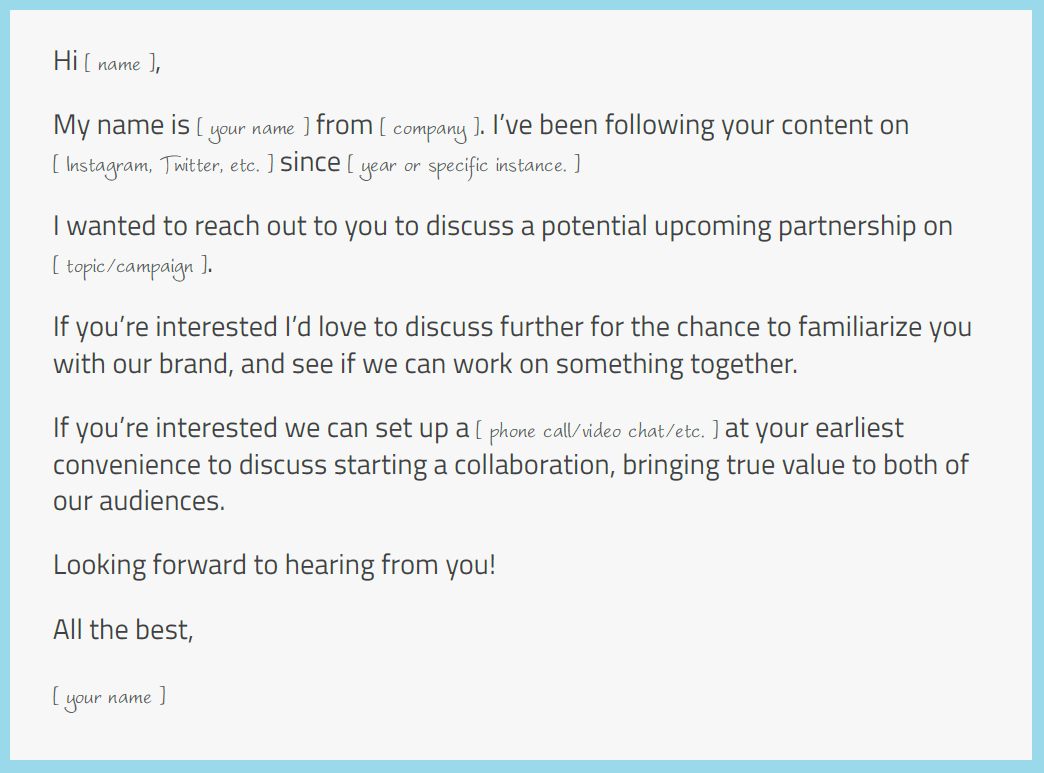 5.1- How To Connect With Micro Influencers On Instagram
Using a good Instagram influencer marketplace is one of the simplest ways to find micro influencers on Instagram and connect with them. Ainfluencer is one of those marketplaces with a large database that can assist you.
Ainfluencer makes it simple to find influencers on Instagram and narrow them down based on their niches, number of followers, and location. So, you can do effective micro influencer marketing!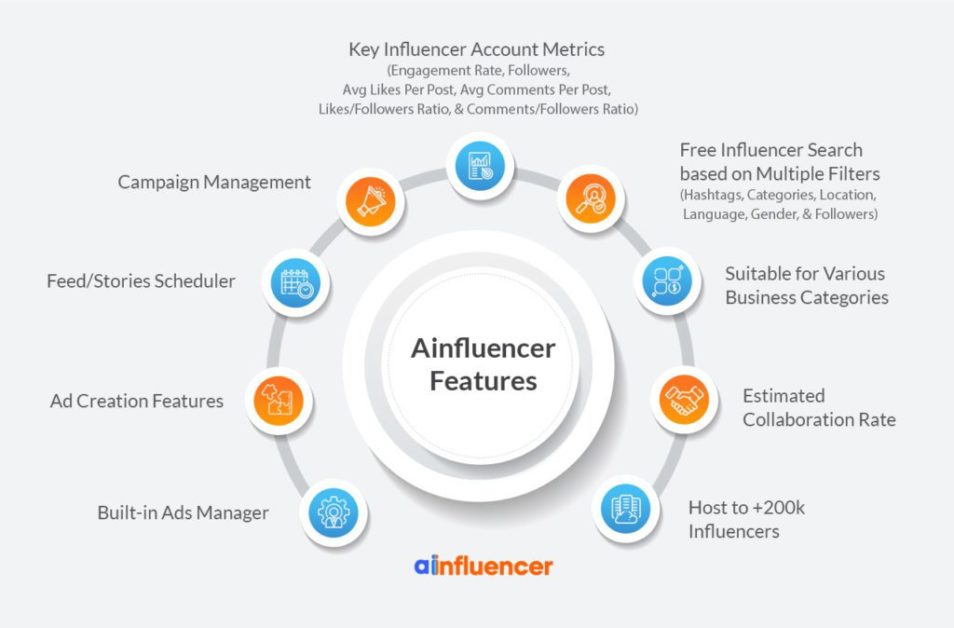 All these features come at absolutely no cost! So, do not hesitate and sign up on Ainfluencer right now!
6- Negotiate The Candidates
After sending and receiving the first emails to start your micro influencer marketing, negotiate with your candidates. You can invite them to a restaurant, your office, or even a Zoom call as it's safer these days to discuss things there.
Talk about how much money they will charge you, how they will run the campaign, how many posts and stories they will publish, and, most importantly, what type of content they will use?
The important thing to remember in this stage is that influencers work with you and not for you. Creativity and personal brands are the two most important assets of theirs. So, you shouldn't force them to do things exactly as you want.
6.1- Discuss What Type Of Advertising You Want
Another important thing to discuss is whether they're going to advertise your product directly or indirectly. You can either use the Instagram paid partnership feature or ask influencers to simply use IG hashtags like #ads on their posts in the direct method.
But in indirect advertising, they only mention your page or product in the post or Stories.
You can also give each influencer a unique promo code or affiliate link to track their marketing efforts.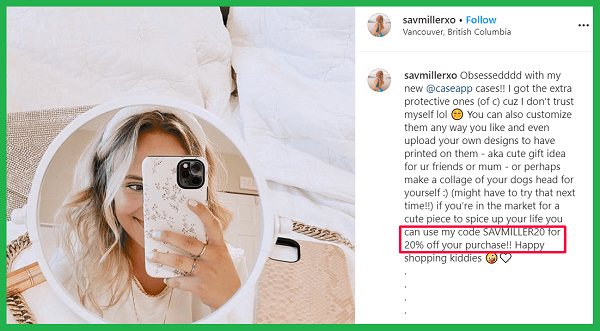 Make sure you record all the micro-influencers data into a spreadsheet so that you could compare them more quickly and finally choose the best one(s). Depending on your budget and goals, you may work with several micro influencers on Instagram simultaneously.
7- Pay The Micro-Influencers
Always pay the influencers in advance unless they want to do affiliate marketing for you. This way, you can establish a more amicable relationship with them.
If you are not 100% sure of their performance, you can start with only one post and analyze the results. If they are satisfying enough, you can go ahead and make deals for more content.
Utilizing the Ainfluencer platform, you can negotiate a fair price and discuss payment arrangements directly with influencers.
7.1- How Should You Pay Micro-Influencers
Cash is not the only choice when it comes to paying micro-influencers. Many of them promote your products and, in return, only accept freebies. Some of them only accept cash or a combination of free products or services. Make sure you talk this through in your negotiations.
8- Analyse The Results
Running the micro-influencer marketing campaign is not the most important part of the process. Actually, analyzing the result created by each micro-influencer is much more important.
Use your Instagram insights before and during the campaign to realize how much the influencers helped you reach your goals. Based on these data, decide whether you want to continue working with them or not.
Before you begin your micro-influencer marketing, you can estimate the rate of collaboration using an influencer marketplace like Ainfluencer. This allows you to gain insight and predict what will happen.
How Do You Find Local Micro-Influencers For Your Brand
Local influencer marketing is perfect for those small businesses that have a front office or any kind of store. The difference between these types of businesses is that they are dependent on local customers, as they are the majority of their audience.
For example, if you have a restaurant in a small town and want to market your restaurant business on Instagram, it's better to focus on finding local influencers to increase your chances of gaining more local followers.
#1 Search Hashtags
You can find micro-influencers in your area by simply checking hashtags like #localinfluencer. In addition, you can use location tags and search the name of your city or neighborhood to find local micro Influencers on Instagram.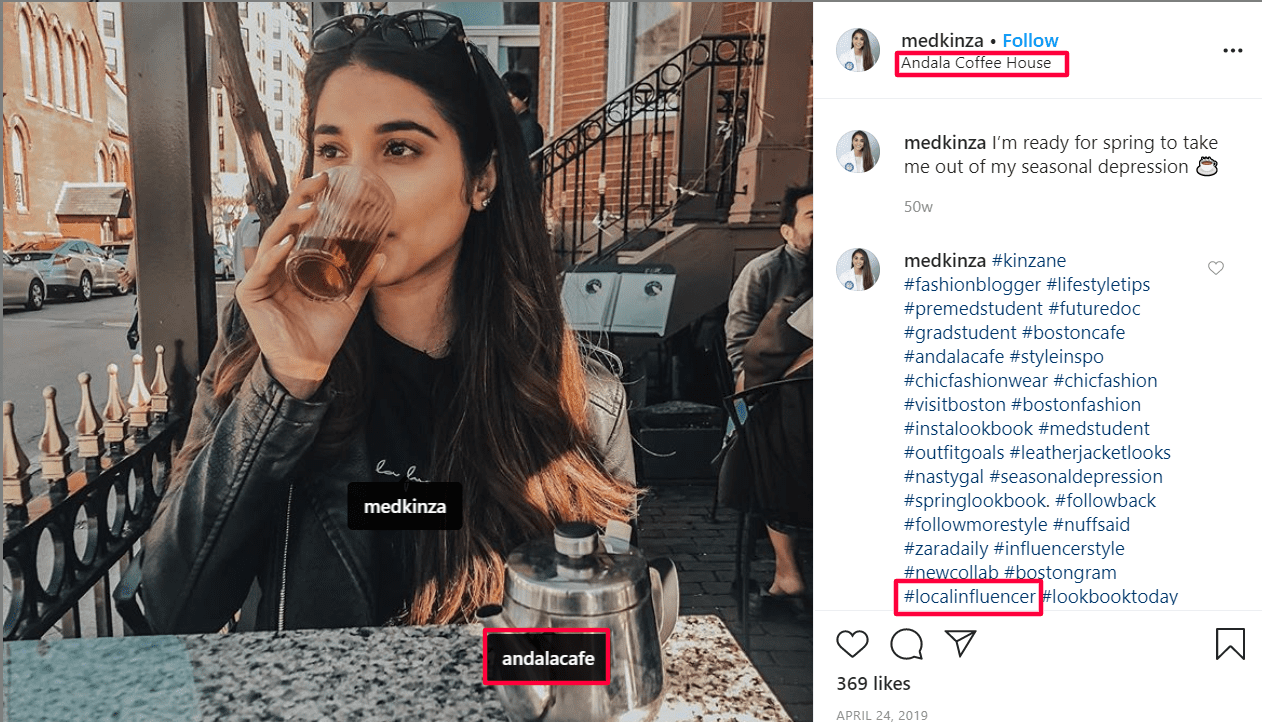 #2 Use Ainfluencer To Find Local Micro Influencers on Instagram
One of the other advantages of using local micro-influencers is to promote store openings or events with them. As they have many followers in their own area, they may lead many new local followers to your page.
Influencer marketplaces such as Ainfluencer allow you to easily filter influencers based on their niche, number of followers, location, and other factors. So, you can easily find micro influencers in your desired location, send them an email, and begin working with them.
Watch this video to learn more about how Ainfluencer works.
#3 Check Your Own Followers
One way to find local micro influencers is to look among your followers. If you own a business and have a large number of followers, it is not uncommon for them to promote your products and mention you in order to entice you to work with them more.
Now let's know how to become a micro influencer.
How To Become A Micro-Influencer On Instagram
If you dream about being a micro-influencer on Instagram, this part of the article is for you. Becoming an influencer seems easy; it might not be that hard to gain your first 1,000 followers, but the problem is, being an influencer is not just about the number of followers.
Being an influencer, and especially being a micro one, is about building a community with you in the center of it. Your followers are like your friends, so you should gain their trust first by creating content that they are most excited about. This industry is all about relationships, and people love to hear unique voices telling their stories.
Here are some of the steps that you can take to become a great micro-influencer.
1- Choose Your Niche
It's not a good idea to randomly endorse every brand. Based on your interests, you need to find a niche that suits you the best. Remember, you need to be either a creator or an expert to be a great influencer, as I mentioned before. So, try to gain information about your niche as much as you can and share your thoughts with your followers.
For example, if you want to be a makeup artist influencer, try different cosmetic brands and give your honest opinions.
2- Expand Your Community
After carefully choosing your niche, it's time to find some real followers. Micro-influencers on instagram have a limited number of followers, and these followers must be engaging and real.
So, it's good only to attract those who are really interested in you and your work. That's why using bots or buying likes is not a good idea.
A great way to gain real and engaged followers is to use AiGrow. As we mentioned above, this Instagram service helps you to grow organically.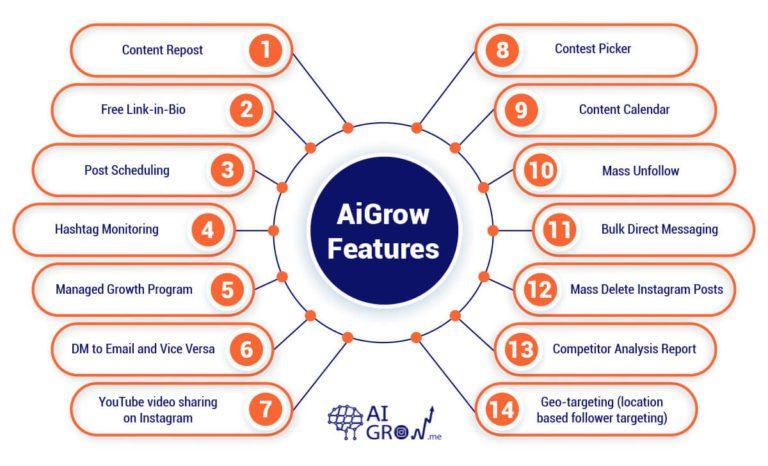 AiGrow is a perfect choice for those who wish to become a micro-influencer as it offers many additional tools. When you buy one of AiGrow's Pro or Managed services, you can also enjoy the best smart post scheduler that enables you to plan your feed posts and Stories for upcoming days and even months.
Let's examine one of the Instagram fitness micro-influencers that uses AiGrow packages: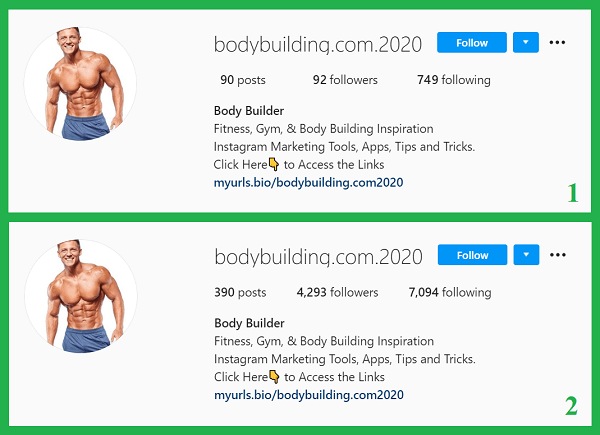 As you can see, using the AiGrow package "Pro 6 Month," this account gained over 4k new followers that are both real and engaging!
3- Create a Media Kit
A media kit is a pre-packaged set of promotional materials that provide information about you. It contains information such as:
Social stats: the number of followers, likes, comments, reach, and engagement rate

Audience demographic

Previous works (if you have any)

Type of packages that you offer

Price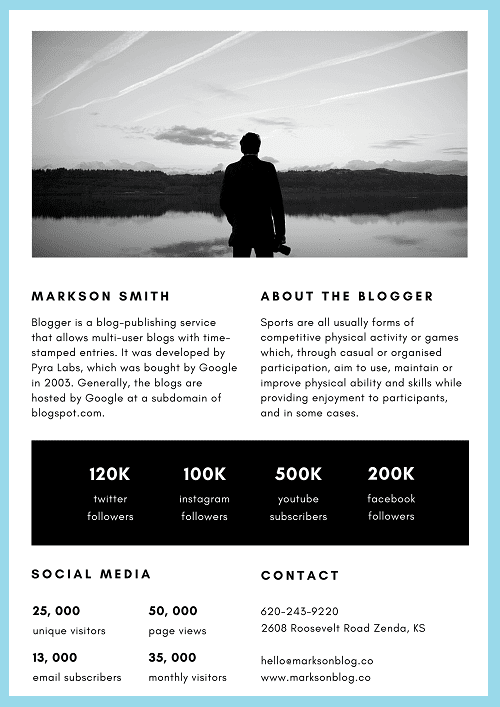 You can use websites such as Canva to create your media kit for free,
Note: A good thing to mention here is that some marketers might advise you against including any price in your media kit as it might put the brand off from working with you if you set high prices.
It completely depends on you if you want to include the piece or not. If you do, it might show that you are honest and also might stop any further negotiation.
Don't know your worth? Keep reading as we'll discuss this in the following.
3- Contact the Brands
When you gained enough followers to be considered a micro-influencer, you are now confident enough to contact brands.
You may think to yourself, shouldn't I wait for brands to contact me? Well, it can happen, but the truth is, there are so many influencers out there that brands might not even notice you are here. So, what you need to do is to gain the brands' attention.
How?
Sit down and pick your favorite top brands in your niche. Now, you can do one of these options:
3.1- Cold Pitch
There's nothing wrong with giving cold pitches. That actually shows you are interested in working with that brand.
So first, start interacting with those brands by liking their photos, leaving comments, and reply to their Stories. Then you can DM them or send an email to tell them that you are interested in working with the brand.
Explain why you think you are a good fit and tell them about your positive experience with their products or services. And don't forget to attach your media kit.
Another important thing to consider when making cold calls is that It's better to pitch to one or two brands that suit you instead of hundreds.
3.2- Find Brands That Are Looking for Influencers
Did you know many brands looking for influencers and even brand ambassadors? Find those brands in your niche and keep an eye on them.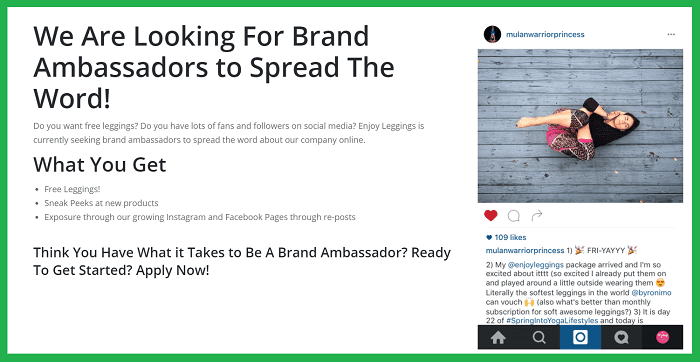 3.3- Tag Them on Your Photos
This approach is excellent to get the brand's attention, but you should be careful about this. Only tag them once or twice to see if they are interested in your work. This approach perfectly works for brands that run user-generated campaigns. Although this approach is useful to get featured on Instagram, you can't keep tagging them in the hope that they might offer you working with them.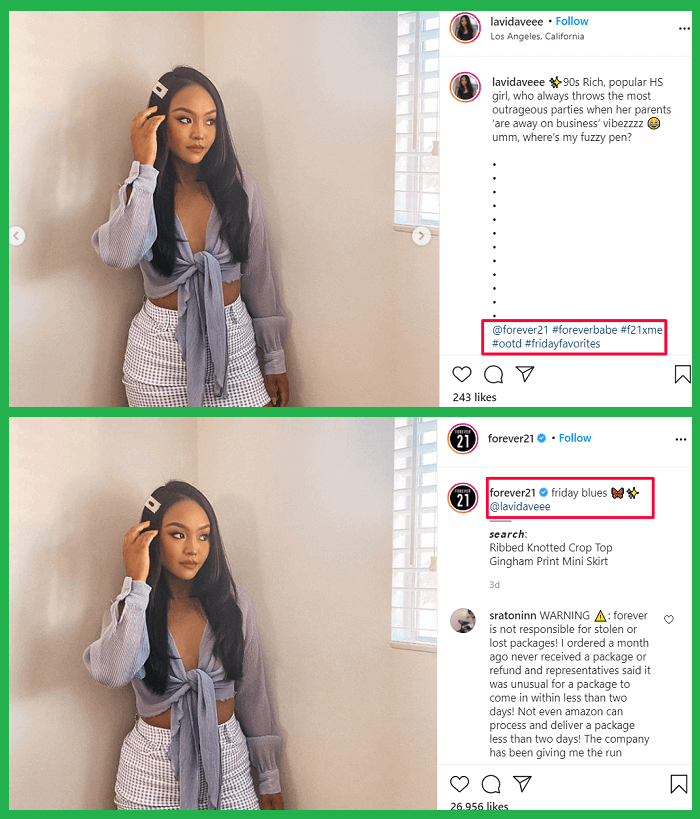 3.4- Participant in Their Challenges
Many brands run Instagram challenges and ask their followers to participate. By joining their challenges, you increase your chance to be seen by that brand, and maybe they become your sponsor.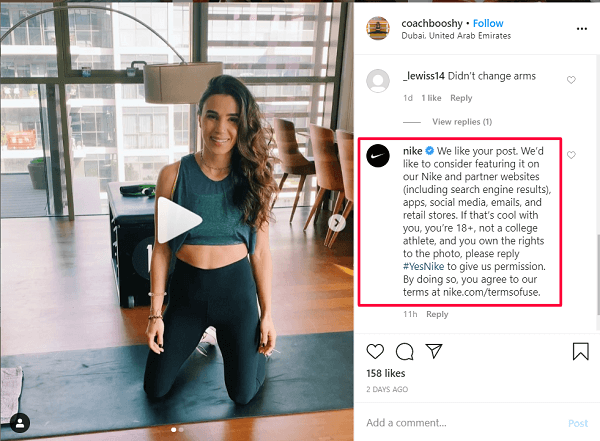 3.5- Use Influencer Agencies
Create a profile on influencer agency websites so that they find a perfect match for you. You can choose your niche and the types of brands that you are interested in working with on these websites.
The only drawback is that they might receive a commission for matching you up with brands. Ainfluencer is a free influencer marketplace that can help you find brands with which to collaborate.
So, what are you waiting for? Start using Ainfluencer to generate passive income!
4- Know Your Worth
One of the most confusing parts of being a micro-influencer is knowing your worth because there's no solid standard defining it.
So, how much do micro-influencers make on Instagram? To make things a little bit clearer, let's see what Ali Grant, a thought leader, influencer, and risk-taker, says about this on Goal Digger Podcast:
"Some people pricing themselves really high, some so low, there's no point of reference really either… so, it makes it pretty difficult. I always go back to for every 10k followers, and you should charge around 100$. That's a good starting point.
It's all across the board…the thing you can do is a factor in your engagement rate, quality of content you're posting, the category you're in and don't charge for your posting; charge for the usage of the content. See if the brand wants to use your content on their ads, website,… Those are the times that you can upscale yourself for more money. Also, consider how long it takes you to create content."
Micro Influencers Examples on Instagram
Here we'll introduce you to a few active micro influencers on Instagram so you can learn more about how they operate.
#1 Mandy Miller @simplyfoodbymandy
Mandy Miller Simmonds, who goes by the Instagram handle @simplyfoodbymandy user name and has around 100k followers, is a food microinfluencer. She introduces accounts for restaurants, food supplies, and clothing stores, and she tries to mention them in her posts.
#2 Augusto Bartellea @augustobartelle
On Instagram, Augusto Bartellea, who goes by the handle @ugustobartelle, posts about his skydiving adventures.
He has 51.7K followers and mentions brands in his bio that he works with. In addition, on his profile, he highlighted the sponsored posts and mentioned the brands with whom he collaborated.
#3 Cris Ordaz @Mymakeupcorner
Cris Ordaz, who goes by the handle @Mymakeupcorner and has 29.6K followers, is a beauty micro influencer on Instagram. She introduces herself as a makeup enthusiast, teacher, and Godfirst. On her personal blog, she discusses various makeup brands she has tried.
FAQs on Micro Influencers on Instagram
Even though we attempted to cover every aspect of micro influencers on Instagram, there may be additional questions. We've gathered some of them here and answered them, which may also be your question.
Q1: How Much do Micro Influencers Make?
An influencer who has recently begun their career may earn less than the top and established influencers.
Generally, micro influencers (those with between 10,000 and 50,000 followers) can earn between $40,000 and $100,000 per year.
Using influencer marketing platforms like Ainfluencer, you can find brands and begin collaborating with them.
Q2: How to Reach out to Micro-Influencers?
Micro influencers may have a large number of customers who want to collaborate with them, so you can try to attract them by taking the following steps:
Create an eye-catching subject line (for outreach emails)
Always use the Influencer's name
Explain why you selected them
Make your offer
Try tone matching
Identify with their audience's goals
Follow-Up with a direct message
Improve your brand's content marketing
Final Words on Micro-influencers On Instagram
Micro-influencers are one of the main trends of Instagram marketing these days. Learning how to work with them can greatly help businesses. Also, being a micro-influencer can be a valuable experience too. So, don't miss this opportunity.
Start your micro influencer marketing campaign to increase conversion rates, achieve a more focused audience, and connect with a particular target market.
Recall to use Ainfluencer for your influencer marketing campaign to make it easier and more successful!
About the author
Owain Williams is the founder of MAKE IT MANA, an influencer, content, and social marketing agency based in the UK. Owain is a thought leader in the influencer marketing space with extensive experience in speaking and writing about the topic. His agency works with various businesses, helping them set strategies and execute powerful influencer marketing campaigns.
Need some influencer marketing support? Get in touch direct: [email protected]
Instagram: @ojawilliams
Twitter: @ojawilliams