Until only a few years ago, you needed to work for months or even years to afford travel expenses. But did it ever occur to you to gain through your journey? Quite fanciful, huh? Have you ever encountered people on Instagram who are always on a trip or traveling? You may ask how travel bloggers make money on Instagram.
If you are keen on the idea of how travel influencers make money, and are looking for the best Instagram followers apps to aid you in this endeavor, this article will teach you how to do so on your Instagram account.
So, we will bring you an Instagram solution app AiGrow that lets you manage all aspects of your IG account to get the best results instantly.
Who Are Travel Bloggers
Blogging is one of the ways to earn money on Instagram. Travel blogging has risen in interest on Instagram in recent years and has become a source of income for some people, but how to get paid to travel on Instagram is still unclear. Before even getting to this point, you need to know who the travel bloggers are.
Travel bloggers are adventurers who visit places and publish every little thing happening during their journey to let their followers know about different locations, cultures, gastronomy, people, and religions, mixing their insights. In other words, travel bloggers allow followers to experience what they do and see the world from their perspective.
For example, consider Rachel, a travel blogger who has visited numerous countries. Now, she has rented a short-term vacation home in Toronto to let her explore the city like a local.
Upon arriving in Toronto, Rachel started sharing her experiences and photos of Toronto on her Instagram page.
Her followers loved her posts and appreciated her insider tips on where to go and what to do in the city.
By sharing her experiences and tips, Rachel kept her followers satisfied and engaged, which ultimately helped her grow her following. Her followers trusted her recommendations and valued her authentic approach to travel, which kept them coming back for more.
Now that you know the definition of a travel blogger, you may ask how to make money on Instagram as a travel influencer on a popular app like Instagram. In the following, we are going to explain it to you.
How Do Travel Bloggers Make Money From Instagram
Travel bloggers who drive traffic into their Instagram accounts are considered influencers and will be sponsored by brands or individuals. Why? Because those who want to influence their brand, shop, or product refer to travel bloggers to prompt their marketing through well-liked Instagram accounts. This is how travel bloggers make money on Instagram.
Additionally, travel images on Instagram have the potential to be monetized. But how to make money from travel photos on Instagram? Sponsored posts, Instagram promotion, and affiliate marketing are the three most useful features that you can use to earn money from your images on Instagram.
Now that you understand how to get paid to travel on Instagram, you might be wondering why some travel bloggers can't make much money on Instagram. In the following, we will address this.
Why Do Not All Travel Bloggers Make Money Through Their Instagram Account
The answer is simple. They simply fail to drive real followers into their pages and also engage them. The key factor to drive traffic into your account and engage audiences is to provide them with attractive content, so that's what you need to work on. The content of your page must be unique, personal, and engaging. It's also a good idea to keep an eye out for new ways that tell you how to monetize a travel Instagram account.
Try to keep yourself updated with new strategies for content creation relating to travel blogging. It is okay to write essays to explain your journey, but a one-minute video or some vivid pictures are a lot more engaging. If you're clueless about the content of your Instagram, keep reading because you're about to learn some cool things about Instagram travel blogs and make money on Instagram using this method.
13 Tips For Travel Bloggers To Make Money From Instagram
If you want to know how to make money on Instagram, we should tell you that travel blogging on Instagram is a hot topic on this platform. You can't even imagine how much do travel influencers make. In the following, we will tell you some tips to be a good travel blogger on Instagram.
1. Change Your Status From 'Private' To 'Public'
If you don't know how to start a travel blog on Instagram, you'd better just start your account, and share your photos of your trips and travels. But remember that your account should be in public mode. It might sound too simplistic, but the result is magnificent.
To set your IG account in public mode:
First, go to your settings
Then, tap account privacy
Finally, turn off the private account at the bottom
2. Switch To A Business Account
If you're wondering how to make money as a travel blogger, it's a good idea to set all of your objectives to profit on Instagram from the ground up. To do so, switch your account to business to have access to more options. This way, you can promote your posts using an Instagram promotion or other ways. Additionally, a business account enables you to analyze your business platform using propitious tools.
3. Be Consistent With Posting
A key to success is not letting your followers forget about you. So it's very important to be consistent in posting. You may forget to post, or you may be busy during your day and not be able to post at the best time of the day.
To get a better result from your posts, you can use an Instagram scheduler like AiGrow to help you schedule your posts days, weeks, or even months ahead of time.
To know more about this Instagram growth service, you can read the AiGrow review and learn how to increase your followers organically.
4. Join Engagement PODs
Make sure to take advantage of engagement pods to increase your engagement rate. New updates on the Instagram algorithm indicate that the number of likes and comments you get on your posts is really important. The more engagement you receive on your posts, the higher your chances of appearing on the explore page.
Engagement pods are groups of people who join together to help each other grow. AiGrow is an Instagram growth tool that has some automated engagement pods, which is the best way to increase your engagement rate.
All you need to do is to sign up on AiGrow and join the engagement pods related to your niche, which is travel. Then after, you will get hundreds of likes and comments from your pod members each time you post to your Instagram page. You don't need to take any actions since the pods are all automated.
AiGrow has 16 PODs for travel with +2000 members each. This means thousands of likes and comments each time you post on Instagram.
5. Get To Know Your Audience Before You Start Making Content On Instagram
It's a good idea for travel bloggers on Instagram to have a brief look at the data of their followers. A pattern is extracted, which you should consider before creating content about travel blogging on Instagram:
Gender: Between 59% to 88% of followers of the mentioned travel bloggers are females.
Location: They are mostly located in the US, the UK, and Canada.
Audience age: They are mostly between 17-24 years old.
6. Find Yourself A Memorable Username
Your username is one of the variables to consider when learning how to become a travel blogger on Instagram. It should transfer the goal of your Instagram page. The username of your page must be singular. Additionally, remember that never copy the username of another famous page, because it might push more traffic to your page in a short time, but it prevents you to rock your business in the long term.
An example of an Instagram username that is memorable and easy to recall is '@Abrokenbackpack'. This is a good example because it sticks in people's minds. Another example would be the name @tourdelust, which is both brief and easy to remember.
'Theblondeabroad' is another example of a strong travel bio on Instagram for girls who are bloggers. Using some of the features of a beautiful female, such as blonde, can help your page attract more visitors. In the next parts, we'll go through the founder of this account in further detail.
7. Be Picky About Your Instagram Profile Picture
An eye-catching profile photo can attract the attention of users. Again, it has to convey the idea of your page. So, choose a lucid, relatable photo. You can also modify your Instagram profile image based on the journey or adventure you're currently on or participating in.
8. Provide Your Audience With A Brief Yet Inviting Bio
A brief autobiography on a travel blogger's bio on Instagram is also an important issue. You can compose the purpose of your page with at most 2 hashtags, a contemplative sentence, or your current location. Followers tend to know about your personal life, so it's okay to put an emoji to show your personality or a ring emoji if you are married. Here you can see some examples:
@theblondeabroad and @muradosman are two influencers with memorable traveling bios for Instagram. Their bio includes their current location, further activities, and all their links in a single link. Adding all of the links to your bio is a smart idea; there is a tool called DMpro that can help you create a clickable, multiple link in your IG bio.
This application allows travel enthusiast bios to include all of the links as they want and manage their Instagram Direct Messages. Here you can go over every detail of the DMpro app.
9. Be Fresh
If you want to be a successful travel influencer, post at the very least 2 times a week. Find out the time when your audience is most active and then publish your post at peak times.
10. Quality Matters
Buy yourself a good camera. The good news for those of you who can't afford a professional camera is that the cameras on cellphones are getting better day after day, and with a little editing, you can boost the number of your IG likes.
11.Take Care Of The Visual Aesthetic
A welcoming overlook of your page can draw users to your page. For example, you can select a prominent color or theme to help your page stand out. In the picture below are some amazing and unique Instagram photo themes.
12. Be Authentic
People feel more comfortable in an authentic environment. Be yourself. Don't exaggerate about a product or service just because you are sponsored. Be cool and express your genuine opinion.
13. Involve Your Followers From Time To Time
If your followers feel like it's a two-way contact, they will engage more. There are a lot of ways to increase your Instagram engagement rate. You can also involve them by using Instagram giveaway ideas.
Using these tips, you may get closer to the aim of monetizing your IG account by knowing how to make money on Instagram by traveling around the world! Keep reading to learn from other travel bloggers.
Learn From The Top 10 Travel Bloggers On Instagram
In this section, we'll introduce you to a few travel bloggers on Instagram. This can help you understand travel blogging and how to make money off of Instagram.
#1 Murad Osmann
He is lucky enough to explore the world with his wife. His content aside, he owes his fame and popularity (more than 3 million followers) to his creativity in posing in front of the camera. Surely you've seen one of the photos with a girl followed by a photographer holding her hand. That's how much of an influencer Osmann is. Do you think you can come up with an idea as penetrating as this?
#2 Jack Morris
His ex-girlfriend and he have followed the same goal, which is to travel all around the world and share their experiences on Instagram (2.6M). His photos and videos vary from nature to pilgrims, from cultural events to romantic photos in breathtaking backgrounds.
#3 Lauren Bullen
She was Morris' girlfriend (see above) and they visited the same places. But now her page differs from her ex-boyfriend's; you can see some casual photos of her among all those travel-related photos and her new boyfriend. 2.1m people follow her.
#4 Taramilktea
The Australian travel blogger with 1.3 million followers, who motivates people to follow her journey, from Iceland to Dubai, India to New York, and so on.
#5 Chelseakauai
She was born in Hawaii and her major focus is on photos containing seaside or sea activities. She could convince 1.2M people to follow her. Here you see some striking photos of her:
#6 Belen Hostalet
A Spanish travel blogger who visited some parts of the world and that resulted in spectacular shots that got 788K pairs of eyes gazed at her account. Analyzing her Instagram account, we can say her major focus was on sightseeing and nature.
#7 Jannik Obenhoff
The 20-year-old German travel Instagrammer with 724K followers started following his passion at a very young age, when he was 13. He is more of a nature person, and his Instagram page includes stunning nature photos of Europe. His 4-year experience in photography makes you believe that the earth has a paradise to offer to those who have ears to listen to his calling. He uploads photos of animals, pilgrims, or roads.
#8 Kiersten Rich
She is the founder of 'thebloneabraed' page and inspires her 520K followers (so far) to pack their bags and visit all these must-see places. The noteworthy fact about her is that she looks pretty trendy in her photos, although she is an always-traveler. She also suggests her followers try the gastronomy at the target place. Her photos include whatever can be seen on the ground or below the sea.
#9 Christine Tran
Her user name is 'tourdelust' with 531K followers. Although photos and videos of nature are viewable, we can not consider her as a nature explorer. Her Instagram account is filled with pleasing photos regarding sightseeing and some casual ones in between.
#10 Sam Evans
This Australian travel blogger (@samevanslife) uploads photos for his 151K fans that can come in handy in the world of science. However, documental photos aside, his feed includes some photos such as romantic photos with beautiful scenery, including the moment he showed the ring to his girl, skiing in the snowy mountain, his happy moments, and so on. He is more likely to be considered as an occasional traveller.
6 Ways To Get Paid On Instagram As A Travel Blogger
Travel blogging is an appealing niche in and of itself, and it can help you stand out from the crowd. If you want to get paid to travel on Instagram, here are some strategies that may assist you in accomplishing your aim.
1. Undertake Sponsored Campaigns On Instagram And Make Money
Create sponsored campaigns with tourism boards on your Instagram account, such as:
Hotels
Airlines
Travel insurance providers
Rental car companies
2. Create Sponsored Posts
You may prompt some products which are related to the tourism industry and traveling. Long or short-term sponsorships from tourism-related companies and enterprises are possible this way. As a result, you should design your social media posts in a way that encourages everyone else to participate.
3. Cooperate With Brands Whose Products Come Handy In Travelling
If you are a fan of a brand relating to tourism-hiking shoes, for instance- it is okay to prompt this brand. To do so, share images with the business you're a customer of and tag or mention them so they can come to you to promote their products. Also, you can use Ainfluencer marketplace to connect with these brands even more easily.
Ainfluencer: The Best Influencer-Brand Marketplace
Calling all travel influencers and bloggers! Are you looking to take your travel content to new heights while monetizing your passion? Look no further than Ainfluencer, the ultimate DIY influencer-brand partnership platform designed to cater to your needs.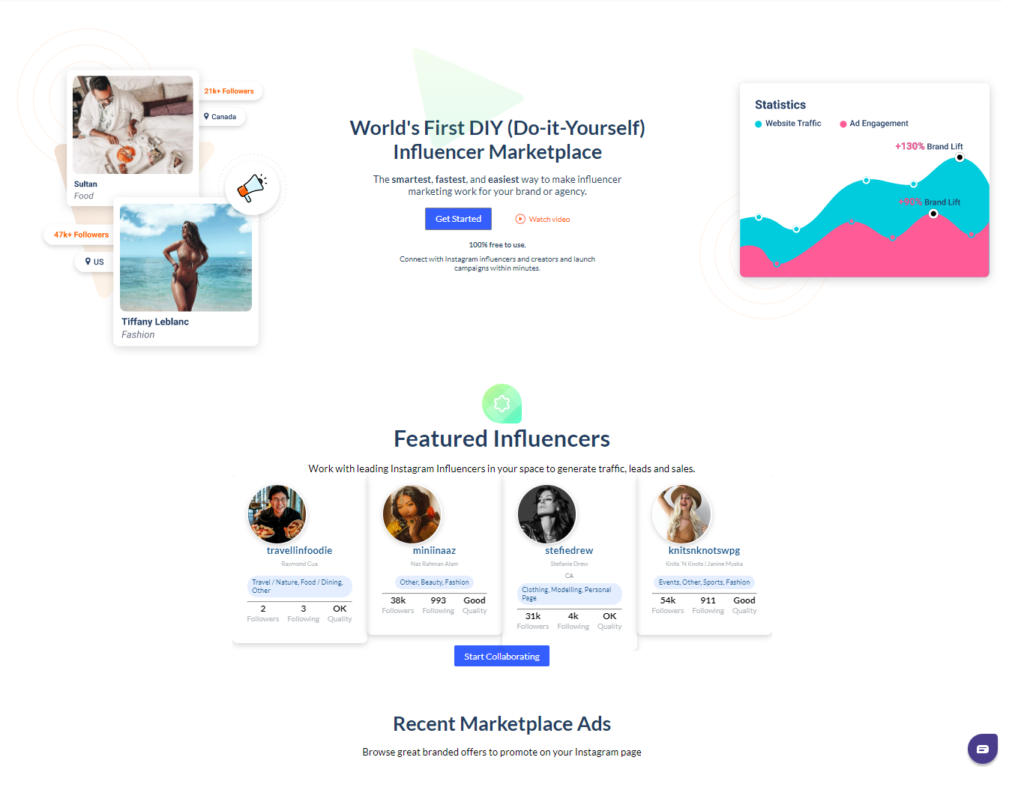 Ainfluencer is a free platform that empowers travel influencers and bloggers by connecting them with brands seeking collaboration opportunities. Whether you have a thriving Instagram or TikTok presence, Ainfluencer enables you to showcase your unique talent and close deals with brands in your niche!
All you need to do to use this platform for free is to sign up on the platform and sit back while you receive tons of invitations from brands who are interested in collaborating with you!
4. Activate Affiliate Marketing On Instagram
The only thing you need to do is to put an affiliate link in your Instagram bio. When your audiences buy a product or receive a service through that link, you will be paid a percentage as commission.
Be aware that your followers trust you so introduce them to products or services which you truly love and appreciate. Amazon affiliate marketing is another way you can use to make money on Instagram.
5. Share Your Memory Through Ebooks
As a traveler, you have had some memorable moments, that made your eyes wet out of joy or sadness. You can share them with your audiences. If the content of your page is attractive enough, some of your followers will buy it.
6. Use an Efficient Third-Party Service to Help You Manage Your Instagram
Third-party services such as growth solutions and DMs management can assist you in properly managing your Instagram account. AiGrow, for example, is an Instagram growth tool that allows you to schedule and create your posts, delete your IG posts in bulk, get followers and likes, and perform other tasks as shown in the image below.
Start using the AiGrow solution here.
DMpro, an Instagram application that enables you to send mass DMs and turn your Instagram direct into a CRM system, is another tool that can help you. It also has a special link in the bio tool, which is really beneficial to you. Other features can be seen in the image below.
Click here to start your journey with DMpro.
FAQs on How to Make Money on Instagram Using Travel Blogging
There may be some questions or hesitations regarding how much money Instagram travel bloggers make. We attempted to answer some of them in this part. Please feel free to ask any other questions you may have. We'll get back to you as soon as we can.
1- How Much Money Do Travel Bloggers Make on Instagram?
It's a tricky question to answer since there are various factors that can result in income. But it can escalate to $50,000 per month if you use all your potential to make money on Instagram as a travel blogger. Let's have a brief look at the top earners in the industry.
A study provided by BuzzBingo shows that travel bloggers are making more than $10K per sponsored post.
2- Who Are the Wealthiest Travel Bloggers on Instagram?
According to the hopperhq website, Caio Castro is the wealthiest blogger on Instagram. According to this site, Murad Osmann, another travel blogger, is in third place. Five of the wealthiest Instagram bloggers can be seen in the image below.
Last words on How to Make Money on Instagram as a Travel Blogger
To sum it up, this is the golden era of smartphones, and almost everyone has Instagram at their fingertips. Therefore, it is a perfect opportunity for those of you who love to explore the world and run a business.
It's your time to both follow your passions and make money on Instagram as a travel influencer, while enjoying your life, so make an account and start your journey today!