For people who use Instagram for business and have a large following, sending and maintaining direct messages is time-consuming. Additionally, if you're using Instagram for marketing and want to send out mass DMs, it's a good idea to use a third-party app like DMpro software to assist you in accomplishing your goal instantly.
Direct messaging on Instagram comes with a variety of opportunities and benefits when you take full advantage of it. The best way to utilize its full potential is by using the best Instagram DM apps. One of the best examples is DMpro.
Using this Instagram DM app, you can take control of your direct as a full-scale manager. In this post, we will take a closer look at this app and answer questions like how to DM on Instagram using such a professional app. So, bear with us.
Note: if you are not interested in the details and just want to start using the direct message app for Instagram, click here.
What Is DMpro
As you know, Instagram is enjoying much greater popularity among other social media apps, so having Instagram tools can help you stand out from your competitors. If you don't know what this dm app is and how it works, we will explain it in this part.
If you want to attract more people, you can send advertising messages to your audience directly, so using a third-party application like DMpro will definitely help you send mass DMs on Instagram instantly.
On the other hand, if you have a large number of IG followers, you may want to send or receive a huge number of DMs per day to improve your online presence. You might also want to make your audience wait for you to respond when you have time by sending them an auto reply message.
You might also want to control and send your IG DMs from your PC or your email. Or you may want to send 1000/Mth Bulk DMs. This is where the DMpro app comes in to help you. Using this amazing app, you will have access to all of these features in one place.
The good news for you is that you can use DMpro on your mobile phone too. So, if you are looking for an Instagram DM app for android, it's the best choice for you. In the following, we will tell you how DMpro works and how to use it.
How DMpro Works
On their site, they state that you can generate leads on Instagram and boost sales using DMpro. But how? This Instagram DM app, besides having all the features of a comprehensive direct message app that make it a CRM for your Instagram, also provides you with a bio link tool.
The DMpro link in the bio tool allows you to add clickable links to your IG bio. So, you can add as many links as you want, including your website link, your WhatsApp link, and the coupon you want to offer to your customers. You can also design and add them to your posts and stories. That way, you will drive more traffic to your website, generate more leads and increase your sales.
In the following, we will explain all of the DMpro features in meticulous detail. But if you don't have more time to read and need the DMpro app, click here to start your journey with it.
DMpro Features
DMpro capabilities, such as automated outbound DMs, sending automated DM responses, bulk DMs to your contacts, and receiving DMs via email, will allow you to use Instagram professionally. That way you can gain IG followers fast and more than ever!
DMpro features include:
#1 DMpro Automatic Outbound DMs
DMs function as a powerful way to connect with your audience and generate leads. DMpro outbound direct messages allow you to send automated DMs to followers of other IG accounts or people who use specific hashtags. It is beneficial for marketers who have multiple accounts and want to manage them simultaneously.
#2 Powerful Targetting
DMpro uses extensive targeting so that you can DM each new follower, existing followers, people who use certain hashtags, or followers of relevant or competitor accounts. This is a smart approach to getting access to the right people and turning your IG followers into customers.
#3 Automated DM Responses
If you want to inform your customers who send you DMs that you have received their messages, this is a good option for you. With this, you can automatically respond to IG users who send you a DM with a preset message. So, your audience will wait for you to answer their questions.
#4 DMpro Bulk DMs to Your Contacts
This is an incredible feature that allows you to turn your Instagram into a CRM system or a full-scale Instagram management tool. Using DMpro, you can send up to 1000 Instagram direct messages in a matter of time. This will help you attract more IG followers organically.
#5 DM to Email
For those who want to control their messages from their email, this is a good option. You can connect your DM to your email account and send and receive DMs from your email. You can also reply to them using custom subject lines. It helps you save more time and energy.
#6 Dedicated Desktop Inbox for DMs
A dedicated desktop inbox on your computer is also available with DMpro. As a result, you'll be able to respond to direct messages, sort them, delete them, and filter them all from the flexibility of your desktop computer or mobile device.
#7 Multiple IG Accounts Support
If you have numerous Instagram profiles and want to DM all of your followers on all of your accounts, DMpro has a feature that allows you to do so. This makes it easy to manage all of your Instagram accounts from one Dmpro dashboard.
#8 Unlimited Bio Link
This unique link in the bio tool is one of the coolest features that you won't find on other mass-DM Instagram apps. You can add as many links as you want to your bio using this option. This will increase the amount of traffic to your website and allow you to include communication links such as your WhatsApp business as well as coupons.
#9 Flexible Messaging
If you don't want to keep sending the same Instagram messages, DMpro offers a solution for you. Using variable text snippets, you can optimize and randomize your messages. Your messages will look more natural this way.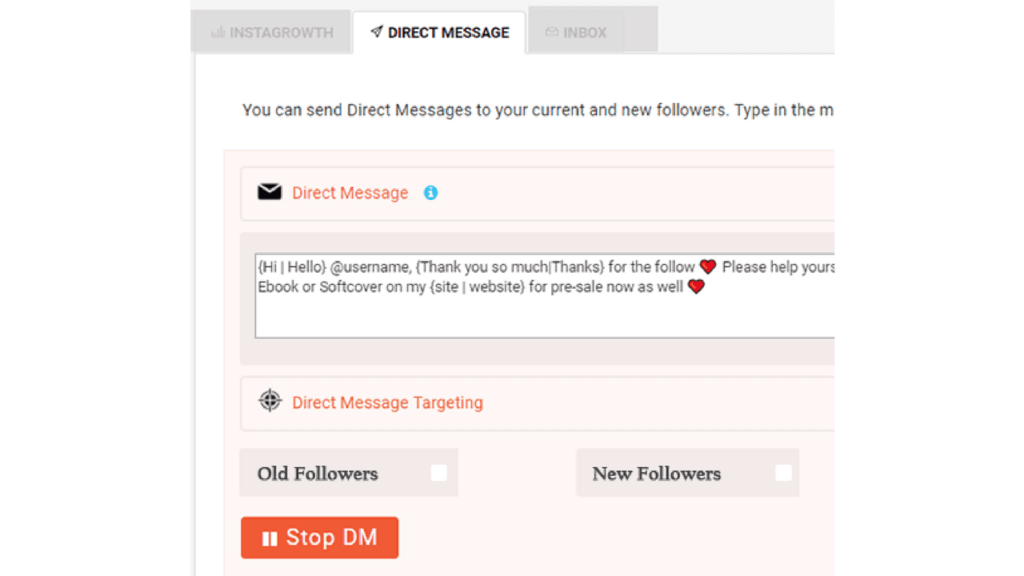 #10 Mass Delete All DMs
A tool for removing all of your DMs is necessary when you send and receive a large number of messages. DMpro has a tool that allows you to mass delete all of your IG DMs at once.
So, if you can't wait to start using such an IG DM tool, click here to embark on using DMpro, the best Instagram direct message tool ever!
DMpro Reviews
By looking at DMpro reviews on different websites, we found that this application has a good place among other social DM apps. For example, the score of DMpro on the Trustpilot website is 4.6, which is excellent. There are always some unhappy customers or tiny problems with every service, but overall, users' comments are generally satisfactory.
According to user comments, the DMpro website provides Instagram management services and is a very successful website. They also believe that the DMpro app is easy to use and has a great and convenient design!
The Scamdvvisor website has also investigated the country in which the website is hosted and its SSL certificate. And the website's algorithm has given the review of dmpro.app a relatively high score rating, which indicates the site is safe to shop on and leave your data.
So, you can use DM pro without worrying about leaving your password or credit card information. If you need such an app, don't waste your precious time and start using the app from here.
DMpro Packages and Pricing
DMpro provides you with three different packages. The good news for you is that there is also a free package that you can use to test the app. DMpro free package allows you to send 45 automated DMs and receive them in your inbox. You can also keep 180 IG DMs in your inbox and send 300 bulk DMs using this free package.
You can save money by purchasing the DM-pro package for three months at a discounted rate of 48 per month. With the 3-month package discount, you may get the advanced plan for just $123 instead of the regular monthly price of $129.
So, click here to start using DMpro with a discount.
DMpro Advantages and Drawbacks
Besides a lot of advantages that an application has, there may be drawbacks or some bugs. Here we compiled all the DMpro pros and cons so that you can see and decide whether to use this app or not.
DMpro Pros:
24/7 support
Safe and secure
Link in bio tool
Bulk DM up to 1000/monthly
Transparent pricing
The ability to set different samples for auto messages to avoid being monotonous
DM to email and control all messages through your email (send and receive)
Powerful targeting to attract the right customers and followers
DMpro Cons:
Lack of two-factor authentication
We should add that DMpro is not a growth tool. However, it will help you grow your Instagram fast. There are many other DM apps for Instagram like IGdm, which you can read its complete review here.
But if you are looking for an Instagram growth tool with all the features, including manual growth activities (follows, unfollows, likes, comments), Instagram account monitoring, a give-away picker tool besides DM and other tools that a comprehensive growth solution has, AiGrow is the best app for Instagram with a DM tool that will work magic for you.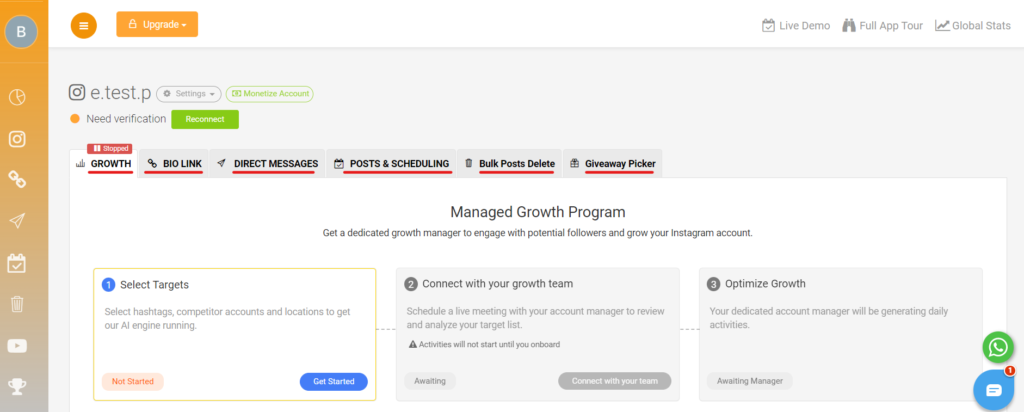 We reviewed AiGrow, along with a lot of other growth tools on our site:
FAQs on Direct Message Instagram Apps
Some questions and concerns come to mind when deciding to use a new app like DMpro. Here we've tried to cover a number of these concerns around the DM Instagram app:
#1 Is DMpro Safe?
It's not just us who thinks DMpro is a secure and legitimate Instagram direct message app. According to several investigations conducted by sites such as trustpilot and scam adviser, DMpro is a safe and secure business that you may use with safety.
#2 Does The DMpro App Access My Password?
This is a common concern people have when using apps. When you use DMpro, it does not access your password. It will not reset your password either. You can rest assured that your information is safe and it is not accessing what you need to keep private to ensure optimal account security.
#3 How Many Accounts Can DMpro Handle?
This app can manage an unlimited number of Instagram accounts. This means that you will be able to enjoy optimal convenience and simplicity no matter how many accounts you are looking to enhance and optimize. There are different tiers to choose from to ensure that you are getting the right level of management for your Instagram needs.
#4 How Many People Are Targeted Per Day?
With this app, there is no cap on how many users it is able to target with DMs. As your account matures, it adapts and is able to keep up with the changes. You can set the speed of the engine and there are three options to choose from. You can opt for an average of 50 to 200 users per day and make adjustments as you go along so that you are growing your followers at the rate you desire.
Wrap Up
With this information, you can see that the DMpro app can make your life a bit easier and more streamlined when you are using Instagram. Make sure to learn about all the features before you dive in so that you are taking full advantage of its power to earn you followers and ensure a better user experience.
So, as we all know, there are many other direct message (DM) apps for Instagram. However, remember that safety is always the most important factor that should be considerd. Therefore, be careful and do complete research about the app that you choose for your DM marketing campaigns. In our view, DMpro is the best Instagram DM app. Click here and enjoy using it.