You can grow your business and get more IG followers with efficient Instagram growth services. However, in a market filled with different Instagram growth apps and services, you should be more careful of those offering to sell fake followers or using dangerous bots.
Finding the best and safest Instagram growth services is vital for your online business achievement. On the other hand, associating with an Instagram growth company that is not legit or proven can result in your online reputation being negatively affected. So, you've always got to review and do a bit more digging to find their positive and negative points.
That is why we decided to Investigate different services like Viralrace in this field to help you better decide if it is worth your time and money. Upon reading this review, we will explain further why you'd better avoid Viral Race as it is a bot that can lead to your Instagram account being suspended or banned.
Alternatively, organic Instagram growth services like AiGrow, which we will also introduce to you in this article, can provide you with an organic growth strategy and more sustainable results.
This article will aid you in understanding the strengths and weaknesses of each service. Now, let's take a look at the Viralrace review in more detail.
Want More Real and Engaged Instagram Followers?
What Is ViralRace
The Viral Race is open about what they do. They allow you to buy Instagram followers, likes, and views.
According to their website, Viralrace delivers 100 percent real Instagram followers, likes, and views. They claim to help you build credibility for your Instagram profile.

They also guarantee to deliver fast Instagram followers from genuine profiles. They can be delivered immediately or gradually, depending on the conditions.
Moreover, according to them, they can deliver 10 times more engagement than organic Instagram growth companies and 4 times more engagement than their competitors. They also claim that they have more than 20,000 happy clients!
However, these claims seem very suspicious to us. We've said it before and we'll say it again: don't rely on bots and other services that let you buy followers, likes, and views.
It is really difficult to determine whether the packages they offer are genuine or not. So, continue reading to ensure that you make the best possible decision.
💥Word of Caution about Viral Race:
Viral Race, previously known as the Automatic Viral website, faced repercussions from Instagram for employing Instagram bots. Users have reported that utilizing this Instagram growth service led to an influx of temporary and fake accounts, which ultimately offers no lasting benefits for your IG account. Based on this information, it is strongly advised to steer clear of Viral Race (or the Automatic Viral website).
How Does Viralrace Work
According to information provided on their website, The media ViralRace manages a large network of 500K Instagram accounts. This extensive network acts as the foundation for the followers and engagement they provide for sale to their customers.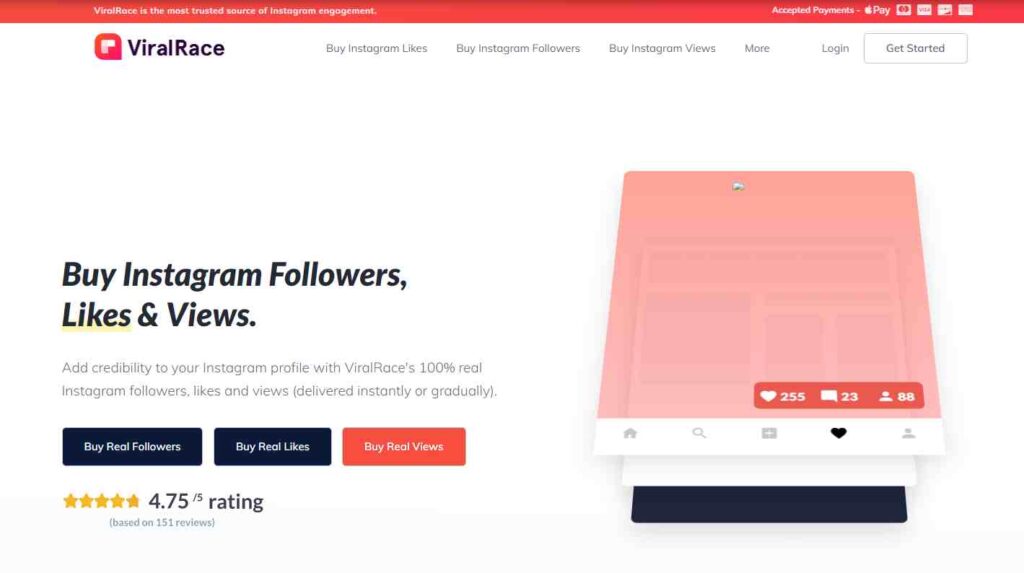 It is simple to begin working with Viralrace. In accordance with the information on their website, they have made their platform simple to use.
So all you have to do is go to their website with the address viralrace. co ( previously, it was viralrace.com) and choose from a variety of packages that they offer, place your order, enter your Instagram username, and wait for the results!
Note: Their accepted payment methods include Apple Pay and credit cards. PayPal is always the safest way to pay for such services. But, since that's unavailable, you'll have to make do with their offerings.

According to the Viralrace review on the Earthweb, ViralRace is one of those Instagram bots that appears to be smarter than the others. This statement is based on their claim on the website.
ViralRace promises to provide two options for its services. As a result, you can receive your ViralRace followers or engagement immediately or gradually. This is a beneficial strategy (of course if it works!) since it allows you to stay out of the spotlight and avoid having your account flagged as spam.
💡Note: When considering buying followers, it's advisable to opt for the gradual option offered by services like Viral.Race. By taking this approach, your Instagram page will grow more naturally, enhancing authenticity and avoiding sudden spikes that could result in your account being banned or suspended.
But those people who have tried this feature reported that it does not work correctly. For example, take a look at this ViralRace review on Trustpilot: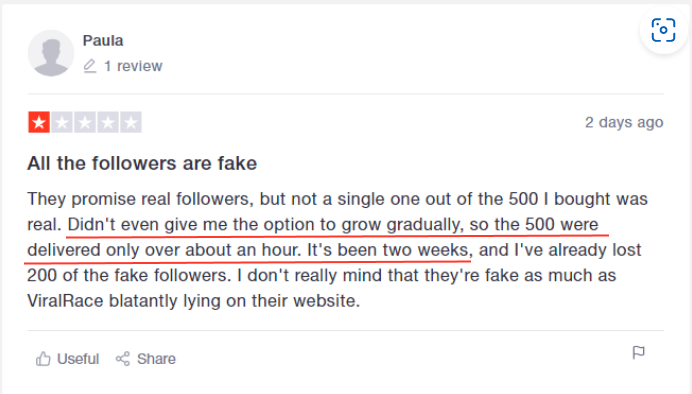 Viralrace Features, Packages, And Pricing
One of the features is its growth engine. Using this, you'll get Instagram likes at the best rate possible, which will help you get more followers and keep them.
To determine the validity of this claim, we will examine this tool!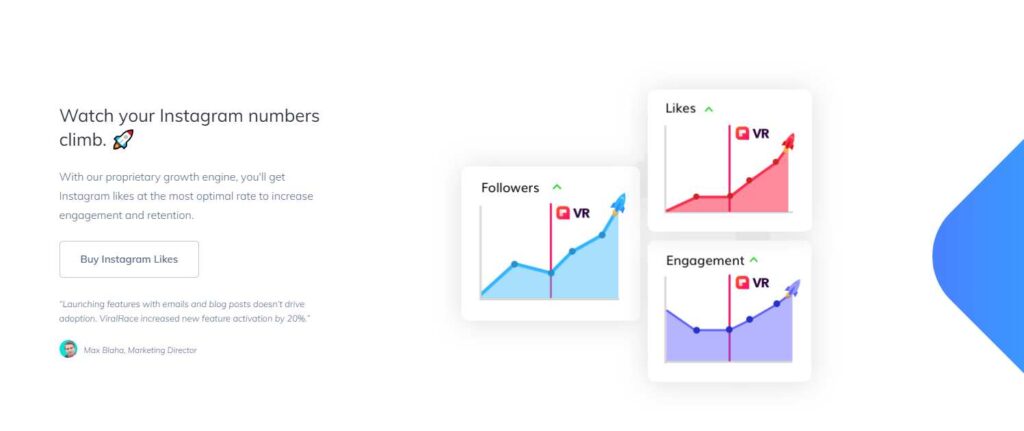 Viralrace offers a variety of packages, each with a distinct price range, from which you may choose based on your requirements and your budget. All of these packages are one-time purchases and you should receive them as soon as you make the payment.
Read More: The Best App to Gain Followers on Instagram
Viralrace Likes Packages
Viral Race offers a variety of likes packages, with prices ranging from $1.39 for 50 likes to $70.99 for 10,000 likes. To be more realistic, you should base your number of followers on how many you now have.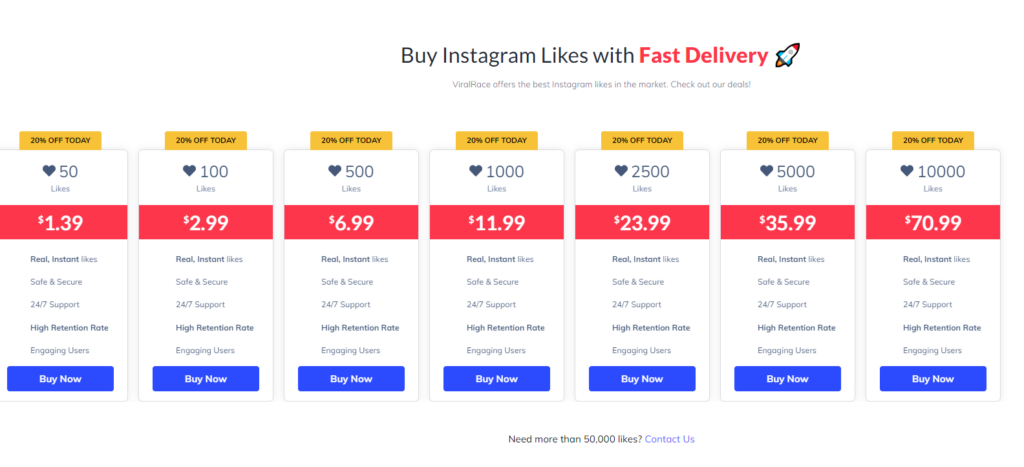 Viral Race Followers Packages
Viralrace followers also come in a variety of packages with varying pricing. Packages of 100 followers start at 2.99 dollars. You can also get 10,000 followers for $99.99, which is a bit pricey. You might begin by purchasing little packages to ensure if they are real or not.
Viral Race empresa emphasizes its commitment to providing real followers, which serves as a significant selling point for the company. However, it is important to consider the viralrace reviews that will be presented shortly. These reviews indicate that most Viral Race customers have received fake accounts. Furthermore, most Viral Race followers disappeared soon after they arrived. It is crucial to make an informed decision based on these insights.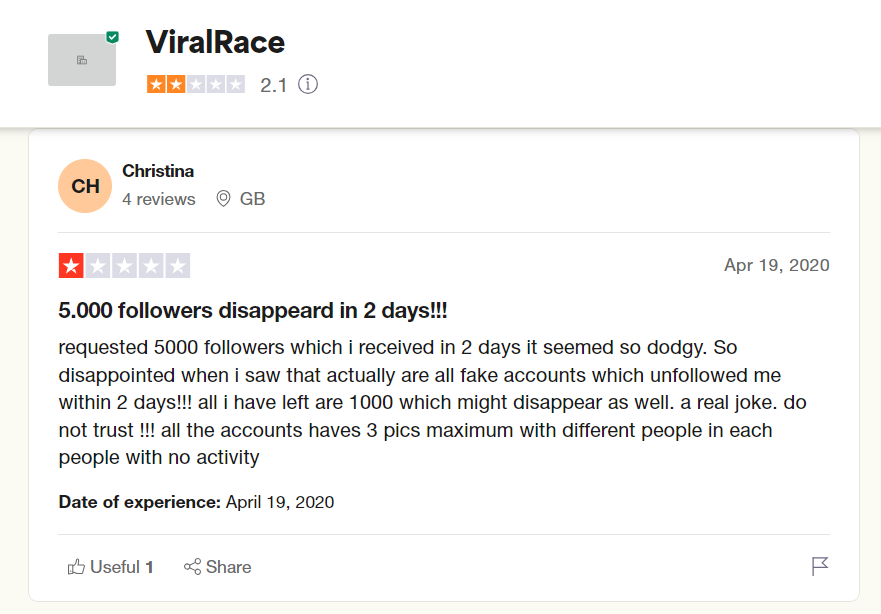 Want to Gain REAL and Engaged Followers?

Viral Race Instagram Views Packages
You may purchase Instagram views for your feed or story. There are a variety of packages available, ranging from $2.99 for 100 views to $99.99 for 20000 views.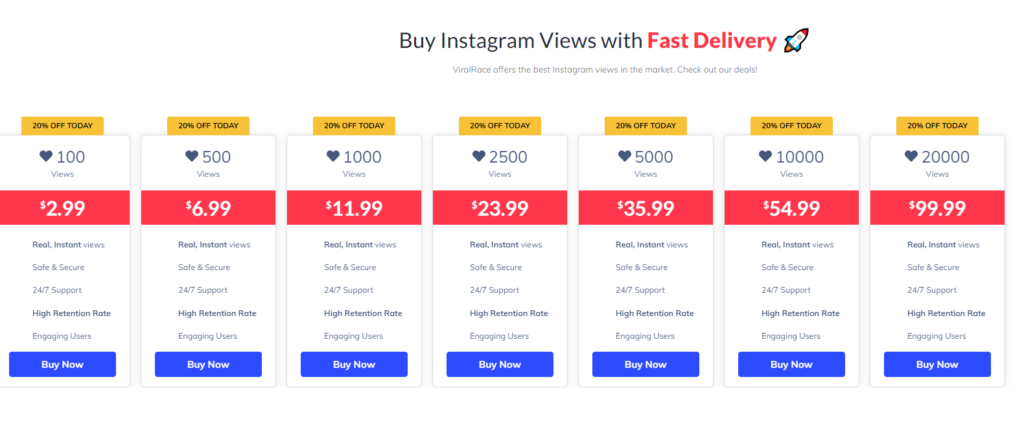 They also have a FAQ area that provides answers to common issues from users, and it can be helpful.
All of the features and packages we evaluated were provided by the company's representatives; however, to conduct further research, it is a good idea to read Viralrace reviews on various websites.
Viralrace Upload Detection
This feature means that when an image or video is detected by the system within 60 seconds of upload, engagement is delivered to it.
The claims made by Viral Race on their website, such as delivering engagement within 60 seconds and surpassing competitors in terms of engagement, are not supported by the Trustpilot reviews. It is important to note that these claims lack evidence and should be approached with skepticism. Furthermore, the absence of positive reviews on other platforms raises questions about the credibility of their purported 20,000 happy clients.
Read More: Useviral Reviews: Is Useviral Legit?
Viral Race Reviews: What Do Their Customers Say?
To ensure your online credibility remains intact and you make informed decisions, it's essential to read reviews like those for Viral Race. These reviews can save you time, and money, and maintain your respectability in the long run. Let's delve into this informative ViralRace review, highlighting its unique features.
Trustpilot (a well-known third-party review website) is a good resource for learning about other people's experiences.
Another website where you might look for a review is the Reddit discussion board. However, in this particular case, I was unable to locate any Viralrace reviews on the Reddit website.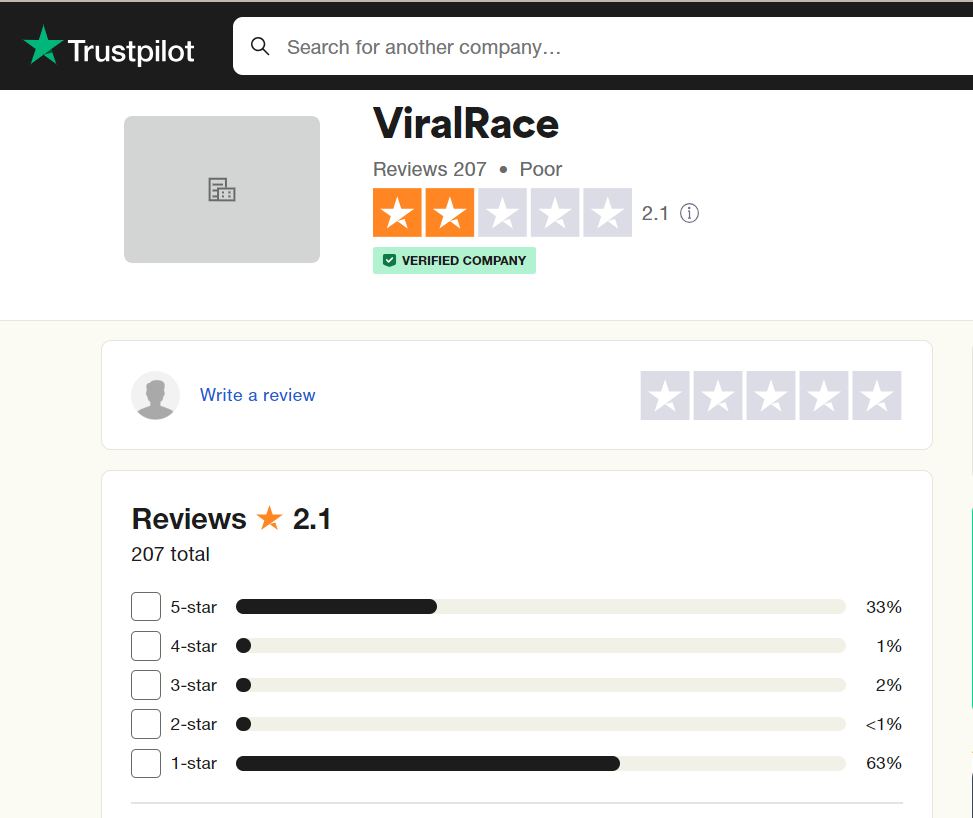 On the Trustpilot website, the average rate of Viral Race is 2.1. This average rate is not good enough for a growing service.
Based on user feedback on the viral race company, reviews are overwhelmingly negative. Numerous users and former customers have expressed dissatisfaction with the service.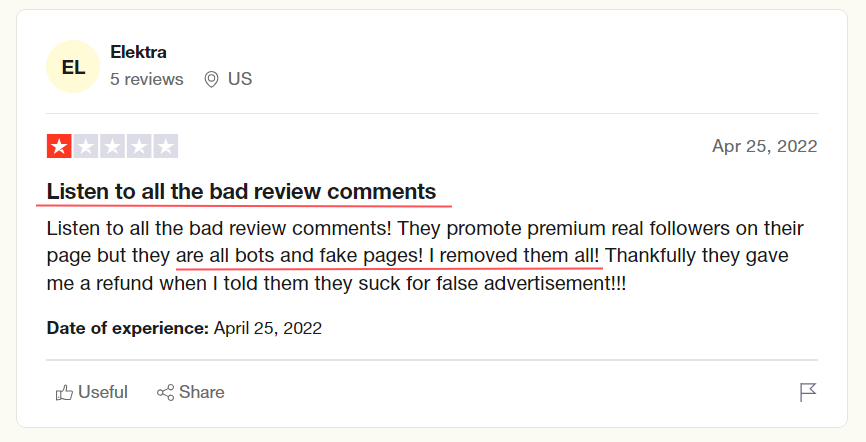 The Viralrace scam has been reported by several users. That is, the clients have noticed that Viralrace gets the money and doesn't deliver the results, including IG views and likes. And if they do provide them, they are all fake!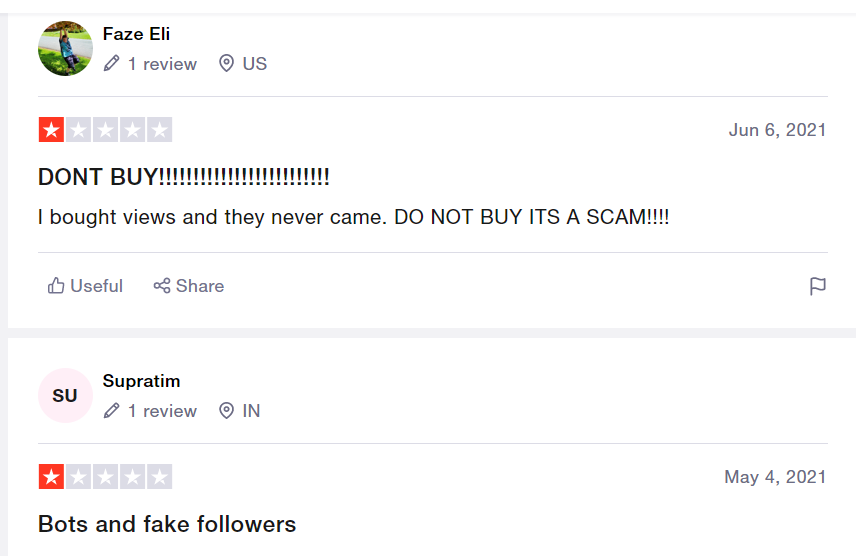 Viralrace reviews also reveal that the followers they provide are phony and drop after a few days. Furthermore, the support team does not respond to emails.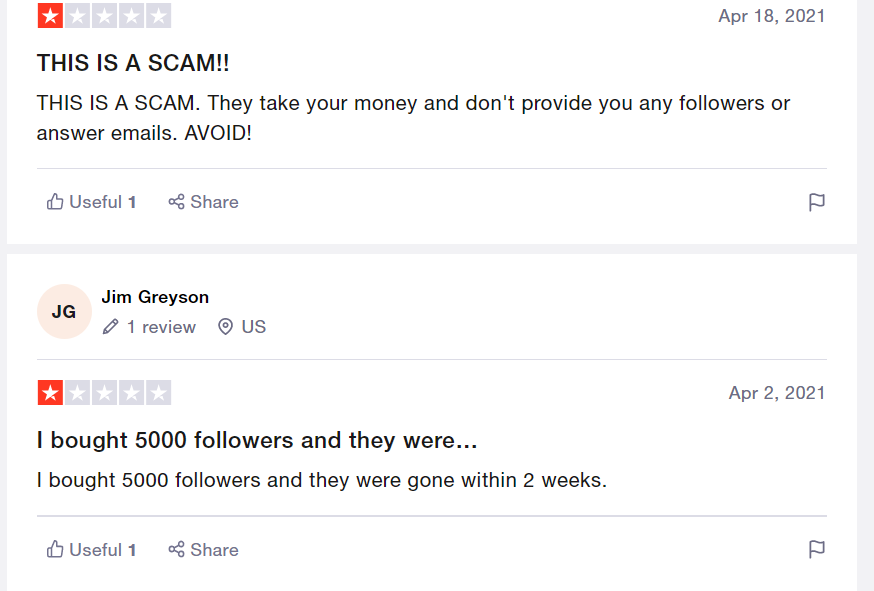 Another reviewer claims that Viralrace employs dangerous Instagram bots and that the followers it provides are of poor quality and fake. In addition to the reviews listed here, there are many other bad reviews from their customers. If you check out these ViralRace reviews on Trustpilot, you will find that they are completely off.
Following an investigation of the Viralrace review on this site, we discovered that the company was formerly known as YoViral. In most cases, renaming and rebranding are not positive indicators.
Given all of these reviews and Instagram's guidelines that are against utilizing bots and buying followers, you'd be wise to seek out an alternative that will help you build your Instagram organically while also providing you with full support.
We also looked at a number of growth service reviews, including:
As well as a variety of other resources for business growth that are posted on our website.
Viralrace Pros & Cons
In this part of the review, we will explore its strengths and weaknesses. So, let's get started.
Pros
No Instagram password is required.
Visible pricing
Cons
Fake positive reviews on Viralrace. co website. The ViralRace inflated positive reviews on their website contrast sharply with the negative reviews on Trustpilot. This creates confusion and raises concerns about their reviews' reliability and authenticity.
As Viral Race assigns no personal account manager to you, it is not an organic Instagram growth tool. In fact, it is a bot service.
No proxy support
According to Viralrace reviews, many people received bots or fake followers. Therefore, they lost their bought Viral Race Instagram followers over time. For this reason, Viral Race is not a good option for a long-term Instagram growth strategy.
The engagement they supply is fake.
It provides very terrible customer support.
Many Viralrace reviews on Trustpilot describe it as a scam. Some Viralrace reviews on Trustpilot.com complained that their orders were never delivered!
There is no money-back guarantee on the website.
The Support link at the bottom of the page does not work at all. Therefore, they have no support team or page.
Surprisingly, there is not any chatbot on the website.
The ViralRace website doesn't say much about the team behind the service, which is definitely a letdown.
Given that the website is only a little over two years old, Viral Race cannot compare its retention rate with organic websites that have been around for longer than ViralRace. As a result, the site's analytics aren't accurate.

Then, are you ready to be introduced to the best Viral Race alternative of all time? To help you, AiGrow is here.
AiGrow; The Best Viralrace Alternative
Using AiGrow is like having a magic Instagram growth service that is always there for you. They will support you 24 hours a day, 7 days a week till you get your desired results organically and safely.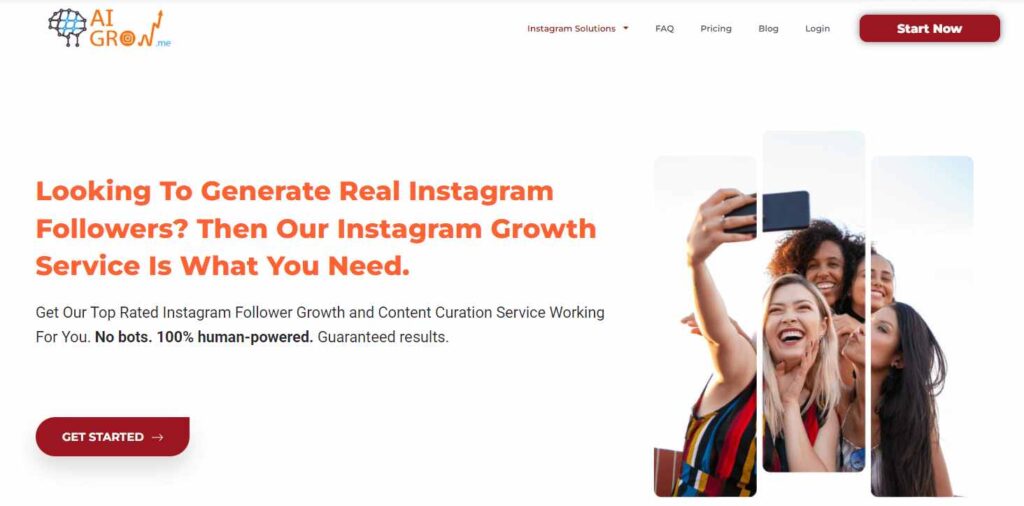 Unlike ViralRace, AiGrow provides you with targeted followers and sustainable engagement. So, having a little patience and using organic growth strategies is much more effective than using a bot. Remember that it is always better to have slow and steady (and real!) growth than instant growth fueled by fake or bot followers.
AiGrow has a high rating on Trustpilot and Scamadviser and has been voted as the best Instagram growth service by its clients. Here are some testimonials from people who have used AiGrow and are satisfied with it.
So, give AiGrow a try now to get guaranteed results.
AiGrow Features
AiGrow's extensive features will meet all your Instagram growth needs in one place. Their support team, which includes human-powered Instagram specialists, will provide you with the most excellent advice and Instagram marketing strategies. The following are some of AiGrow's outstanding features: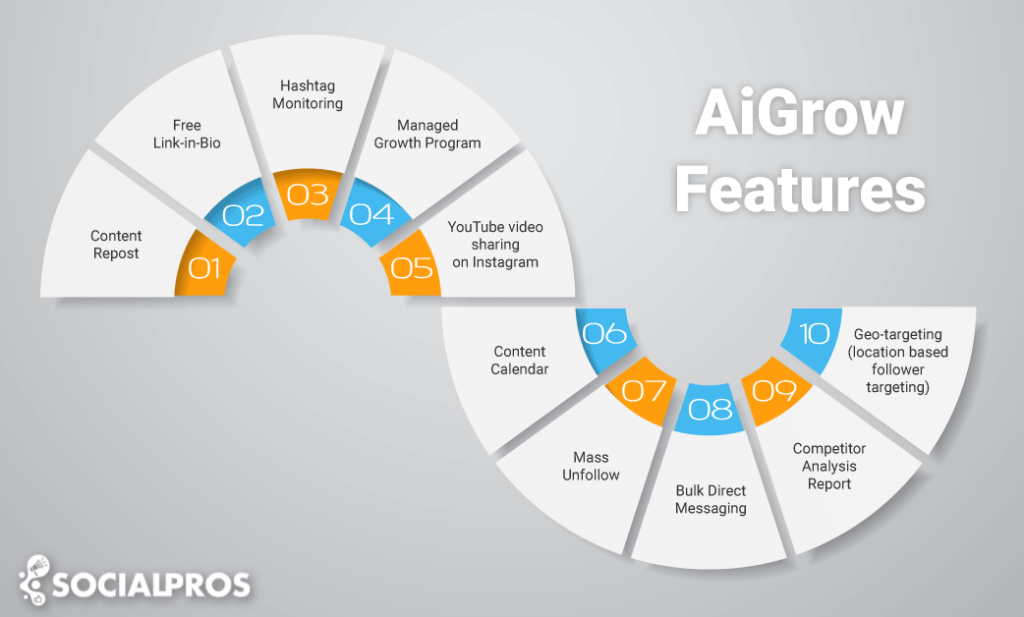 Content creation strategies
Powerful link-in-bio
Post scheduling
Hashtag monitoring
Managed growth program
Managed DM marketing
YouTube Video sharing on Instagram
Giveaway picker
Content calendar
Mass unfollow
Comprehensive weekly and daily analytical report
Advanced Targeting
AiGrow growth tool is a comprehensive organic Instagram growth service for designing, creating, and scheduling posts. Get personalized content and design strategies and a personal account manager who will send weekly content strategies and schedule your Instagram feed, keeping it relevant and fresh.
Moreover, they are not all of the features that AiGrow offers. You may learn more about this fantastic service by visiting the website or reading our in-depth AiGrow review.

All of these benefits will convince you to select this tool. So, don't waste any more time and begin your Instagram growth journey now with AiGrow.
AiGrow Packages
AiGrow offers a wide range of packages. You can pick and select from a variety of them depending on the requirements.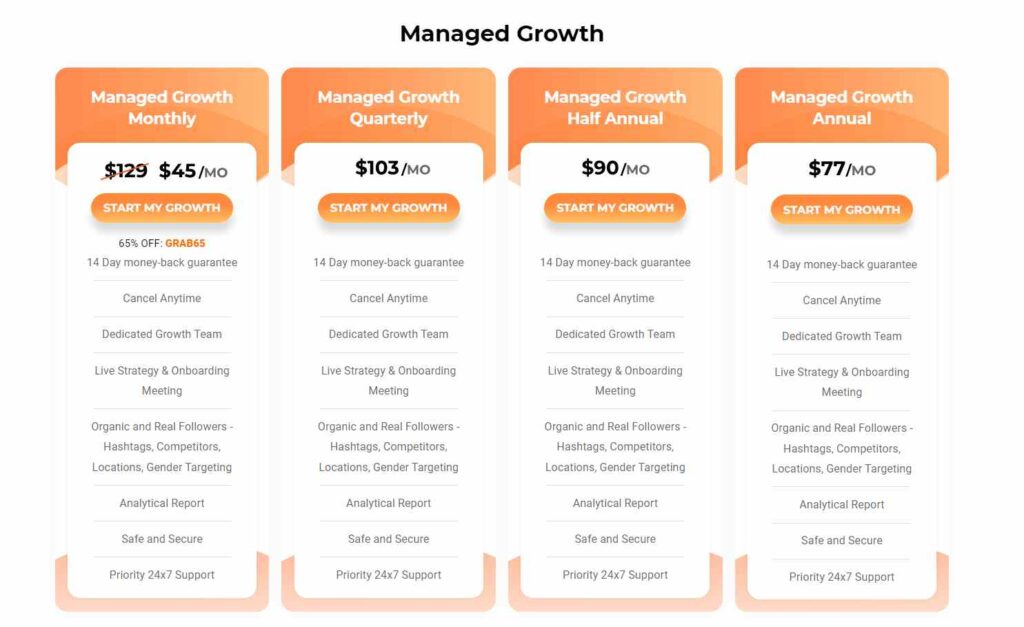 With AiGrow, you can choose the plan that best suits your needs. Unlocking tremendous value, the Managed Growth Monthly package offers an impressive 65% discount, bringing the price down to just $45. By subscribing to this package, you can enjoy substantial savings while reaping all the advantages and features of a manual Instagram growth service. Don't miss out on this opportunity to optimize your Instagram growth journey while keeping costs in check.
In addition to the enticing benefits of AiGrow's organic Instagram growth service, there's an added layer of assurance for your peace of mind. If, for any reason, you find yourself unsatisfied, you can cancel your contract within 14 days and receive a full refund. AiGrow is dedicated to ensuring your satisfaction and providing a risk-free experience, prioritizing your needs and satisfaction with their service.
For Instagram users, AiGrow also offers 'bulk delete pro' and 'mass unfollow' packages. These are suitable for those who have a large number of followers and posts and need to unfollow or delete them instantly. If you don't have enough time to remove them according to Instagram's daily limits, an account manager will be assigned to you and will assist you.
Start growing more on Instagram.
AiGrow Content Curation Strategies
Elevate your Instagram presence with AiGrow's Managed Advanced package, designed to empower your social media strategy.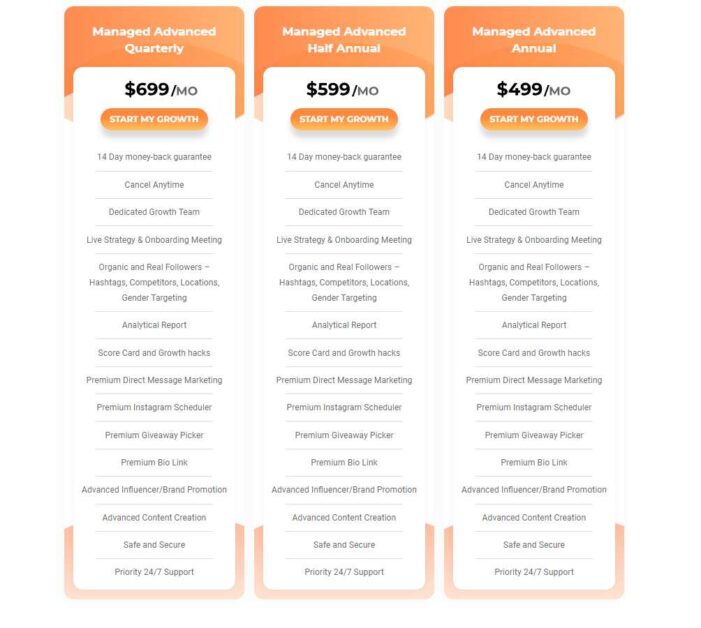 By opting for this package, you gain access to advanced content curation and premium Instagram scheduling services. With a professional account manager at your disposal, your social media content strategies will be handled professionally.
AiGrow ensures your content is published at the optimal time, maximizing engagement and expanding your reach. Moreover, they employ targeted strategies to attract high-quality followers, fostering genuine relationships through direct messaging.
To provide valuable insights, AiGrow delivers comprehensive analytical reports on your Instagram account's performance.
Take advantage of AiGrow's Managed Advanced package, where magic happens daily and consistently on your Instagram account for less than $1 per day. You will experience seamless and secure growth with a dedicated account manager overseeing every aspect of your IG account. It's almost impossible to find anything better than having a professional Instagram team behind you with AiGrow.
Guarantee Your Instagram Success with AiGrow Now
AiGrow Managed DMs
Boost your Instagram account's visibility and engage more users with AiGrow's Managed DMs. Entrust this task to AiGrow's dedicated account manager to avoid irritating your customers and losing followers.
Unlike other bots or automated software, your messages are personalized and manually sent, eliminating the risk of being flagged or banned. With AiGrow, you can confidently grow your Instagram followers for your business while ensuring a genuine and targeted approach.
Rest assured, AiGrow guarantees DM delivery and provides expert-driven strategies to reach your desired audience.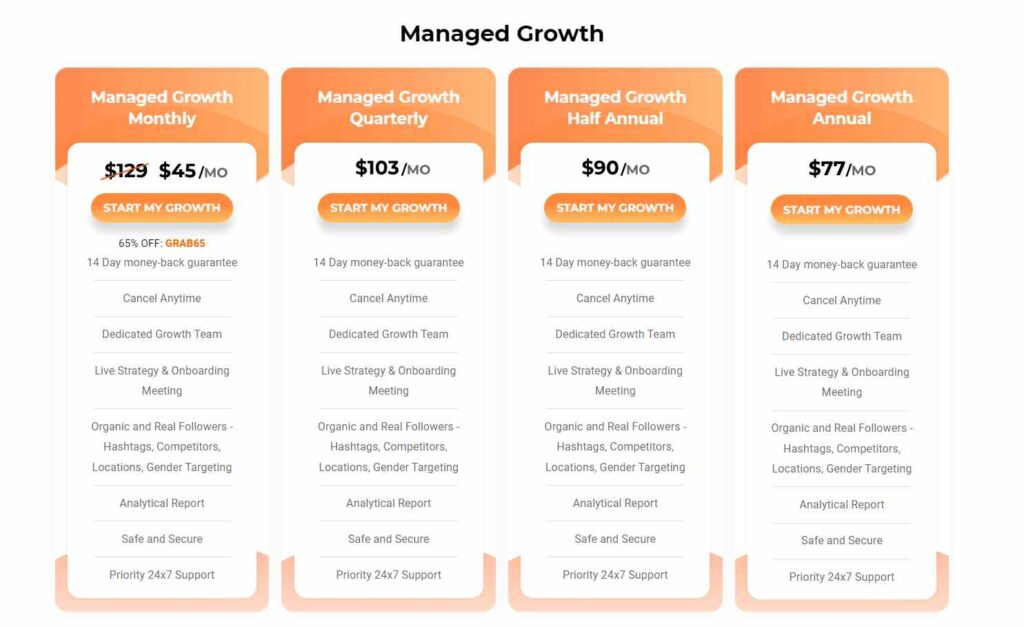 AiGrow Mass Unfollow Packages (Manually)
When it comes to safely and efficiently removing fake,  bot, or ghost followers on Instagram, AiGrow is the ultimate solution.AiGrow's dedicated account manager diligently identifies and unfollows inactive and ghost followers, as well as those who have already unfollowed you. This manual unfollowing process ensures a higher level of engagement without raising any red flags.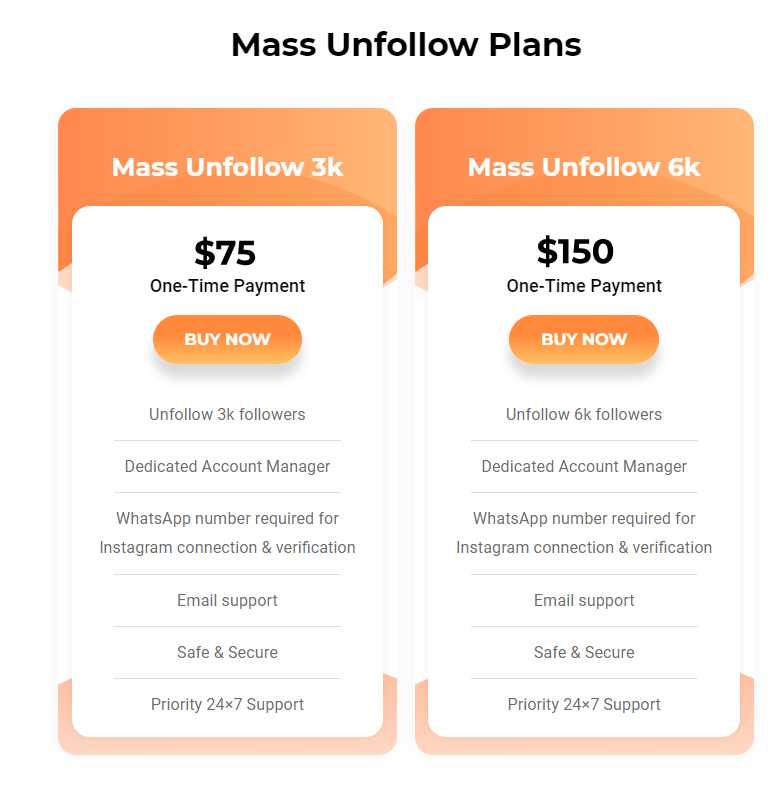 To make the most of AiGrow's unfollow package, schedule an onboarding session with their knowledgeable team. This personalized session allows you to tailor the unfollowing process to your specific needs and requirements.
Experience the convenience and effectiveness of AiGrow's mass unfollow feature, enabling you to remove unwanted Instagram followers quickly and effortlessly.
Mass Unfollow for Instagram?
Viral Race Vs. AiGrow: Final Verdict
If you read this in-depth  Viralrace review and compare it to AiGrow, you will undoubtedly discover that Viral Race has absolutely nothing to say.
Providing the option to buy Instagram likes and followers is sufficient to dissuade users from using services that violate Instagram's terms of service. You can use this comparison table to identify the bright winner.
| | | |
| --- | --- | --- |
| Features | Viralrace | AiGrow |
| AI-powered technology | ❌ | ✅ |
| Organic growth method. No bots, spam, or fake followers | ❌ | ✅ |
| Hashtag generator tool | ❌ | ✅ |
| Advanced filtering & targeting options | ❌ | ✅ |
| Instagram analytics & social monitoring tools | ✅ | ✅ |
| Managed growth plans | ✅ | ✅ |
| Support in developing your Instagram content strategy | ❌ | ✅ |
| An experienced account manager will take care of your Instagram account (Manual Growth) | ❌ | ✅ |
| 24/7 Support | ❌ | ✅ |
| No password required | ✅ | ✅ |
| Viewing Insta stories | ✅ | ✅ |
| The number of followers and success guaranteed | ❌ | ✅ |
| Real and sustainable engagement | ❌ | ✅ |
| Content design template (feed/stories) | ❌ | ✅ |
| Scheduling Tool | ❌ | ✅ |
| Multiple links in the bio | ❌ | ✅ |
| Instagram post deleter tool | ❌ | ✅ |
| Instagram unfollow tool | ❌ | ✅ |
| Mass DM marketing | ❌ | ✅ |
| Giveaway & contest picker | ❌ | ✅ |
| Fast delivery of services | ❌ | ✅ |
| Safety | ✅ | ✅ |
| Money-back guarantee | ❌ | ✅ |
| Price | Based on the number of followers | $99, $129, $169 |
| Trustpilot Score | 2.1 | 4.5  |
Viralrace vs. AiGrow
Want to Grow your Instagram Organically and Gain REAL and Loyal  Followers?
Final Thought On Viral Race 
Trusted growing services can really help you to stand out and build your brand successfully on competitive platforms like Instagram. When the competition is high, the stakes are higher, and you're almost guaranteed not to succeed if you go it alone. That is why it is critical to associate with the good ones and to stick with them once you find them.
Look at their websites to see if they have any free trials or special offers. Then, if you're satisfied, you can work with them afterward.
However, working with a company that allows you to buy Instagram followers and uses bots is not recommended. Moreover, Viralrace reviews generally say it's a scam, provides very poor customer support, and offers only fake followers and engagements.
Viral Race will neither protect you nor provide you with helpful tools for Instagram marketing. Instead, it will put your IG account at risk of getting shadowbanned by Instagram. As a result, you won't gain much from your Viral race investment.
On the other hand, AiGrow provides clear, honest, and detailed descriptions of what its service accomplishes. 
Having a complete FAQ also makes this service a trustworthy one. They have a section on their site that answer inquiries for their current and potential clients and addresses concerns.
Give AiGrow a try now and see its guaranteed results.
Read More From SocialPros:
FAQs On ViralRace Review
There may be a lot of questions about  Viralrace legitimation and its safety. In this section, we've answered some of the most frequently asked questions that may be interesting for you.
Q1. Is Viralrace Legit?
According to our investigation, the company does not deliver its promises, and the followers are all fake. Moreover, we found that a company like ViralRace uses Bots. 
Again, it goes without saying that a bot can lead to your account being suspended by Instagram. Instagram hates bots and draws the line between real and fake engagement. So, in short, don't go with Viral Race if you want a legit growth company that can help you make a real difference to your Instagram growth strategy.
Q2. Is Viralrace Safe? Is ViralRace a Scam?
Viral Race does not require you to enter your password or any other personal information. Moreover, it has a safe HTTPS website. So, it won't steal your data or put your finances at risk. In this sense, it is safe. 
However, we don't consider ViralRace as a safe Instagram growth service. Red flags like poor online ratings on reliable websites like Trustpilot or Scamadviser raise serious concerns over the reliability of this service.
It is crucial to understand that ViralRace packages are unlikely to yield significant results. There is a high probability that the majority of acquired followers or engagement will eventually be lost over time. Refunds are generally unavailable, although the company might offer a refill option, which also vanishes within a few days.
We do not advocate any growth service that sells follower or engagement packages, because there is always a high chance of getting fake accounts/engagements in the mix when you use them. That is why our top recommendation is to grow your IG account using organic Instagram growth services like AiGrow.
Q3. Is It Worth Using Viralrace Or Should You Get Followers On Your Own?
Even if you choose an Instagram growth service, you must perform your part, or your Instagram will fail, and you will see no results. So, you can keep growing your Instagram without ViralRace while seeking the right Instagram followers apps.
Many individuals believe that buying Instagram followers is a one-time deal that requires no further action. Don't be one of those folks if you desire a real social media presence.
You can gain more Instagram followers on your own if you make some changes to your account. For example, you can optimize your Instagram bio, username, profile image, and overall style.
Furthermore, you can post content material that is distinctive and connects with your brand and target audience. Or use Instagram stories and other content formats. Check Instagram insights to see when your target audience is online and plan your posts around those peak times.
Include a call to action in captions, And use the giveaways strategy. And if you don't have time to do all these things AiGrow is a great tool to do them for you and grow your Instagram organically.
Q4. Viralrace Reviews: How Can You Tell a Fake Review From a Genuine One?
When assessing reviews, it's crucial to watch out for vagueness and generic wording, as they may indicate fake reviews. Legitimate reviews typically include both first and last names, and some even provide the reviewer's Instagram username. However, it's worth noting that despite having names attached, reviews can still lack authenticity, as some companies may pay for positive feedback.