Do you want to have an active Instagram presence but are too busy to share content every day? Or are you using Instagram for business and need to post regularly to create more engagement with your audience? In any case, you absolutely need to know how to schedule Instagram posts to stay on top of your game on the platform.
Knowing how to schedule Instagram posts is one of the effective ways to grow your IG followers and stand out among other accounts. How? The answer is simple. One of the key rules of gaining more Instagram followers and maintaining an active presence on the platform is consistency. When you use a powerful Instagram scheduler for posting content, you increase your account's discoverability and catch users' attention more often. This leads to attracting a larger audience.
One of the greatest negative outcomes of not using an Instagram post scheduler is a decrease in engagement. When this happens, you'll end up losing followers. People may get the impression that you're not serious about keeping an active profile and may decide to unfollow you on Instagram. Why let it get to that point when you can simply use a free Instagram scheduler and avoid it? So it's best to consider using at least a free Instagram post scheduler to show your audience you're on the platform with a solid plan.
But the main issue you face when searching for an Instagram scheduling tool is the massive variety of apps and services on the web. Numerous 3rd-party tools are available for this purpose, and you can use some of them to schedule Instagram posts for free. Although the variety is definitely satisfying, it also makes the decision-making process difficult. The absence of a built-in feature to allow users to schedule Instagram posts directly from the Instagram app makes it even more difficult.
To make it easy for you, we've put together a list of the best Instagram schedulers you can use to keep a steady flow of content to your account. So keep on reading to find out about both paid and free Instagram scheduling apps and tools.
Schedule Instagram Posts with These Top Free Instagram Schedulers
Using the best free Instagram scheduler will help you boost engagement rate and increase followers effectively and efficiently with a minimum budget. Whether you are an influencer or marketer, you may have your specific plan to succeed in your niche, and a perfect app will be an exceptional follower increase. In the following list, you'll find the free Instagram scheduling tool that fulfills your business demands.
1. AiSchedul: Easily Schedule Instagram Posts with This Free Instagram Scheduler
If you have been looking for the best free Instagram scheduling app, you have reached the right spot. The first free Instagram scheduler on our list is AiSchedul. This app is one of the best Instagram scheduling tools for professionals and inexperienced marketers. It lets users schedule posts on Instagram, repost content, create an all-in-one bio link, track and monitor their competitors on Instagram.
Give AiSchedul a try Now!
It is a free Instagram scheduler that lets you add up to 80 accounts to a single dashboard. Additionally, it allows you to post on all your Instagram accounts simultaneously. AiSchdeul will be the best and the most affordable choice for you. Moreover, this app enables you to grow on Instagram organically. Note that this free Instagram scheduling tool performs all the tasks manually and according to Instagram's daily limits. So go ahead and give it a try for free.
2. RecurPost: Social Media Scheduler With Repeating Schedules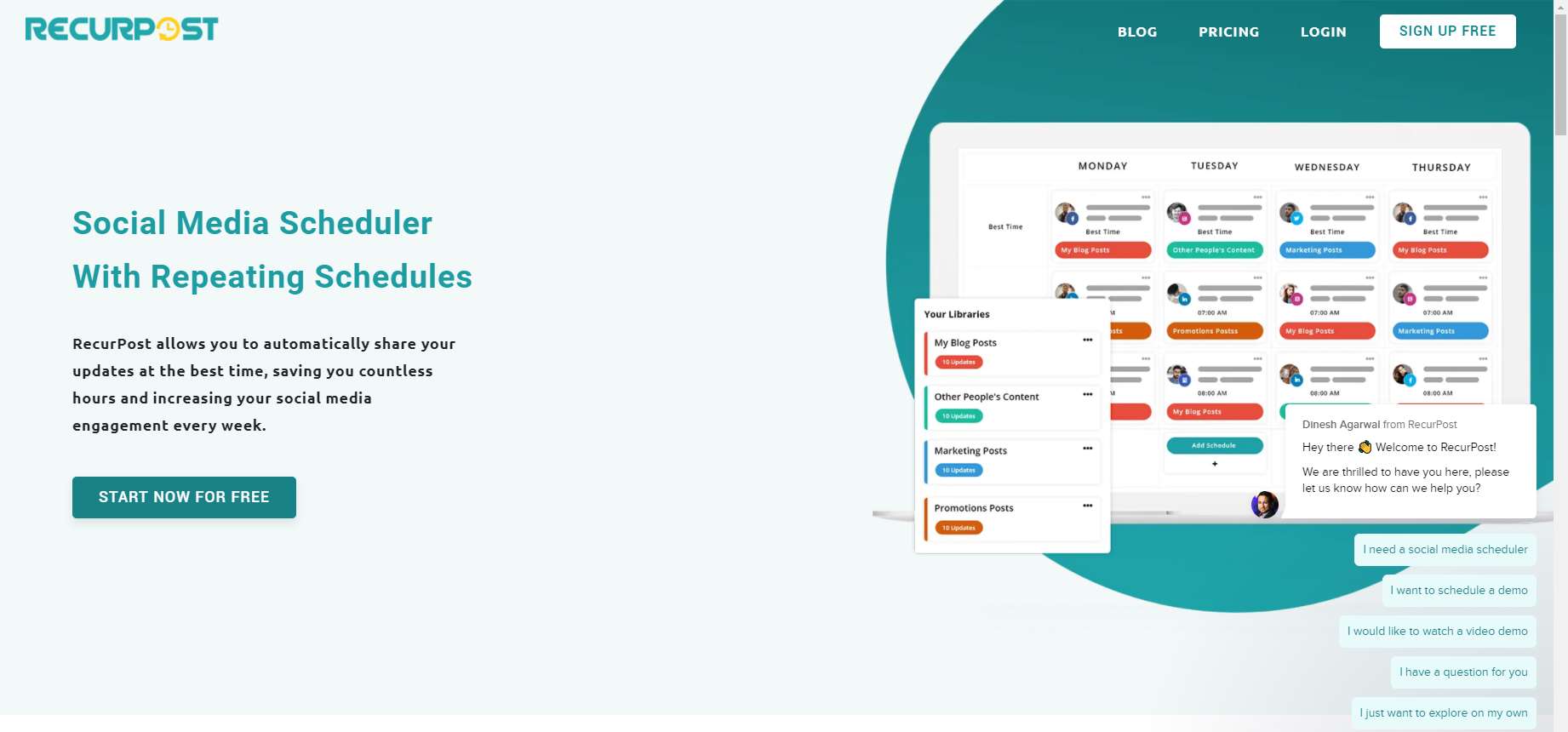 RecurPost's Instagram integration includes scheduling, publishing, and analyzing the performance of your content. It lets you manage both personal and business Instagram accounts. Some of its powerful features include bulk scheduling, content curation through CSV files, hashtag storage, unlimited workspaces, team management, recurring schedules, and unlimited content libraries.
Through its best time schedules functionality, you can auto-schedule your posts for the best time to post on Instagram. The Canva integration lets you create, design, and schedule your social media graphics with Canva – without leaving RecurPost. It also offers a social inbox, where you monitor and manage all your Instagram notifications. It has the most affordable plans, starting from $12.50/month. Take the 14-day trial and check it out.
3. Facebook Creator Studio: Schedule Instagram Posts without 3rd Parties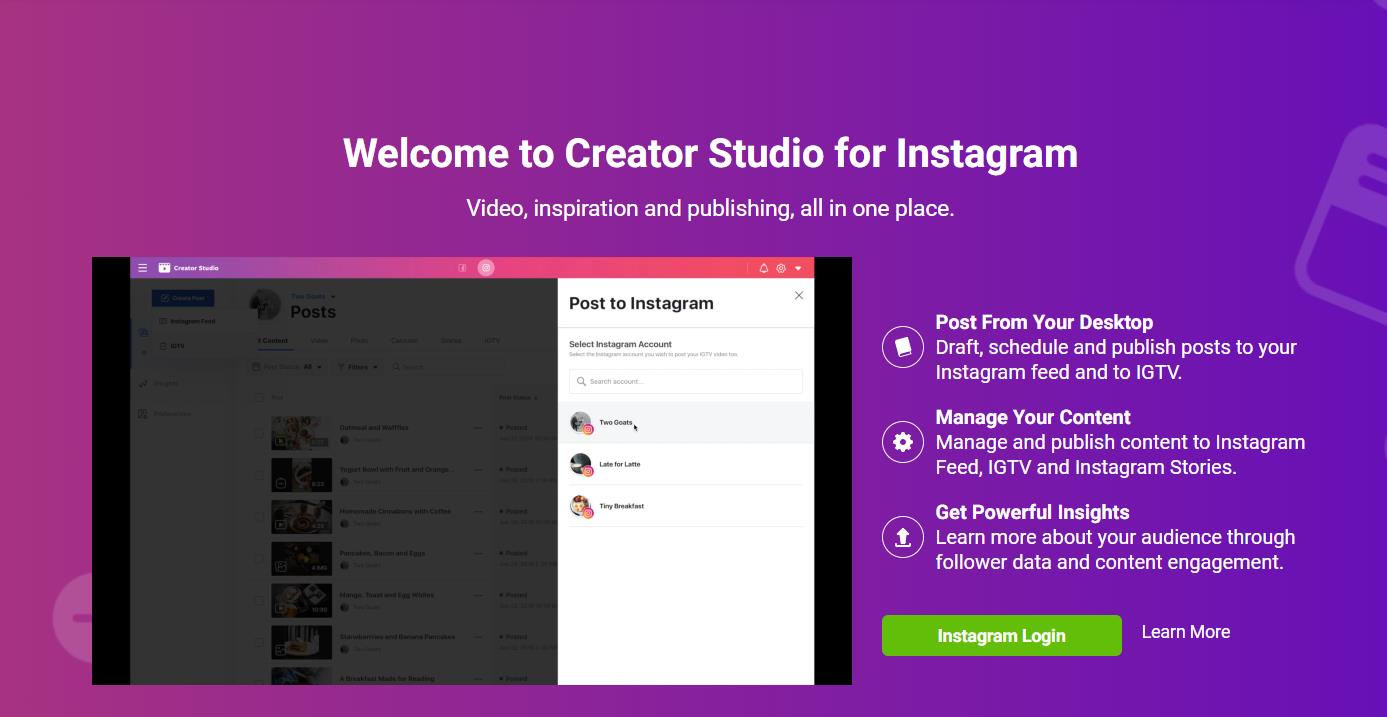 As you may already know, Facebook bought Instagram a few years ago. Since then, Instagram users could promote their posts on Facebook. Also, they can promote them directly through the app and share Instagram posts using Facebook. Now, Instagram users still can't schedule posts using the official app. But the Facebook Creator Studio enables users to schedule Instagram posts and also IGTV videos. But to use it, make sure to turn your Instagram account into a business one and connect it to your Facebook catalog. Creator Studio is a free Instagram scheduling tool available on the Google Play and App Store.
Keep Reading: Unstoppable Ways to Grow on Social Media
4. Planable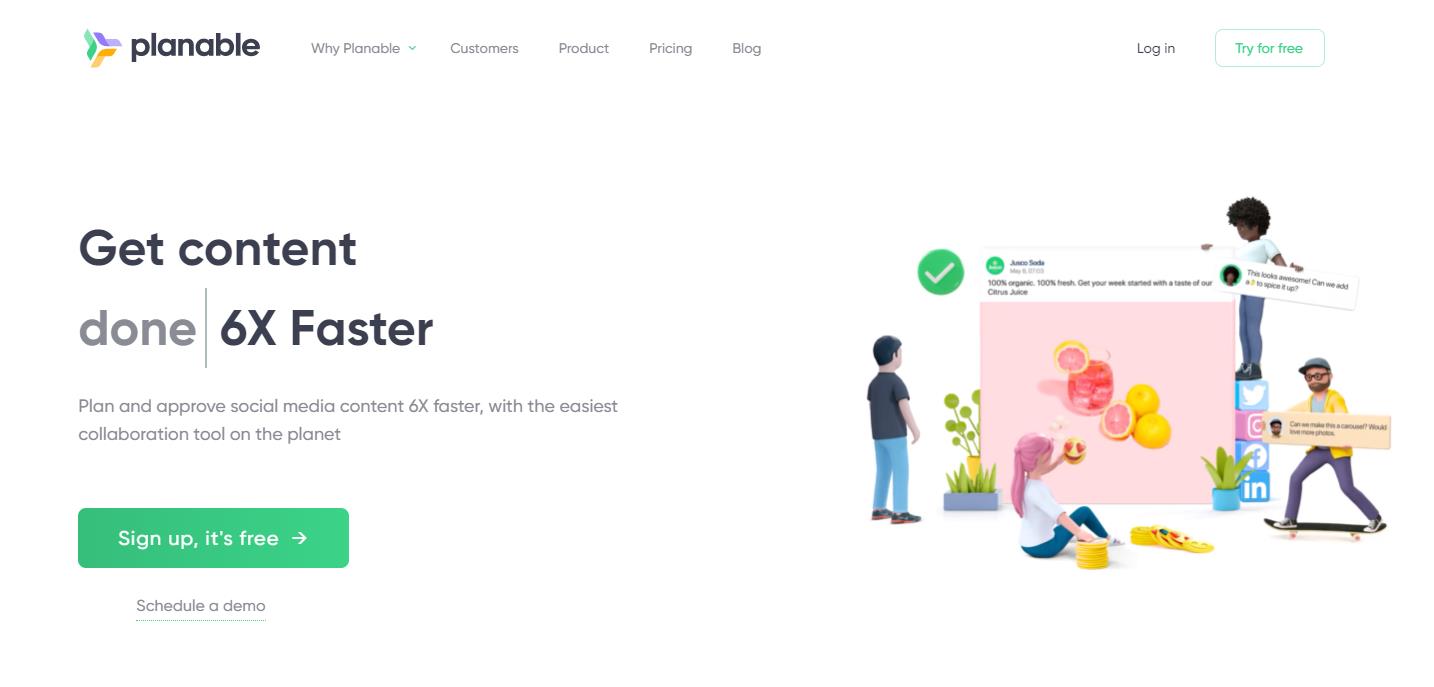 Another platform that will help you schedule Instagram posts is Planable. Planable is not just an Instagram scheduler. Using it, you also have the chance to schedule and publish content on Facebook, Twitter, and Linkedin.
Planable is not a totally free Instagram scheduling app. However, it has a 1-month free trial by which you can publish your first 50 posts on your social media accounts and try all its features. Moreover, if you purchase their annual plans, you can get up to %25 discounts.
Also Read: Top Social Media Management Tools for Agencies
5. Postoplan: A Free Instagram Post Scheduler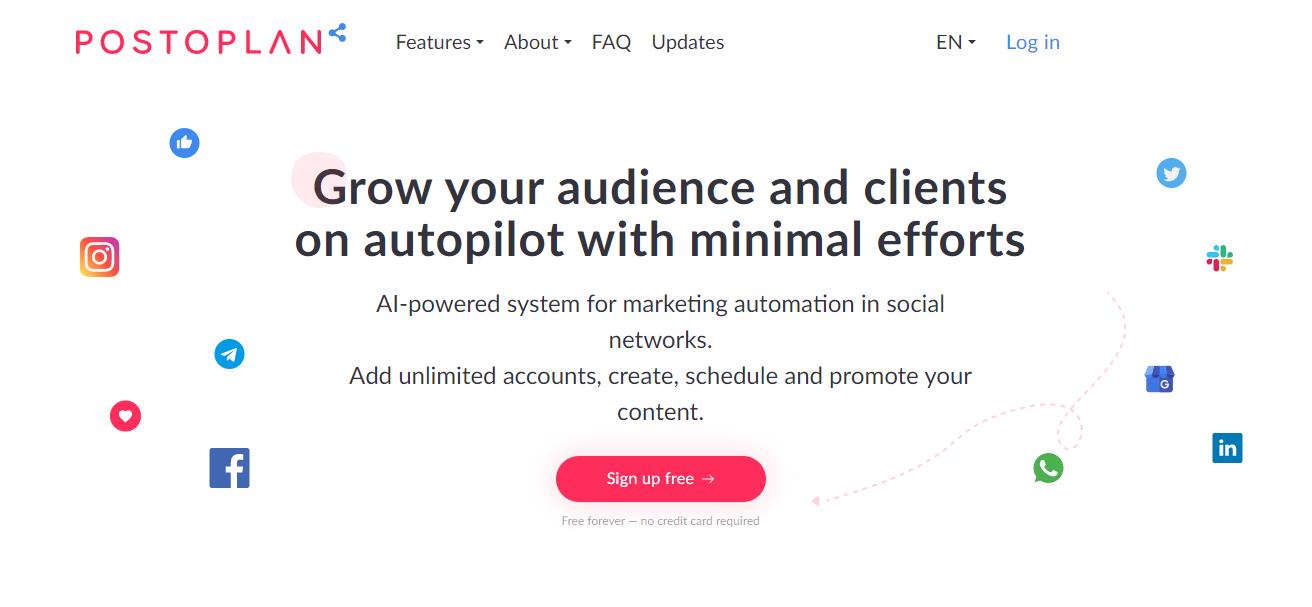 Postoplan is an innovative social media and messenger marketing platform that helps businesses create, organize, and promote content across Facebook, Twitter, LinkedIn, Instagram, and other social networks.
This app is a free Instagram post scheduler that lets you have eight free accounts with unlimited posts. Moreover, it includes a gratis system for effective planning, creation, and managing of content. Therefore, you can perform the best content marketing ever.
6. OnlyPult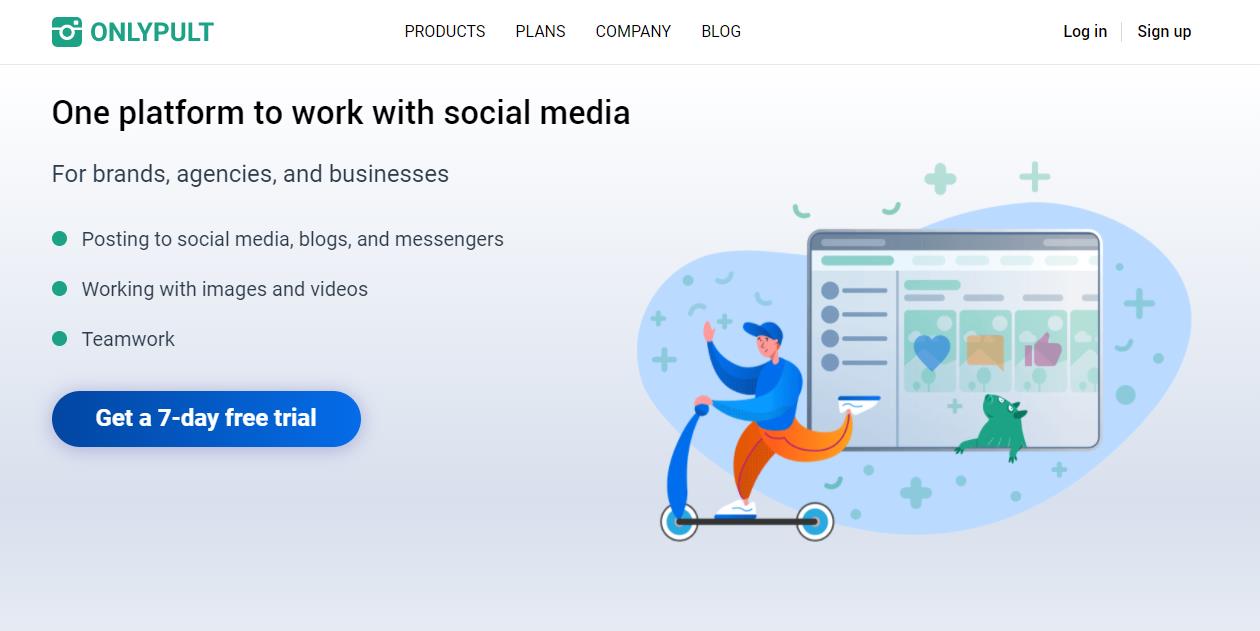 This scheduler is only for Instagram. During the trial, you can schedule as many posts as you want. Indeed, it provides many advanced features that other apps don't offer. It helps you schedule multi-photo posts and creative Instagram stories and post your hashtags as a "first comment" rather than in the post description. You can reach Onlypult on monthly and annual subscriptions over four pricing plans. It also offers a 7-days free trial.
Continue Reading: Best Instagram Marketing Tools to Grow a New Business
7. Hootsuite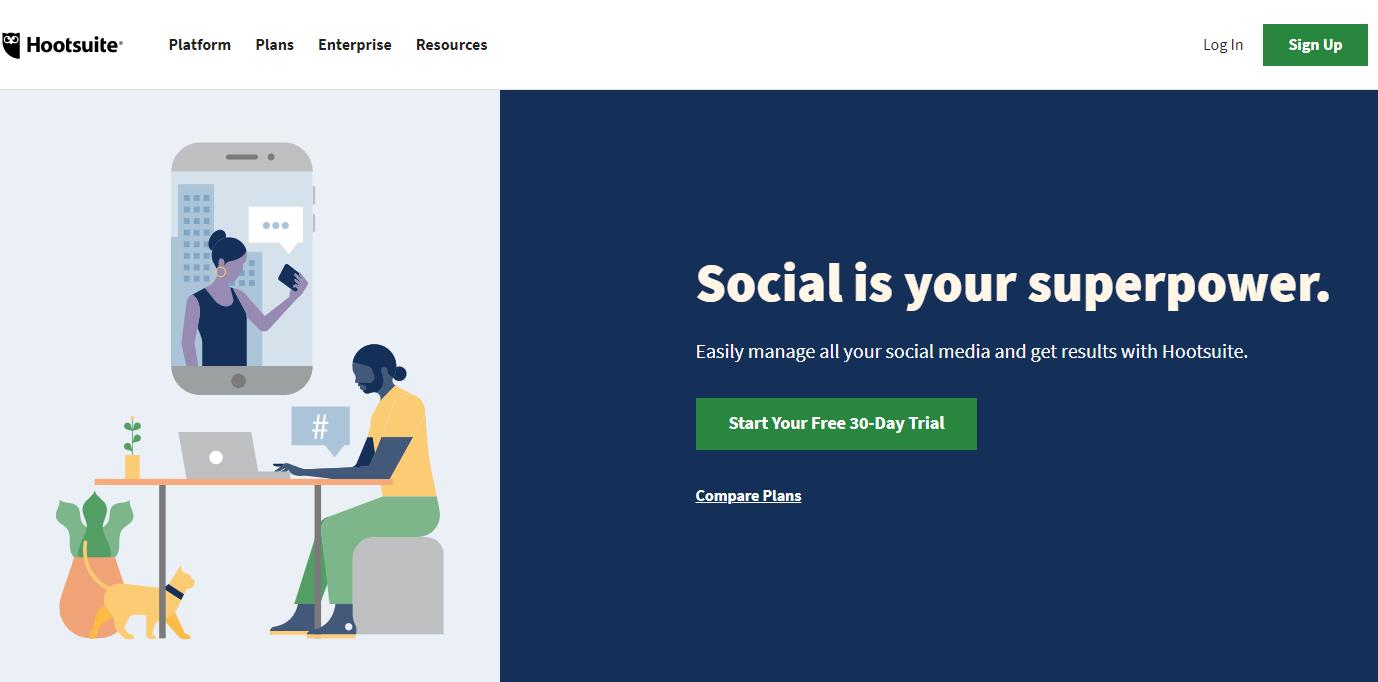 Like many other platforms, Hootsuite is not a free Instagram scheduler. However, it has 30 days of a free trial. It is a complete social media management tool that you can use to schedule posts for all social media platforms like Facebook, Twitter, and Instagram.
It has a handy feature that allows you to save other posts you see and repost them on your page. Hootsuite is a free Instagram scheduling tool that provides a detailed analysis of scheduled content (Likes, comments, time of engagement, etc.).
8. Buffer

Buffer has been a favorite for social media managers for a long time because it combines the ability to schedule posts across multiple platforms, including Instagram. One thing that sets Buffer apart is the fact that it also provides analytics data on your pages. So you can integrate social media scheduling with analytics. This is great if you want to see how your new campaign will or potentially see why your social media efforts may be working on Facebook but not on Instagram. Buffer is a free Instagram scheduler that lets you manage up to three Instagram account. Then, the paid plans start at $15/month for 100 posts and one user. Its paid plans include extra features, and they have other plans such as 'Teams,' 'Business,' and 'Enterprise' that each offer more social profiles and additional features as you work your way up.
Also Read: 10 Instagram Tools That Belong in Your Toolkit in 2020
9. Later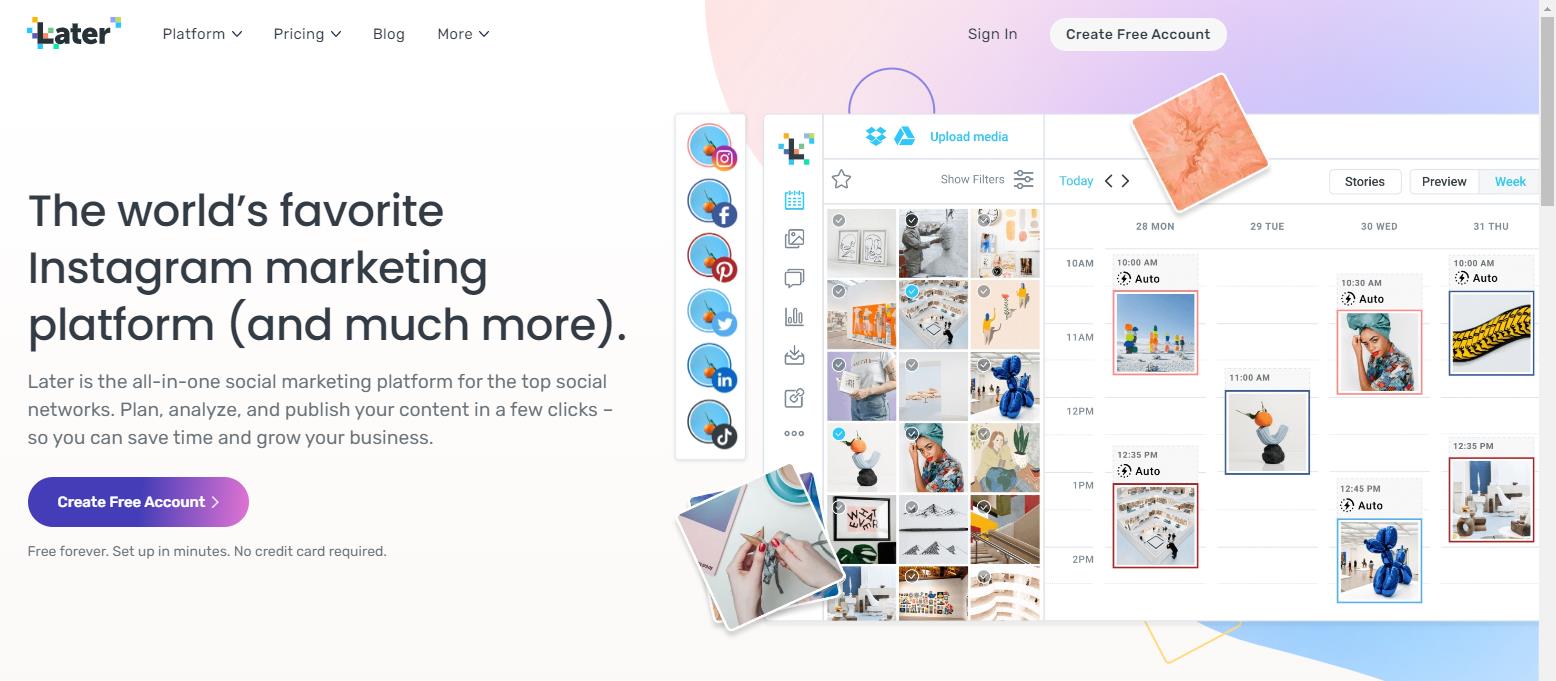 Later is a free Instagram scheduler tool that helps you schedule Instagram posts precisely. It also has a paid version for those who seek more features and options to boost their business in the competitive market.
If you want to give Later a try, the primary benefit is that you can start for free with up to 30 scheduled posts a month. This means that you have some time to test things out before committing fully. However, this doesn't include video, which is a paid option only. Another nice thing about Later is that it has a preview function. It lets you see what your future post will look like and how your entire account will look afterward. This is great to keep things from getting too repetitive.
10. Tailwind: Schedule Instagram Posts and Pins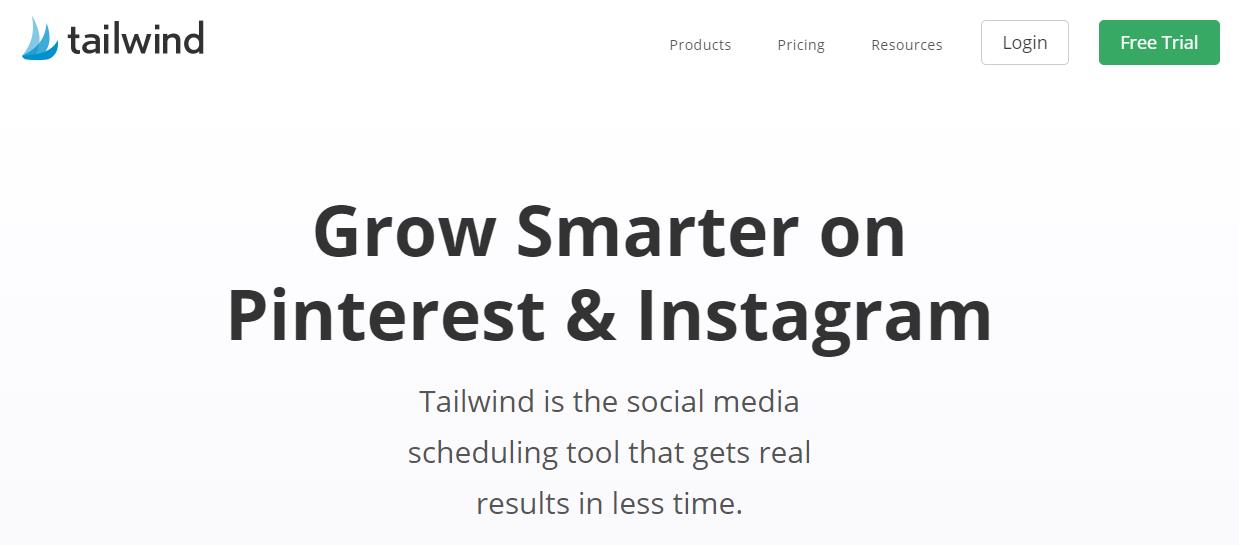 If Instagram and Pinterest are your primary social channels, Tailwind can be an excellent choice for you. Using this platform, just like the other ones, you can schedule Instagram posts. Also, it is a free Instagram scheduling tool that helps you schedule your Pinterest pins.
When you submit a free trial of Tailwind, you'll be able to schedule and publish 30 Instagram posts and 100 Pinterest pins. If you only plan one pin a day, then your free trial lasts for 100 days. After you've scheduled and published your pins and posts, you still have access to your account.
If you want to run two more Instagram Accounts on the Plus Plan in the same Tailwind dashboard, then you could add each account for an extra $119.88/year. Each would also have unlimited Post scheduling that's available with our Annual Plan.
11. Semrush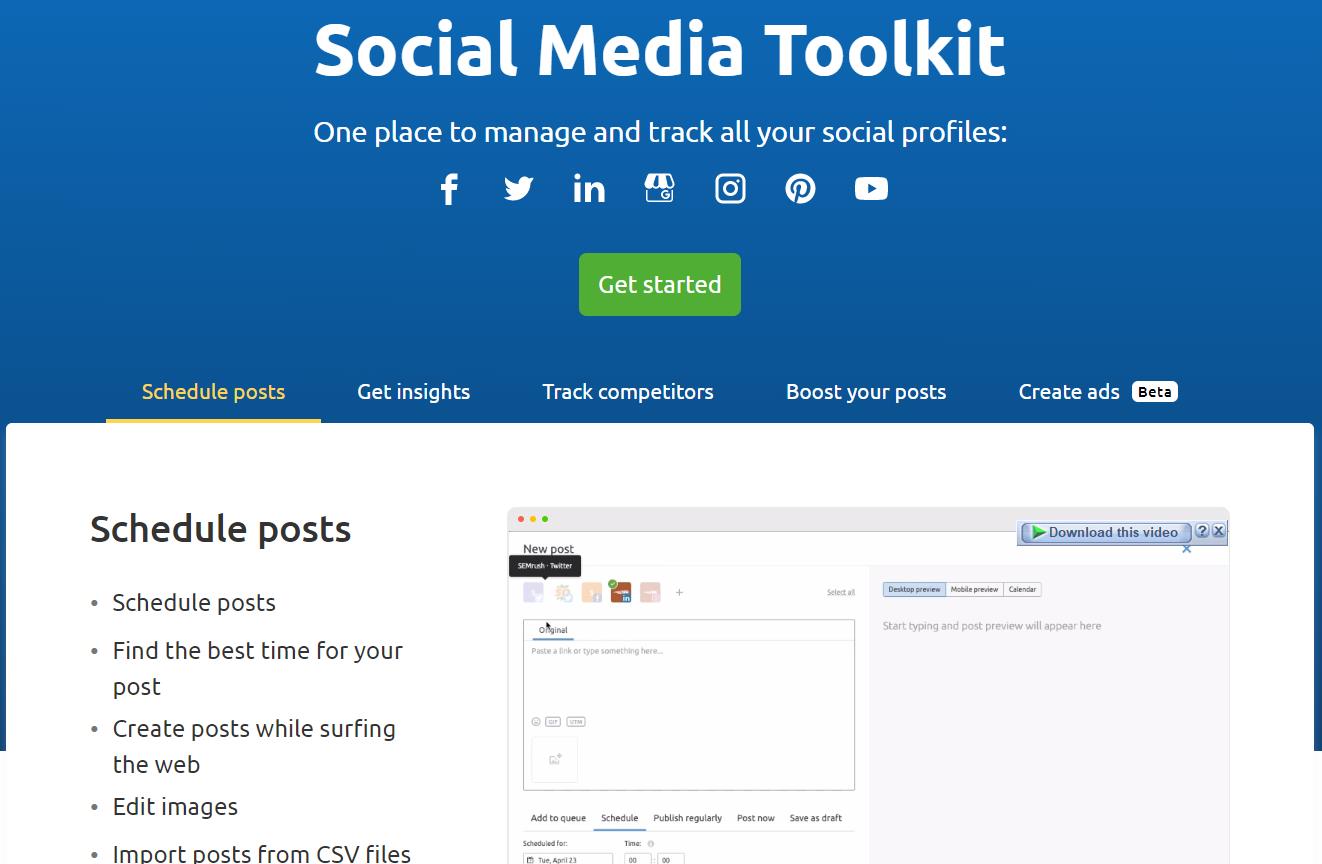 Semrush is a free Instagram scheduling tool that is best for freelancers, startups, and businesses.
Indeed, it will help you unveil your opponent's social strategies. Semrush provides functionalities to automate posting, promotion, tracking, and analytics across Instagram and other social channels.
It includes a built-in photo editor, link shortener, & UTM builder. Using this app, you'll build the most effective Instagram strategy and analyze your social performance with its free Instagram scheduler. Semrush is a free Instagram scheduling tool that will let you save posts as drafts to use later. It also has three pricing plans like:
Pro: $99.95/month

Guru: $199.95/month

Business: $399.95/month
12. Sked Social: A Paid Instagram Scheduler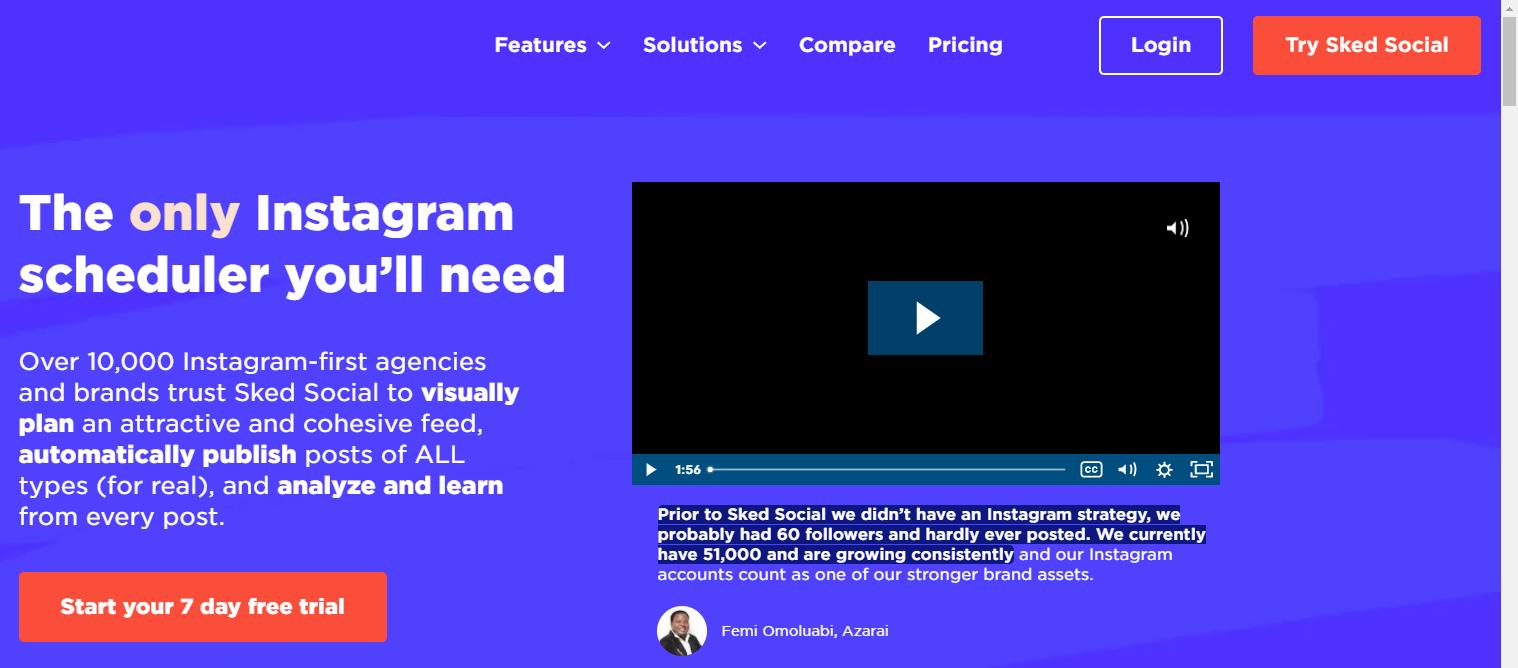 Sked Social is ideal for small to large businesses. This app has features for scheduling posts & stories, planning feeds, reposting, and analyzing results on autopilot.
Also, it doesn't require any interference for the automatic posting of stories, images, or videos.
The tool includes features of collaborating with team members. Moreover, it provides users with a hashtag manager, a drag and drop visual grid planner, and a bulk uploading facility. Most importantly, it has a robust reporting feature that grants historic Instagram insights for up to 2 years.
Sked Social is available for iOS and Android devices that offers four pricing plans:
Fundamentals: $25 per month

Essentials: $75 per month

Professional: $135 per month

Enterprise: $260 per month
13. Sendible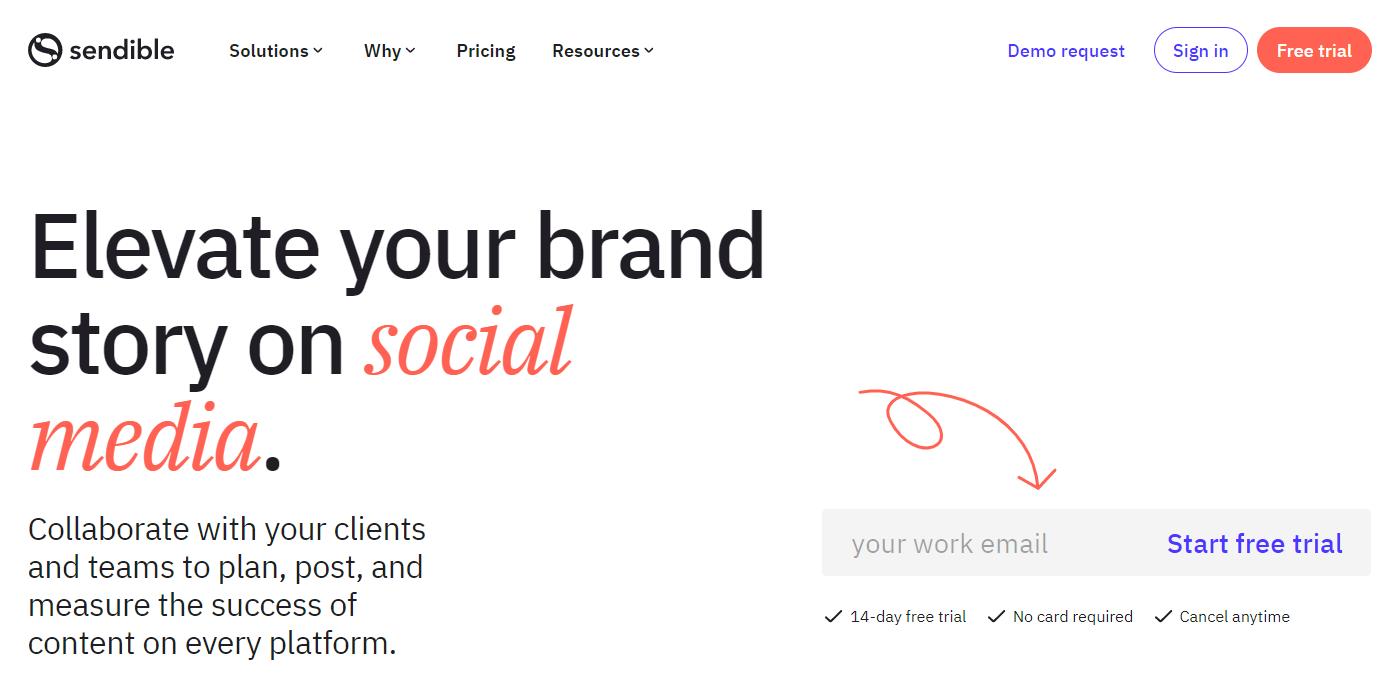 If you are a Freelancer or a business manager, no matter small or large, Sendible is an excellent free Instagram post scheduler for you.
Sendible grants you a social media management platform to run and manage your brand on social media. This app provides functionalities for planning, engagement, collaboration, and custom reporting.
A free Instagram scheduler allows you to send statements to critical stakeholders and team members regularly automatically. It also lets you schedule posts individually, in bulk, or in the queue. Additionally, it enables you to organize your tasks by setting up separate dashboards for the customers. Then, you can preview the posts before publishing. As a result, you can personalize text and make sure that your pictures are looking dazzling.
Sendible is an Instagram scheduler that offers a free trial for 30 days for all the plans. It also has four pricing plans as below:
Starter: $29/ month

Traction: $99/month

Growth: $199/month

Large:$299/month
14. Smarter Queue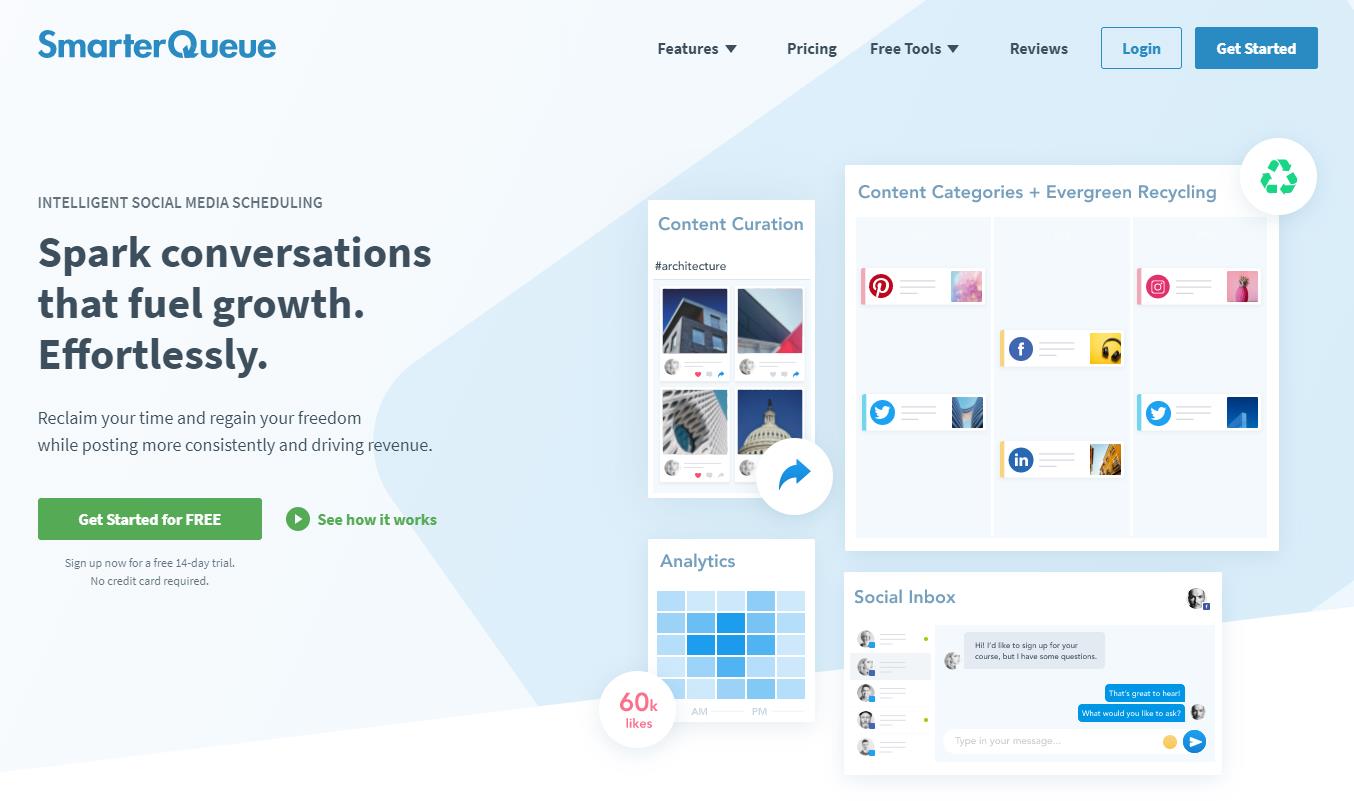 Smarter Queue is a free Instagram scheduling tool that helps you to manage stories and photos. This tool lets you share more than ten photos in each post and instantly add frequently used hashtags, emojis, and engaging captions.
SmarterQueue's free Instagram post scheduler grants you all its features for free! No credit card is required. Only once you've set up your Posting Plan and queued up your. However, this free Instagram scheduling tool also has a $16.99/month pricing package per feature.
15. Agorapulse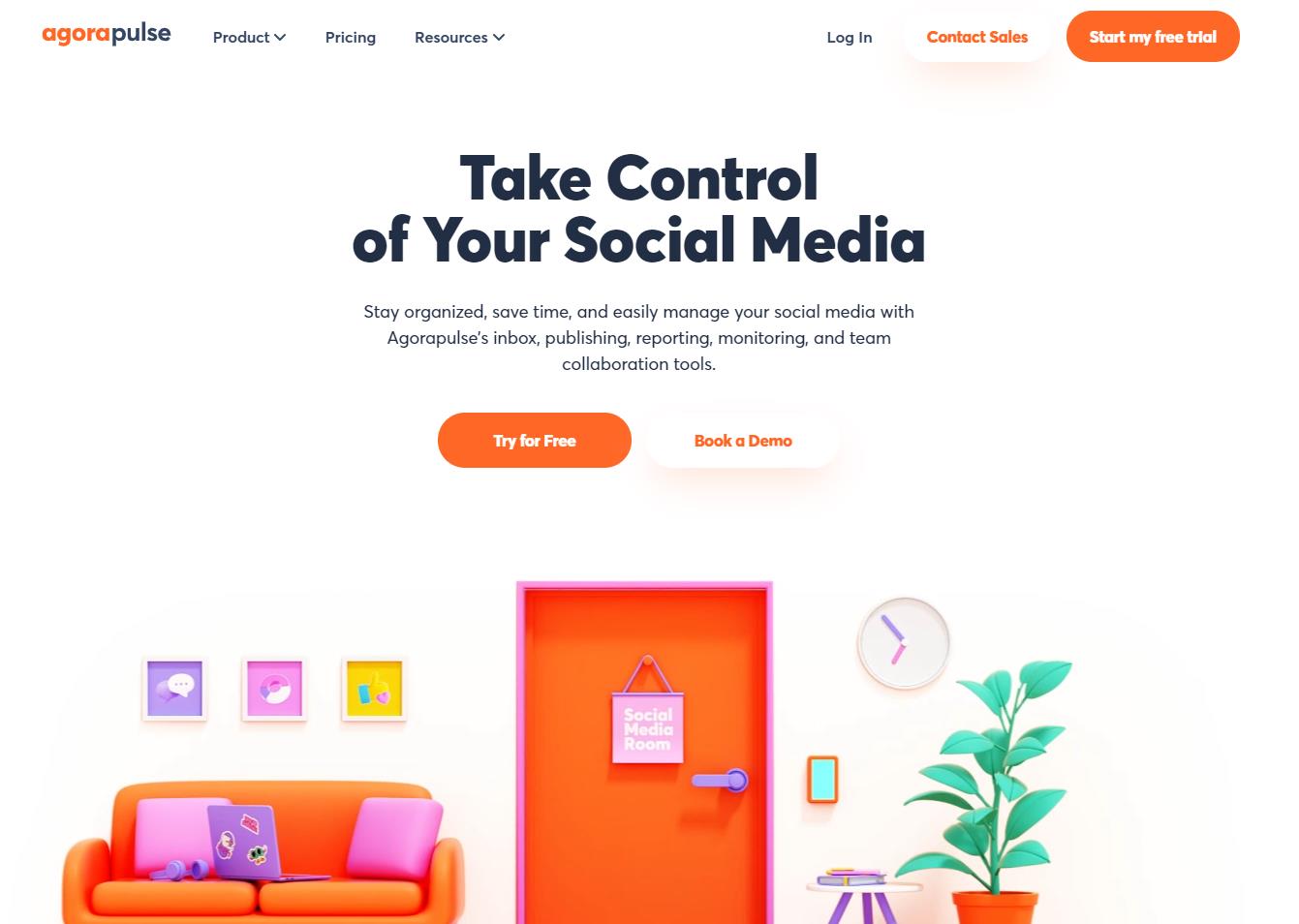 Agorapulse provides you the option to schedule single image and video posts directly to your Instagram business profile. Also, it is a free Instagram scheduling app that lets users schedule Carousel posts and Stories via push notifications on their mobile app. Plus, if you're collaborating in a team, you can even decide who receives the remainder.
Using this free Instagram scheduler, you can increase your reach and engagement on scheduled posts by tagging users in single-image posts, adding your location to single-image and video posts, and including hashtags on your posts.
Agorapulse grants you to bulk upload posts from your PC or RSS feeds for Instagram scheduling. It also provides you with an option to schedule posts via queues at a given time slot or load your content into queue categories that fit your Instagram content strategy.
Agorapulse is a free Instagram post scheduler that offers all users a Free Plan without asking for a credit card or a commitment. The Free Plan isn't time-bound; however, it'll delete your account if you don't connect to Agorapulse for more than a year.
Agorapulse is a free Instagram post scheduler that offers a range of subscription plans, too. Its pricing starts from $99/month (or $79/month charged yearly) for two users and ten social profiles. Their free program offers three social profiles and one user with limited scheduling.
16. Planoly: A Free Instagram Scheduling Tool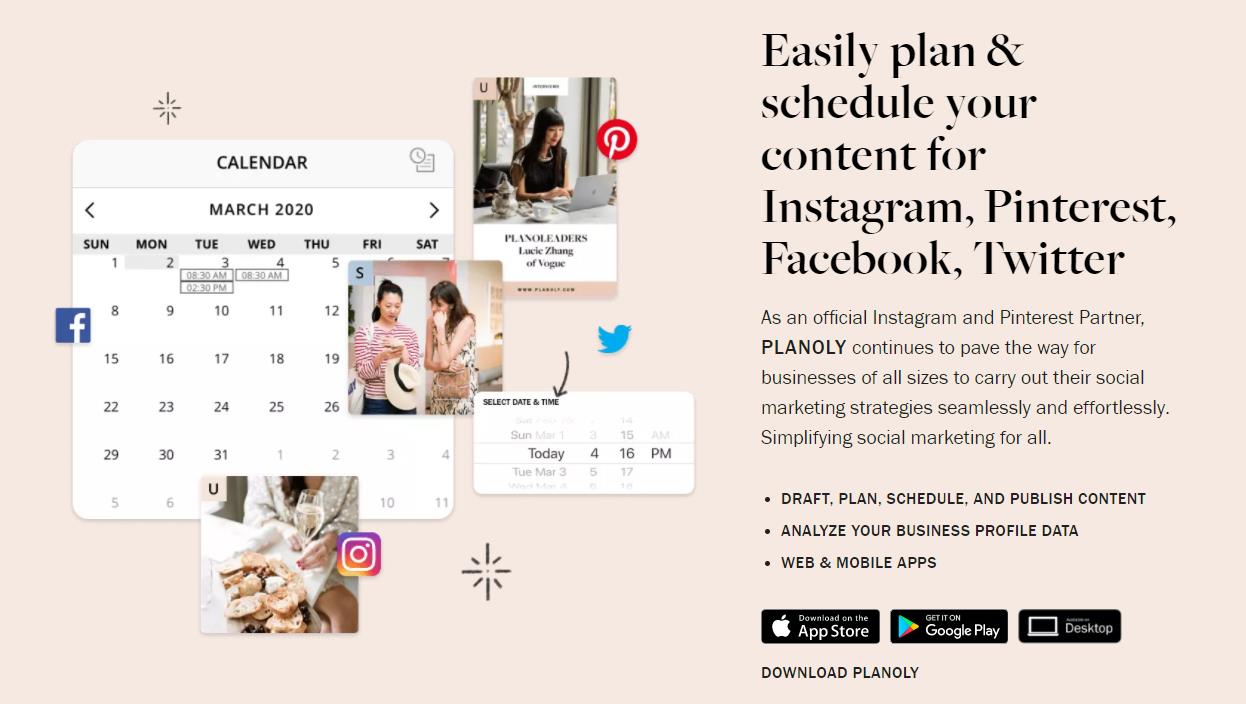 Planoly is a free Instagram scheduling app that allows you to plan and schedule content for Instagram, Facebook, Pinterest, and Twitter. It lets you analyze your business profile feed. Planoly enables you to design and customize your posts using designer templates and stickers with ease. Then, you can draft, plan, and publish them instantly. This application offers a free plan and its paid plans and is available for web and mobile phones.
Summing up How to Schedule Instagram Posts
Since Instagram hasn't introduced an official post scheduler, many 3rd party apps help you do so. Try using any of the tools above and schedule your posts with the one that serves your needs best.
Know any other ways or tools to help schedule Instagram posts? Please share in the comments below!