AiGrow is an Instagram growth service that has gotten off the ground in recent years, it is something that AiGrow Reviews say! In fact, Instagram is no longer a mystery box for anyone! We all know that success and popularity on this platform can ensure your success in your professional life.
That's why getting more Instagram followers is indeed a challenge everyone needs to get through! For this purpose, many Instagram growth services and apps, like AiGrow, have appeared, introducing themselves as the ideal options.
Yet, do they all perform well?! Do they all live up to their promises and claims, providing you with real engaged followers and sustainable results? Unfortunately, that's not the case.
In fact, only a handful of Instagram growth services can bring you closer to your goals. Among them, we've got AiGrow, the most reliable management and all-in-one IG tool for Instagrammers that gives its customers organic-real followers!
In this article, we're going to provide a thorough AiGrow review to show why AI Grow is worth the investment. So, keep reading this article to find out what AiGrow is, how it works, and what features it offers.
Let's get started then!
What Is AiGrow
Before we get to the AiGrow review, let's first find out what it does. As its name indicates, AiGrow is all about growth!
It's one of the safest and best Instagram growth services that combines human knowledge and artificial intelligence to drive high-quality traffic to your Instagram page.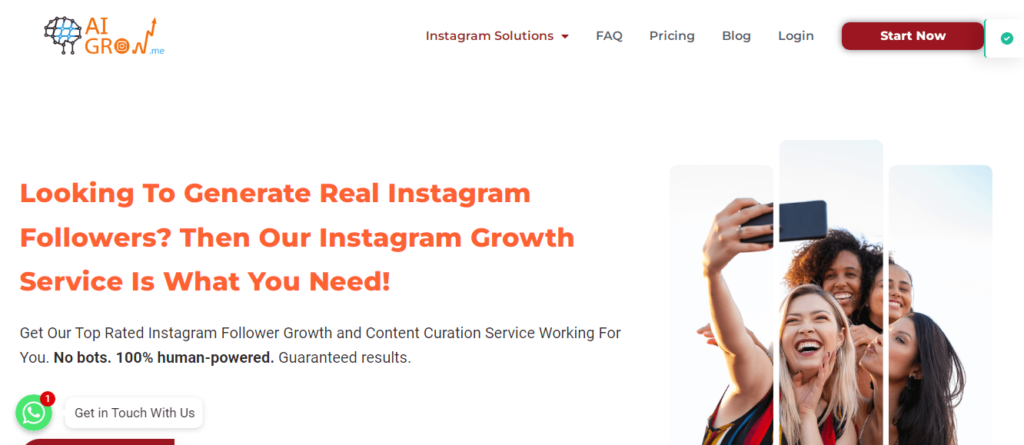 AiGrow has steadily improved its efficiency, made up for its flaws, and is currently one of the best growth IG tools available.
As a result, it offers a wide range of tools such as AI-driven hashtags, an Instagram scheduler, and growth packages.
Additionally, it puts a human social media manager in charge of executing everything! So, among a sea of Instagram followers apps, AiGrow is a unique platform that manages every task manually with the help of a human-based managing team.
As instagram is sensitive about using bots and suspicious activities, AiGrow doesn't use bots. Their manager does all the acts of following and unfollowing manually and based on Instagram limitations. So, don't hesitate to use this incredible growth solution.
To learn more about the AiGrow Instagram growth service, you can watch the video below:
To have a clearer idea of how it works and whether it can get you real followers and likes or not, let's look at its features.
AiGrow Review: What Makes AiGrow Different
Before we get started on AiGrow.me review and discuss all the features of this platform, let's see if AI Grow is safe. And if it is safe, we should figure out what sets this platform apart!
Unlike other services in the market, AiGrow does not use any Instagram bots. But don't get the wrong idea about bots!
Some steps of the process, such as finding your target audience, identifying potential followers, or discovering the best hashtags for your niche depend on advanced AI-powered engines.
So, it still uses automation for tools such as the scheduler and uses AI to pick the best options for you, but all of this process is handled by an expert in this field.
So we can say that the AiGrow team knows when to use bots and automation and when not to!
That is, the accurate data come from AI, but experienced Instagram managers are in charge of using the data to bring about the best results. And since these managers are experts in Instagram marketing, you can rely on their expertise.
Although we will look into the AiGrow reviews in the related section, let's take a look at one of the recent reviews left by a user on the Trustpilot website.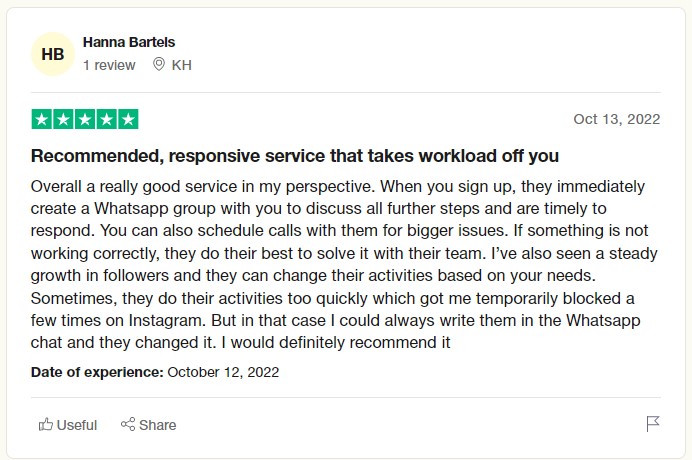 According to this AiGrow review on Trustpilot; the user says: "When you sign up, they immediately create a Whatsapp group with you to discuss all further steps and are timely to respond. You can also schedule calls with them for bigger issues".
It demonstrates that they genuinely care about their customers, in contrast to other growth services that indeed use bots to respond to their clients!
According to this review, the user also mentions that "I've also seen a steady growth in followers and they can change their activities based on your needs. Sometimes, they do their activities too quickly which got me temporarily blocked a few times on Instagram. But in that case, I could always write them in the Whatsapp chat and they changed it."
This shows that they do the follow/unfollow task manually and never use bots.
Many platforms promise 1000 easy IG followers, but how many of them can safely deliver that number?! With AI Grow, you won't have to worry about organic Instagram growth because the managers will do everything they can to get in touch with your audience organically and manually!
Guarantee your Instagram Success with AiGrow
You may wonder how the AiGrow IG tool works. Read the next section of their work's procedure.
An Overview Of AIGrow's Organic Growth Process
Here is how AiGrow works. After you describe your follower persona for the app, it uses AI technology to find the best matches for you.
It allows you to identify thousands and millions of accounts that might be interested in your page.
Then, an expert in Instagram marketing and your niche acts as a virtual assistant and takes over your account. This manager knows everything about Instagram's ever-changing algorithm and makes sure that your account stays safe by not crossing Instagram's daily limits.
In short, with AI Grow, you don't need to worry about Instagram limits or glitches. Like any successful company with competitors who spread rumors about them, many AiGrow reviews focus on the automation part, omitting the fact that AiGrow is not a dangerous bot.
So, if you're wondering, 'Is AiGrow legit?!' know that AiGrow is the safest option since it simply assigns social media managers to implement the AI-driven information manually.
So, this hybrid of human expertise and artificial intelligence is the main difference between AI Grow and other similar services in the market. This unique combination leads to secure and instant Instagram growth that only focuses on gaining real and engaged followers.
Do you want a steady flow of organic followers? click here.
AiGrow Review: Features & Tools
To write a complete review and give you a clear idea of what AiGrow offers, we have decided to show you its features.
AiGrow is packed with effective IG Tools. Are you ready?! Let's start with its most prominent tool!
#1. Growth Tool
AiGrow is mainly known for its Instagram growth tool since this feature is entirely different from what you'd see on other platforms.
As explained above, many Instagram growth tools use malicious bots, while AiGrow provides dedicated and experienced human managers for your Instagram business accounts.
These experts are aware that Instagram will ban accounts that use automation for liking, commenting, or following. That's why they have no intention of leaving those steps to a bot!
You can access the AiGrow dashboard immediately after signing up and without spending a dime! So, Get started with AiGrow now for fast and safe IG growth! All you have to do is create an account and finish these three steps:
Enter relevant hashtags, your competitors' IG accounts, or a specific location to help the AI engine find followers based on them! Don't worry, though. You can check this list of potential followers and remove any one of them at any time.
At this point, AI Grow will connect you to your team. These experts can help address your concerns, plan strategies, and determine your priorities.
And finally, you leave the task to your Instagram team. They will manually take care of everything for you.

Do you understand why AiGrow's growth tool is so different from other Instagram growth tools? Because it's pretty convenient to get started and reliable for any IG content.
The growth tool comes at different prices, as we will discuss in later sections of this article. However, since you will be practically hiring a professional manager, the investment will be worthwhile!
Sign up for AiGrow now to immediately access the growth plans and your team!
#2. Link-In-Bio Tool
If you thought this AiGrow.me review only covers the growth tool, guess again! There's more to it, and our job is to make sure you know every detail so you can make a more informed decision!
So, next on our list is the bio-link tool on AiGrow's dashboard. It enables you to add multiple hyperlinks to your Instagram bio and feed posts and stories.
It is simple and practical, especially if you want to drive traffic to your website or sell your products.

Not to mention that this tool allows you to create and share Instagram coupons as your giveaway prize. So far, this tool has performed well and enabled many Instagrammers to share their links.
#3. DM Tool
Have you ever wanted to receive and answer messages from your email inbox or send bulk DMs to potential followers and customers?! Well, AI Grow lets you do that!
You can connect your Email address and answer DMs there. Or you can write a message, specify the users you'd want to send it to, and hit send!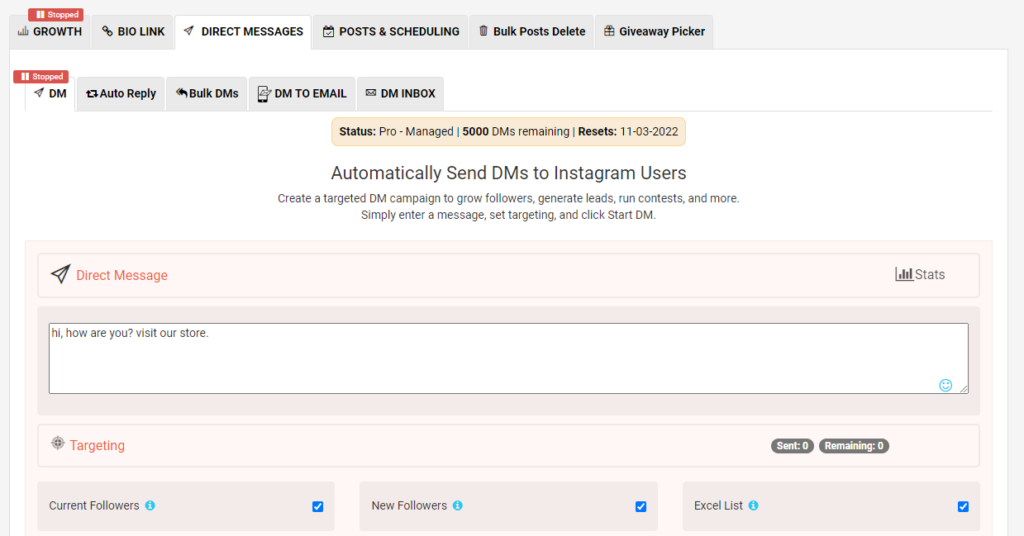 Simply put, using this tool, you can automate DMs and attract followers while focusing on your content!
AI Grow's DM tool avoids any DM glitches, and its performance has been smooth and acceptable so far.
#4. The Scheduler Tool
This AiGrow Instagram review wouldn't be complete without considering this feature. Under the 'Posts & Scheduling' tab on the dashboard, you get to:

Upload and schedule posts,
Monitor the performance of your rivals even if you don't follow them,
Find and save the right hashtags for your content,
Observe what other Instagrammers are saying about your page,
Share videos from YouTube to Instagram,
And schedule a contest. (This one tab alone can make your job much more manageable.)
#5. Bulk Delete Post Feature
For various reasons, you may wish to delete all or a portion of your posts. Furthermore, some IG users tend to buy pre-existing accounts, so previous posts must be deleted. But, it is time-consuming to delete your posts one by one.
This feature allows you to select the posts you no longer want and will conveniently delete them for you. This mass delete feature for Instagram posts is beneficial since it can save you time and energy to a great extent!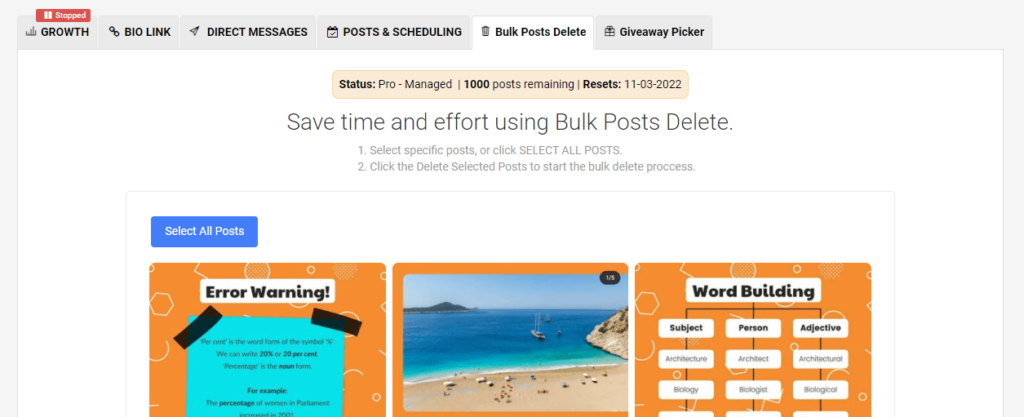 You can select all your IG posts or a limited number, and the AiGrow app will simply delete them for you with a single click. We've tried it out; it's convenient and works well.
Get your mind off your Instagram growth worries.
#6. Giveaway Picker
Many tools have only one feature: picking giveaway winners. On the other hand, AiGrow provides this feature as a complementary tool alongside all others. So, not only is AI Grow the best growth tool available, but also it's one of the most excellent Instagram giveaway pickers.
Under your 'Giveaway Picker' tab, you can paste the link to your giveaway. Then, you get to specify the number of winners, your giveaway rules, and the deadline. It will automatically pick as many winners as you want.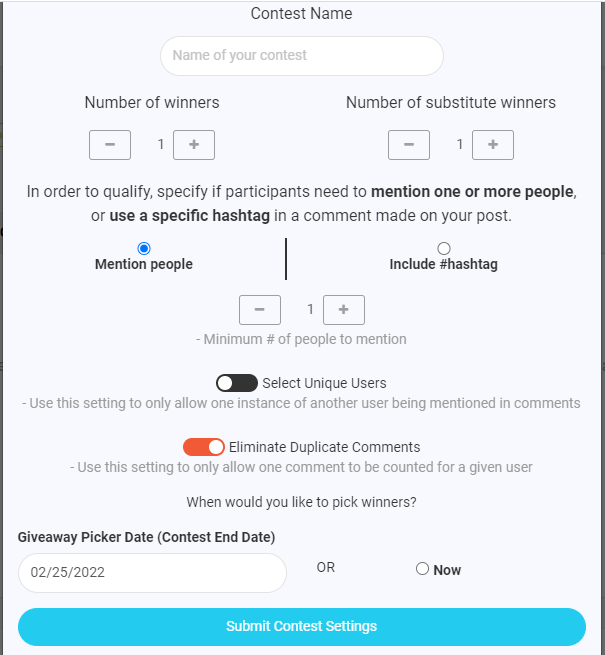 Relax your mind with AiGrow's giveaway picker! Using it makes your job so much easier, so you will wonder why you didn't begin sooner. Imagine having your giveaway winners picked out in a blink of an eye!
Besides, this tool is not the only contest picker on this platform. Under the scheduler tab, you get another reliable giveaway picker, but that one works differently!
This second contest picker will allow you to schedule your contests, set your rules, and finally, let you prepare a message for all the winners. So, when a participant complies with the rules, this message will appear in their DMs, informing them that they have won!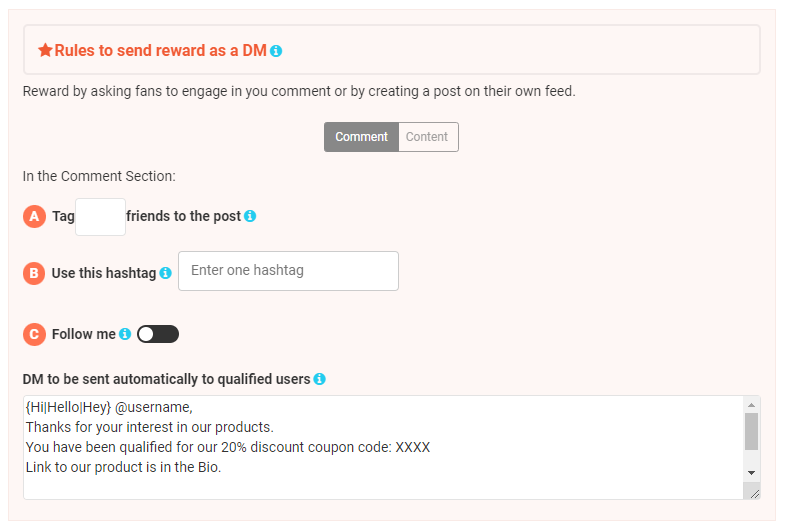 #7. A Dedicated Account Manager
Once you've signed up with AiGrow, a dedicated and professional Instagram account manager will take care of your Instagram account and strive to grow it organically and manually.
These skillful account managers, with their vast knowledge of social media marketing, will do everything in their power to increase your Instagram account's engagement and growth.
AiGrow's expert team is unique because you can interact with them online to discuss your marketing ideas and get a clearer picture of what you want. Moreover, periodic meetings will be held to gather information on how the team is doing and evaluate the outcomes.
Therefore, AiGrow.me is not a bot. In contrast, it is a proven and reliable manual engagement marketing service powered by its advanced AI technology and professional human resources.
#8. Mass Unfollow Tool
Although mass unfollowing seems in contrast with instagram rules, cleaning up your inactive followers or ghost followers who don't follow you back or don't engage with your account help you to increase your engagement ratio.
Despite this, AiGrow is not a ghost follower app; rather, it assists you in getting rid of lurkers and increasing your engagement rate with the rest of your followers who are interested in your niche.
And if any problems arise, your dedicated Account Manager is here to help.
#9. AiGrow Content Creation Plan
If you use Instagram for business and don't have time to manage your feed and create content, the AiGrow Content Design plan will assist you in creating and sharing eye-catching content.
This package also includes a Dedicated Account Manager to help you organize your work.
Additionally, AI Grow provides many other valuable features, as illustrated in the following image:
Get started with AiGrow now to enjoy all the tools in one dashboard. According to our experience, it makes Instagram's success much more straightforward.
AiGrow Review: How Does The Growth Program Work?
To move further, you should understand how this tool exactly works. As mentioned above, it is a top-rated and complete Instagram management and growth service. Now, let's see how it works:
1- Sign Up For AiGrow And Add Your Account(s)
Sign up here and add as many Instagram accounts as you wish to your dashboard. Yes, you can manage multiple IG accounts with only one AiGrow account.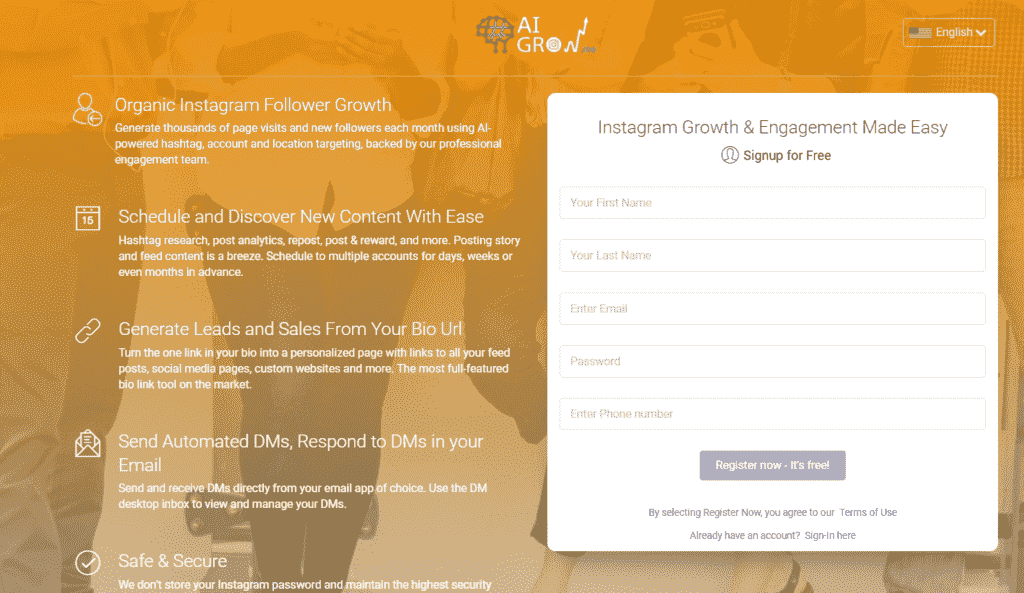 2- Use Growth Tab To Define Your Targeted Users
Then choose the account(s) you wish to promote and hit on 'Manage.' Next, go to your toolbar and click on the 'Growth' tab.
Now, you'll see several boxes. Each of these boxes helps AI Grow and your account manager to understand the targeted users you have in mind more clearly. So, you better complete these parts carefully.
Note: You can edit the list whenever you want and enjoy watching your Instagram followers grow organically.
Let's review some advanced targeting methods offered by the AiGrow app to bring the right audience to your IG page: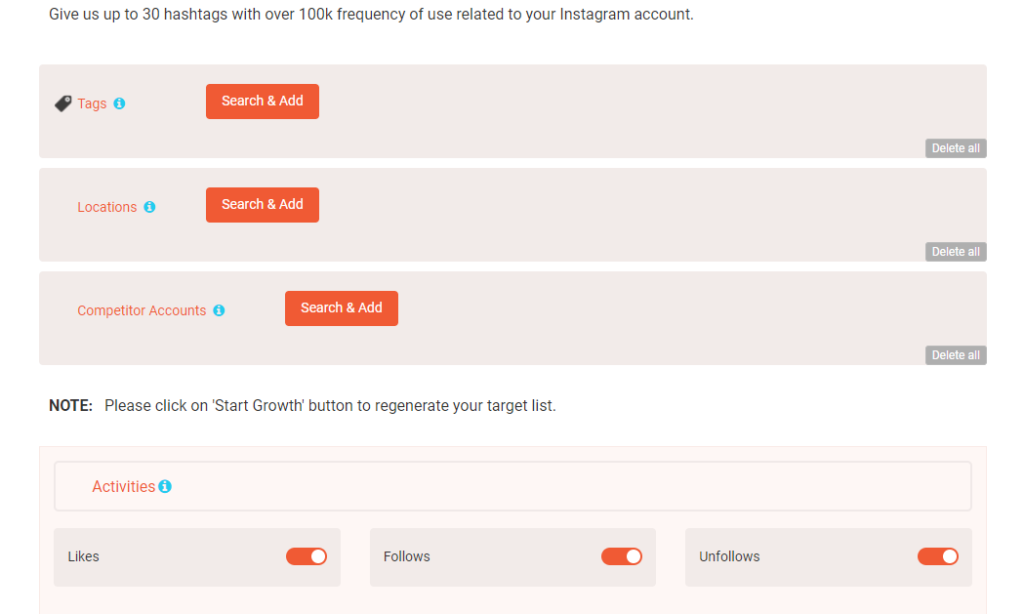 1. Tags
In this part, you can add IG hashtags that your targeted audience is most likely to use.
The only thing you need to do is to enter your primary and secondary keywords into the search bar, and it gives you a list of the best hashtags, along with the number of times people have used them.
For example, if you have a page about writing short stories, type 'Writing' or 'Short Story' to get a comprehensive list of hashtags. Then simply select and add multiple hashtags to your list.
2. Locations
This option is excellent for those businesses who wish to gain local followers. With these geotags, you tell the service where to look for your followers.
3. Influencer Accounts
Influencer Accounts are the source of your potential followers. Somehow, these accounts are considered your competitors.
For example, if you have an Instagram page about learning English, one of your influencer accounts would be BBC Learning English.
So, find the most relevant influencers on Instagram and add them to this section. AiGrow will analyze them and will follow their followers for you.
4. Upload A List
If you already have a list of users and influencer accounts, simply add it to this part. Micro-influencers on Instagram are the best choice because they have the most engaged followers.
5. Activities
Tell the methods you wish your manager to use to communicate with targeted accounts. You can choose between activities like follow, unfollow, or likes.
6. Category
In this part, you can select the category of your page to optimize the AiGrow performance.
Now, it's time to choose a plan to grow your IG account.
3- Select A Plan To Manage Your Growth
Now that you're all set, it's time to choose a plan and start growing with Ai Grow! The good thing about its growth plans is that they are designed to gain maximum results with all budgets.
Additionally, you can select a package based on the size of your business. There are three packages available: starter, premium, and advanced, which will be discussed further below.
#1 Managed Starter
Choose the starter plan if you are a startup looking to establish your brand on Instagram and create a page from scratch. The screenshot below shows their Managed Starter price without the discount, despite the fact that they frequently apply excellent discounts to their packages.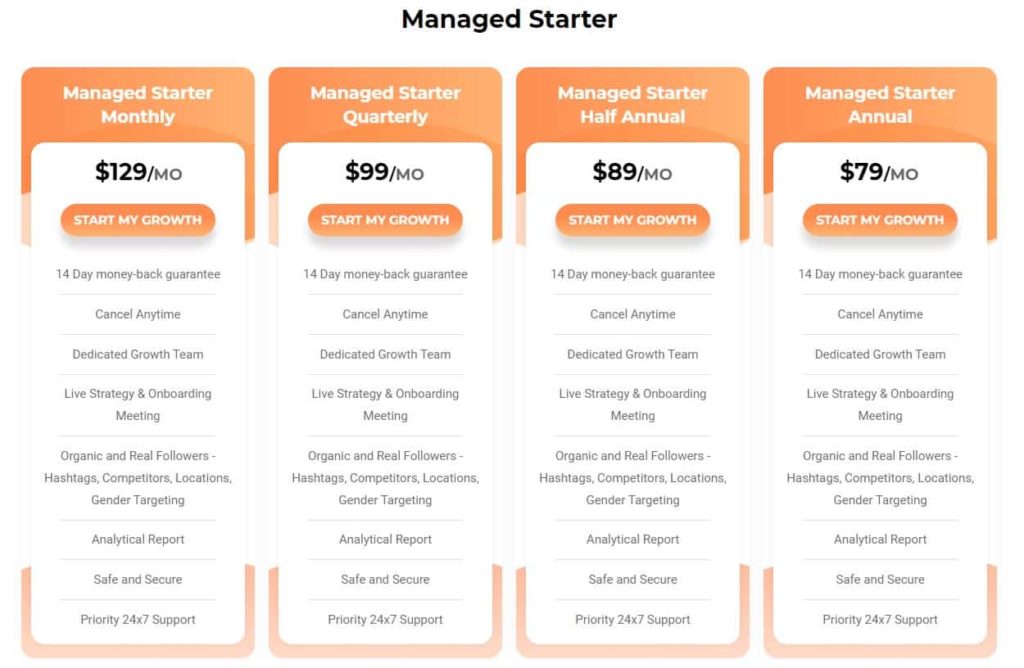 #2 Managed Premium
The managed premium plan is for you if you want additional features like an analytical report, a premium Instagram scheduler, a giveaway picker, and DM marketing.
When you select the Managed Premium package, you will receive:
14 Day money-back guarantee
Dedicated Growth Team
Live Strategy & Onboarding Meeting
Organic and Real Followers
Hashtags, Competitors, Locations, Gender Targeting
Premium Instagram Scheduler
Analytical Report
Score Card and Growth hacks
Premium Direct Message Marketing
Premium Giveaway Picker
Premium Bio Link
Priority 24×7 Support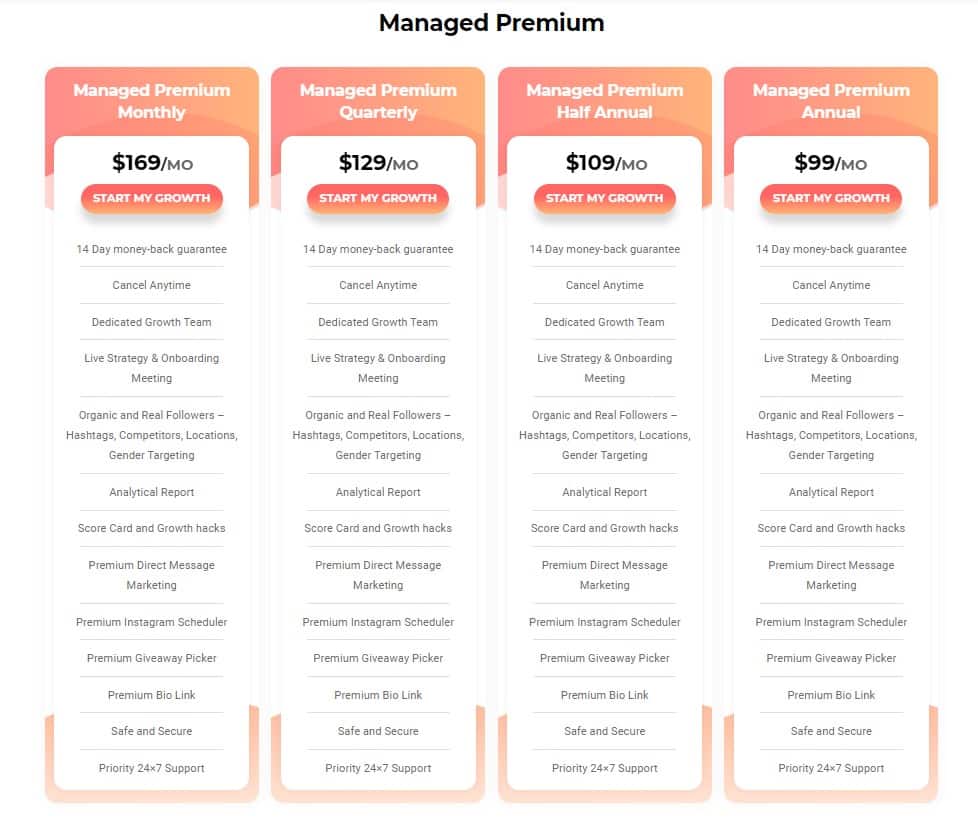 This is the best and most comprehensive package available at a reasonable price. Try to visit their website on a regular basis because they have great prices with discounts.
#3 Managed Advanced
AiGrow Managed Advanced is another package that includes additional features. You can buy this if you don't have enough time to create content. This package also includes advanced influencer marketing to promote your brand.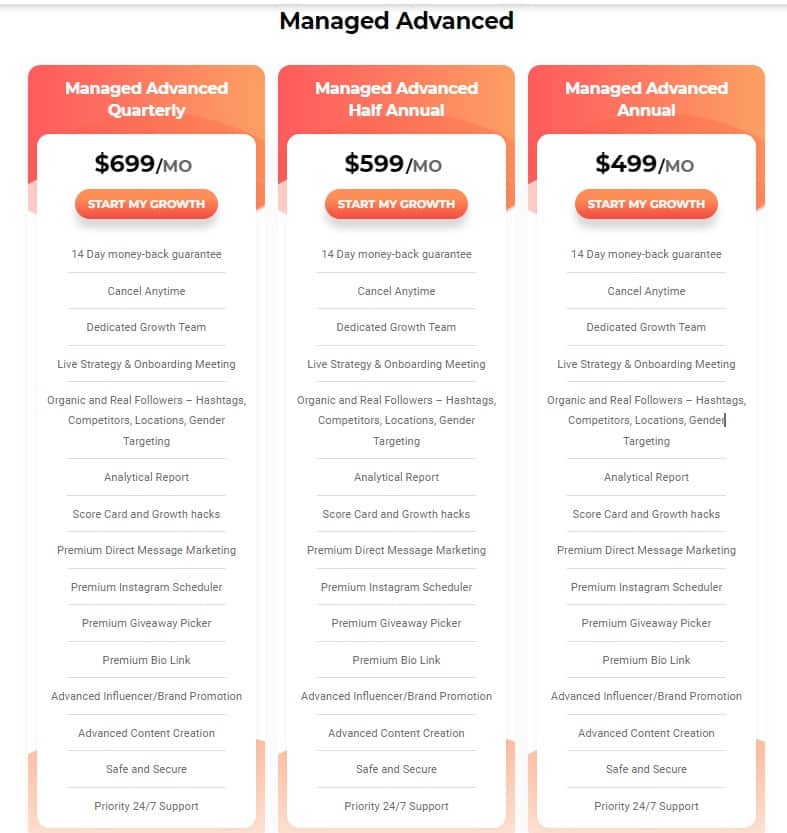 #4 Scheduler Plans
It is another package that allows you to fully manage your Instagram account. In addition to professional scheduling, AiGrow scheduling plans include features such as repost feed, Youtube to IGTV Repost, social monitoring, and alerts.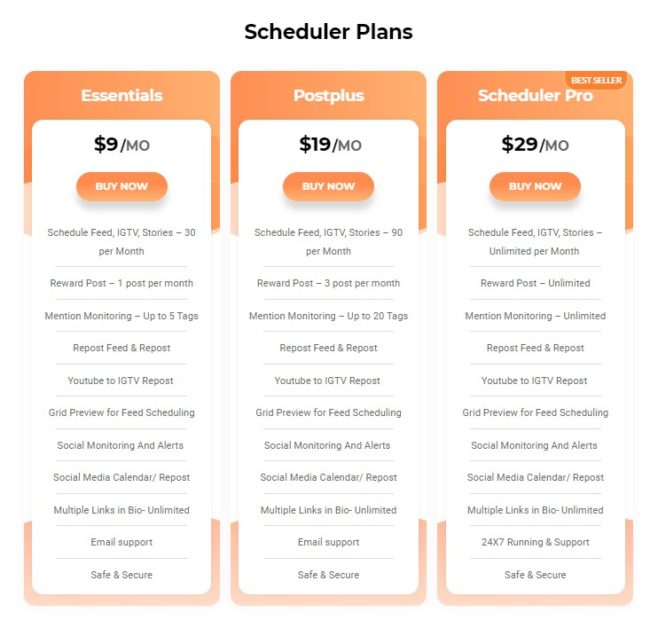 If you require it, you can also purchase content creation and mass unfollow packages. To learn more about AiGrow packages, visit their website.
AiGrow Review: Pricing
To complete this review, we should also mention if the pricing is fair compared to other platforms. After all, you might be on a budget. We'll look at the Managed Starter Plan to see if it's worth picking.
Managed Starter Weekly
You can create an account and try the service for two weeks and if you are not satisfied you can cancel at any time. You will get a dedicated Instagram managing team with complete access to the organic growth, monitoring, and analytical report. bio-link tools, even with a weekly plan.
Managed Starter Monthly
If you want to fully enjoy what AiGrow offers, the Managed starter package is yours. This fantastic package enables you to get organic followers per month.
Also, your dedicated account manager will take care of all the issues regarding your page. So, you only have to set your preferred goals, and AiGrow's staff will take care of the rest.
Here are some of the features that come with the Managed starter package:
Steadily Organic, Targeted Followers
Dedicated Account Manager
AI-Powered Hashtags, Competitions, Locations Research
Manual Growth Activities – Follows, Unfollows, Liking
Priority 24×7 Support
Safe & Secure
By paying $129 per month, you can enjoy boosting your Instagram fast and securely with this package.
Managed Starter Quarterly
Benefit from three months of Starter Packages with a great discount! If you set your goal to gain new and engaged followers in the next three months, this popular package is perfect for you. Besides, you get immediate access to all other tools.
You can purchase this pack for only $99 per month, and if it's your first time, you can enjoy a 25% discount!
Managed Starter Annual
The yearly pack is precisely like the other packages except that it comes with an annual contract, which actually decreases the costs as its name indicates.
By purchasing this package, you save a lot of money. A great bargain, right? This package is designed for those who want to grow their account in a stable way.
The pricing for this package is $79 per month with a special 25% discount.
You can save a lot of money and gain access to more features and additional IG tools by selecting the Managed Premium or Managed Advanced annual packages too.
Compared to the other services in the market, AiGrow is considered fair. Don't forget that most of the other services in the market charge you more than this and use bots. As a result, your account will be filled with fake and ghost accounts.
But this is not the case with AiGrow, as it only gets you real and Instant followers and likes.
To enjoy these Instagram marketing packages, sign up for AiGrow.
AiGrow Reviews: What Customers Are Saying
Service providers can claim whatever they want. That is why we like to hear from real users; Those who have tested the service and now share their honest feedback on credible review websites such as Trustpilot or Reddit.
Therefore, let's continue by examining what customers have to say about this tool after using it for a while.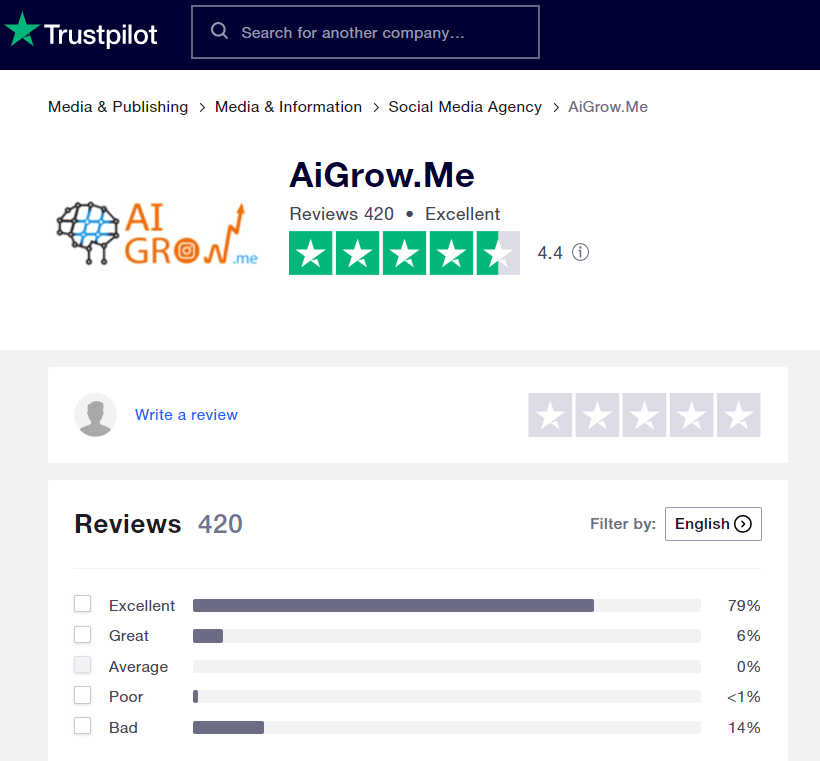 Trustpilot is an online review platform that shares more than 4 million reviews to help customers make informed purchasing decisions.
Trustpilot has already received more than 420 AiGrow reviews. Seventy-nine percent of customers have rated Ai Grow as an excellent Instagram growth service, a reassuring social proof for future customers.
Consequently, AiGrow.me review ranks 4.5 on Trustpilot, which indicates that the service is reliable according to the many happy customers who have used it. Let's look at some of these recent AI Grow reviews together.

The majority of AiGrow reviews on Trustpilot are positive, as you can see. Users are generally pleased with the AiGrow features and additional IG tools provided by this service. What is mentioned frequently by users is the AiGrow management team, which resolves any client issues.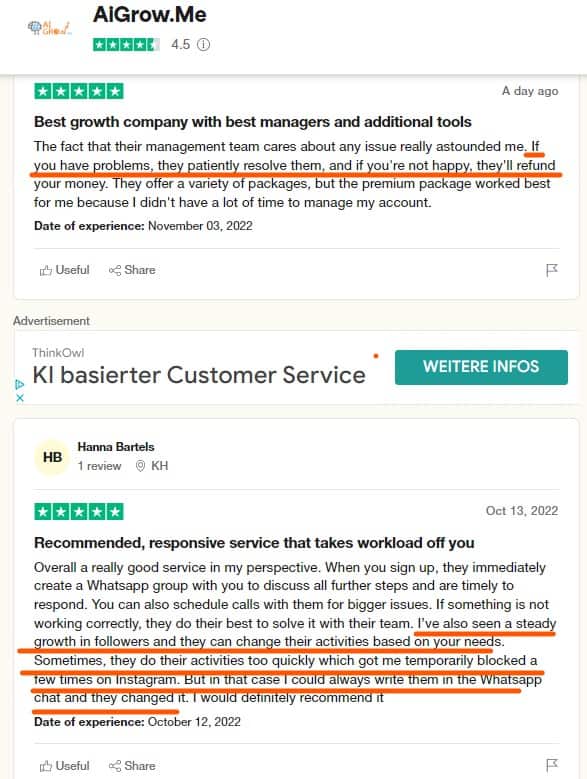 AiGrow Reviews Reddit
AiGrow reviews Reddit also provides satisfactory results. As an example, consider this recent review on Reddit: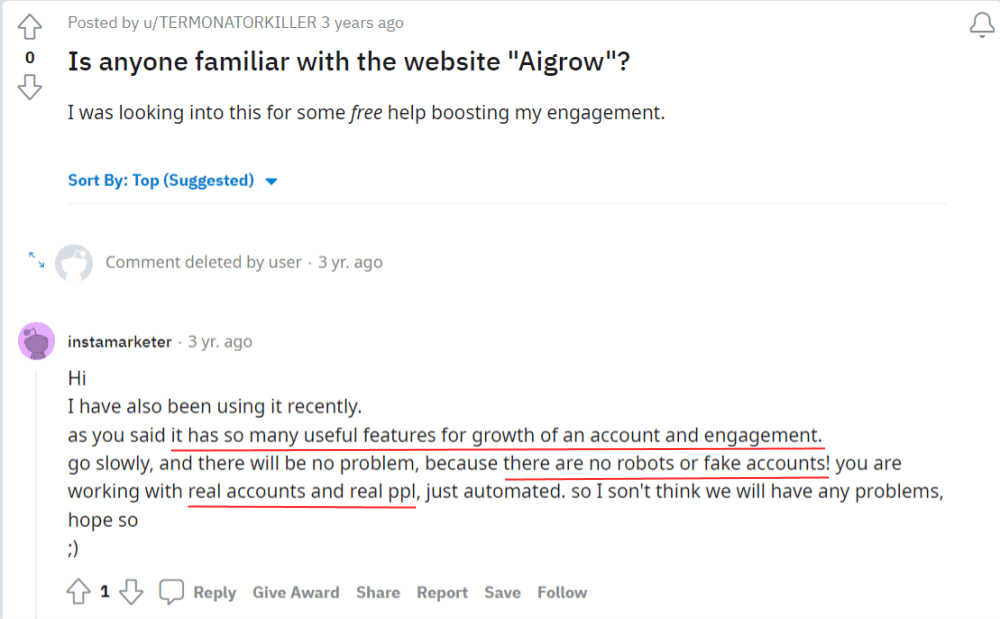 As you can see, the AiGrow Instagram growth service has evolved and added new features and capabilities that satisfy users.
For more customer reviews, watch the video below.
AiGrow Pros And Cons
For a thorough AiGrow.me review, it's time to consider its pros and cons. Let's first start with the advantages of AiGrow Instagram growth service:
Pros
Compatibility of the AiGrow app with all operating systems: yes, AiGrow is compatible with all systems, whether you're more comfortable with a phone or PC.
A secure website: it has a secure HTTPS website. It also has an authenticated gateway; therefore, you can share your information in complete confidence.
Affordable & clearly defined prices: While many apps charge you up to $2500 for their premium packages, AiGrow has the same packages with more tools at more reasonable prices.
No extra fee: You may encounter some apps with additional charges for running unnecessary ads. AiGrow does not use these ugly tricks; you pay the same amount you see on your dashboard.
No bots: All the promotional activities on AiGrow are done by humans. A team of experts takes care of your account to ensure that you won't cross any Instagram rules or limitations.
Excellent customer support: It offers 24/7 customer support to ensure there are no issues, even minor ones.
Guaranteed results + Money-Back Guarantee: using AiGrow, a desirable outcome is guaranteed. If you don't reach your IG goals, you can get a refund; no questions asked.
Variety of plans for any taste: you can simply see the variety of tools and packages for any taste and need.
FAQ and Help page: It also offers an FAQ and Help page, which is a great way to know a company and its services before committing to anything. Moreover, it is a good sign indicating that AIGrow aims to be transparent with its customers.
Cons
Poor UX design: It's fairly user-friendly; yet, it could be better.
Low Speed: In rare cases, it takes a little bit more time to function while you're using the app.
Grow your Instagram account and save time.
FAQs On AiGrow Review
Several top-growth Instagram reviews have mentioned and reviewed AiGrow. Yet none of them could do it as accurately and completely as we have. Now, we'd like to cover your frequently asked questions!
Q1: Is AiGrow Legit?
Is AiGrow safe or a scam? The answer is yes; AiGrow is %100 safe and legit to use. Moreover, according to Scamadviser, the trust score for AiGrow is 96 out of 100. As such, AI Grow is introduced as a legit and safe and not a scam website.
The AI Grow positive trust score on the Scamadviser is based on an automated analysis of 40 different data sources checked online such as the technology used, the location of the company, and other websites found on the same web server, etc. Websites that score 80% or higher are generally safe and secure.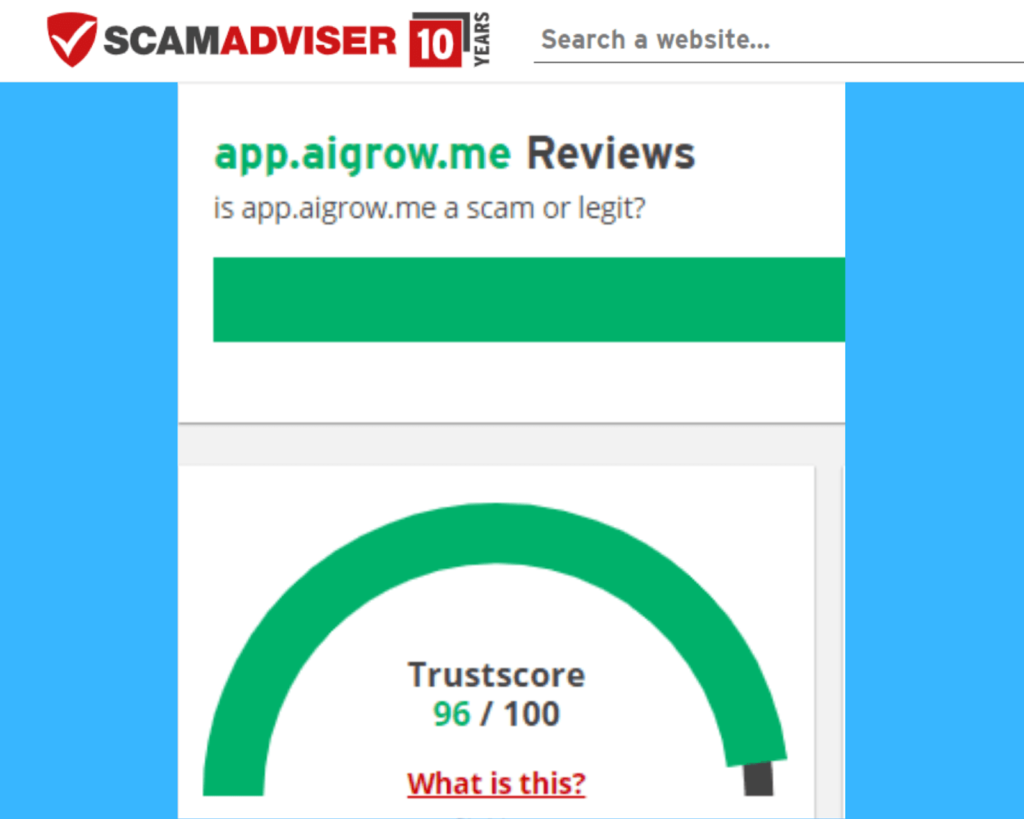 Q2: Can I Identify My Ghost Followers And Unfollow Them With AiGrow?
Yes, AiGrow is also an Instagram unfollowers app and allows you to observe the performance of your account and followers. Once you notice ghost followers, you can easily unfollow any number of them and increase your IG engagement rate!
Q3: Is AiGrow The Same As Tagscout?
Tagscout was a similar platform. But, AiGrow has progressed leaps and bounds compared to TagScout. So, don't be fooled by a negative TagScout review.
Q4: Why Are Instagram Growth Services Like AiGrow Essential To Every Marketer?
As we all know, it is time-consuming and tough to attract your target audience on Instagram and keep them engaged and satisfied on your page. You need to have a powerful content plan and effective marketing strategies in place to build your brand on the platform.
But what if you do not have enough time to build your Instagram business account to its full potential? It is when reliable Instagram growth services like AiGrow come to your rescue, saving you tons of time and energy while growing your IG account safely and organically.
However, the most critical point is to choose a proven Instagram growth tool for your business that will meet your expectations over time. To have a good investment, you should do your due research and make informed decisions to avoid falling prey to spammy services that will do nothing but waste your time and money.
Based on our complete AiGrow review, it is safe to conclude that AI Grow is an excellent choice for improving your online business on Instagram.
Guarantee your Instagram success with AI Grow now.
Final Words On AiGrow Review
There are several growth tools out there, and you could use any of them. However, only a few will put you on a winning track, bringing high-quality followers and helping you stand out among the rest on Instagram.
We prepared this review to help you make an informed decision and not fall for the rumors. AiGrow is safe, secure, and most importantly, a manual engagement marketing service.
With Ai Grow, you can rest assured that your account won't get banned or suspended by Instagram. So, what are you waiting for? Start your journey right now on AiGrow.
If interested, you can read our recent Instagram growth services reviews on the website and get more information. Here are a few of them: