So, If you have more than 3K followers but only 100 of them like your posts, it means that most of the followers of your account are ghost followers. Rather than being a pain in the neck, fake followers on Instagram can severely damage your engagement rate. Here ghost followers apps can come in handy!
But what do you know about ghost followers? Do you like having an app for fake instagram followers to delete them all? Or you may want to hire an account manager who won't let your account be threatened by fake followers!
If you want to know what these so-called followers are, how to get rid of ghost followers on Instagram, find the best ghost followers app, and even how to stop ghost followers from invading your account and growing your account using the best instagram growth service, read this article.
Let's start with the basics.
What Are Ghost Followers on Instagram
Ghost followers, or as some people call them ghost accounts or lurkers, are users on Instagram who don't engage with your account and stay inactive all the time. These are fake followers mostly generated by bots or for many other reasons.
Fake followers on Instagram or bots only help you to have a higher number of followers written on your profile. They don't engage with your content, and if they do, which is rare, the result might be embarrassing and your engagement rate will always be down.
The most common way that accounts may gain ghost followers is by buying followers. But buying fake followers is not the only reason for having ghost followers. Some people create so many fake accounts only to involve Instagram giveaways or social media campaigns.
They use these accounts for one week or two and then they abandon them, without even bothering to delete them. Another reason is that there are simply some people who just don't like to engage with any other Instagram accounts and enjoy snooping.
Also, some people forget the password or have issues that can't log in to their IG accounts. So, they create another new account and stopped using the old one. However, you may wonder how to identify ghost followers. Keep reading to find out how.
How To Identify Fake Followers
Sometimes ghost followers look so real that you may not be able to tell them apart. However, it is very easy to check your followers and identify some ghost followers on Instagram.
Fake Instagram followers usually don't have profile pictures. Also, they have no followers or have only a few followers as opposed to their number of following.
Also, their usernames can contain meaningless numbers and letters. If you find ghost followers, remove them as soon as possible as they will damage your account.
So, now that you know what is a ghost follower on Instagram, let's see why you should cleanse your account from them.
Why Should You Consider Removing Ghost Followers
You may ask what is wrong with ghost followers on Instagram. As you may know, according to Instagram algorithms that are constantly changing, it is the engagement rate that indicates the success of an Instagrammer or an influencer on Instagram, not the number of followers.
Ghost followers don't seem like a major problem; however, they can tremendously affect some aspects of your IG account. Here are some reasons that show how fake followers on Instagram affect your efficiency and should be removed.
#1 Fake Followers Lower Your Engagement Rate
Well, if you're familiar with the Instagram algorithm, you know that your IG rate is the ratio of your likes, comments, saves, and shares to the total number of followers multiplied by 100.
On the other hand, based on your activities on the app, your engagement rate, and the algorithm that the app uses to determine it, are different from other users.
This algorithm depends on your activity, the accounts you follow, posts that you like, and the people who follow you. When your account is filled with ghost followers who won't interact in any way, your engagement rate decreases.
#2 Ghost Followers Damage Your Credibility
While you may thank Instagram ghost followers for boosting your follower count, they can destroy your credibility and lower your engagement rate. These fake followers can hurt your bottom line, especially if you are an Instagram influencer or a brand ambassador.
Essentially, brands are looking for ambassadors or micro-influencers on Instagram with high engagement rates. So if your followers don't respond to your posts by liking, commenting, or saving and sharing your content, brands will never rely on you to promote them.
On the other hand, if you use instagram for your business, follower count provides a key performance metric for your profile, but these metrics can be misleading because of ghost followers.
Fake Instagram followers cause users to have no real way of measuring their reach on Instagram because they don't know how many followers they have. So having ghost followers makes it difficult to accurately assess your marketing efforts.
For example, imagine you are a customer who wants to buy a product of a brand. If there is a huge number of followers but no likes and comments, can you count on such a profile on Instagram?
#3 Ghost Followers Cause Fewer People See Your Posts
A lower engagement rate signals Instagram that your posts are not interesting to your audience, and as a result, it might make your posts hidden from these followers' feeds.
But here's the main problem: Not even Instagram hides your posts from ghost followers, but it also hides them from other followers who are actually real and engaged.
This will damage the reputation of brands and even individual accounts on Instagram. Also, it causes lower ROI for businesses that invest tremendous time and energy in social media.
To fix this problem, you can manually go through your followers and remove any account that seems fake. As we mentioned, fake accounts or bots have weird names and no profile pictures. This way you can identify fake followers on Instagram or other social media channels.
But if the number of followers is too big to manage and remove them manually, some ghost follower apps will help you get over this issue. In the next section, we will introduce you to ghost followers apps for Instagram.
What Are The Top Ghost Followers Apps
Luckily, using Instagram ghost followers apps, you can get rid of these inactive followers. If you wonder how to get rid of ghost followers on Instagram you can use the following apps.
1- Ghost Unfollowers For Instagram & Fake I.G. Clean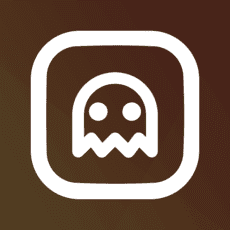 You can use this app to remove all the lurkers (eighter Instagram bots or other users) on your page. Also, this app allows you to monitor your last 100 IG posts to understand your followers' behavior and detect those who are inactive the most.
Then, unfollow these accounts using mass unfollowing which enables you to unfollow about 60 ghost followers on Instagram per hour.
Note: According to our last investigation, this app doesn't exist on Google Play, appadvice, and other websites. Apparently, it is merged with another app with this name.
2- Reports + Followers Analytics For Instagram (Mobile X)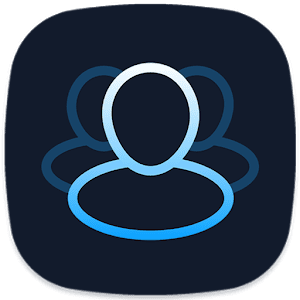 This ghost follower app helps you to find your best Instagram fans and get rid of the others. Using its free version, you can get a comprehensive report of your account performance and even see who unfollowed you. Teaching engagement is another great tool that this app offers.
It used to be a good app for fake Instagram followers, but, after looking at the reviews, we noticed the app has been glitchy and not working correctly.
3- Unfollowers & Ghost Followers – Follower Insight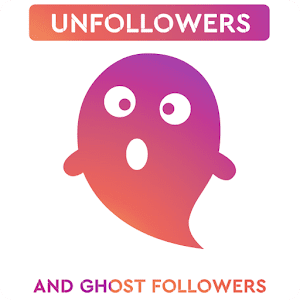 Unfollowers & Followers Analytics for Instagram is super popular among the apps. It scores 3 on Google Play and has more than 20,000 people giving it a 5-star rating. So, make sure you try this one too!
It gives you a list of your ghost followers that you can simply remove from your account and make space for more active ones. It also shows unfollowers and you can unfollow them directly on this app.
4- Ghost Followers Apps; GhostHunter

If you are an influencer or a business, you can use this online service to find unfollowers, mutual followers, and more.
This app also allows you to protect your Instagram profile from ghost followers, bots, and hackers.
The application gives you an anti-spam to monitor your account and block unwanted comments and ghost followers.
Using this app you can delete spam profiles and remove users that aren't active.
5- App For Fake Instagram Followers; Cleaner for IG

This app allows you to delete or block unwanted followers on Instagram. Using Cleaner for Instagram you can do these activities on the app. There is also a web version of this app and you don't need to download the APK file.
Some Instagram services also provide a ghost followers feature. For example, Firing Table is a social media management service that one of its features apparently was to identify ghost followers.
You can read the Firing Table review to know more about this service. Unfortunately, their site doesn't work lately.
Using these ghost followers apps you can identify and delete fake followers. But sometimes they don't operate. Additionally, sometimes Instagram identifies them as bots and it may hurt your account.
So, let's know some ways that allow you to prevent your account from ghosting Instagram followers. These ways are also functional after you cleanse your account from fake followers.
You may also like to read: Instagram Followers vs. Following: How to Get The Ideal Ratio?
What To Do After Using The IG Ghost Followers App
Now that your account is clear and empty of ghost followers, you need to start attracting real and engaged followers!
There are many paid and free ways to gain followers, such as writing engaging captions, scheduling posts, using the right hashtags, and of course, using good Instagram growth services.
In the following, we examine one of the best third-party Instagram management apps that will help you have sustainable growth on Instagram and never use ghost-follower apps again.
#1 AiGrow: All In One Instagram Growth Tool
AiGrow is an organic Instagram solution that helps you save time and energy by using effective Instagram marketing methods that'll keep your account safe.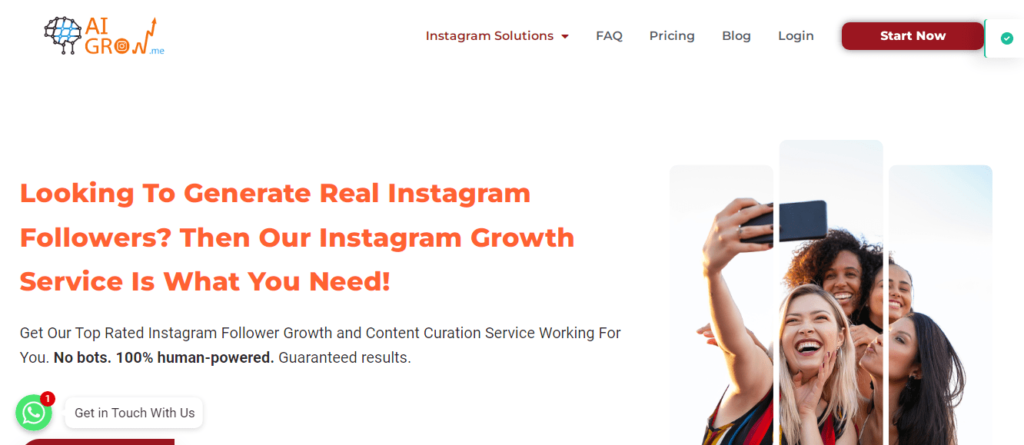 AiGrow offers a comprehensible set of tools to manage Instagram page(s); however, one of its most popular services is Instagram growth packages. Using AiGrow you will access a complete dashboard with a lot of capabilities.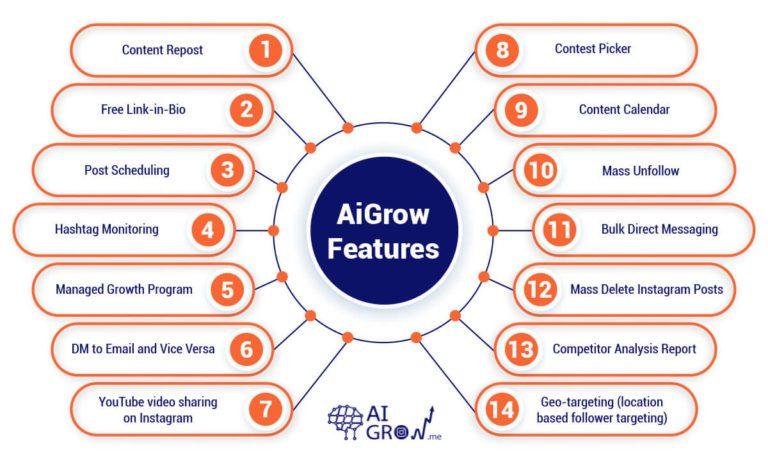 AiGrow has received positive feedback on Trustpilot and other reliable websites, like this AiGrow review on the Hoothemes. The following are the features of AiGrow:
A Dedicated Account Manager
Manual Growth Activities
Instagram Post, Story, and IGTV Scheduling Tool
Content Repost Tool
Mass Delete Feature
AI-Powered Targeting Options
24×7 Customer Support
Social Monitoring + Analytics Tool
Hashtag Generator Tool
Mass Unfollow Tool
Additionally, the AiGrow PostMate feature assists you in content creation strategies. And its Link-In-Bio Tool allows you to add as many links as you wish to your profile.
To use AiGrow you can choose between its incredible packages. These packages come at different prices and purposes, but the main advantage of AiGrow's packages compared to other services is that they get you 100% real and engaged followers. As a result, you don't get any ghost followers on the app!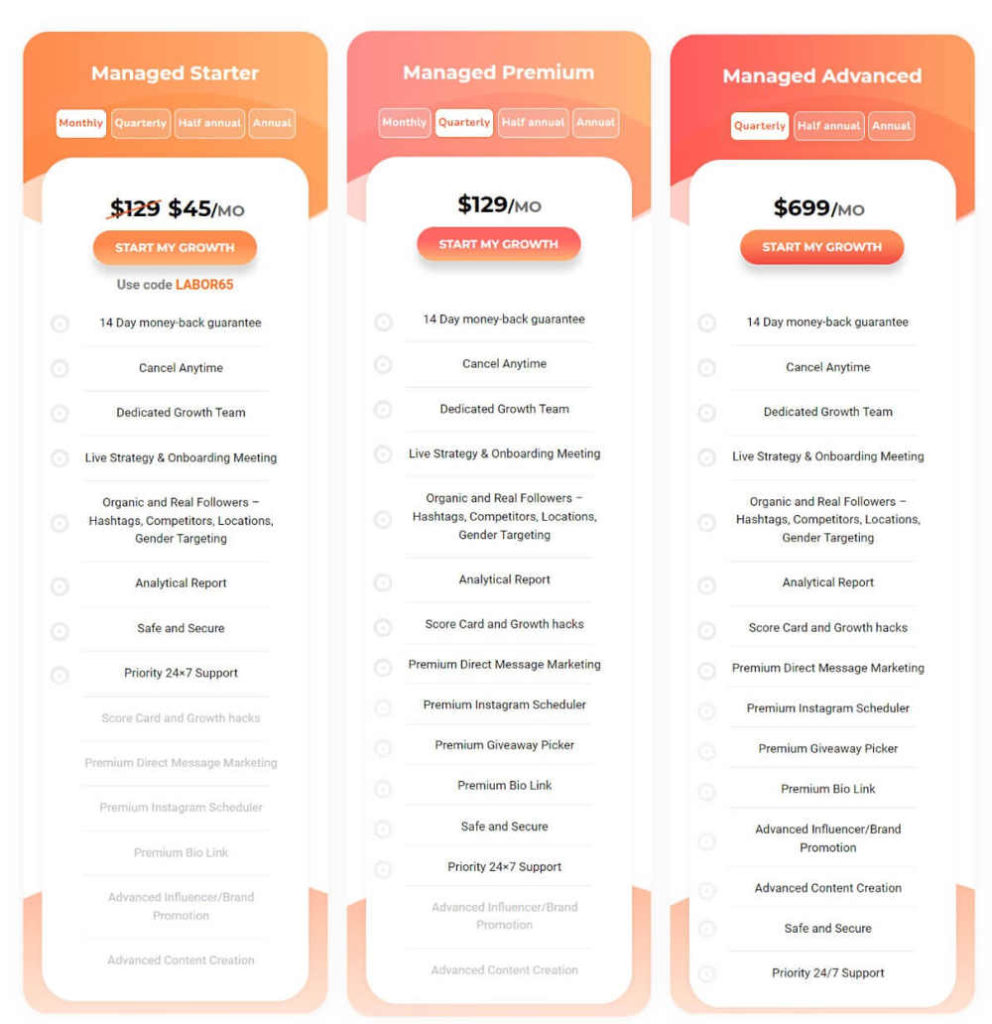 #2 Use Ainfluencer Marketplace to Attract Real Followers
You may be wondering how to get rid of ghost followers on Instagram using influencer marketing. The answer is simple. By working with the right influencers you can promote your account and reach targeted followers who will actively interact with your content.
Ainfluencer is the best marketplace that allows you to find the best influencers. To get rid of ghost followers you can find a micro-influencer with a high engagement rate and start your collaboration to attract targeted followers in your niche.

Whether you are a brand or an influencer, you can use Ainfluencer. This marketplace allows you to find influencers as a brand or find brands as an influencer to get paid. They have a vast database of large-quality influencers with the most engaged followers.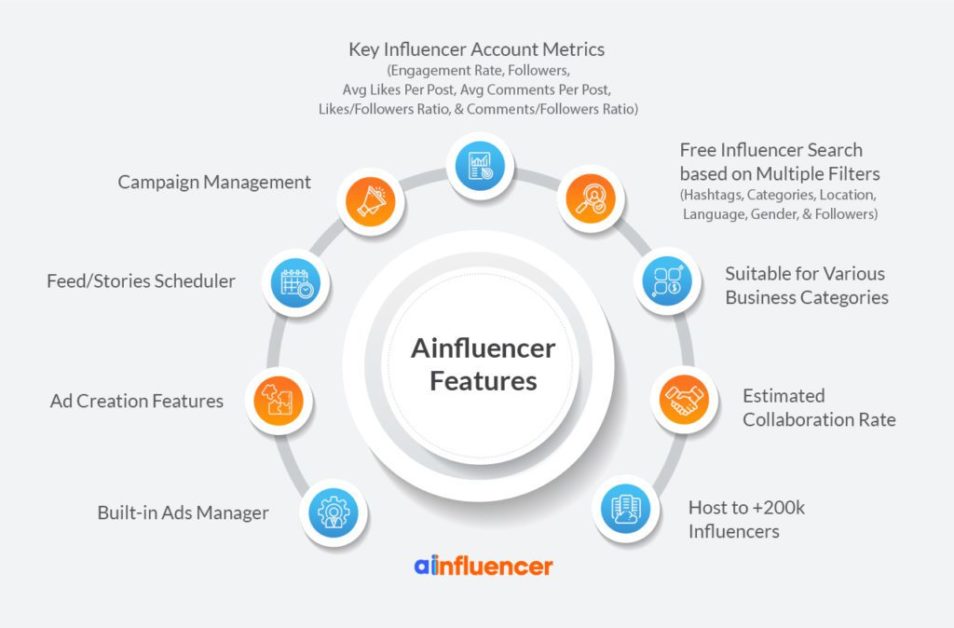 Ainfluencer provides you with an easy-to-use dashboard. Using this service, you can filter influencers based on their types, location, gender, and more. You can also analyze their engagement rate and monitor the performance of your collaboration.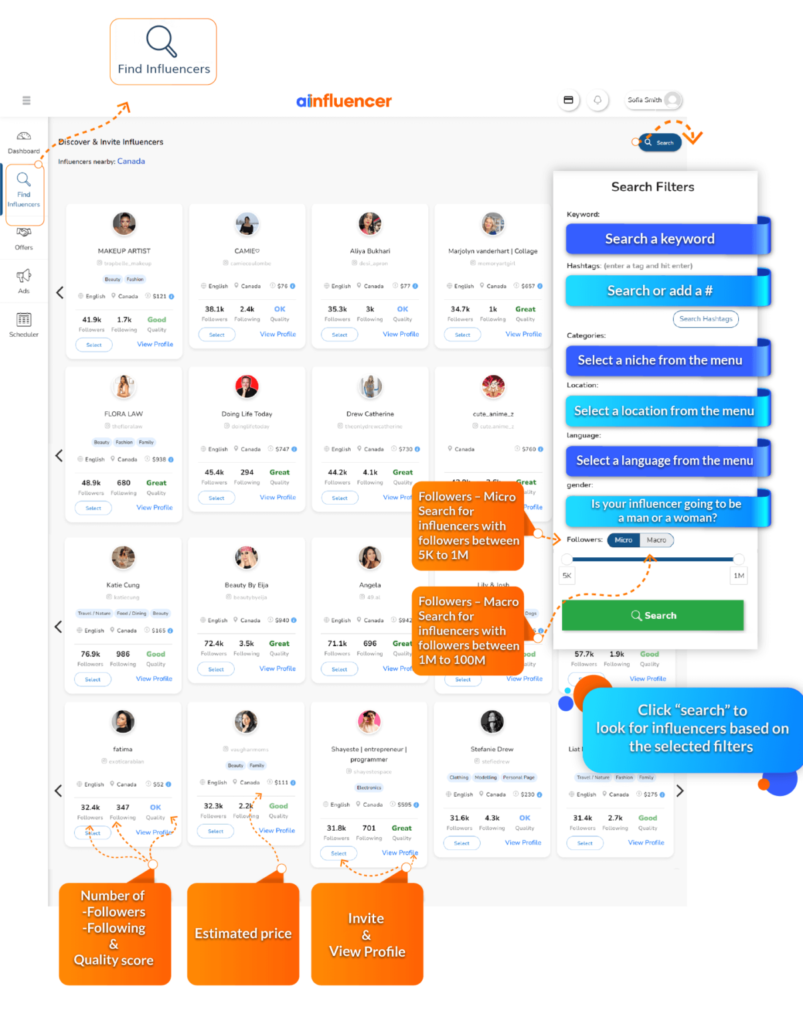 FAQs on Ghost Followers
There may be more questions that we didn't cover in this post. Here we answer some of the queries about fake followers and everything related to it.
Q1: What Are The Best Ways To Get Real Followers For Instagram Organically?
As we mentioned before, ghost followers are not useful for your credibility and decrease your engagement rate. So try to get real followers on Instagram and other social media channels using these methods:
Create and share high-quality videos and images with the best size
Include hashtags and geo-location tags in your post
Interact with your followers or subscribers on the app you use
Host Instagram contests
Use the best Influencer marketing platforms and marketplaces to find influencers and do influencer marketing
Q2: How Do Ghost Followers Affect Influencers?
If you want to reach a massive number of followers, you can partner with influencers. You don't need to collaborate with macro influencers that have a big follower count. Just make sure you are partnering with an influencer who has a high engagement rate.
How can influencers become successful influencers when they have ghost followers who don't engage with the content they share? Or when they run contests to tag their friends in comments,? etc. Therefore, it is very important to analyze influencer accounts and make sure their followers are not fake.
Q3: How Can Removing Ghost Followers Help You Grow Your Account?
According to Instagram's algorithm, engagement rate is more important than follower count.
Instagram will remove your ghost followers if it detects them and losing followers on Instagram lowers your engagement rate. This will result in fewer users seeing your content and stories.
So, removing ghost followers will help you to increase the engagement rate and grow your account.
Q4: How To Prevent Your Account From Ghost Followers?
By following some tips you can prevent your account from having fake followers on Instagram and other social media channels. Some of them are:
Never buy followers because they include ghost followers or are generated by bots
Never purchase a pre-existing account for your instagram or other social media marketing channels
Buying likes, comments, and views are also can be harmful
Final Words On Using Ghost Followers Apps
This article explained how to get rid of ghost followers and what apps you can use to find and remove them. Don't forget that after cleaning your followers' list from ghost followers, start using an Instagram service such as AiGrow to keep your account safe and active on the platform.
Additionally, by using the best Influencer marketplace like Ainfluencer, you can increase your targeted followers.