Over the last five years, influencer marketing has exploded. So, there are various types of influencers working in different niches.
Word-of-mouth is inseparable from today's marketing. When more people talk about your products and services, more buyers can trust your brand. Also, regarding ROI, influencer marketing is 11 times higher than other traditional advertisements.
If you are interested in leveraging the power of Influencer marketing for your brand or business, working with top influencer marketing platforms and marketplaces can be an excellent option for you.
Remember using the right influencers helps you reach different types of customers and audiences and achieve various goals. As your influencer represents your brand, not working with the right one can damage your credibility.
So, if you want to ensure that you are choosing the right influencer to collaborate with, you can use a reliable Influencer marketplace so vast and varied as Ainfluencer.  
This article will not only discuss all types of influencers but also helps you reach out to the influencers who are a great match to your niche and goals.
What Are Social Media Influencers
Social media influencers are people that have established credibility in a certain area and specific niches. So, different types of influencers have a special relationship on social media with their audiences. By the way, they are trustworthy in recommending products and services to their followers.
In terms of the importance of brand awareness, brands usually ask social media influencers to promote them.
Nowadays, people use social media a lot, so you should use this bridge to make a shortcut to gain more awareness and conversion.
Why Are Social Media Influencers Important For Marketers
Despite being a relatively new marketing approach, research has proven that social media influencers can help brands achieve substantial outcomes.
According to the research of Mediakix about influencer marketing, we found these:
89% of marketers believe that influencer marketing is better than other advertising options.
80% of marketers said that influencer marketing is so effective for their business.
71% of marketers find that the quality of customers and traffic from influencer marketing is better than other sources.
All in all, people can trust more when real people promote the products and services than advertising channels from that specific brand.
Types Of Social Media Influencers
So, cooperating with social media influencers can be the key to success for your business; but as a marketer, you should know about all types of influencers to use them in the right way.
It is so important to know all types of Instagram influencers, but why?
The power of influence is more important than the number of followers, so, you should know about all influencer levels to understand which of them has more benefit for your brand.
Basically, the types of influencers depend on the number of their followers and brand affinity levels.
1. Mega Influencers
Among all types of instagram influencers, those who have more than 1M followers are called mega influencers or celebrities.
They are well-known for their careers as singers, actors, athletes, or internet personalities. Their career helps them to reach a huge amount of followers on different social media, especially on Instagram.
The best point of working with mega influencers is their massive reach. It provides incredible social media exposure for brands.
Thousands or millions of users watch the mega influencers' posts and stories daily.
On the other hand, mega influencers are very expensive and have an extremely diverse group of followers. So, if your brand needs a special niche, mega influencers may not be a good fit for you.
Mega Influencers Example
Regarding the influencer categories, the mega influencers have the biggest followers count, now we are going to provide you with a list of Instagram influencers who have more than 1M followers.
Selena Gomez
She is a famous 28-year-old singer. Selena has 353M followers on Instagram. One of the most-followed social networking influencers now has the most-liked photo on Instagram which she published for Coca-Cola.
Yes, you are right; she is a Coca-Cola brand ambassador.
Ronaldo
Cristiano Ronaldo is a 37-year-old football player and among the top Instagram influencers.
He is another mega influencer with over 490M followers.
Also, he is a brand ambassador for Nike.
Bella Hadid
She is a 27-year-old American model. Bella Hadid has 56M followers on Instagram.
In 2016 she has voted as the 'model of the year'.
She is a brand ambassador for Swarovski.
2. Macro Influencer
The other types of influencers are macro-influencers with 100K to 1M followers and with a high engagement rate.
Unlike mega influencers, macro influencers' fame on social media is primarily due to their expert and internet-related activities, such as professional blogging or vlogging.
Macro influencers are the greatest type of influencers to work with if you want a good mix of reach and influence. There are numerous celebrities, singers, and other public people who are also macro influencers.
These types of Instagram influencers are good for being brand ambassadors too.
Although, macro influencers cost less than mega influencers but for small and medium businesses they might be expensive. So, micro-influencers are more cost-effective.
Macro Influencers Example
Now, let's read about the macro influencers' example, those who are famous in special niches.
Jean Lee
Her followers know her as jeaniuseats. Jean Lee lives in New York. she is a travel and food influencer with 112K followers and most of the photos on her feed have been taken at a popular restaurant.
The hard-working Lee is always on the go, checking out eateries. She's also a Zagat 100 Top Food Instagrammer.
Amy Sedaris
She has 1M followers on Instagram, Amy is a celebrity, and star of the comedy series.
Sedaris draws an audience that enjoys the absurd. Sedaris' Instagram feed is full of strange vintage films and photos of hot dogs in witches' hats with toothpick arms.
Lauren Giraldo
She is an actress and an American Instagram influencer. Lauren is a good example of an effective Instagram macro influencer.
Lauren Giraldo is active in lots of filed but especially in beauty and skincare. Also, she can be a good choice for brands looking for great Instagram marketing campaigns.
3. Mico Influencers
Micro-influencers have 10K up to 100K followers. They are popular in special niches and particular areas, like beauty, food, fashion, fitness, gaming, and so on.
Basically, micro influencers don't have as many followers as macro influencers but, their followers are very interested in their stories and posts. Most micro influencers have a good potential for influence.
Micro influencers are the best choice for small businesses. They are usually cost-effective. But as we mentioned earlier they have a limited number of followers.
Micro Influencer Examples
Here, we are going to provide you with top micro influencers' tire examples.
Marie Denee
She is one of the most active fashion bloggers in 2022. Marie utilizes her Instagram and blog as a platform to speak about, educate, and celebrate the uniqueness and beauty of the plus-size woman.
She has contributed her expertise on plus-size fashion trends and tips through several publications like Vogue Curvy, Signature 9, and Fashion and Style Editor at PLUS Model Magazine.
Yoshino Bontemps
She is a French-Jappenise fashion model and influencer in Paris. Yoshino has over 51K followers on Instagram. Also, she is a Chanel brand ambassador.
Usually she virals portrait of herself and some beauty advertisement.
Adam Gonon
He is another top Instagram micro influencer, Adam is a social media marketing expert, content creator, and one of the best social media micro influencers.
He is working on fashion and lifestyle niches.
4. Nano Influencer
Last but not least, nano influencers are the last category of influencer tiers. They have between 1K to 10K followers.
However, they have a small number of followers, but they are very influential and active in their special niches and mostly they have a high engagement rate.
Nano influencers cooperate with businesses by receiving products or up to $500 for advertising.
Nano Influencers Example
Now, you know about all types of Instagram influencers. If you want to know more about nano influencers, let's take a quick look at their examples.
Reannoin Jean
Reannion is a fashion and style influencer. She has over 7K followers on her Instagram account.
Also, she has a high engagement rate and she is very creative in creating social media content.
Chris
The amazing thing about Chris is that he is a dad blogger. He lives in Toronto. He is a business owner and nano influencer.
Chris always chooses different topics about family for his posts.
Alexis Baker
She is a beauty blogger and lifestyle influencer with over 4K followers.
Alexis has been featured in New York Times for her curated content on Instagram as a nano influencer.
How To Find Instagram Influencers
Influencer marketing is one of the most important parts of advertising. Now, you know everything about all types of influencers. So, as a marketer, you can choose between them.
After you decide which type of influencer is a good fit for you, you should find a safe way to communicate with them.
Ainfluencer Instagram marketplace is one of the safest and best ways of finding and booking all types of influencers.
Ainfluencer Instagram Marketplace
As we mentioned earlier Ainfluencer is the easy, fast, and safe way for you to choose the right Instagram influencers. This user-friendly platform lets you search for all types of influencers.
Moreover, Ainfluencer does not release the payment until the influencer has completely fulfilled their contract.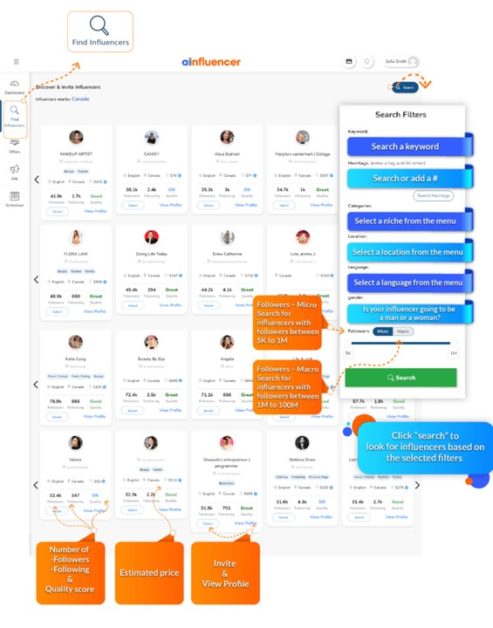 The Ainfluencer platform lets you create ads and encourage influencers to reach out to you or invite targeted influencers yourself. You don't have to worry about the details while creating your ad because you can later negotiate the specifics of your ad with your influencer in our built-in chatbox.
You are able to categorize influencers by location, the number of followers, hashtags, gender, language, and so on.
Types Of Influencers Based On Category
The first step toward a successful influencer marketing strategy is understanding the differences between all types of influencers.
Now that you've learned about the many sorts of social media influencers based on follower numbers, it's time to learn about them based on category.
Having said that, let's take a look at all categories of influencers.
#1. Celebrity
Celebrities are the strongest and the most expensive category of Instagram influencers. They are very famous, however, they may not be very influential, because users follow them because of their art, sport, and so on!
Justin Bieber
He is a 28-year-old Canadian pop singer. Justin has over 263M followers on Instagram. He is a brand ambassador of CalvinKeli.
He is one of the most expensive celebrities in the world.
#2. Fashion
Fashion influencers are the other types of influencers. Also, they are very popular because people love mode and fashion. They are promoting brands on their personal account and viral stylish photos of themself.
Fashion influencers, big and small, play an important part in the world of fashion, helping clothing brands to generate trends and changing the way people dress.
Chiara Ferragni
Chiara is a 35-year-old fashion and style influencer, she is also a fashion designer. She has over 27M followers on her Instagram business account.
She founded The Blonde Salad fashion blog in 2009 and has now grown it into a global retail brand. In 2017, she was named first on Forbes' list of Top Fashion Influencers.
#3. Beauty
In terms of the beauty industry, some bloggers start learning new things about beauty and create content for it. They are called beauty influencers.
Usually, they promote cosmetics on their Instagram account and make a video to let you know how you can use the cosmetics correctly.
James Charles
James is an American famous beauty influencer. He has more than 22M followers on Instagram.
Charles is a brand ambassador of the CoverGirl cosmetic brand. Moreover, he is well-known on YouTube and has millions of followers there too.
#4. Lifestyle
Lifestyle influencers are those who have built their popularity and follow mostly through social media platforms. They display their daily routine and lifestyle, presenting themselves as having a wonderful life.
Julie Sarinana
She is a very famous lifestyle influencer with over 7M followers. She shares every moment of her life with her followers.
Julie promotes different things, but mostly she is advertising clothes and fantasy things that make your house more pretty.
#5. Travel
Travel influencers on social media platforms, travel all around the world and promote every different place for the audience. They talked about other places' traditions, foods, lifestyles, and so on.
They utilize social media, especially Instagram, to share their leading recommendations about traveling with their followers.
Camila Coelho
As an influencer in fashion, beauty, and travel, Camila Coelho was born in 1988.
In addition to posting fashion and beauty looks and trends, she shares travel tips on both her website and Instagram account, which has more than 9 million followers.
#6. Sport/ Fitness
Wellness or fitness influencers are athletes, gymnasts, nutritionists, or other people who try to positively influence their followers' habits and behaviors by posting daily exercise routines and mindfulness practices, healthy recipes, herbal treatments, fitness and yoga sessions, etc.
Ece Vahapoglu Alpay
Ece Vahapoglu Alpay, originally from Istanbul, is a celebrated enthusiast of weight training, wellness, yoga, and the Turkish Sports for All Federation.
She has authored more than a dozen books, including '60 Günde İdeal Mutfak.' Her popular Instagram account has roughly one million followers.
#7. Music
Another sort of influencer is a music influencer, a person who has a strong conspicuous voice and opinion on the most recent music releases.
They share their opinion on different aspects of songs. Anyone can become a music influencer, but some have been granted fame.
Conan Gray
A famous YouTube singer and songwriter, Conan Gray is the world's top Instagram music influencer.
He began climbing the social media ladder in 2017, beginning by uploading singles and EPs to SoundCloud, Facebook, and YouTube. He has over 6 million followers.
#8. Parenting
Parenting influencers are those who could be parents, mothers, or celebrities and offer advice to parents on how to raise their children. Everyone is influential in something, but some offer helpful advice to parents.
These influencers can offer guidance, advice, and occasionally new tactics in parenting and child development.
Sarah Harrison
Sarah Nowak, who formerly went by Sarah Harrison, is a German model and a popular Instagram mom blogger known for her lifestyle and photos of her children, Mia and Kyla.
Sarah and her husband, Dominic Harrison, are the founders of the cosmetic line Samion. She posts fitness content and fashion photos to her Instagram account as well, which has over 3 million followers.
#9. Photography
Online influencers are individuals who publish photos on social media platforms, including Instagram, hoping to be seen by many people. Instagram photographers also share paid posts to promote their companies and make an income. These influencers can be anyone from a stay-at-home mother to a celebrity.
Jord Hammond
Jord Hammond is a British photographer and traveler who makes YouTube videos and Instagram stories that document his travels around the world.
His postings have attracted over 800,000 followers. He often adopts a point of view that is different from the views of travelers and uses his unique voice to experience everything in a different manner.
#10. Food
Food influencers have become one of the most influential people with food these days. They determine what things are going to eat and how users of social media feel about particular foods. They also put up pictures of delicious foods and even reveal their opinions on restaurants.
Rosanna Pansino
Rosanna Pansino is an American food influencer on Instagram, and YouTube, baker, actress, and author.
She started the cooking series Nerdy Nummies, a celebrated show on YouTube, in 2010. She has published two books and has worked with Wilton Cooking Product s partnership on her baking line. Her Instagram account has over 4 million followers.
#11. Pet
New kinds of influencers are emerging in online advertising. Pets play a central role in many houses, and many pet owners have an account for their furry friends to post pictures and stories for all to see. They post pet photos on social media accounts to sell products and services, such as clothes, food, toys, and furniture for pets.
Matilda Ferragni
Chiara Ferragni's famous Italian fashion designer and blogger companion had a dog she named Matilda.
In the spring of 2012, Matilda's photo was uploaded to Instagram. It swiftly went viral, earning her more than 400,000 followers.
#12. Gaming
Video gaming influencers are in demand at the moment. They share everything from playing video games professionally to sharing their opinions regarding video game content using platforms such as YouTube.
Their job allows them to play their favorite video games in the comfort of their home while being observed by thousands of online viewers.
Myth
He is an American gamer, who is famous on Instagram and YouTube.
In addition to featuring famous games, he is also a gaming video creator. He is a renowned gaming Instagram influencer with 6.4m followers.
#13. Real Estate
Real estate influencers create considerable interest in the real estate industry and provide future homebuyers with relevant information that will help them make rental or purchasing decisions.
Real estate influencers might be architects, designers, or other individuals who are enthusiastic about posting content about real estate.
Ryan Serhant
Ryan Serhant developed SERHANT, a real estate firm, in 2020. The firm is one of the most active in the field in the United States.
Serhant has more than 1.5 million followers on Instagram, and his feed contains images of luxury real estate in various cities.
#14. Virtual
Virtual influencers are computer-generated characters with human attributes and characteristics that are designed to be Instagram influencers. These virtual influencers are created by computer graphics software and have become a significant aspect of the digital marketing industry.
Virtual influencers are extremely famous among companies that hire them because of their absence of face-to-face interaction involved.
Miquela
An American CGI influencer known as Li-Mique was created by Brud, an AI firm, in 2016.
As well as being an Instagram influencer, Miquela is also a famous musician and YouTuber with over 3.3 million followers on the platform and has worked with numerous well-known marketing businesses such as Calvin Klein, Prada, and Dior.
FAQs
Let's take a quick look at the questions that people also ask about types of influencers.
#1- Who Is An Example Of An Influencer?
An influencer is somebody who has the power to affect the buying decisions of others because of his or her authority, knowledge, position, or relationship with his or her audience.
Justin Bieber is the best example because he is the most money-making influencer in 2022.
#2. Who is An Ideal Influencer?
To be an ideal influencer, you must first have a sizable audience. This can be achieved by posting regular content that is interesting and engaging.
Secondly, you must be authentic and relatable to your audience. People want to see someone who they can trust and relate to.
Lastly, the content you produce must be of high quality. This means well-written posts, quality photos or videos, and helpful or informative content.
#3. What Is a Niche Influencer?
In social media, a niche influencer is defined as an individual with a strong influence on a specific group of people. These influencer groups can be defined by factors such as interests, age, location, or even gender.
Conclusion
In conclusion, there are several different types of influencers on Instagram. Some are more popular than others, but all have the ability to attract a large targeted audience.
If you're looking to get your message out there, consider using an influencer. Just make sure to do your research and choose one that's a good fit for you and your brand.
If you are looking for the best way to find the right influencer for your brand, don't miss any more time, and sign up on Ainfluencer now.