When it comes to video games and gaming bloggers, YouTube and Twitch seem to be the best platforms for influencers. However, due to its increasing popularity among younger generations, especially Gen Z, gaming influencers on Instagram reach a huge audience on this leading platform.
Instagram's various features, such as stories and links in bios, have led to influencers' rise in every niche and industry. These features enable influencers of all kinds to increase their engagement rate and grow their followers organically! So that you can find the best influencers on Instagram and start collaborating with them.
This article will focus on the top gaming influencers on Instagram and explain how you can use AiGrow to grow your followers on Instagram as a gamer, and Ainfluencer to find, negotiate, and start collaborating with influencers on Instagram using its incredible features.
So, without any further ado, let's jump right in!
Who Are Gaming Influencers
Gaming influencers on Instagram or other channels are content creators who stream live video games with an online audience. They may also discuss video games and review them to attract targeted audiences in this niche!
Gamer influencers usually are famous YouTubers and share their videos on this platform. More importantly, like other influencers, they are trend makers and influence our decisions and purchases!
Top gamers on Instagram can sell relevant products and services or collaborate with advertisers as video game influencers. Their followers are relevant to gaming, so you can work with them and expand your loyal following. And by promoting your game products, you can turn your followers into consumers.
For instance, @Sypherpk, one of the best gaming influencers, has teamed up with JBLAudio to promote their headphones!
He also collaborates with Fortnite, one of the metaverse-like games, as one of the game's characters. Although metaverse marketing is still in its early stages, Hassan's studio is the latest in a wave of dedicated Fortnite development firms that have developed to satisfy marketers' needs.
Brands can find and collaborate with these gamer influencers to promote their products and services and make a fortune. Finding the right influencer in your niche is not as easy as you may assume. It's a kind of tedious and time-consuming process.
Are you looking for a way to simplify this process? Then take advantage of an influencer marketplace like Ainfluencer.
How To Find Gaming Influencers
Influencer marketing is a demanding process. Whether you are a business owner, looking to team up with influencers, or an influencer, trying to find sponsors, you need help!
Using the best influencer marketplaces is one of the best ways to find, collaborate with, and negotiate with brands or influencers. Ainfluencer is one of the best platforms. Read the Ainfluencer review to learn more about this fantastic service.
So, to make it easier and cost-effective, start using Ainfluencer!
Ainfluencer is an influencer marketplace that aims to make your marketing efforts effective! If you're a brand owner, you can use this AI-powered tool to identify the best influencers for your niche. And if you're an influencer, you can use it to make and approve offers!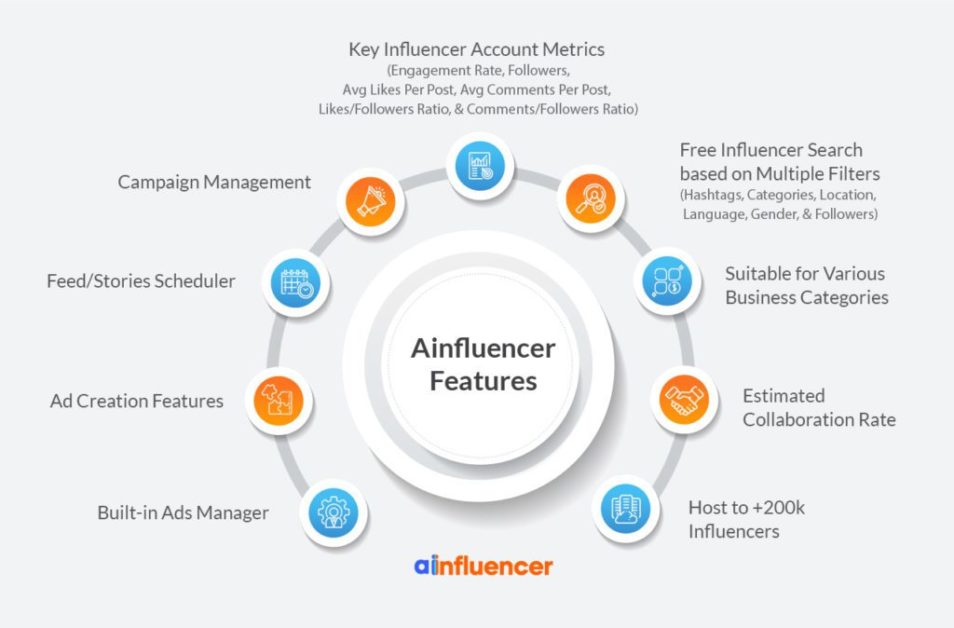 Ainfluencer features include:
This marketplace is 100% Free to use for its DIY plan.
It is risk-free and keeps track of your influencer marketing campaigns and holds your funds.
Artificial Intelligence is used on the platform to help users discover influencers.
It is fast, easy, and smart.
There is a built-in chatbox to let brands and influencers negotiate the marketing terms and close deals.
Ainfluencer offers real-time analytics.
It allows brands to create marketplace ads.
Ainfluencer shows you account information like engagement rate, average comments, and likes, comments to followers ratio and likes to followers ratio for influencers.
Heading back to our main topic, let's get to know the best and most famous gamer influencers on Instagram.
Top 20 Gaming Influencers On Instagram
Gaming bloggers used to be more active on YouTube and Twitch because of Instagram's limitations regarding video length! Video game influencers publish long how-to videos and live streams, making these platforms their ideal choice.
However, since Instagram IGTV videos allow Instagrammers to share 60-minute-long videos, they can now share more consistently on this platform. They can also share videos from YouTube directly to Instagram. So, let's see who the top gaming influencers on Instagram are!
#1 @Pewdiepie: Top Gaming Influencers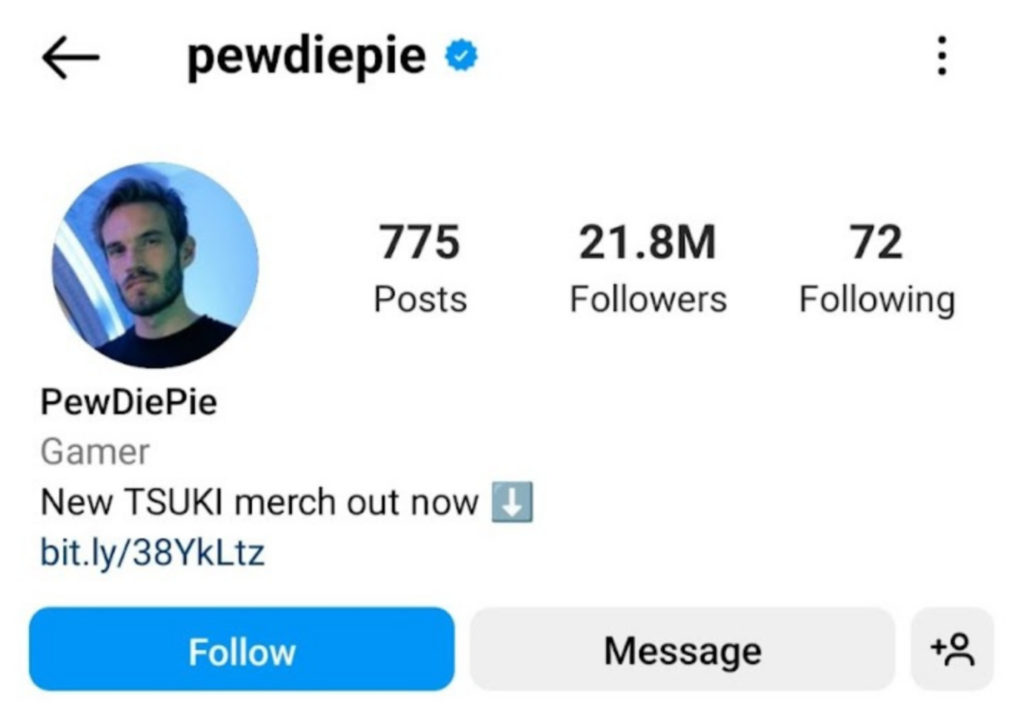 This Swedish YouTuber is one of the most subscribed gamers on YouTube with more than 109 million subscribers! He is also very well-known on Instagram with over 21.8 million followers!
PewDiePie is recognized for his 'Let's Play' videos, and has collaborated with other gamers such as KSI. On his Instagram page, he shares a variety of content such as photos of his playing, news, his personal life, Vlogs, etc.
He is among the top gaming influencers on Instagram because of his popularity. According to his fans, he is the real celebrity out there!
#2 @Mongraal: The Best Gaming Influencers
Kyle Jackson with the @Mongraal username is one of the best gamer influencers with almost 4.5 million followers on Instagram. He shares his videos on YouTube more consistently. He shares his Twitch channel on his bio. You can also watch some of his best moments on Instagram.
Kyle Jackson Gaming Influencer page:
#3 @Sypherpk
SypherPK is one of the video game influencers who first gained tremendous popularity on YouTube. He now entertains a whopping 5.7-million YouTube subscribers and more than 2.7 million Instagram followers on Instagram.
Alongside paid partnerships with brands, he sells his own branded merch. He founded Metal Umbrella, an apparel brand, and he promotes it on all platforms, as you can see on his Instagram bio.
#4 @BenjiFishy: Teen Gaming Influencers
Another young Instagram gaming influencer is the 17-year-old Benjy Fish. As a professional, he started when he was 13 and now enjoys 2.2 Million Instagram followers. He shares engaging Instagram posts and makes his audience interact with his content.
It goes to show that the future of becoming social media influencers is still bright and shiny if you offer valuable, relevant content.
#5 @CourageJD
Among our list of top gamers, we also have Jack Dunlop. He also sells branded merchandise and has shared a link in his bio to get more sales. He is also a famous YouTuber and Co-owner of @100thieves.
#6 @TypicalGamer
Well, the name says it all! Andre Rebelo, better known as TypicalGamer, is one of the famous gamers on social media. He is unbelievably successful on YouTube, with more than- wait for it- 12.4 million subscribers!
Yet, because he doesn't share much consistent content focused on gaming and video games, he has only gained 716K Instagram followers. So, it's safe to say that he has the YouTube algorithm figured out but couldn't do equally well on IG.
#7 @GamingWithJen: Top Female Gaming Influencers
GamingWithJen: Female Esports
One of the giants among gaming influencers is Jen, a famous gamer girl who is now a mother. Her YouTube subscribers exceed 5.2 million, and her Instagram followers exceed 940K. Unlike other gaming bloggers we've had so far, she rarely shares her video game streams on Instagram.
#8 @NoisyButters; Another Famous Gamer Girl
Hannah Bryan indeed deserves a place among our list of gaming influencers on Instagram! As one of the best gamers, she enjoys popularity on YouTube and Instagram, having 1.19 YouTube subscribers and 239K IG followers.
She's also attentive to the power of paid partnerships and getting sponsored, as it's evident from her recent collaboration.
NoisyButters Partnership
#9 @WeedZao
Yet another is WeedZao, one of the Brazilian gaming bloggers and content creators. He shares his moments besides gaming videos and has managed to grow IG followers to a surprising 4.7 million followers.
#10 @Emziatv: Gaming Micro Influencer
Gaming Micro-influencer: Emzia
Last but not least, Emilie Helgesen is a Norwegian streamer on various platforms. She is among the best gaming micro-influencers and will continue on her path!
#11 @Ninja (Tyler Blevins)
Tyler Blevins, also known as @Ninja, is a well-known YouTuber. He is an American video game professional that is active on Instagram and has 12.7m followers.
He won over countless fans with his energetic streaming of popular battle royale games like Halo. As of October 2022, Tyler Ninja Blevins' net worth is estimated to be $40 million.
#12 @reidkboehm (Reid Boehm)
Reid Boehm, also known as @reidkboehm on Instagram, is a video game creator. Reid Boehm creates gaming content and has 1.5 million TikTok followers, 300,000+ YouTube subscribers, and 20.3K Instagram followers.
So he can be considered a famous TikToker in gaming. Additionally, his Instagram account has a high engagement rate and loads of hilarious videos that only real gamers will follow him.
#13 @Markiplier (Mark Fischbach)
He is a YouTuber from the United States. Mark Edward Fischbach, also known as @Markiplier on Instagram, creates videos ranging from quality content to meme-worthy garbage, from scary games to full-fledged interactive movies.
He relocated from Honolulu, Hawaii, to Cincinnati, Ohio, where he started his career. The amount of his earnings is $14 million.
#14 @Jacksepticeye (Sean McLoughlin)
Seán William McLoughlin, an Irish gaming YouTuber better known as @Jacksepticeye on Instagram, was born on February 7, 1990. He is best known for his humorous Let's Play series and vlogs.
#15 @Stonemountain64
David Steinberg, known on Instagram as @Stonemountain64, is a successful game video creator and YouTuber. His contributions to the gaming industry are numerous and inspiring. On Instagram, he introduces himself as a basement commanding officer, co-founder of @pipelinegg, and doggo of @lifeoflittlebear.
His efforts to assist aspiring gamers are also commendable, as he mentors others to become like him. His net worth is estimated to be between one and five million dollars.
#16 @Andrascorner
@andrascorner Andra Gamer is a PC game setup fanatic. She is a well-known gamer girl with 99.2 thousand Instagram followers. She can be considered a micro-influencer to promote games and game-related products because she shares eye-catching photos, making her a good choice for this purpose.

Use the best influencers marketplace, such as Ainfluencer, to begin negotiating and convincing such influencers to work with you.
#17 @Esportalerts
League Alerts – Gaming has 24.1k Instagram followers under the username @esportalerts. He shares gaming news and media-related posts. He participated in affiliate marketing with @leaguealerts and included affiliate links in his bio.
As the upcoming best gaming page on Instagram, he could be a good choice for those looking to start working with a micro-influencer in the game niche.
#18 @Prestonplayz (Preston Arsement)
Preston Arsement, who goes by the Instagram handle @Prestonplayz, is one the most famous gaming influencers on Instagram. He has 1.7 million followers and shares game posts do influencer marketing and is an affiliate with brands, among other things.
#19 @DanTDM (Daniel Middleton)
Daniel Middleton, better known as TheDiamondMinecart or @DanTDM, is a well-known and family-friendly YouTuber. In 2012, Middleton launched TheDiamondMinecart, a gaming channel. On December 12, 2016, he changed the name of his channel to DanTDM.
He currently makes videos from his Wellingborough home studio. Middleton's content is primarily aimed at children. And his annual earnings exceed $12 million.
#20 @Epicsoulcry (EpicSoulcry)
One of the funniest Instagram influencers for video games is @Epicsoulcry, who is from Malaysia. He has 12.6K followers and is eager to give them more laughter and fun each day. He is also one of the top YouTubers for gaming who publishes on this platform.
Instagram is home to some of the most influential gamers in the world. These gamers have a massive following of fans who look to them for gaming tips, reviews, and news. If you're looking to stay up to date on the latest gaming trends or just need some inspiration, then these are the gaming influencers you must follow. One of the best tools to keep up with these influencers is FN accounts shop. FN accounts shop provides you with the latest news on gaming influencers and their activities on Instagram.
The Benefits Of Instagram For Gaming Influencers
As mentioned earlier, other platforms may be better considering the nature of streaming live games. So, what's in using Instagram as another platform for gamers?
1- Instagram Is The Most Popular Platform For Influencer Marketing
Being a highly visual-centric platform, Instagram paved the way for many businesses and niches to grow. And the gaming industry is not an exception!
Many Instagram gaming communities exploit the platform, and some have even become brand ambassadors on Instagram.
The growth of influencer marketing on Instagram is impressive. Based on a study by eMarketer, Instagram is the most popular platform of choice for social influencers worldwide.
When all the online world's eyes are on Instagram, can you ignore it as a super-powerful promoting platform?
2- Instagram Helps Gaming Influencers Find New Audiences
Avid gamers already know where to follow their favorite gaming influencer. But what about other more extensive groups of game lovers? Instagram now has over one billion active users, and it continues to grow every day, making it a paradise to discover new topics!
3- Instagram Offers Great Tools For Gaming Influencers
Instagram has developed so many new features in recent years, and many of them can come in handy for gaming bloggers. Now, gaming influencers can use IGTV to upload high-quality videos for up to one hour. Or, they can even stream using Instagram Live to share their moments.
Also, with the ability to build a free Instagram shop, gaming influencers can sell their marches directly. Instagram allows them to promote their affiliate links by adding external links on Instagram Stories and Link in Bio features.
Considering these features, it's no wonder many gaming people turn to Instagram these days!
How To Become A Video Game Influencer
Want to become a gaming influencer on Instagram? You can read our complete guide on Instagram micro-influencers, which will surely help you take the first steps.
The following Instagram tips are helpful, especially for beginners and first-timers.
1- Use AiGrow's Growth Service
As an influencer, a part of your success depends on how many engaged, interested followers you have. But it's honestly not that easy to find and attract a target audience.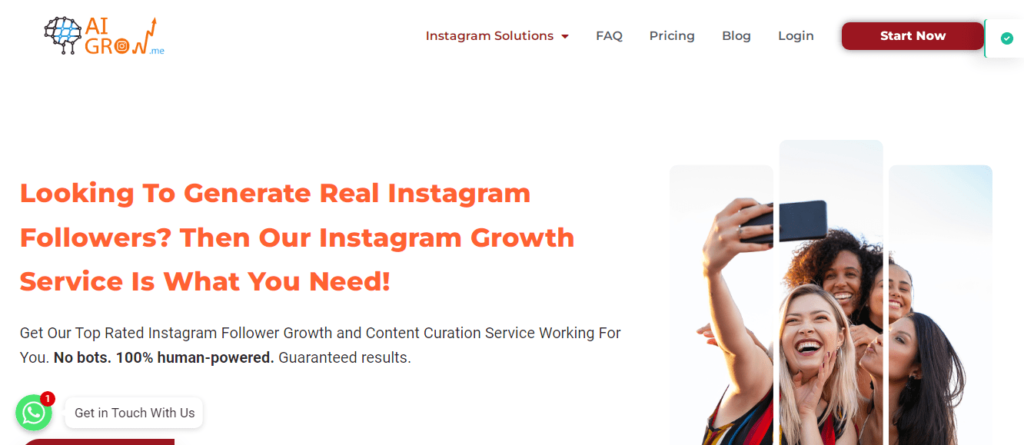 AiGrow offers many excellent features to be one of the best Instagram account management services. Among them, it has a trustworthy growth service that uses AI-powered tools to find the followers you want based on the location and hashtags you specified!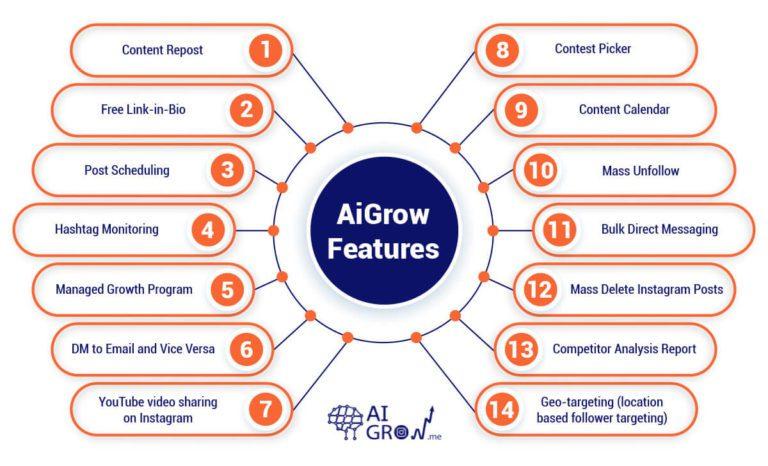 Using this platform, you will have a professional manager who can address your needs and ensure your success!
Sign up on AiGrow right now to access all the fantastic features!
2- Collaborate With Businesses Using Ainfluencer
An excellent strategy for attracting a target audience while earning money is to partner up with brands and businesses. But usually, brands ask specific influencers for collaboration, not the other way round. So, should you sit on your hands and wait for someone to notice you?
Of course not. We have the perfect remedy for you! You could use a reliable platform that enables influencers and brands to connect.
One such platform is Ainfluencer which can be the gaming influencers agency. Ainfluencer conveniently simplifies the whole process of finding relevant brands!
It has impressive features, allowing you to
Sift through the marketplace ads put up by relevant businesses,
Make offers to those you would like to team up with,
Accept offers from brands,
Chat directly to discuss strategies and campaigns,
And negotiate payment arrangements!
It is genuinely user-friendly and free to use! Start with Ainfluencer right now!
3- Post Consistently
It's needless to say that the key to Instagram success is consistency! No matter how appealing and interactive your content may be, you won't get the attention you deserve if you are inconsistent!
Don't forget that you should also pay attention to the best times to post on Instagram. If you have enough quality content to be consistent but put up posts when your audience is not active, your engagement rate will decline. Or worse, you may lose Instagram followers!
If you are looking for a way to schedule your Instagram posts and have a regular consistent presence on the platform, you can use AiSchedul which is an intelligent post scheduling, content linking, social monitoring, and contest tool for Instagram marketers.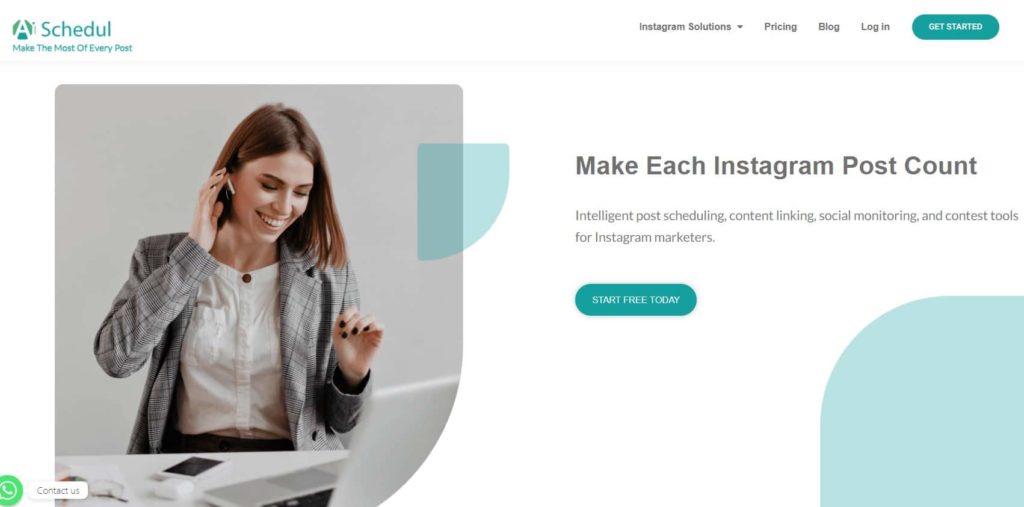 So, don't waste a second more and sign up on AiSchedul to start getting organized instantly!
4- Link Instagram To Other Social Media
One of the best tactics for building your career as a gaming influencer is to cross-promote your social media channels. You can add your Instagram link to your other social media bio or vice versa.
Unfortunately, Instagram only allows you to add a single clickable link to your bio and many influencers choose to only add their YouTube link. Well, what if you also want to add your Twitch or Twitter?
Don't worry; I know how to get around this limitation: MyURLs.Bio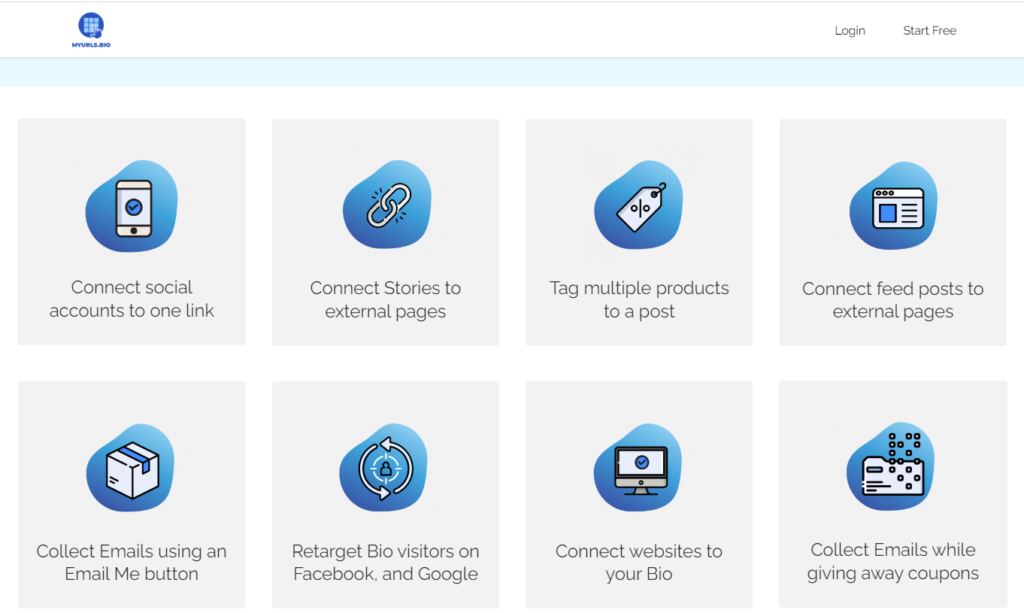 MyURLs.Bio is an excellent Instagram service with features such as an all-in-one link bio. With this tool, you can add unlimited external links to your bio and even add hotlinks to each post and story!
How Do Gaming Influencers Help Businesses
You may think that games and gamers belong to the fun world of entertainment rather than serious businesses. After all, these influencers are a number of individuals who have fun playing video games, right?
Well, let me assure you that they are more than that. And they can be of great help to any business out there that's trying to grow and make more money on Instagram or other platforms.
Here are three reasons why you should hire gaming influencers:
#1 Unique Large Audience
Let's face it! Millions and millions of people are playing video games these days. Gaming companies are designing their games in a way that is appealing to everyone regardless of their age or gender.
In 2022, we can no longer attribute gaming to children or teenagers. Perhaps, it's the one common interest among children, teenagers, and adults. We also have so many female esports who are very well-known and popular on YouTube and Instagram.
Usually, influencers draw the attention of a specific group of people and can make a lot of money as influencers for this reason. Take beauty bloggers who mostly attract female audiences, for instance. However, influencers in the gaming industry have surprisingly been able to attract people with different tastes.
Therefore, by partnering up with the gaming influencers on Instagram, you can open the doors to a variety of new audiences, and skyrocket your business growth on Instagram.
Isn't that just amazing? We think it is!
#2 Loyal Fandom
What's really fascinating about gaming influencers is that they have incredibly loyal fans who will take their word for everything without hesitation. That's why they can easily change and influence the gaming trends.
To do this, all they need to do is to shoot a video and talk about or play a particular game; say, Call of Duty. Then, everyone who watches that video will go and play that game!
Nevertheless, if they introduce your business or products in their videos, their fans and followers will definitely buy your products or use your services!
#3 Real Feedback and Reviews
You need to bear in mind that most top gaming influencers only introduce and advertise products and services in their videos that are of high quality. Most of them do a real review of those products or services, elaborating on their pros and cons.
This can be a great opportunity for you because by collaborating with these influencers, you get to hear from people with first-hand experience of using your services. Then, you can improve the pros, and work on the cons to offer better products.
FAQs On Gaming Influencers
We have discussed the top gaming influencers so far, so let's see some of your other common questions!
1- How Many Followers Do You Need To Be A Gaming Influencer?
You need at least 1,000 followers to be known as a gaming influencer! But don't worry if you don't have a high follow-count. You will grow over time!
Plus, nano-influencers with 1K-10K followers and micro-influencers having 10K-100K followers tend to develop more engagement. As a result, they generate higher ROI, making them attractive for major companies.
2- Are TikTok Gaming Influencers Famous?
TikTok is not the ideal platform for this purpose. That's why we don't have many successful TikTok gaming influencers.
However, if you want to do it for fun, you can surely start. Besides, by linking your social media, you can get more followers and turn the followers into loyal customers of your branded merch!
3- How Much Money Do Gaming Influencers make?
Shortly, a lot!
Rumor has it that the top gaming influencers like Ninja and PewDiePie make over 20 million dollars a year in this industry! Crazy, right?
Final Thoughts On Gaming Influencers on Instagram
This article focused on the top gaming influencers on Instagram. Now, if you wish to make a name in the world of gaming influencers, you can follow their example! Plus, bear in mind to use the tips mentioned in this post and get help from professionals like Ainfluencer!
Also, if you're passionate about video games and hope to become a gaming influencer like the ones mentioned in this article, don't forget to give AiGrow a try to accompany you in this journey!