In the face of the COVID-19 lockdown, businesses have turned to online platforms, like Instagram, to market and sell sell their products. Learning how to turn Instagram followers into customers is a must in this atmosphere! 
According to Meta for business, there are more than 200 million business accounts on Instagram, and they all want to change followers to clients. It's no joke; the competition is fierce!
And as a result, finding effective Instagram marketing strategies has become more challenging for the former, current, and emerging accounts. Yet once you identify the best strategies, you can grow organically on Instagram and sell products.
If you want to be a winner in this intense competition, we're here for you! We've dedicated this article to teach how to turn Instagram followers into customers!
So let's dive in, shall we?!
Why Sell on Instagram
In general, social media marketing is a highly effective way, and even more so on Instagram! 'Why?' you ask? Let's see! 
As of 2022, Instagram entertains more than 1 billion users worldwide! Not to mention that according to Instagram for business, 90% of Instagrammers follow at least one business account on Instagram. 
These numbers indicate how Instagram has become the perfect platform, enabling businesses to sell anything and individuals to buy what they want! So, when all your rivals use Instagram to their advantage, why wouldn't you?!
Why not, seriously? As a popular social media with millions of daily users, Instagram presents an unparalleled opportunity to attract a target audience and reach potential customers from all over the world. 
It's cheaper, wider-reaching, and far more effective than traditional advertising. Therefore, it is wiser and more profitable to invest in Instagram and find loyal customers among your followers.
Besides, according to the head of Instagram, Adam Mosseri, they will be valuing creators more in the future of Instagram. That is, there will be more features and tools, simplifying the whole process of shopping and promoting products!
Now that you know how essential it is to promote your business on Instagram, you must have more questions! So, let's find out how to gain Instagram followers for business and how to turn those followers into customers!
How to Turn Instagram Followers into Customers
According to @InstagramForBusiness, 44% of Instagrammers use this platform for shopping every week. So, many of your potential customers are out there shopping from your competitors! How can you change that?!
Here you will learn how to turn followers into customers on Instagram. Keep in mind that each strategy matters and can remarkably influence the outcome.
#1 Post Actively
If you'd like to find out how to turn Instagram followers into customers, the first important rule of thumb is to always be present in your followers' feed. 
You should constantly produce content and post them at least once or twice a day. Remember that the first step to selling your product is the high engagement of your followers with your content. And this would not happen unless you keep posting valuable content.
Besides, you should keep in mind that consistency doesn't mean posting at any time or when it suits you! It should revolve around your audience. And most importantly, you should upload your content during the best times to post on Instagram. 
Are you worried because you don't have enough time to upload content at any moment? Hopefully, we live in the 21st century, and there is enough technology to solve the shortage of time! You can use a reliable Instagram marketing tool to schedule your content! 
AiGrow to the Rescue
AiGrow is a growth and management tool that enables organic growth. This unique platform offers Instagram managers to handle your growth strategy, content scheduling, and more!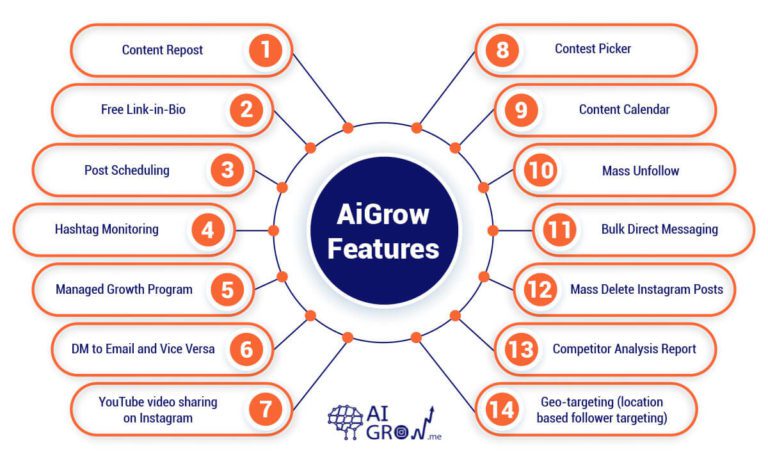 Under the Scheduler tab on AiGrow, you can add a photo, write an engaging caption, include multiple hashtags, mention other accounts, and share your location. Once you're done, you can post immediately or set a time for the post to be uploaded automatically by the scheduler. 
This app works both for posting on your feed and story. One good thing is that if you add a hashtag, it automatically suggests a lot of related hashtags, among which you can choose (tick) for your post. If you're interested to know more about AiGrow features, read this AiGrow review.
Sign up for AiGrow now to get immediate access to the scheduler!
#2 Interact with Your Customers-to-Be
After scheduling your Instagram posts and ensuring consistency, it's time to get to know your audience! By analyzing your analytics, you can start the process and find out about their interests and what appeals to them.
One good strategy would be to have a friendly chat with them and foster a strong relationship. To do so, you can post a photo or video and ask questions from your followers about their opinion or simply add a poll sticker to your story. 
Hence, you can interact with them and shape a good relationship.
#3 Write an Appealing Bio And Turn Instagram Followers into Customers 
When an Instagrammer comes across your page on the explore feed, they will visit your profile if you have appealing content. In this case, your bio is literally the first thing they see. 
Now, if you want them to leave a positive first impression, you need to write a catchy bio that accurately describes your business or your brand. 
Previously, we have discussed how to write the best Instagram bios. You can refer to it for further guidance on how to write your perfect bio. But as long as it's creative and descriptive, you're good to go.
#4 Inspire Followers and Create Trust
You're here to learn how to get customers on Instagram, but it shouldn't make you ignore the nature of this platform. Instagram is a social medium, and if you try to take the 'social' out of it and treat it as a marketplace, you simply won't make it.  
So, share your thoughts and feelings. That is, don't be afraid to be vulnerable; delve deep and connect with your followers on a deeper level. Doing so gives your brand and business a human face.
How can you do that? Well, for your first step, do not fill your feed with your products and services because people resist buying your products if you constantly tell them to buy from you. 
Secondly, in your captions or videos, ask your followers to share their experiences, thoughts, and feelings. This way, you can accurately show that you care about their lives and mentalities. We should all take a page out of Nike's book!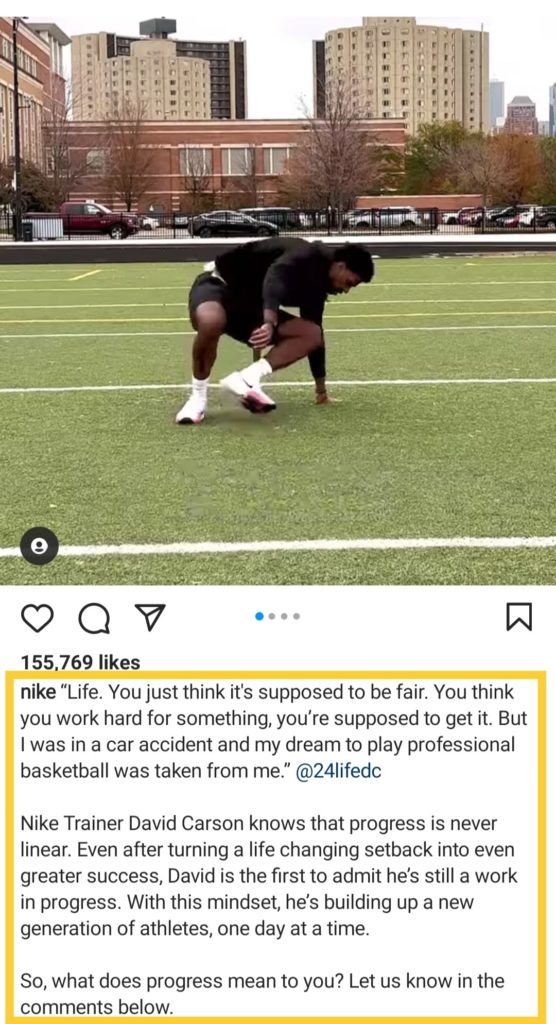 Taking these actions will create trust, which would lead to a successful trade.
#5 Be Authentic and Original
Do NOT show off, and do NOT pretend to be something or someone that you are not in reality. People are smart and easily recognize if your claims are not in line with your products and services. So, remember to set marketing strategies proportional to your values, facts, and realities. 
If you are not original or transparent, you may still have your customers, but it does not mean that you can always have them. That is, they may buy from you once, but that would be their first and last time they trusted you! 
So, if you want to know how to generate sales on Instagram, take authenticity and transparency into consideration! It helps build trust and increase your Instagram conversion rate!
#6 Be Creative to Turn Instagram Followers into Customers Tip
There is a fine line between posting repeatedly and suffocating your followers with posts! Keep in mind that you have to be creative or constant posting would only result in losing your Instagram followers.
People are easily bored these days, and keeping them entertained needs a high level of creativity. So, avoid posting a photo twice and invest in creative content. If you can't, you can resort to reposting. 
There are easy ways to repost on Instagram, and apps like AiGrow give you a wide range of reposting tools. For instance, you can write a new caption, choose lots of new hashtags, and monitor other rival accounts for inspiration.
Not to mention that with AiGrow, you get post ideas for the latest social media trends! So, wait no more and get immediate access to AiGrow right now!
#7 Exploit UGC
If you're still trying to figure out how to turn followers into customers, why don't you use the help of your customers?! 
Building a brand on Instagram is indeed a challenge. Yet, sharing User-generated content is one of the most creative strategies for establishing trust and increasing brand awareness on Instagram! Plus, this type of content provides social proof for your existing followers. For instance, this page has used USG by reposting a happy customer's picture with their product!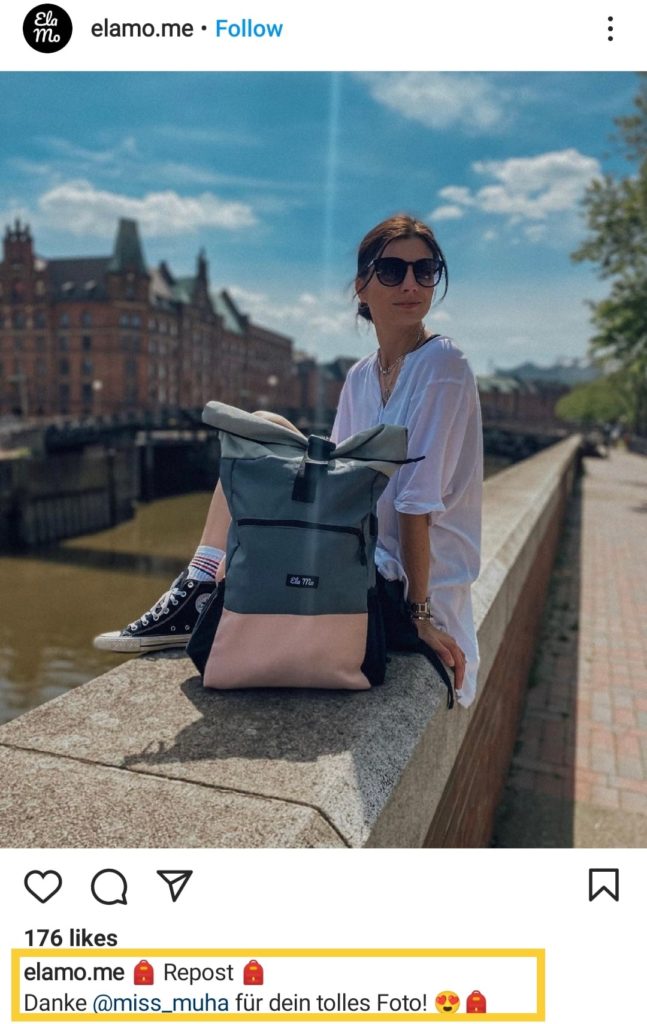 In general, whether you've run out of post ideas or not, give UGC a shot. You won't regret it!
#8 Add a Bio Link to Your Website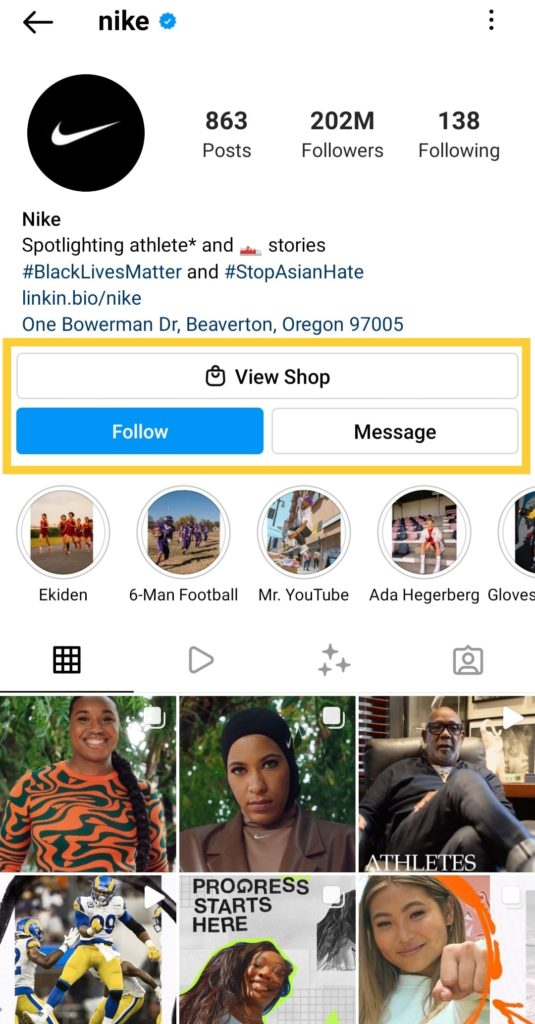 Your feed is the showcase of your business. Spend time to decorate it with beautiful covers for your story highlights. Use tools like Bannersnack, Canva, and Adobe Spark to make creative designs for your feed (and, of course, stories). 
But above all, add your website link to your bio. Since Instagram click-to-buy posts aren't available for every business account, you should refer your followers to check your bio for the link. 
Adding hyperlinks here indeed help grow your engagement significantly. However, Instagram does not allow for more than one link on your bio. So, what if you have more than one URL for your business? i. e. What if you want to share all your social media and website links on your bio?  
Another feature that AiGrow grants you is the Bio-Link tool. Bio-Link is a link to a page where you can include all your URLs and add them to your bio. So, let's say it's a wardrobe for your URLs! 

Watching the video below will give you any information you need about this platform!
https://www.youtube.com/watch?v=svFqStdYtgk&ab_channel=AiGrowSupport
#9 Run Contests/Giveaways
People have become competitors, and they like to compete in any field. As one of the rules of marketing is to affiliate your business to the needs of your customers-to-be, Instagram allows you to make perfect use of this behavioral element.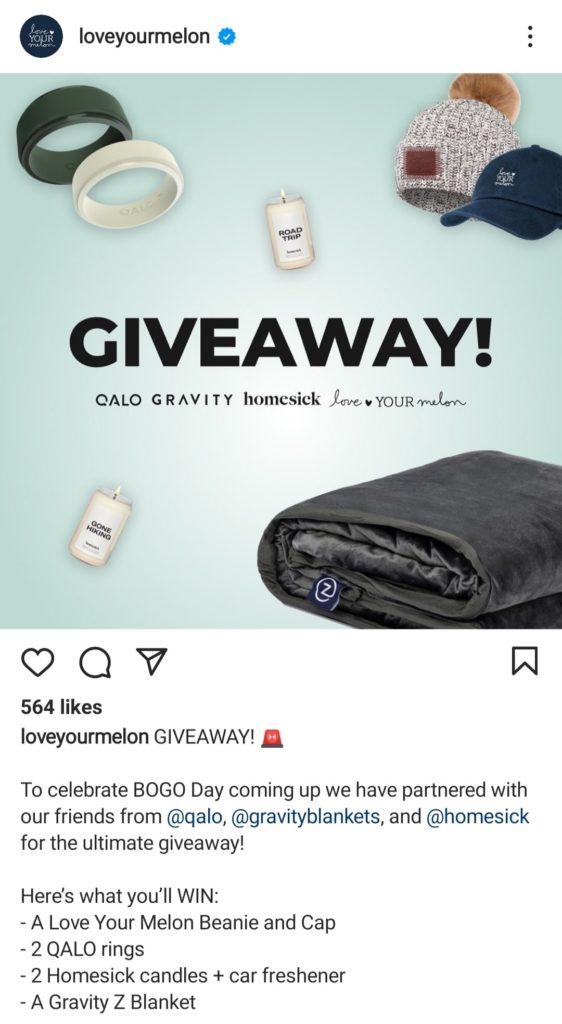 One leading strategy is to run contests or giveaways on Instagram. Whether you're trying to learn how to find customers on Instagram or turn existing followers, giveaways present the ideal opportunity!
They allow you to reach a wide range of people. And if you're smart enough, you can make them stick around as your loyal customers. 
So, be creative and use Instagram features strategically. Ask your followers to like your posts, mention their friends as a comment under your post, upload a photo and tag your brand. 
Or you can even ask them to send you emails – which would add email marketing to the basket as well. Then, you should also think of a valuable prize to grant them in return. Giving your products for free or sharing coupons could make for excellent gifts.
Moreover, there are ways you can automate your contests and giveaways so that you do not need to worry about managing them. For instance, AiGrow offers the most straightforward giveaway picker.  
AiGrow's giveaway picker allows you to upload your content and determine your giveaway rules and deadline. Then, it will select as many winners as you'd like in a blink of an eye! 
Experience your best giveaway with AiGrow right now!
Related Article: Share Instagram Coupons for Giveaways
#10 Organize Limited Offers and Promotions
What can you do to convert followers to customers?!! This question is frequently asked, and the answer is different for every business. But no matter what business you run, offering limited offers works perfectly well! 
Tempt your followers with offers! Think of the popularity of Black Friday, January discounts, or July sales in some countries (e.g. 'Saldi' in Italy). Offers are tempting whether you are running a traditional business or eCommerce. 
The difference is, when it is through online platforms like Instagram, it gets high chances to be seen and shared. So, take this chance and make a discount/coupon code for some of your products for a limited time. 
Enjoy both a wave of engagement and a great sale given by your new customers!
#11 Make Shopping Easy to Turn Instagram Followers into Customers 
Instagram is a user-friendly app. We do not need to spend hours explaining to our parents how to use Instagram. So, you should also keep your selling process easy and short for your customers on Instagram, or they would simply exit your link without buying anything. 
Respect your customers' time and consider your least smart follower when creating the shopping process.
#12 Collaborate with Influencers
Influencers are other channels that can showcase your products to their followers. So, collaborating with influencers, both micro-influencers and larger ones depending on your budget and brand can remarkably boost your sales.
#13 Use Shoppable Posts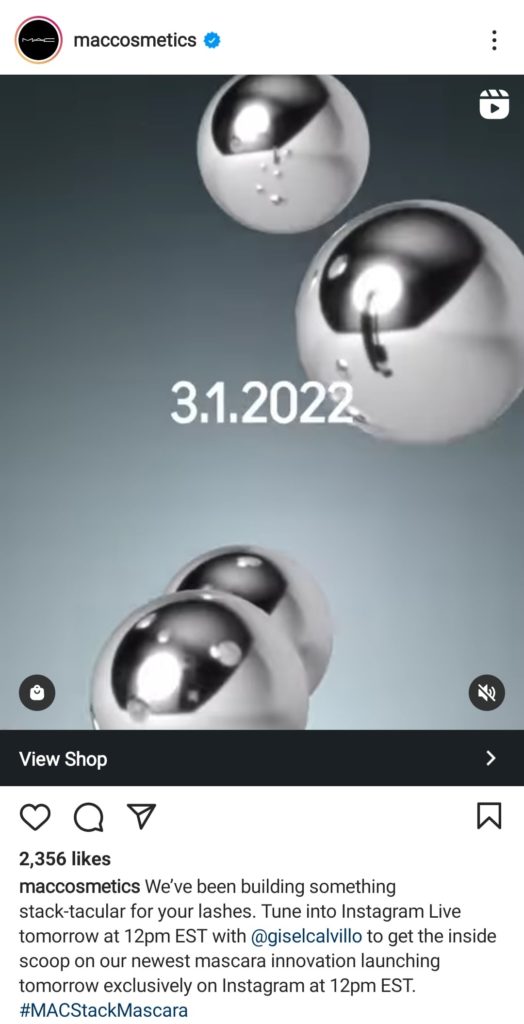 The shoppable Post feature allows you to have clickable product posts. What you need to do is:
Choose a photo of your product and tag your product on the post. 

Then, your followers can tap on the photo to see the name and price of your product and go to a page on Instagram to see the other images of the same product or the related products. 

From there, they can go directly to your website and buy the product. 
So, it is an easy way to turn your followers into customers! However, shoppable posts are limited to accounts with more than 10k followers. So, other accounts seem unable to use this feature. 
But smart people find their way, YES! AiGrow can provide shopping links and price tags for accounts with less than 10k followers. Not to mention you can use its growth tool to get more organic followers!
#14 Emphasize Your Customer Service
When learning how to turn Instagram followers into customers, we often forget to mention that customer service is a priority!
More than any other aspect of your business, you should present a good image of your customer service to your followers. Ensure warranties, free exchanges, or a 24/7 online help center. 
The customer service you can provide depends on the type of your business. However, what matters most is to highlight what you can offer. 
Excellent customer service builds trust and guarantees your customers that you support them after their shopping.
#15 Make the Most of IG Story Features
Posting on your feed is genuinely helpful. But, don't forget that your Instagram posts only reach a number of your followers while your stories are visible for every single one of them! 
And yet, we're not recommending Instagram stories only for the sake of more visibility. But because of the interesting features, you can also develop creative ways to use stories!
For instance, you can share music, include a link, or even put up polls and quizzes to get to know your followers. In a survey, 57% of Instagrammers stated that they prefer seeing polls and quizzes on brand pages. For instance, Mac Cosmetics constantly uses polls in stories: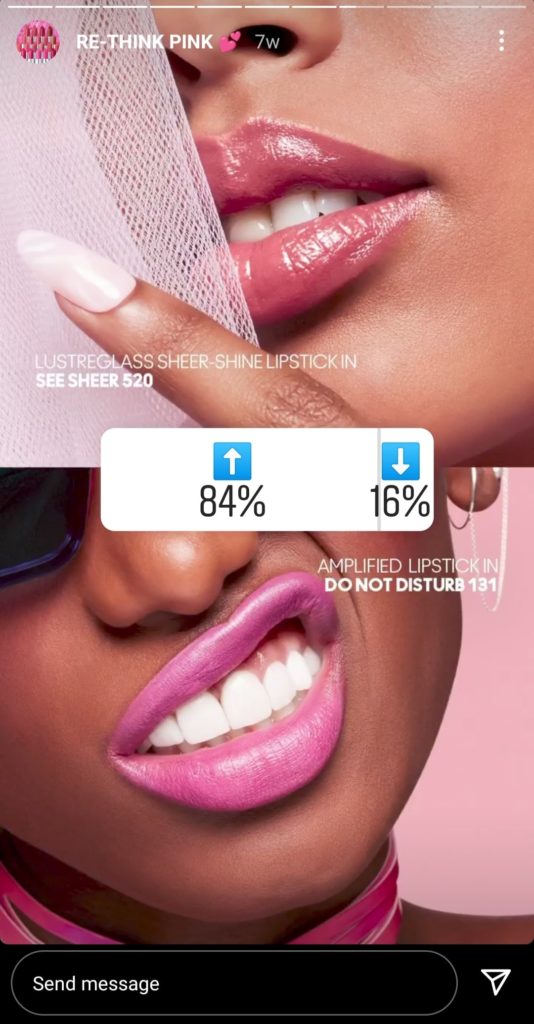 So, what are you waiting for?! Make some excellent content and share it with your audience!
#16 Send Personalized DMs
Sending personalized messages to your followers or leaving an advertising comment on their posts can be an excellent way to attract more engagement to your page. 
But, first, you need to have a creative and impressive page so that those who have visited your page will get encouraged to follow you and turn into a customer later. 
Even in this respect, AiGrow offers a practical tool! You can use its DM tool to write a message and reach out to potential followers or customers. Or, even if you'd like to send an automatic response to those who message you, you can prepare a message!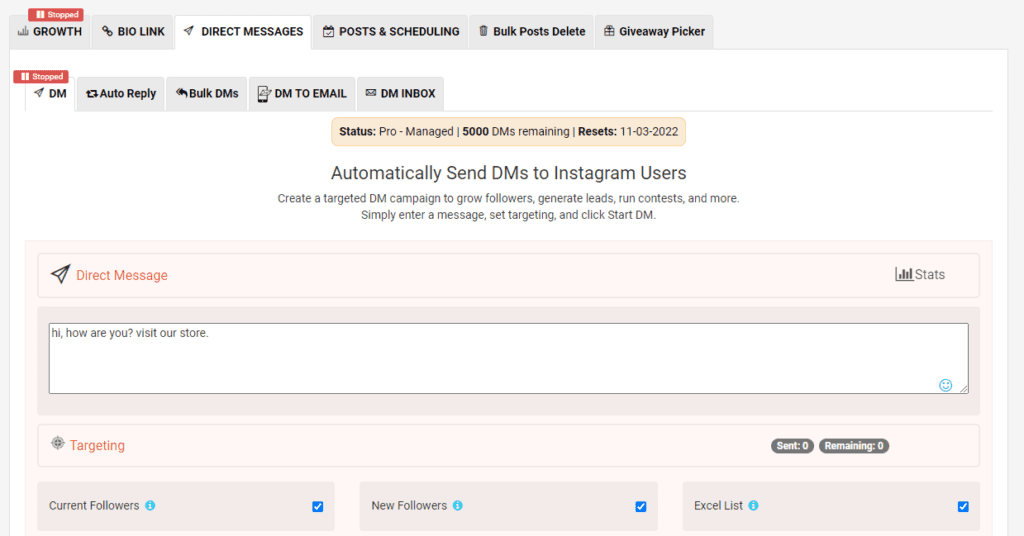 Get more out of Instagram by creating a free account on AiGrow now!
#17 Tell Your Story to Turn Instagram Followers into Customers 
Another way to attract customers and their trust is to be friendly and tell the story of your brand or company. Share information on how you started your work, post photos of your team members, film behind-the-scene videos, or any other activities that you think are suitable for your business. 
This is how you will build ties with your followers, which would encourage them to support you by buying your products or services. 
Conclusion
As today's world of technology necessitates businesses to go more towards online sales than traditional ones, it is helpful to know the marketing strategies of online platforms. 
These strategies and policies determine your success in the short or long run. So, it is essential to learn them and use them daily to grow your business efficiently and effectively. 
Here, we tried to introduce 17 foolproof tips to turn Instagram followers into customers. If you have any questions, leave a comment down below, and we'll answer them ASAP. 🙂