Have you ever thought of how to promote on Instagram? Or you might wish to promote your coupon with Instagram promotions but don't know how. One of the most recent features that make Instagram an ideal platform for growing businesses is the Instagram promo.
You can use Instagram for your business because it has become one of the largest marketplaces where everyone can build brand awareness and turn followers into customers. Instagram promo allows you to promote your posts and stories to a particular target audience. 
Since you can exploit this feature to promote your Instagram coupon and loop giveaways, we have decided to discuss this subject at length. So, let's learn how to use Instagram promo and how to create and share an Instagram coupon!
In this post, you will also learn how to use additional tools, one of which is AiGrow, to manage and share your coupons.
Let's get started, then!
What Is Instagram Promo
'What is a promo on Instagram?' You asked, and we're here with a complete answer!
Instagram promo or Instagram promotion is a relatively new feature, similar to the 'Boost Post' option on Facebook. This feature allows you to turn your existing stories and posts into promoted ones. That is, you can pay money to have Instagram promote a previous post and attract the target audience you want based on your preferences. 
Once you have chosen a post you'd like Instagram to promote, the duration of the promotion, and the defining characteristics of your target audience, Instagram will show it with a 'Sponsored' tag. You can also add a CTA button to make shopping or downloading easier.
Advantages Of Instagram Promotion
With many audiences, Instagram is the king of social media for raising brand awareness and maximizing engagement rate. Using Instagram promotion, you can boost Instagram posts and reels. This way, your content will show up for more people, and you can gain more followers and turn them into paying customers.
You may also drive traffic to your website by boosting a post that includes a link to your website. A boost post on Instagram can result in increased purchases or sign-ups, and you can track how many visitors click through to your site.
You will also reach out to target audiences. You may choose who sees your promoted post by using Instagram's targeting. You may also target clients based on their location, age, gender, interests, and more.
Additionally, you can gather marketing strategy data. Every boosted post will provide information on how well it performed. These indicators can help you see what's working and adapt your plans accordingly.
Another advantage of the Instagram promo is that you can boost posts on Instagram right from your phone. You don't need additional tools to use for it, however, using the best Instagram growth services like AiGrow you can manage all your acts and perform better.
How To Promote A Post With Instagram Promo
Now that you know what Instagram promo is, you might prefer it to Instagram ads! But how can you use Instagram promo for your engaging IG posts? 
First of all, remember that you should run an Instagram business account to access this feature. So, switch to a professional or business account on Instagram first. Now, follow the steps below to start with the Instagram promo. 
First, open your IG profile feed and select 'Ad Tools" or 'Promotions.'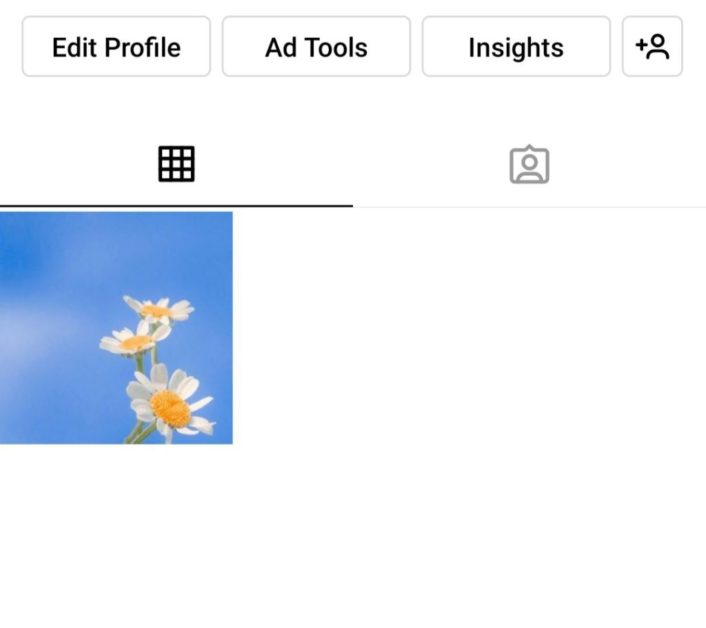 Now, you will see your top-performing IG post. Select 'promote top post' if you'd like to promote it. Otherwise, continue with 'Choose a post.'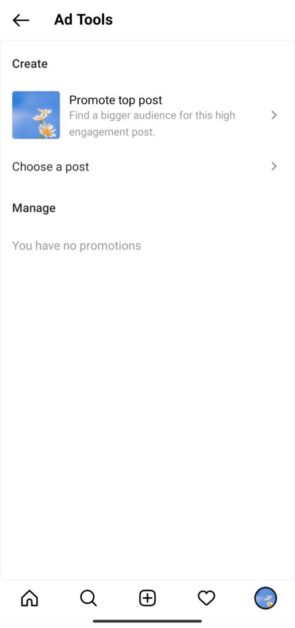 At this point, you select your goal. You must select a destination for 'More Website Visits,' which should be your website. You should also select your call to action (CTA) among the options that are offered.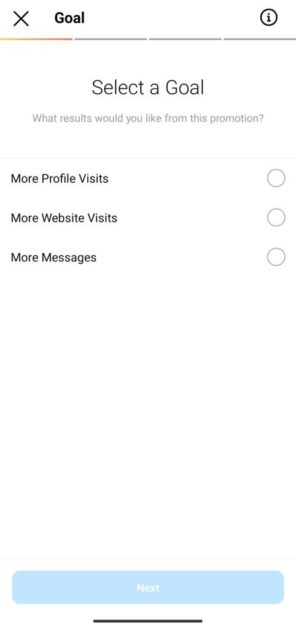 Then, you get to specify your target audience. If you'd like Instagram to target people similar to your followers, choose 'automatic.' If not, tap 'Create Your Own and fill out the blanks!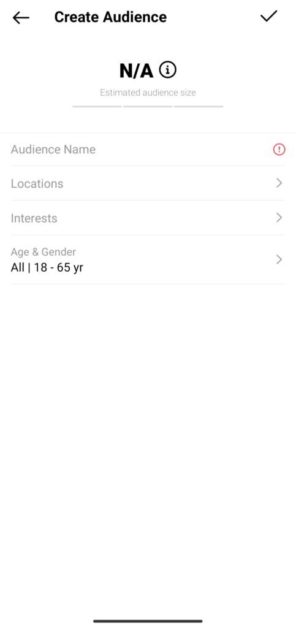 Finally, select a duration and a budget. Its cost will vary in terms of the duration you choose.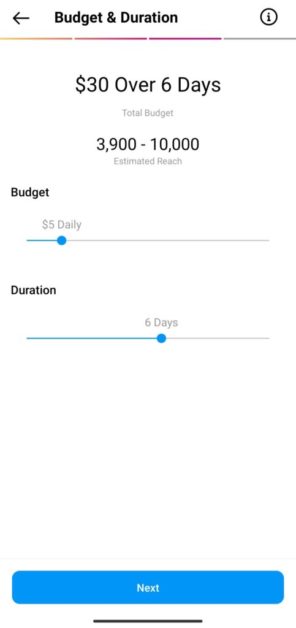 At last, preview to check if everything is right and hit 'Boost Post.'
Straightforward, right? Bear in mind that an excellent Instagram giveaway strategy is to exploit Instagram promo for promoting your loop giveaway or your Instagram coupon! Now, let's see what couponing on Instagram is and how you can make the most out of it!
How to Promote a Story With Instagram Promo
You can also boost IG stories that are now active, have been featured in your highlights, or have been archived. Take into account, though, that you can't use emojis, GIFs, or music on your story and can only add IG hashtags, location, polls, and other certain tappable elements that Instagram allows you to add.
The procedure for promoting a story is similar to that of a boosted post on Instagram, although there are some differences. To boost your Instagram Story, follow the steps below:
To promote your active story, after logging into the Instagram app, tap on your profile image to see your story.
Then select "Boost" by tapping its button in the bottom right corner.
To promote an older or archived Instagram story, go to your profile and tap on the three bars on the upper right.
To access your archived stories, select "Archive" from the drop-down menu.
Then the steps are the same as for promoting posts.
Once Instagram has reviewed and approved your Instagram Story promotion, it will become available. After 24 hours, the active story on your profile will be removed. However, it will continue to run as a promoted story for the length you choose.
What Is An Instagram Coupon
A couponing code on Instagram is a unique code, such as NYM24. You can give this code to all or part of your (potential) customers as a part of hosting giveaways on Instagram or as an offer to attract more customers.
Sometimes, brands use influencers to share catchy coupon code names. In this case, they might provide various influencers with different Instagram codes. Using this method, their followers use the influencer discount code and might even turn into loyal followers for you.
An ideal method is to use the Instagram promo feature to bring your catchy coupon names to attention. It can help you reach your audience and get more sales. But either way, remember that couponing on Instagram is highly effective.
When you're looking to find an Instagram influencer to cooperate with, don't only look at their follower numbers. Furthermore, you should work with someone whose values and target audience are similar to yours. Using effective platforms like Ainfluencer can help with this.
Using a reputable influencer marketplace like Ainfluencer is one of the quickest and easiest ways to see how to locate Instagram influencers to cooperate with your brand. This marketplace connects brands and influencers, allowing them to interact and collaborate.
Why Share Coupon Codes
On Instagram, you have numerous ways to promote your products or services, from partnering with influencers to running ads. If designed and represented correctly, coupons are great tools to boost sales on Instagram and grow your Instagram organically. 
Compared to other online social media, on Instagram, users tend to buy stuff more – even as a hobby. According to Retail TouchPoints, 72% of Instagram users make shopping decisions based on Instagram.
So, sharing discounts and coupon codes for Instagram users is indeed a worthwhile investment. You can even host giveaways and present the code as the prize. Then, you can use the best Instagram comment pickers. This way, you can attract new followers with discounted and appealing products!
Why Do Famous Brands Share Coupons With Instagram Promo
There are countless advantages to sharing an Instagram coupon and promoting it with the Instagram promo. These advantages have compelled many brands to exploit Instagram coupons, and users also embrace the opportunity of getting a great deal!
It's a win-win. That's why many thriving businesses share coupon codes. For instance, Mejuri provides coupon code names for their potential customers, which brings about their own success. The same goes for Great Clips!
These coupons don't just help the brands get more followers. They are also beneficial and popular with customers. That's why many people search for the Mejuri coupon code and Great Clips Coupon on Instagram to make purchases at a reasonable price. 
This section will discuss two main advantages of sharing a coupon on this platform.
1. Gain More Engagement With Couponing On Instagram
Everyone loves to gain more followers on Instagram. After all, it has more than one billion active users who can become potential customers. Using coupons, you encourage people to interact more with your page.
When you run an Instagram coupon campaign, you receive more likes, comments, followers, and profile visits, and as a result, your page's overall Instagram engagement will surge dramatically. So, distributing coupons on Instagram might be one of the best decisions regarding your social media marketing strategies.
You can read this article about Influencers Who Do Instagram Couponing to know how they get paid on Instagram using this method.
2. Increase Brand Awareness By Instagram Promo
Another great advantage of couponing on Instagram is the increase in brand awareness. When your followers see that you offer discounts, they pay more attention to your products and share them with their friends.
So, more people will recognize your brand and remember it in future encounters. It's needless to say how significant and fantastic it is for a brand to be known!
How to Create A Coupon Code On Instagram
We've mentioned Instagram promos and ads as ideal methods for sharing an Instagram coupon code. Now, let's go through these steps to learn how to create a coupon!
#1 Consider A Unique Instagram Coupon
To create a unique coupon on Instagram, follow these steps:
Choose an excellent coupon name: Although it sounds unnecessary, choosing a catchy name even for your coupon might be advantageous.
Choose whether your discount is a percentage of the cost or a specific dollar amount. People love details!
Choose which product your code applies to.
Set the promotional period for your coupon. You can give urgency to followers in the finishing days.
#2 Use AiGrow To Manage Your Coupons
AiGrow is a management and growth service, which can also help manage your coupon campaign efficiently. This excellent platform has various features, including an Instagram scheduler tool, giveaway picker, hashtag research tool, and post analytics.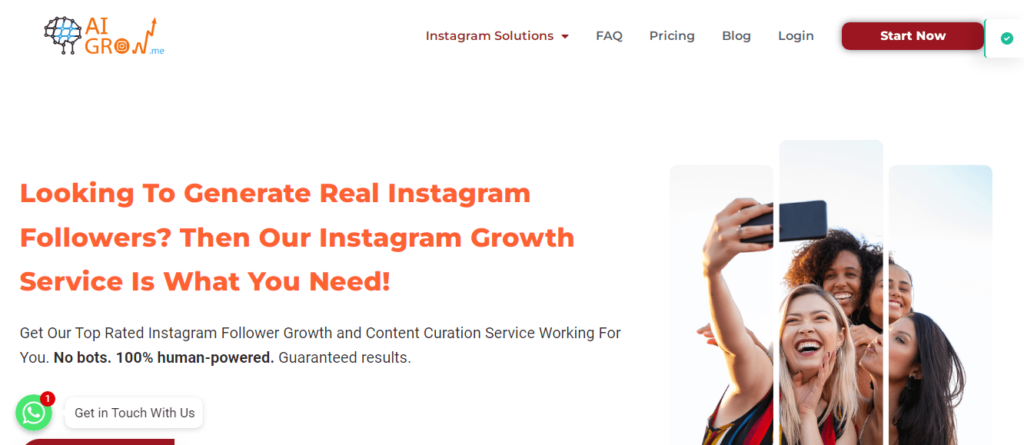 Alongside such fantastic features, you also get the Bio-Link feature that can help generate links for your coupon. You can add them as a CTA button to your posts, stories, or bio!
Using the Bio-Link tool, you will get a gorgeous page. Now, let's see how you can use AiGrow for your coupons!
How To Add A 'Receive Coupon' Button With AiGrow
AiGrow Bio Link
Then, scroll down till you reach 'Add buttons for rewards and giveaways.'
AiGrow Features
Tap on it and choose the 'Receive coupon button.'
Now you can draft an Email that the winners will receive and specify your conditions.
AiGrow
Once you're done, press 'Save.'
It doesn't get easier than this! Remember that apart from the email address, which is mandatory for fans to add, you can collect more information by adding more input fields. For example, you may ask them to add their first name or age!
After saving the changes, a button will appear on your Instagram bio. By clicking on "Request Coupon," your followers will add their name, email, and any other fields you have specified. Then, they will receive the code in their Email!
AiGrow
This excellent feature makes AiGrow a perfect tool for your coupon campaign. Instead of showing your Instagram coupon code to everyone, you lead the followers to a page where you can get email addresses from Instagram followers.
So, wait no more and sign up for AiGrow right now to get access to these fantastic features!
#3 Promote Your Coupon With Instagram Promo
Regularly publish posts and stories and inform your followers of the Instagram coupon codes. Once you notice that a post or giveaway is performing well, you can use the Instagram promo tool to promote your content and service through coupons and giveaways!
#4 Partner With Influencers
As you know, finding influencers and starting a collaboration is a great way to introduce your coupons. Influencers have their own style and niche. As followers put a lot of trust in them, influencers can easily persuade them to purchase your products on Instagram.
Also, you can even give each influencer a unique code to calculate their effectiveness in the campaign. If you have difficulty finding influencers, you can always use a reliable platform for finding influencers in your niche!
As a result, use Ainfluencer to locate the most relevant influencers in your niche.
FAQs on Instagram Promo and Couponing on Instagram
This post attempted to discuss the challenges of promoting an Instagram post, couponing, and coupon sharing. There may be other questions concerning these issues, and we have addressed some of them below.
1. Does IG promotion work?
Instagram promo is a great way to boost posts on Instagram. This way, the products and coupons you offer will be seen by more people, and people who are interested in them will share coupons with their friends.
But don't forget to add your coupon to your Instagram bio using expert services like the "Link in bio" tool. You may design and manage your coupons using programs like AiGrow. It will appear more professional with this approach.
2. How to Get Paid on Instagram By Couponing?
Coupon Influencers on Instagram, such as @thekrazycouponladycouponing, take advantage of the chance to source reduced products and sell them at higher rates, promote brand coupons, or teach others about couponing. These are ways that you can get paid on Instagram by using this method. 
3. How Can You Use Coupons on Instagram?
Simply use the code you received in an email or text message when checking out to claim your discount. Find the section labeled "Rewards and offers" in the shopping cart before you pay. If you have a discount code, you can input it by selecting Add promo code and then enter the code.
4. Where Can I Find Instagram Promo Codes, Coupons & Best Deals?
There are a variety of websites that compile a list of the most useful discount codes and vouchers for Instagram. Like this website, which provides you with the most useful codes to put to use.
Final Words
Instagram plays a genuinely essential role in the success of your business and brand. That's why we always recommend using all Instagram features, including Instagram Promo, to your advantage! 
You can also use an Instagram coupon to optimize your marketing efforts. Be sure that all your efforts will pay off, especially if you use a fantastic tool like AiGrow!