Instagram loop giveaways are contests that feature expensive prizes and require you to follow a lot of Instagram accounts to enter. Usually, in an Instagram loop giveaway, a group of approximately 10 to 50 bloggers and influencers come together, pooling their money to give away one amazing prize to a lucky winner. Throughout this post, we'll explore the power of loop giveaways and how to host effective ones to gain more targeted followers and promote your brand awareness campaign on Instagram.
Did you know that successful giveaways can lead to faster growth by 70%?! In the light of all positive data, we can fully realize that giveaways are absolutely necessary for all businesses and Instagrammers! That is why in the past few years, many best Instagram giveaway pickers have appeared and helped thousands of Instagram marketers run their Instagram giveaways and contests smoothly and effectively.
A specific type of giveaway that is getting more popular these days is the Instagram loop giveaway. But what is a loop giveaway on Instagram? Are loop giveaways banned by Instagram? And how can we find the influencers to host a giveaway with?
In the following, we'll try to answer the questions above and guide you on running a perfect Instagram loop giveaway. So, stick around till the end of this page! 🙂
✨If you are looking for the top Instagram giveaway pickers to automate the entire process in an effective way, Aischedul is the perfect choice for you. It will help you to automate your Instagram contests and giveaways seamlessly – without taking up a lot of your time. We will explain more about its incredible features in the coming sections. 
What Is An Instagram Loop Giveaway
Loop giveaways involve multiple brands, influencers, and accounts trying to attract a target audience and grow their followers. They all share one post explaining the conditions and the reward to the audience. The terms and conditions for entering the contest usually include following several accounts or commenting on specific posts. The purpose is to grow multiple IG pages simultaneously.
To put it in one sentence, this type of giveaway is a follow loop on Instagram, which involves specific accounts and one or a number of rewards for those users who obey the rules.
The number of accounts in loop giveaways can vary. However, the higher the number of accounts, the stronger the incentive has to be for users to engage in an Instagram loop giveaway.
Kylie Jenner was the first to host an Instagram loop giveaway for 9 luxury bags and $20,000 in May 2019. It involved 70 brands and resulted in gaining 230,000 new followers. After Kylie's resounding success, many influencers and brands, big and small, expressed interest in joining an Instagram loop giveaway.
Is An Instagram Loop Giveaway Worth It
Well, this is a difficult question to answer! It depends on many factors, and each person may give a different answer to it! Loop giveaways on Instagram will require a lot of coordination and resources. But all in all, if you find a way to lower the costs and make sure that you won't exceed Instagram limits, then yes! It's worth it and will result in more leads, sales conversion, and engaged followers. Brands and influencers have gained millions of followers overnight through running successful Instagram loop giveaways!
However, the success of these giveaways depends on several factors. For instance, you shouldn't expect the participants to jump through hoops for a small prize because they won't enter! Plus, you must ensure that you are not picking the winners from spam accounts or inactive followers who just follow you to participate in giveaways.
How To Run A Successful Instagram Loop Giveaway
Now that you know what an Instagram loop giveaway is, don't forget that most users wonder, 'Are Instagram giveaways real?' or 'Will my efforts pay off?' So, you first need to gain their trust before anything else.
Now, let's see what steps you need to take to ensure its success:
Learn how to start or join a loop giveaway which we will discuss in the next section.
Define your goal, set your budget, and choose the prizes. Note that the prize should be one of your products or generally relevant to your niche.
Then, define your Instagram contest rules. You must be clear about your Instagram loop giveaway rules; otherwise, they won't know how to win your Instagram giveaways. Meanwhile, make sure that your rules are in line with Instagram promotion guidelines and terms of use.
Prepare posts, captions, stories, and videos for your giveaway. Bear in mind that you can choose from the best IG giveaway templates to save time. In your search for templates, you can always consider helpful platforms, like Canva.
Promote your Instagram loop giveaway on all the accounts you want to hold the contest on.
Run the contest at the scheduled date and time. That is, publish the giveaway post during the best posting times on IG.
And finally, pick the winners.
As you see, there's a lot to do, and it's going to take a great deal of time. But no worries! Here's a great tool to efficiently automate your giveaways and contests.
Automate Your Instagram Loop Giveaway Via Aischedul
Aischedul is here to help you run your Instagram loop giveaway as fast and safely as possible! It is not an IG growth service and account manager but has an intriguing package of tools that enables you to host an Instagram giveaway contest safely. 
Aischedul's other features include: 
Scheduling Instagram posts, stories, and reels for multiple accounts.
Finding the best hashtags for your Instagram giveaways and other content.
Helping you to find the best content ideas for your loop giveaways on Instagram. 
And more. But most importantly, Aischedul covers two sections related to giveaways and contests. Let's go through each one to find out how they could help facilitate the complicated process of holding giveaways.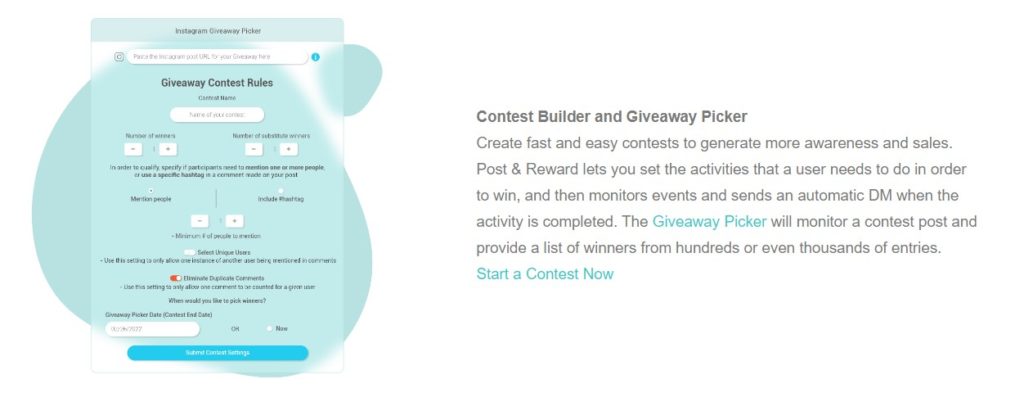 Now, sign up for Aischedul to win your Instagram loop giveaways. 
#1. The 'Instagram Giveaway Picker'
The good news is that this wonderful section allows you to automate the process of choosing contest winners. It's a highly efficient giveaway and comment picker. Entering this section, you can easily:
Paste the link to your post,
Then, set your Instagram loop giveaway rules, including the number of winners and substitute winners or the hashtags the followers should use,
Determine a deadline for the giveaway.
And finally, Aischedul will automatically pick the winners.
In this section, you can also select the 'Get unique users' or 'Eliminate duplicate comments' section so that your followers can't cheat! As you know, some Instagrammers would like to find tips and hacks on how to win Instagram giveaways. So, they might post the same comment over and over again. These options enable you to prevent such actions.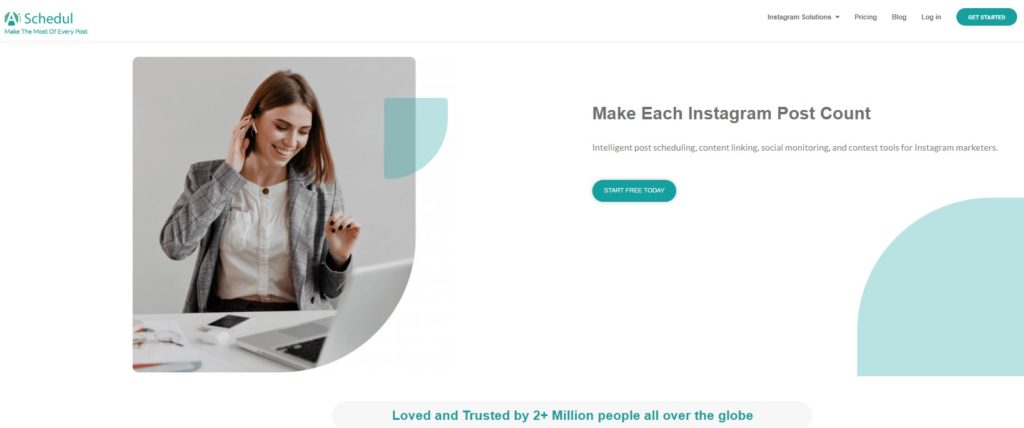 So, guarantee your giveaway accuracy and success with Aischedul now!
#2. The 'Post & Reward' Feature
This feature is similar to the giveaway picker, but let's find out how it exactly works. In this section, you can:
Upload and schedule your post,
Then, specify all your Instagram loop giveaway rules, including the hashtags and the number of mentions and comments,
Type in a message with the reward or prize(considering it's a discount or a ticket, that shouldn't be hard).
Now, Aischedul instantly sends that message to all the followers who have acted according to those rules. As you have already noticed, you can't specify a deadline or the number of winners. Anyone who can meet your set standards will receive that DM. 
You can access this feature under the 'Posts & Scheduling' tab. So, you can start your giveaway and grow your IG followers organically.
Additionally, you can ensure that you and your partners won't get shadowbanned during the Instagram loop giveaway. Not that an Instagram loop giveaway is illegal, but the number of new followers can raise suspicion for IG. And, using an excellent tool can prevent the problems!
To understand what Aischedul can do for your IG giveaway progress, you can also check this video:
So, wait no more and get immediate access to Aischedul's giveaway picker tools!
How To Join Or Start An Instagram Loop Giveaway
Hosting a loop giveaway requires a significant amount of energy and coordination. Not to mention you need to know exactly where to start. Joining an Instagram loop giveaway, though, might be relatively more straightforward. At any rate, in this section, we will learn how you can start or join an Instagram loop giveaway.
#1 Ask The Participants Of A Loop Giveaway
This method is particularly helpful to those who want to join an Instagram loop giveaway rather than start one! All you need to do is find an influencer or a brand involved in a loop giveaway and ask them about the organizer. Once you find out about the organizer, you can inform them that you would like to participate in their next Instagram giveaway loop.
Then, you can decide on how to reward the followers. Remember that in loop giveaways on Instagram, all the accounts pitch in!
It's straightforward. Besides, you have access to those who have already been down this road.
So, you can ask if the giveaway helped increase the engagement rate or if there are any risks involved. That is, using this method, you can join a loop giveaway and make sure that you're not going in blind.
#2 Join A Facebook Group With Other Bloggers
Whether you want to start a loop giveaway on Instagram or join one, it's beneficial to join a blogging group on Facebook. Because you're in these groups, you will be more likely to make friends with other bloggers who can be your partners.
Besides, there's a high chance that if others start an Instagram loop giveaway, you will be the first to know! So, exploiting this feature on Facebook lets you find partners to start an Instagram loop giveaway or join one. It's pretty helpful!
#3 Find Influencers In Your Niche
To host Instagram influencer giveaways, you need to partner with the thriving influencers in your niche. Since the purpose of an Instagram loop giveaway is to benefit all involved, you shouldn't have a hard time finding Instagram influencers who are interested.
Once you find your teammates, you can talk freely about IG giveaway strategies, ideas, bots, and apps you could use. However, finding the right influencers and discussing your concerns might be too demanding for you. The reason is that while picking your partners, you have to keep a long list of factors in mind. For instance, you have to care about:
The number of followers your chosen influencers already have,
Finding niche-related influencers and brands,
A contract to make sure your partnership goes in the right way,
The best way to contact your target influencer,
So, what can you do to manage this first step more efficiently?
Whether you want to work with micro-influencers or brands, you can always use a reliable platform, like Ainfluencer, to find your perfect influencer match. This platform enables brands and influencers to connect with each other in a safe space!

The Best Prize For A Giveaway
In loop giveaways, one of the most important factors is to choose the right prize. The right thing you can do is to offer a prize that your ideal followers would like to enter an Instagram loop giveaway.
For example, if you are a gaming Influencer on Instagram, you should take part in an Instagram loop giveaway that is giving away game-related items.
One of the excellent ways is to reward your followers by sharing coupons and discounts! Sure an iPhone or laptop might appeal more to the participants. But let's not forget that you're not holding this giveaway to merely increase your follower count. You want to get more sales and double your engagement. And you can't manage that unless you showcase your products, services, or content!
By presenting your products, or a discount as the prize, you can build brand awareness on Instagram. Plus, you can turn your new IG followers into loyal customers.
How To Make Money Off An Instagram Loop Giveaway
If done right, giveaways will grow your followers, indirectly leading to financial profit. However, if you wish to make money directly from a giveaway, you can try two things.
The first is to announce an incredible discount on your products or the products themselves as the prize. This way, the more they win, the more you will gain. It's a win-win, right?!
The second method is to start a giveaway yourself and demand a buy-in from those who would like to be involved. That is, any influencer or business page who would like to take part in this loop giveaway must pay you.
FAQ On Instagram Loop Giveaway
We have tried to answer all your relevant questions so far. Yet, loop giveaways on Instagram arouse even more questions! So, let's check them out!
1- How Do Instagram Follow Loops Work?
An Instagram follow loop is the same as a loop giveaway where multiple accounts gather together, pitch in for a prize, and ask the giveaway participants to follow several IG accounts. Or, they may describe more conditions for how to win their giveaways on Instagram.
The entrants can then comply with the rules to have a chance of winning the prize. So, those who participate will gain a large number of followers.
2- Do Loop Giveaways Work?
They work in the sense that they will indeed get you more IG followers. However, it's not the best giveaway idea at the moment. Those who take part in such giveaways are probably only looking for the prize.
That is, they don't start following your page because they like the content. In fact, they don't even check your account; they just hit the 'follow' button to be allowed in the giveaway! That's why a loop giveaway won't produce the ideal results for you!
Instead, an IG photo contest can be better since it's a type of UGC contest and allows you to use social proof to get more sales. However, if you're determined to host a loop giveaway, make sure you read this article twice! Plus, remember that an Instagram loop giveaway service that can automate the process will help you manage it perfectly.
3. How to Join Instagram Loop Giveaways?
On Instagram, you can find loop giveaways by searching for #loopgiveaways. Relevant brands and influencers in your niche that have previously hosted a follow loop are most likely going to be hosting one again in the future, so stay connected with these accounts.
Bottom Line on Instagram Loop Giveaway
In a nutshell, an Instagram loop giveaway can help you and your partners grow. According to reliable data, giveaways can get 3.5 times more likes. However, the process of picking the right partners and, after that, running the contest through multiple accounts is genuinely time-consuming.
But hopefully, using some tools, you can ease the process. The ideal giveaway picker, Aischedul, will also enable you to mass DM potential followers, share coupons as rewards, schedule the post, and find the winners! 
Aischedul is an all-in-one app that provides a complete Instagram loop giveaway service. It will check all your Instagram loop giveaway rules and finally pick a random winner from qualified participants.
Give Aischedul a try to see how it can be helpful in the process of organizing strategic loop giveaways on Instagram. 
If you have any experience running a loop giveaway, leave us a comment below!