Hosting an Instagram giveaway is indeed an excellent strategy for growing brands and businesses on Instagram, an ideal platform with more than 1 billion global users. However, you have many tasks and challenges to overcome when running giveaways. Specifying Instagram giveaway rules is one of them!
As rewarding as running Instagram giveaways is, it's not like a piece of cake! It can be genuinely challenging. You need to choose a way to reward your followers, determine contest rules, and select the winners with IG giveaway pickers.
Precisely determining Instagram giveaway rules in your giveaway post can work miracles for you because it reflects your transparency. As essential as this step is, it is also confusing. So, we have decided to prepare a thorough guide on Instagram giveaway guidelines and rules!
Note: This post introduces AiSchedul, the best Instagram giveaway picker tool if you want to host a giveaway contest and select the winner. Take advantage of it!
Why Run Instagram Giveaways
According to reliable statistics, accounts hosting giveaways and contests grow their followers 70% faster. Plus, nearly 34% of new customers come from giveaways or contests! These astounding numbers speak for themselves!
Aside from organic follower growth, you can also gain traffic to your website and expose your brand if you exploit the right Instagram giveaway strategies and ideas.
Many successful brands use this unique opportunity to grow and engage their target audience. So, we suggest you don't take this opportunity for granted! You can use various giveaways, such as loop giveaways or IG photography contests.
Why Share Instagram Giveaway Rules
Running Instagram giveaways involves handling many tasks. One of the most crucial ones is to specify rules for the Instagram giveaway. But why is it essential to take giveaway rules seriously?
The Instagram giveaway rules determine who can qualify to participate in the contest or giveaway and receive the prize. Therefore, if you don't share your rules and terms of eligibility, they won't know how they should take part. Plus, the less transparent you are with your giveaway Instagram rules, the less they can trust you.
Precisely determining Instagram giveaway rules in your giveaway post can work miracles for you because it reflects your transparency. As essential as this step is, it is also confusing. So, we have decided to prepare a thorough guide on this topic! Plus, we'll provide Instagram giveaway rules example to help you understand the guidelines fully.
Where to Share Instagram Giveaway Rules
For an efficient and fruitful giveaway, your giveaway rules for Instagram should be clearly defined and visible. While you can share your Instagram giveaway rules in your caption, it's best to share the most important ones in your giveaway image or video as well.
That is, you need to first call attention to the rules and terms of eligibility through visuals, then include the details in your caption. Many Instagram giveaway templates for posts and stories enable you to share your giveaway rules in your image.
Remember that you can also create a CTA button and design a landing page to explain all the terms and conditions at length. At any rate, you should make sure that your followers can easily access and read your Instagram giveaway rules.
Instagram Giveaway Rules + Examples
So far, you have learned that for your giveaway on Instagram, the rules should be clear and predetermined. Now let's see what giveaway rules you must include on your Instagram post!
#1 Include the Instagram Promotion Guidelines
When it comes to giveaway rules, you should pay close attention to Instagram's limitations and rules. Instagram has specific guidelines for giveaways and contests. According to IG promotion guidelines, you need to release Instagram of all responsibility. For instance, this giveaway caption states that it is not affiliated with Instagram.
#2 Mention What the Participants Should Do
There are different giveaway ideas. For instance, you might ask the participants to leave a comment to qualify, use the best giveaway hashtags while reposting your content, or you might make it a bit more challenging and ask them to tag friends, follow an account, or put up a story.
Whatever you would like to ask, be fully clear and make sure that you're not asking for too much! Remember that your followers won't jump through hoops for you. Moreover, let your followers know about what they should do to get bonus entries.
For instance, they have thoroughly explained the rules in this giveaway post. So, the Instagrammers can fully understand what steps they should take to enter the giveaway and how to get extra entries!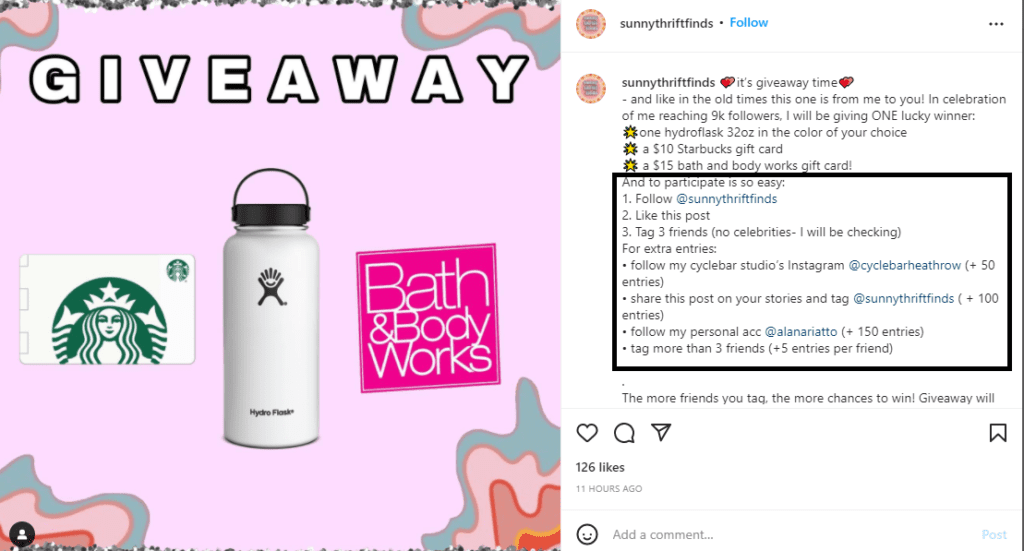 #3 Inform the Participants about the Prize
It's needless to say that the prize is your followers' motive to participate in the giveaway. So, as you mention your rules, don't forget to provide adequate information on the prize.
You can consider any product or service as your prize, but it's a best practice to share an Instagram coupon as the giveaway reward. No matter what you choose, don't forget to inform your followers!
For instance, they offer Apple Air Pods to the winner in this giveaway. And the prize is visible both in the image and the caption!
In order to reach a wider audience and maximize your giveaway campaigns, you can utilize a free influencer marketing platform. By doing so, you can provide influencers in your niche with coupons or discount codes, and they will share them with their followers. This way, you can increase your reach and attract potential customers.
Ainfluencer is the best influencer marketing platform that will allow you to search through an extensive database of legit influencers based on niche, hashtags, followers count, location, etc. Collaborate with the right influencers within a safe and user-friendly environment and enhance the effectiveness of your giveaway campaigns.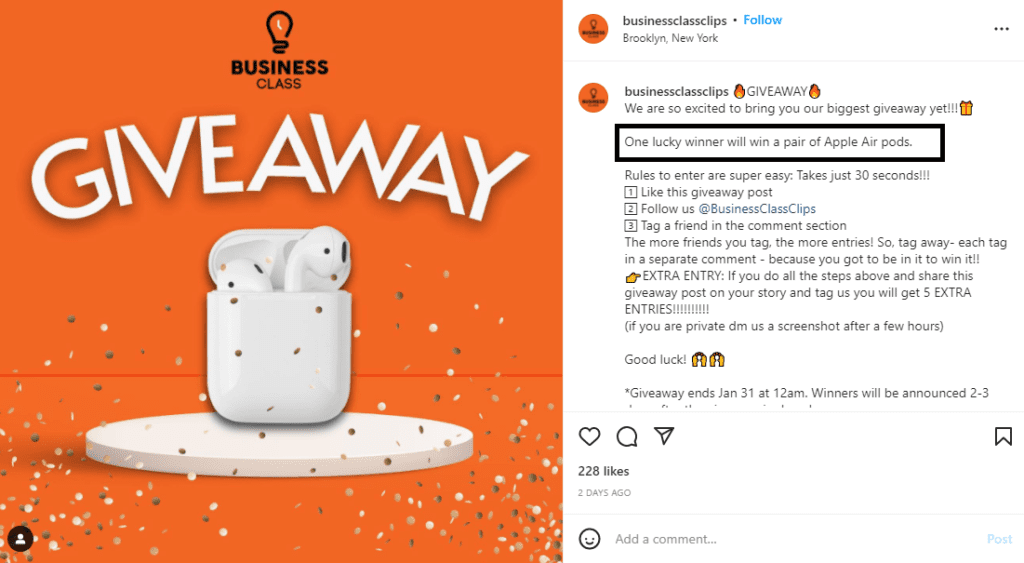 #4 Specify the Restrictions
It is entirely natural for a giveaway to have certain restrictions. For instance, you might only be able to send the product to a particular region. Or, you might want to offer the prize to a specific group of a certain age.
Whatever restrictions you have for the entrants, including age or region, you must specify them from the get-go.
Take a look at this giveaway, for example. They have briefly mentioned that they can only offer the prize to those in the US and above 18.
#5 Set a Clear Deadline
You are certainly not running the giveaway for an indefinite time. So, you should inform the entrants of the deadline, including the date, time, and time zone.
For instance, the deadline for this giveaway is January 27, 11:59 PM EST. Remember that you can also mention the deadline in your Instagram giveaway rules template.
#6 Explain How the Winners Will be Chosen
When it comes to social media success, transparency goes a long way. If you'd like to win your audience's trust, you should be smart enough to explain when and how you will choose the winners. If you use Instagram comment pickers, you can share this information with your followers.
For example, reading the caption of this giveaway, we understand how many winners they'd like to select when the winners are chosen, and where they will be announced.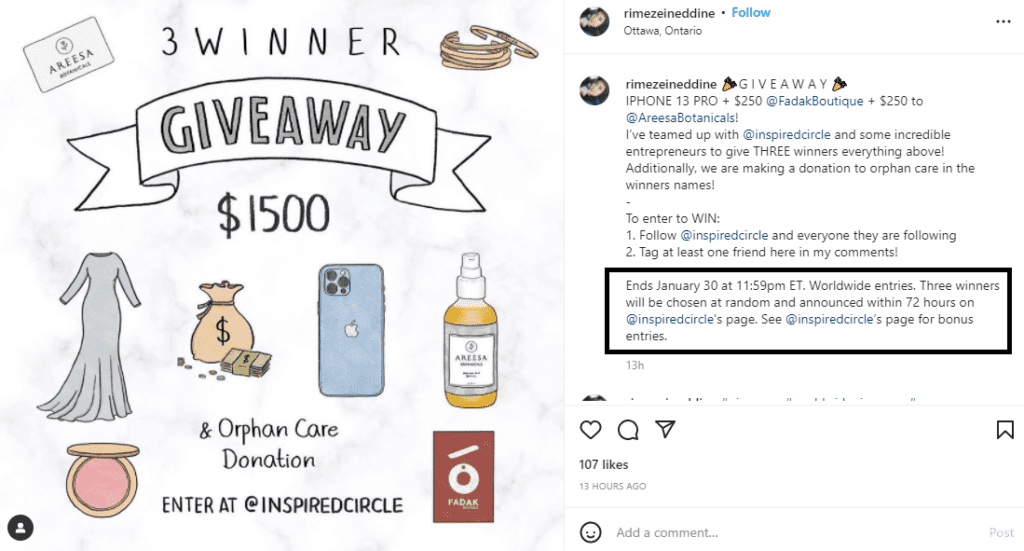 Instagram Giveaway Rules (Copy and Paste)
You have already learned what information you should include in your giveaway post. Now, to make your job easier, we have an Instagram giveaway rules template. Using this, you don't have to spend too much time thinking about how to include Instagram guidelines in your post.
YFor your Instagram giveaway, copy and paste this, and you're good to go:
"Per Instagram guidelines, I should announce that this giveaway is by no means sponsored, administered, or associated with Instagram. By taking part, participants acknowledge that they are +18, agree to Instagram terms of use, and release Instagram of all responsibility you."
For your Instagram giveaway, copy and paste this, and you're good to go:
Run and Manage Instagram Giveaways Instantly
You have already noticed that running a giveaway can be confusing and time-consuming. Choosing giveaway winners is tricky, in particular, because we don't have the luxury of time to manually go through thousands of names and comments to figure out who wins! So, we need help to automate Instagram giveaways.
An excellent tool that enables us to have more manageable, more efficient giveaways is AiSchedul. This platform is not an IG growth service but sports fantastic features, including a top-notch Instagram giveaway picker.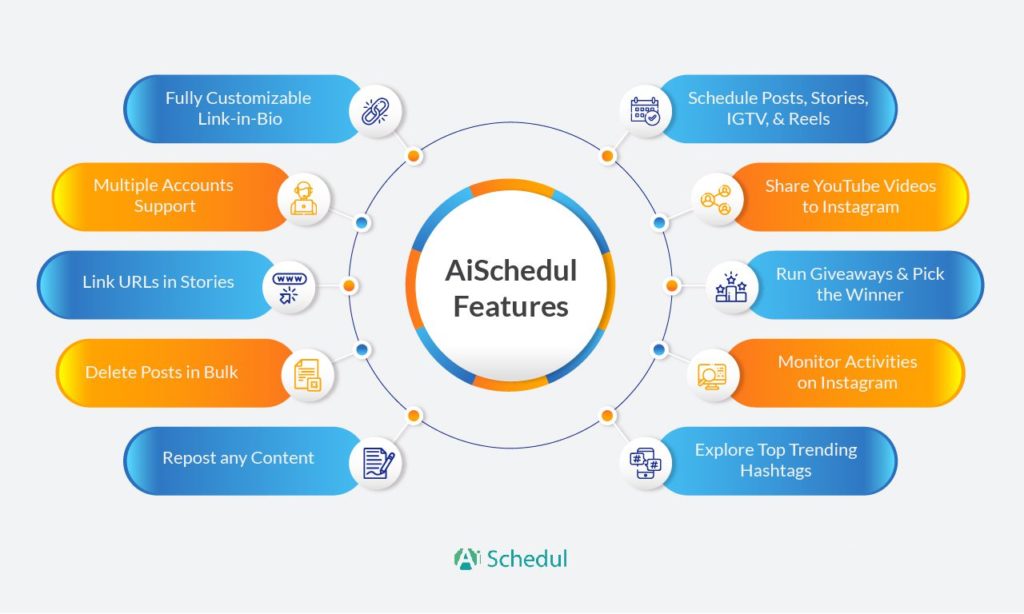 Here's how you can exploit the giveaway picker tool on AiSchedul:
Create a free account on AiSchedul and connect your Instagram username.
Then in your dashboard, select 'Manage' and pick the 'Giveaway Picker' tab.
At this point, click on the 'Start a Giveaway Contest Now' button.
Enter the link to your giveaway post and specify the number of winners, substitute winners, your Instagram giveaway rules, and a deadline.
Finally, click on 'Submit Contest settings.'
Voila! Now you know how to do a giveaway on Instagram while saving your time and achieving all the favorable results! So, just sit back and wait for AiSchedul to find the winners and email them to you! Impressive, right?!
Sign up for AiSchedul now to get access to this great Instagram giveaway picker!
FAQ On Instagram Giveaway Rules
We have, so far, introduced what you should include in your caption. Now, it's time to answer more of your questions!
1- What Should I Include in the Instagram Loop Giveaway Rules?
In effect, you should mention the same information about Instagram terms of use and promotional guidelines. However, you should be clear about how many accounts you would like the entrants to interact with! That is, they shouldn't have to visit and follow another account only to find that they have to follow even more users!
So, make sure that you're clear about your Instagram loop giveaway rules. And don't forget to use the template!
2- How Long Should My Instagram Giveaway Caption Be?
There's no clear-cut answer to this question! However, what we can tell you is that your giveaway caption should be short and to the point and encompass all the rules.
So, don't worry about the length. Just make sure that everything is fully covered!
Last Words on Instagram Giveaway Rules
To succeed in your social media marketing, you can run effective Instagram giveaways. However, it can be a tiring process that requires much of your energy! In this article, we tried to simplify this process by explaining Instagram giveaway rules and where you should share them! Bear in mind that an excellent tool that can speed up your giveaways, like AiSchedul, can work miracles!