The number of Instagrammers has steadily grown and this broad audience makes Instagram an apt choice for those who wish to grow a brand on social media. Many IG users try to attract more followers by holding contests. They embed their details of requirements in the most appealing Instagram giveaway template so that viewers can easily follow the rules.
Thus, an excellent strategy for growing followers is hosting effective giveaways. However, giveaways are too demanding, and you can only succeed when you have an Instagram giveaway template for posts and rules at your disposal!
The immense power of giveaways and the necessity of accessing the best giveaway templates for Instagram, have compelled us to dedicate an article to this subject. Here, we will answer all your questions about giveaways and how you can make the process less demanding!
Note: To choose the winner, you will undoubtedly require a giveaway picker tool, so we will present you with the greatest one that AiSchedul provides for Instagrammers.
Why Run Instagram Giveaways
According to statistics, contests and giveaways have a conversion rate of 34%. Thus, exploiting fantastic Instagram giveaway strategies and ideas allows you to turn mere visitors into followers and finally convert them into loyal customers! In other words, giveaways work miracles for your brand if done right.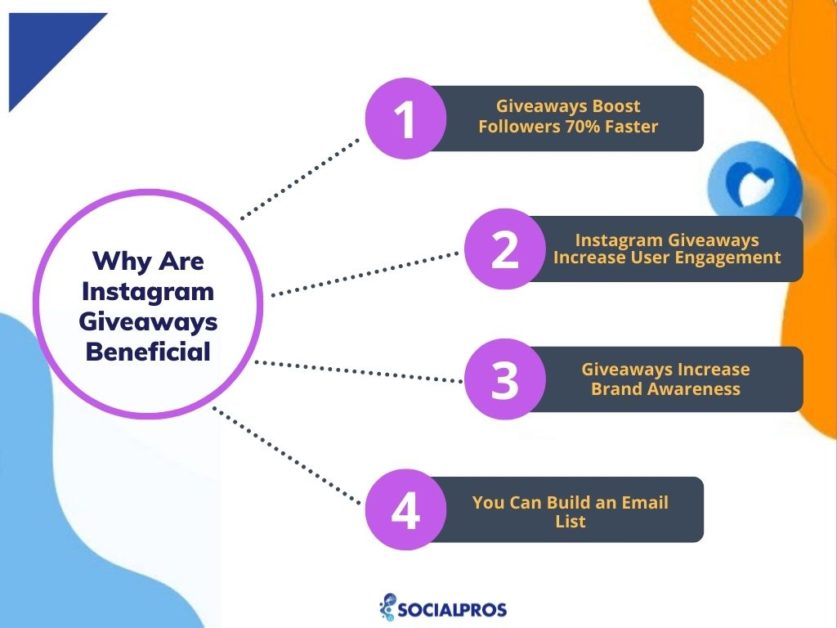 You may run contests or loop giveaways for various reasons, including:
No matter what you're trying to get out of Instagram giveaways, there is no doubt that they are essential for your fast and organic Instagram growth. There are different giveaway tools you can use, such as You to Gift. This tool allows you to pick Instagram or YouTube winners, generate random numbers and names, and export your Instagram data. It's a must-have tool for social media enthusiasts.
How to Run Instagram Giveaways
Now that we know how crucial Instagram giveaways are, it's time to explain how you can run and automate Instagram giveaways!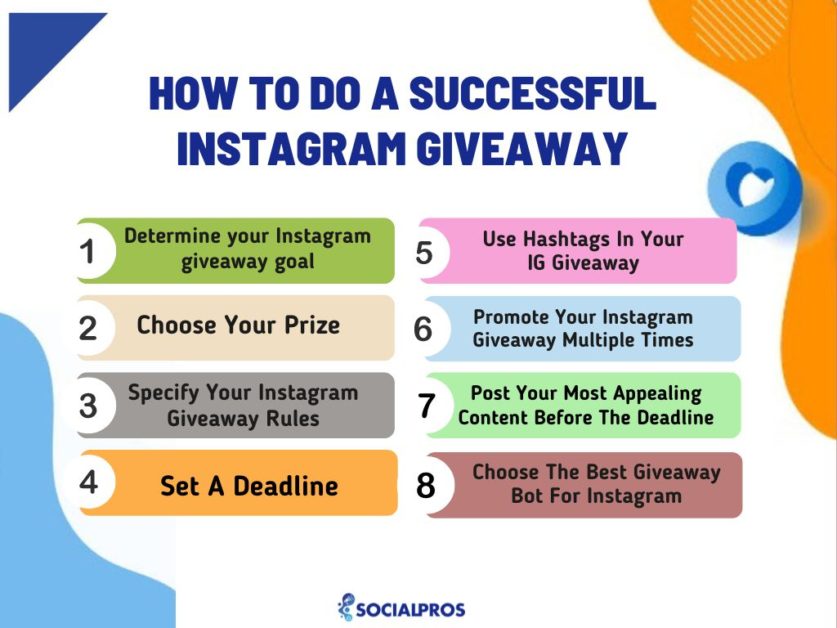 We have discussed this question at length before, but let's briefly go over the steps you need to take:
Once you have gone through all these steps, you can ensure that your giveaway will produce favorable results!
Note: Use an influencer marketplace like Ainfluencer to collaborate with the top influencers and promote your giveaway if you want to ensure your success.
Instagram Giveaway Template for Rules
This section will provide an Instagram giveaway template to copy and paste in your caption. So, let's get to it!
Before starting your giveaway, you need to be fully aware of Instagram promotion guidelines. These guidelines ensure that you offer clear contest rules and terms of eligibility.
Yet not only is it necessary for you to be aware of the guidelines, but it is also essential that your followers or the participants are informed. Here's an Instagram giveaway rules template you can add to your giveaway post:
"Per Instagram guidelines, I must state this giveaway is by no means sponsored, administered, or associated with Instagram inc. By participating, entrants acknowledge that they are 18+ years of age, agree to Instagram terms of use, and release Instagram of all responsibility".
This can also serve as an excellent Instagram giveaway caption template. You can add your own predetermined rules to make everything fully clear.
What To Include In Instagram Giveaway Rules
Let's first discuss what should be in your giveaway rules before moving on to templates for Instagram giveaways.
Mention that Instagram is not involved in the sponsorship or administration of your Instagram contest or giveaway.
Specify the brand name of the organization running the Instagram competition or giveaway.
Mention the days the campaign will run, including the timeframe.
Set limitations on participation, including age and place
Write detailed instructions on how to get involved
Describe how and when the winner(s) will be announced, as well as how and when the winner should claim the reward.
9 Best Instagram Giveaway Template Examples
There are different types of Instagram giveaways and contests these days. For instance, you can run Instagram photography contests or simply ask your followers to like the post and tag a friend.
However, no matter what type of giveaway you choose, you need to look at the best giveaway examples. So, let's check out some Instagram flyers so you can decide what layout is best for an Instagram giveaway template.
#1 Instagram Giveaway Template for Posts
If you're looking for a highly appealing giveaway template for Instagram posts, check out these Instagram giveaway templates. Remember that you can edit and customize all of them on PosterMyWall.
Let's start with the most basic Instagram giveaway template. This image is attention-grabbing yet simple and effective. However, it's best to include your contest rules and deadline in the image. So, you can change the Instagram giveaway template text.
Next in line, we have a more colorful Instagram giveaway post template. It will stand out among all the posts on the explore page, and since it is informative, it can be an excellent option for you.
Like the last Instagram giveaway template, this one is colorful and includes all the essential information.
If you wish to host a giveaway and are looking for an Instagram post template for your brand, you can also exploit this one. It is just as good as the last ones yet even more expressive!
You might think that a black-and-gold template is not colorful enough. But, keep in mind that it will call attention to itself among the sea of posts on the explore section!
#2 Instagram Giveaway Template for Stories
This Instagram story giveaway template is attractive and offers all the information about your giveaway. You can also add a CTA button to your IG story to direct your followers to your website.
For promoting your giveaway on your stories, you can also choose and edit this Instagram giveaway template. It might not fully express the contest rules and deadline, but it can contain an image of the prize!
Next in line, we have this Instagram story giveaway template that you can edit and turn into an Instagram giveaway post template!
Example Of an Instagram Giveaway Rules Template For Stories
An illustration of a contest rule on Instagram that can be shared on your story is provided here. It inspires you to incorporate your intended rules to inform individuals of what they should take into account and what they should do to enter the contest.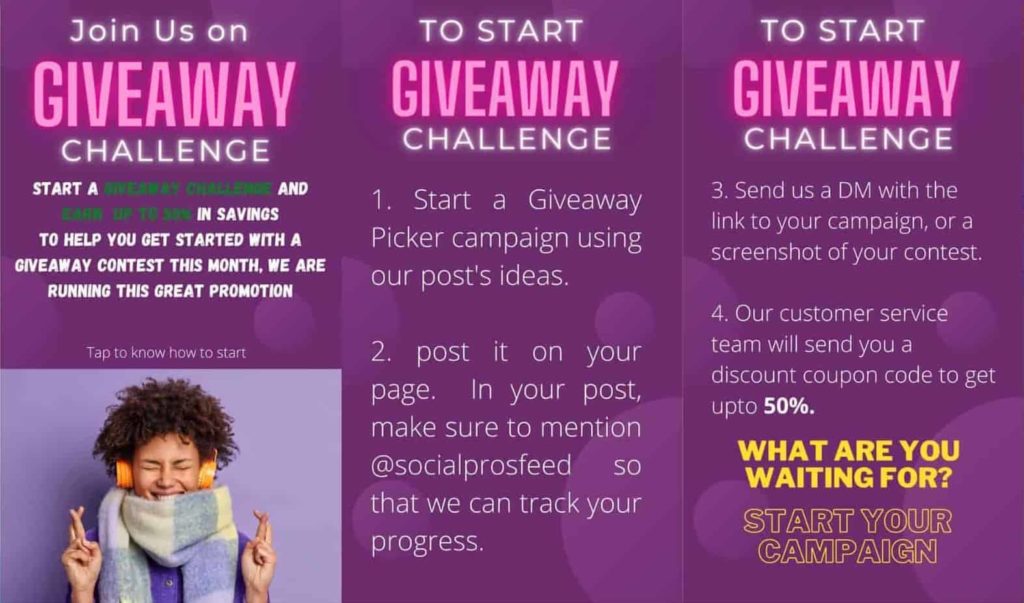 #3 Instagram Giveaway Winner Template
One of the best social media marketing strategies to gain the trust of your followers is to announce the giveaway winners in a separate post.
Of course, you can edit the previous templates to announce the winner, but you can also use this simple Instagram giveaway winner template! It has a simple design and can be conveniently edited.
If you're looking for an Instagram giveaway winner template that is more colorful, you can go ahead with this template.
Helpful Tools to Create and Edit an Instagram Giveaway Template
Hosting Instagram giveaways are complicated and time-consuming. However, knowing the right tools can help you save time while getting the desired outcome.
Here, we will introduce tools and platforms that enable you to edit a downloadable Instagram giveaway template or create one for free. So, let's get to it!
1- Placeit: Instagram Giveaway Template Generator
Placeit is a template generator that will allow you to edit a template for your giveaway post. On this platform, you choose a preset and change it however you want, or start to design a template from scratch.
However, a significant drawback to using Placeit is that you can't access all the templates unless you purchase their plans. And here's what their pricing plans look like: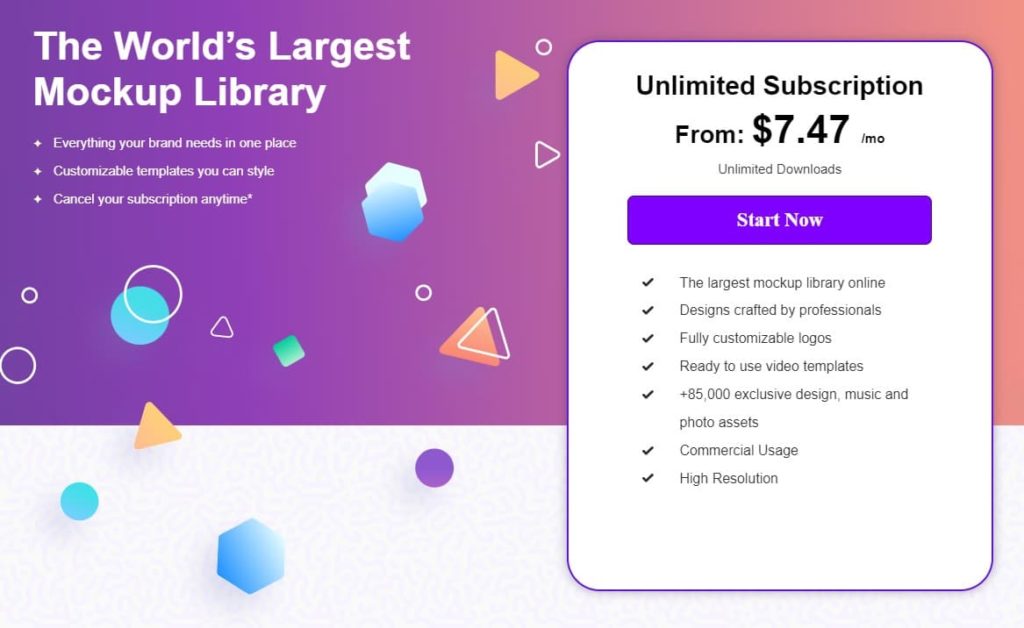 2- Canva
It is impossible to run an Instagram business account and not know Canva! Canva is a genuinely practical application that enables you to create creative designs or go through templates and edit them!
If you use Instagram for your business and are interested in creating and editing an Instagram giveaway template for free, you can't forgo this fantastic application.
3- PosterMyWall: Free Downloadable Instagram Giveaway Template
Poster My Wall offers more than 830 giveaway templates that you can edit and save for free. All you need to do is:
Search for the word 'Giveaway.'
Then, tap on any attractive giveaway templates.
Click on 'Customize this design' to add elements to your design.
Finally, save it.
It's pretty easy, right? Remember to resize the templates to match social media image sizes and specs!
4- Adobe: Instagram Giveaway Template for Free
Adobe Creative Cloud Express allows you to choose from their free Instagram giveaway templates and edit them. You can conveniently edit, customize, crop, and save any Instagram giveaway template with this platform!
Facilitate Instagram Giveaways with AiSchedul
As significant and influential Instagram giveaways might be, they are also challenging. So far, we have introduced the best Instagram giveaway template examples and the tools to edit or create them. Now it's time to see how you can facilitate the process of choosing giveaway winners with the best IG comment picker.
AiSchedul is not an Instagram management service but it is a scheduling tool that offers terrific features, including: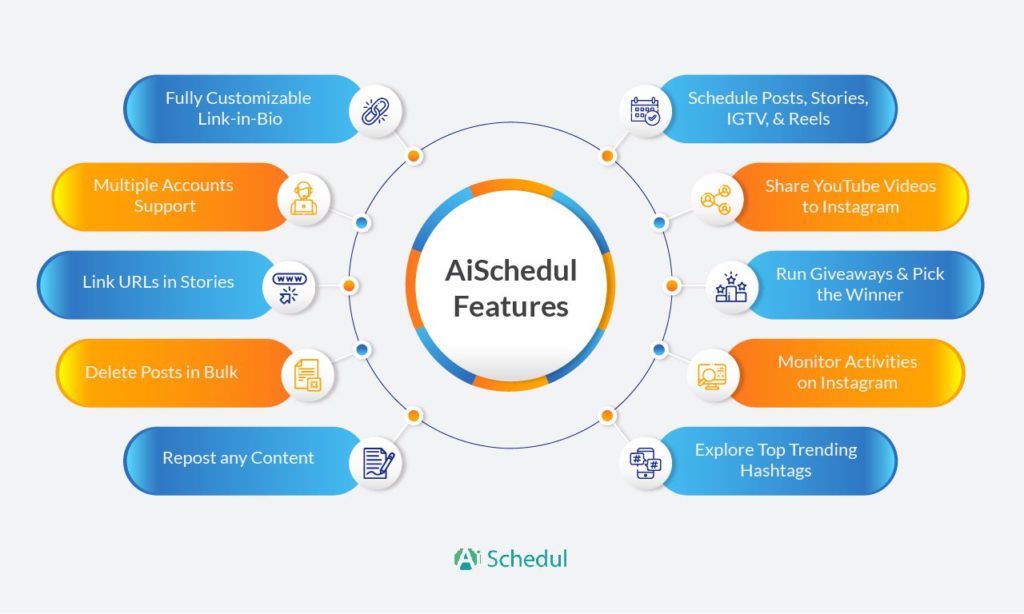 Most importantly, however, AiSchedul offers an efficient Instagram giveaway picker, a game-changer for your giveaways!
AiSchedul Giveaway Picker
Once your Instagram giveaway template is ready, post it and wait for your followers to participate. Once it's past the deadline, use AiSchedul to find the winners!
To exploit the giveaway picker, follow the steps below:
Sign up on AiSchedul for free and connect your IG by following the prompts.
Then, click on 'Manage' and choose 'Giveaway picker.'
Select 'Start a Giveaway Contest Now' and paste the link to your giveaway post.
Now, specify the number of winners, your contest rules, and the deadline.
Finally, choose the 'Submit Contest Settings.'
You can sit back and relax! This tool will find the winners and email them to you! So, don't wait around anymore!
Use Ainfluencer To Promote Your Giveaways
You need a third-party service to promote your giveaway material once you've decided on your contest's rules, prizes, Instagram contest template, and everything else we've stated thus far.
Ainfluencer is the greatest influencer marketplace for finding the best influencers based on your niche, location, gender, and other factors. You can contact influencers, negotiate with them, and sign contracts with them.
Learn more about this service by reading the Ainfluencer review. All of the Ainfluencer characteristics are shown in the image below.
Learn more about this service by reading the Ainfluencer review. All of the Ainfluencer characteristics are shown in the image below.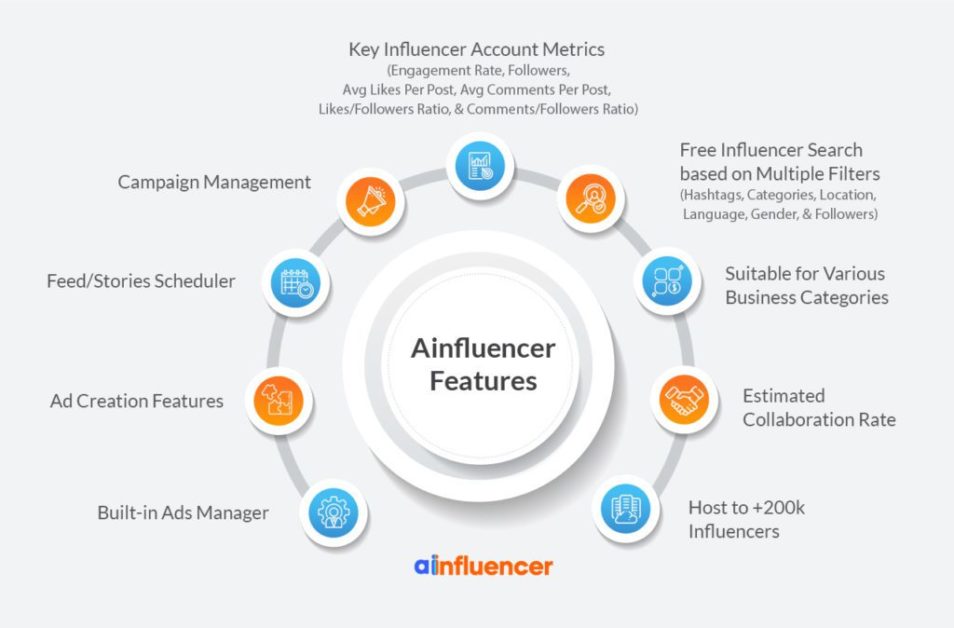 So don't spend any time and sign up for Ainfluencer now.
FAQs on Instagram Giveaway Template
You might have more inquiries about Instagram contest templates. Here, we discuss a few of them in an effort to help you with your issue.
Q1: Are Facebook Giveaways And Instagram Contests The Same?
Instagram giveaways are not the same as Facebook giveaways. A giveaway can be hosted on a Facebook Page's Timeline, a Facebook Page Tab, or a Facebook App page. A giveaway cannot be held on the Timeline of a Personal Profile. In fact, many individuals attempt to operate them but it doesn't work.
Instagram, unlike Facebook, does not allow you to simply share and redistribute Facebook giveaway templates and content. There are NOT thousands of people in communities available to you. You must instead rely on an image's comments.
Q2: What Are Some Pointers For Modifying Instagram Contest Templates?
Here are some ideas to help you make your giveaway posts more appealing:
Using eye-catching pictures, you may get your audience interested in your Instagram contest.
Use high-quality images to highlight the giveaway prize, and add creative borders, backdrops, or motion to your design to make it stand out in your feed.
Make variants of your Instagram giveaway design for all of Instagram's posting options, like grid posts, stories, and Reels.
In your design, description, or both, include clear messaging about the giveaway prize and rules.
To maximize the exposure your post will receive, feel free to incorporate your logo or the branding from your collaborators into the prize design.
Last Words
Handling Instagram giveaways single-handedly is impossible. It takes too much time and might even be more of a hindrance to your progress! However, if you know the best Instagram giveaway template examples and how to create them, you can host them efficiently!
This article aimed to show you some of the best tools to download and create Instagram giveaway templates.
But don't forget to use third-party apps like AiSchedul to benefit from the greatest giveaway picker, and Ainfluencer to better promote your contest.
If you have any unanswered questions, leave a comment below; it won't go unnoticed! 🙂