So, you held a contest or giveaway on your Instagram page, and now you wonder how to scroll through your comments to pick a winner. Don't worry; Here you will learn about the best random comment picker apps to run more successful and straightforward Instagram giveaways and contests than ever before.
Organic growth on Instagram is like a transaction. You provide users with excellent content, and users let you grow on Instagram. The same goes for Instagram giveaways. You reward your followers on Instagram, and they let you grow in exchange. In fact, hosting an Instagram giveaway can bring about your social media success! However, with our packed schedules these days, finding out the best IG giveaway strategies and ideas and picking the winners seems just too demanding.
An Instagram comment picker, though, is the solution for all your problems! A random picker Instagram will help you select a randomly qualified winner for your Instagram giveaway or contest in no time. ‌But which Instagram comment picker is the best one for you to suit your needs? This post will offer a list of the best Instagram random comment picker apps to help you run more engaging and powerful giveaways. So, are you ready to get started?
Note: If you do not have time to go through the details and want to start working with your efficient random comment picker app right now, click here.
Why Run An Instagram Giveaway
Before listing random comment pickers for Instagram, we think it's best to establish two facts:
People love to win
People love free stuff
Maybe that's the reason they search for 'How to win random comment picker Instagram?' So why not leverage these innate human desires in your interest and get a win-win deal out of it? Especially when you can exploit it to excel over your competitors?! Now, if you use Instagram coupons as the prize for your Instagram giveaways, you can get more sales and grow your brand instantly.
The significance and success of Instagram giveaways and contests pushed us to introduce a list of free Instagram comment picker apps. This article will also discuss which tool is the best Instagram comment picker among the existing ones.
Why Use An Instagram Comment Picker
The Instagram algorithm has led us to believe that Instagram gives greater weight to comments than likes. Yet it is hard to get users to comment unless you run Instagram giveaways and reward the followers who comment. According to the studies, Instagram giveaway posts tend to get 64 times more Instagram comments, and 91% of Instagram posts with more than 1000 comments were giveaway posts.
However rewarding an Instagram giveaway is, it is genuinely time-consuming and tedious to go through hundreds of comments! So why not use a free comment picker for Instagram giveaways? In this way, you will be able to pick Instagram winner fairly and quickly. Consequently, when people know that they have an equal chance to win in your Instagram giveaways and contests, they will be more willing to participate and follow your giveaway rules.
The Best Comment Picker Apps To Trust
Now that we know how essential it is to use an Instagram giveaway comment picker, let's address other critical questions. Which Instagram comment winner picker is free? And what is the best Instagram comment picker now?!
Let's find out together!
1. AiSchedul: The Best Instagram Comment Picker App
AiSchedul is an excellent Instagram Random comment picker that provides you with many features. It is easy to work with and is compatible with all devices (iOS, Android, and Windows).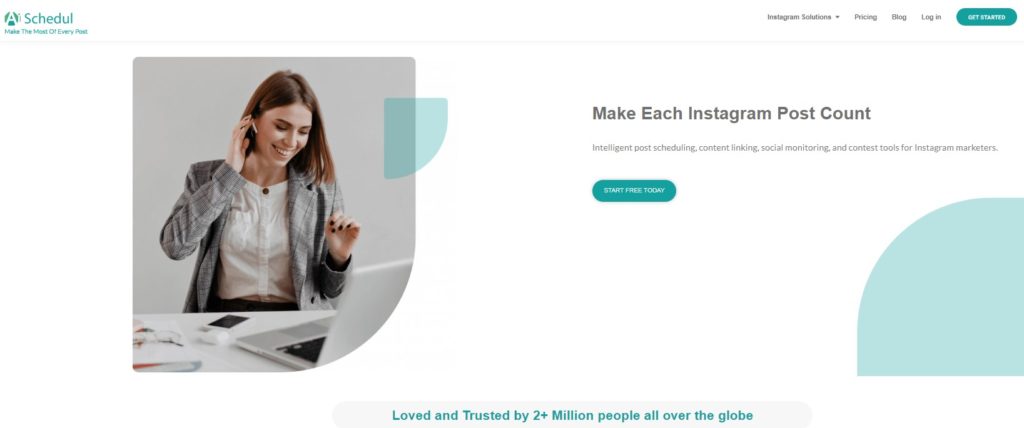 Other than the Instagram comment giveaway picker, AiSchedul has other tools you might need to manage your Instagram account. AiSchedul's excellent features include:
And much, much more. Going through all those features demands a full review of AiSchedul, which is beyond the scope of this article, but you can access it here. For our purpose now, let's learn how this comment picker for Instagram works!
How AiSchedul's Instagram Comment Picker Works
Why spend hours going through comments and hashtags to find your winner when you can conveniently do it with the best Instagram giveaway picker?!
AiSchedul lets you define giveaway rules so that the tool selects the winner among those who have complied with them. Those rules can be anything ranging from commenting,  a particular hashtag, tagging a specific number of friends, or following an account. 
All you have to do to start is:
Select 'Manage account.'
Now, you must choose the 'Giveaway picker' tab and select 'Start Giveaway.'
Then, you should enter the link to your giveaway post and specify your rules, including the number of winners and substitute winners.
Next, enter the deadline and click on 'Submit Contest Settings.'
Now you can sit back and relax! You will know your winners in a matter of seconds. Don't forget that you can exploit the 'Eliminate duplicate comment' option for having a fair giveaway!
If you're interested in watching a tutorial video on how to use AiSchedul's Instagram giveaway winner picker, check out this video:
Sign up for AiSchedul now to access this unique Instagram random comment picker instantly.
2. Wask Comment Picker
You can also use the wask comment picker if you're looking for an Instagram giveaway bot.
The Wask comment picker for Instagram has a free trial. Another perk of this tool is that working with it is extremely easy. All you need to do is to paste the URL of your giveaway post. Then this Instagram comment picker will search for those accounts that match the criteria you specified. Among them, it will pick a random comment as the winner. Now you can reward your followers on Instagram easily!
However, there are a few downsides to using Wask as a random comment picker. Let's see what they are:
the minimum number of mentions is one. That is, you can only use this tool for giveaways where users must tag at least one friend in the comments.
You can't specify a hashtag.
And the maximum number of mentions and winners is 20.
Another disadvantage of the Wask random comment picker is that it lacks some features you may need.
So, if you're not happy with this random comment picker Instagram, we recommend you read on!
3. Gleam Competitions
'Gleam Competitions' sports a relatively easy giveaway setup. You specify your giveaway rules on this platform, and it will select the winners for you. However, this random comment picker for Instagram is not free. The premium plan costs $399 a month. As for its other plans, here's the complete list:
4. Instagram Random Comment Picker
Like Wask, 'Instagram Random Comment Picker' simply enables you to automate the process of choosing the giveaway winner. However, it doesn't offer any other notable features. Still, if you don't have high expectations and are looking for a simple, random comment picker for Instagram that is free, you can go ahead with this tool!
I
Instagram Random Comment Picker
5. Iconosquare
Iconosquare is an excellent Instagram comment picker with a straightforward design. You can define several criteria for Iconosquare to pick the winner with your desired characteristics. Also, the comment picker feature of Iconosquare is not free to use but does feature a 14-day free trial.
Boost your knowledge on Instagram: How to Win Loop Giveaways Using a Random Comment Picker for Instagram
6. Woobox: Random Picker App
Woobox is a social media comment and like winner picker. It selects the winner among those who have complied with your specific giveaway rules. Plus, Woobox allows you to collect the participants' contact information to verify the eligibility of the winners. It claims to be the best tool for randomly choosing giveaway winners on Facebook, YouTube, and Instagram.
To get started with the Woobox random comment picker,  you should log in with your Facebook account or an email address and access the Woobox login page. However, please take note that the Woobox comment picker app won't allow you to schedule your giveaway posts and it lacks the post and reward feature. That is why it ranks below AiSchedul in the list. 
7. Easyproms (Random Comment Picker)
Easypromos is a user-friendly comment winner picker for Instagram, Facebook, and Twitter. It is also compatible with all operating systems and allows you to import all your comments into an Excel file. Then, you filter possible winners based on your defined criteria.
One feature that makes this tool stand out among other random comment pickers is that Easypromos, like AiSchedul, allows you to run a single giveaway among 10 Instagram posts.
Easypromos also;
Notifies the winner automatically
Blocklists bad users
And excludes former winners
Which App Is The Best Comment Picker on Instagram
This decision is up to you. However, a comparative table can surely help you decide with open eyes.
| | | | | | | |
| --- | --- | --- | --- | --- | --- | --- |
| Comment pickers | Excludes the previous winner | Notify the winner | Schedule the giveaway post | Define a URL for the giveaway post | Filter the winner | Price |
| AiSchedul | ✅ | ✅ | ✅ | ✅ | ✅ | Free & Paid |
| Wask | ❌ | ❌ | ❌ | ❌ | ❌ | Free |
| Gleam Competitions | ❌ | ❌ | ❌ | ✅ | ✅ | Free & Paid[$10- $399] |
| Instagram Comment Random Picker | ❌ | ❌ | ❌ | ❌ | ❌ | Free |
| Iconosquare | ✅ | ❌ | ❌ | ❌ | ✅ | Free |
| Woobox | ❌ | ❌ | ❌ | ❌ | ✅ | Free & paid [$37/mo] |
| Easyproms | ✅ | ✅ | ❌ | ❌ | ✅ | [$29/mo] |
FAQ on Random Comment Picker
As we wrap up this article, let's take a look at some frequently asked questions about random comment picker Instagram.
Q1. How Does A Random Comment Picker Work?
A random comment picker will receive all comments from the URL of the selected giveaway post and will filter them according to the giveaway rules. Finally, it will select a random winner automatically. It is an efficient tool to save you a lot of time and energy on collecting and validating thousands of entries from comments, helping you to run more reliable and fair giveaway campaigns.
Q2. Is There an Effective Tool for Random Comment Picker Facebook?
Yes. Comment Picker is a popular tool that can help select a random winner for your Facebook giveaway easily and quickly.
Q3. How To Export Instagram Comments For Giveaway?
To do this, you'll need to use a third-party tool called Crowdfire. Crowdfire will allow you to export comments from your Instagram page to import into a spreadsheet or database.
Recap On The Best Instagram Comment Picker App
Instagram comment has a massive impact on increasing your engagement rate. And these days, one of the most engaging, creative methods to gain followers is running a giveaway. Since giveaways are usually complex and require tremendous time, a random comment picker Instagram can work miracles for you!
 An efficient Instagram random comment picker will improve your online credibility, helping grow your brand faster on the platform. And at this moment, the best Instagram comment picker available is AiSchedul.