Have you ever used the Instagram engagement rate calculator and noticed your Instagram engagement is down? I completely understand that is frustrating. 
As Instagram algorithms prioritize posts due to their engagement rate, it is vital to consider it in our Instagram marketing strategy. Actually, high and low engagement rates will define how effective or ineffective you have been in growing your business and building your brand on Instagram. 
This article will grant you methods to Increase the engagement rate on Instagram. 
Let's dive in.
You May Like:
5 Methods to Increase Engagement Rate on Instagram
Here are some tactics you can implement to increase your Instagram engagement rate helping you grow your reach, build up your community and gain new followers.
1. Use an Instagram Engagement Rate Calculator
Before doing anything, you would better use an Instagram engagement rate calculator to know where exactly you are.
You can apply an engagement rate formula to calculate Instagram engagement rate:

Apart from using the engagement rate formula, some websites and apps can calculate it.
As you see in the picture below, Phlanx is one of them. But don't panic! This engagement rate belongs to Cristiano Ronaldo, who has the most followers on Instagram in 2021!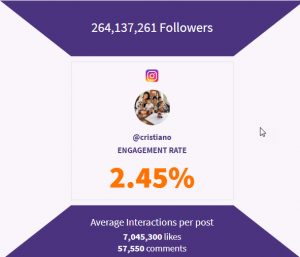 I know you whisper that: "If only I had this Instagram engagement rate." 
No worries if your Instagram engagement is down. We'll fix it together.
So stay tuned!
2. Engage with Top Accounts in Your Niche 
It is essential to take your time searching accounts in your niche and industry. Find your competitors and successful brands in your industry and assess the strategy they pursue and their Instagram feed and aesthetic. Accordingly, you can search them by hashtags, usernames, and location. Therefore, you will gain vast information to make decisions and promote your Instagram effectively. 
When you discover the accounts in your niche, it is best to engage and interact with them and with their followers. 
This is a piece of excellent advice to rocket on Instagram!
Keep Reading: 50 Things To Post On Instagram in 2021 (For All Niches)
3. Make Most of the Hashtags
Never underestimate the influence of hashtags in your posts. Indeed, Instagram has clarified the importance of hashtags by letting you add up to 30 hashtags in each post. Actually, by using the top Instagram hashtags in your feed, you will boost your visibility on the platform, and your posts will be notified when people search those hashtags in their searching console. Therefore, you will increase your engagement rate by identifying the best Instagram hashtags for followers. That is because even if you have a huge mass of followers, you won't reach "Top Posts" unless you apply hashtags in your captions. Also, it is more effective to use more specific and detailed hashtags, such as #surrealismwatercolorartwork, so this will push up your account to "Top Posts." 
4. Reinforce Your Captions
A beautiful text you write below each post can attract more audience, get likes and comments, and accordingly increase your engagement rate on Instagram. Indeed, if your engagement rate is down, it is vital to write engaging Instagram captions. Therefore, to scale up your likes and comments, you can make the following recommendations:
Tell stories in your captions

Create listed content to make it easy to read

Apply Emojis to express your feeling and emotions

Ask questions to engage the audience by responding to them

Tag people, brands, and industries you are mentioning in the caption
Also Read: 100+ Holiday Instagram Captions to Wow your Followers
5. Partner with Influencers
Influencer marketing has become an inevitable part of Instagram marketing strategies.
Instagram Influencers have excellent credibility and built trust among people. According to their popularity, they engage people and, most importantly, have a noticeable influence on their followers' decision-making. Therefore, find an appropriate influencer in your niche and make them engage with your audience. For instance, if you have a local business, the best choice for you is local influencers. 
6. AiGrow:
The Best Method to Increase Engagement Rate on Instagram 
AiGrow is the best Instagram management tool for Instagrammers to increase their engagement rate on Instagram. This IG-friendly platform can help you boost followers, get comments and likes for each post, and conclusively boost your engagement rate.
Hiring this phenomenal Instagram growth service, you'll get a 7-day free trial and get 8000 likes and gain comments on Instagram for free instantly and from REAL people, raise your credibility and increase your engagement rate. 
No Instagram bots or fake followers!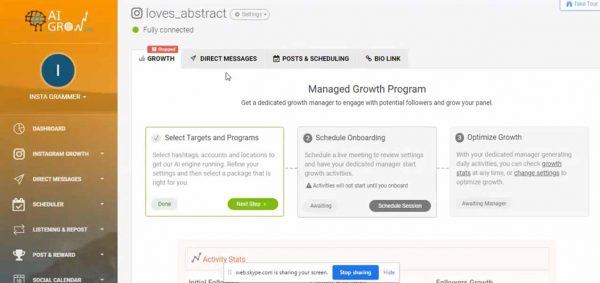 AiGrow, implemented with a devoted Instagram account manager, concentrates on getting 1000 Instagram followers organically. 
This app will manually plan your content, repost UGCs posts and stories, send mass DMs to your target followers, and engage with followers in your niche. 
Therefore, you will get likes instantly, resulting in building credibility and increasing your sales conversion. 
Sign up for free quick as a wink and draw on your free trial!
Likewise, get five days of unlimited growth just for $5 to experiment with all its features limitlessly.
Final Words 
Performing these strategies will raise your engagement rate, keep your audience attentive, and drive new followers to your account. Don't forget about communicating and interacting with your audience in each post, and never ignore their comments. 
Just keep in touch with them! 
Also, to increase engagement on Instagram and showing up on the explore page, you must only grow your followers organically.