Hosting an Instagram giveaway is a unique opportunity you could use to bring about success. However, hosting a giveaway by yourself can be slightly challenging and confusing, especially for a first-timer! Anyway, imagine you did everything right and it's time to choose a winner. What you need is a reliable Giveaway bot for Instagram!
So, learning how to hold a giveaway on Instagram successfully can lead to fast and organic IG growth. But, as complicated as running an Instagram giveaway could be, we could use the best Instagram giveaway pickers, alongside giveaway templates and ideas to facilitate and automate this process.
In this article, we will learn how to do an Instagram giveaway successfully, what the best Instagram giveaway hashtags and prizes are, and which Instagram giveaway picker platforms can efficiently help you choose a winner.
In addition, we will introduce you to the top Instagram comment bots and giveaway pickers that work independently or are offered by some of the best IG growth providers, such as AiSchedul.
So, let's dive in!
What Is A Giveaway Bot
As previously said, hosting giveaways on Instagram can help you get a lot of engagement from individuals who want to try their luck at winning. According to some research, it can lead to faster growth by 70%; not to mention that over 34% of new customers come from giveaways!
So, you can run an Instagram contest to get more followers. To hold a successful giveaway on Instagram, what you need is to know how to do giveaways in a creative way using the best giveaway ideas, how to use giveaway templates, and after all how to use a giveaway bot to automate and do it professionally.
To use an Instagram giveaway picker bot, find the best comment picker bot and simply enter the URL of the post where people leave comments, including the hashtags required by contest rules. The bot will evaluate the comments on the post and choose one of the comments with the required hashtags and mentions as the winner.
Note: Don't confuse Instagram giveaway bots with dangerous IG bots; working with such a bot never disrupts or violates Instagram's guidelines. However, before determining which comment picker is the best, learn how to organize an Instagram contest.
How To Do A Giveaway On Instagram
As we just talked about, Instagram giveaways can escalate your visibility and brand awareness on Instagram. But if you do not manage it well, you'd be doing it for nothing.
So, before we get into the different Instagram giveaway bots, let's go over how to do a successful Instagram giveaway.
Here are some tips to consider while doing an effective Instagram contest:
1. Find The 'Why' To Your Instagram Giveaway
What is your ultimate goal for hosting giveaways on Instagram? What are you looking for? The possible reasons for having an Instagram giveaway include:
Expressing gratitude to your followers
Raising brand awareness
Selling a product or a service
You will see more desirable results once you know how to do giveaways on Instagram more strategically. And that only comes about when you have determined a purpose for yourself.
2. Choose Your Prize
Before choosing a giveaway bot, you need to know what you want to choose as your reward. Well, that is a tricky question with many answers! The most general solution is to select an appealing prize that still fits your budget. But to be more precise, allow us to tell you that if you find a way to share coupons for Instagram discounts and giveaways, you would have the ideal prize.
Simply put, your reward should be relevant and valuable to your target audience in particular. So, consider discounts and your own products as the best prizes since they can turn your new followers into loyal customers.
Now let's see how the value of the prize can impact the outcome. It is not hard to predict that the more valuable your prize is, the more followers and engagement you will get. But to get a better perspective, have a look at the chart.
Instagram giveaway prize
Note 1: Of course, there are many outliers in the study. So do not overgeneralize.
Note 2: It is always better to have ten giveaways worth 100$ rather than one giveaway worth 1000$. So do not get carried away with the numbers.
3. Specify Your Instagram Giveaway Rules
Using an Instagram giveaway bot or comment picker to organize the contest is a smart idea, but having predefined rules makes it even more professional. So, do you want to know how to do successful giveaways on Instagram?! Just don't skip this essential step!
The participants should know how to win your Instagram giveaways. And all we ask you to do is to think about and determine the rules before you get to selecting templates or posting.
Your rules may concern the actions your followers must take to win the prize. In general, if your audience's age, location, or other factors limit who can win your prize or how to win your Instagram giveaways, now is the time to consider and include them. And make sure to be as transparent as possible, because a lack of transparency can cause many troubles!
4. Set A Deadline
Do you know what never gets done? Let us tell you! The tasks without a deadline! Look at the many things you wanted to do but never did. Do not let that happen to your Instagram giveaway.
Setting a deadline for your Instagram giveaway also falls under the category of Instagram giveaway rules. Having a clear deadline gives a sense of urgency to followers and drives them to engage more quickly. Without a deadline, your giveaway won't result in a desirable outcome. If you ask us, a deadline of 3-5 days works best.
5. Use Hashtags In Your IG Giveaway
For a successful giveaway, top Instagram hashtags also play a crucial role. If you run a hashtag for your campaign on Instagram, new visitors might participate in the contest, enjoy your content, and follow you for good. So, you can either create your own hashtag or just use the popular ones on IG.
For example, some of the best Instagram giveaway hashtags are:
#Giveaway, #Giveawaycontest, #Giveaways, #Giveawaytime, #Contest, #Giveawayalert, #Contestalert, #Competition, #Freegiveaway, #Newgiveaway, #Epicgiveaway
Here it's good to mention that you can use hashtag generator tools besides other tools like giveaway bots and mass delete posts.
6. Promote Your Instagram Giveaway Multiple Times
Once you post your Instagram giveaway, explaining all the terms and conditions, you must promote your giveaway. That is, you should direct your target audience's attention to your new Instagram giveaway.
So, put up new stories and posts, reminding your audience about the giveaway and its rules! Exposing and promoting it will help you double your Instagram engagement rate and get more IG followers.
To accomplish this, you can use scheduling tools to organize your posting. This way, your post will be automatically shared, and you will be able to easily remind your followers by DMing your IG followers or reposting your previous eye-catching content and promote the contest again.
AiSchedul offers you a variety of services, including a scheduling tool, and goes beyond a giveaway bot. Read this Aischedul review to learn more about this service.
7. Post Your Most Appealing Content Before The Deadline
Before the time for your Instagram giveaway runs out, post your best, most interactive content. 'Why?' you may ask. Well, because your follow count is at its highest in this period. You have several new followers, but they have simply followed you for the giveaway.
These new followers are not invested in you yet. So, you must, in effect, woo them, impress them, knock them off their feet! And the best way you could manage it is to prepare and share your most successful and interactive IG posts. You could even showcase your most popular products. At any rate, shine brightly before you run out of time!
This is the best Instagram giveaway strategy for any page! Some people may think that once the giveaway post is published, their work is done while it has only just begun! That's when they should work hard to keep their newfound followers engaged and happy!
8. Choose The Best Giveaway Bot For Instagram
In the end, it is time to choose a giveaway bot to avoid sifting through mentions or hashtags manually! Choosing the winner from a large number of comments while scrolling is impossible, so using an Instagram giveaway bot is absolutely necessary to automate giveaway contests.
What is therefore better than using an Instagram service like AiSchedul that enables you to take advantage of additional features like scheduling your posts, sending bulk DMs, and a professional comment picker bot?
In the section that follows, we will go over the best Instagram giveaway pickers available. Continue to read.
Instagram Giveaway Bots & Apps
As we mentioned, according to statistics, contests have a conversion rate of almost 34%! That's not a number we can take lightly! However, you might feel a bit confused about your first Instagram giveaway since you would have to take care of many aspects! But as always, there is a way to facilitate the process!
An effective bot for Instagram giveaways can help you with all the tasks without any risks!
These platforms can help you with various parts. For instance, an Instagram giveaway generator can enable you to design your template and specify your contest rules. However, the best Instagram comment picker allows you to see the winners.
We've decided to introduce the most trustworthy Instagram giveaway picker and bots for your convenience. You can give them a try and choose the one you like the best.
1. AiSchedul; The Best Instagram Giveaway And Comment Picker
AiSchedul is one of the most popular tools in the Instagram marketing world. Along with their schedule service, professional post/story scheduler, link-in-Bio tool, and unique automated DM tool, they have recently introduced an Instagram giveaway feature. It's designed to help you run contests and giveaways effectively and conveniently.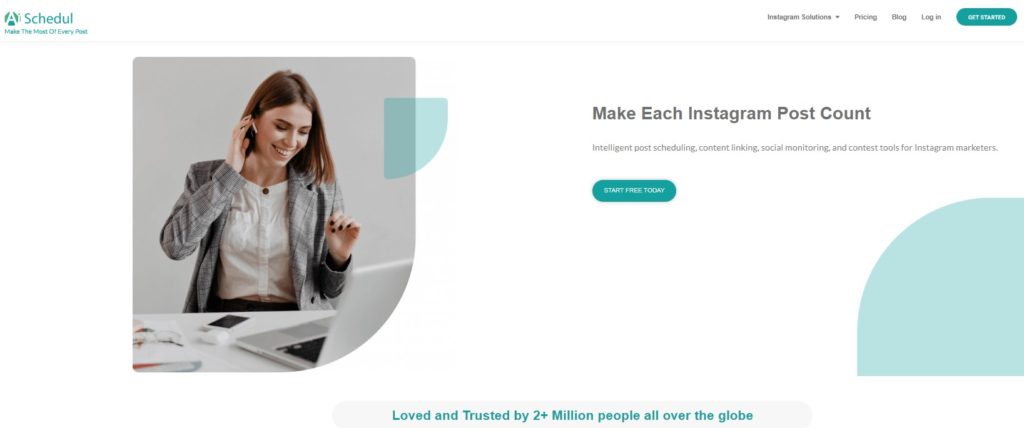 To run a contest or giveaway on your Instagram account(s) with AiSchedul, follow the steps below:
Paste the URL to your giveaway post.
Now, define the rules you have for your giveaway. For instance, you could choose the number of winners and substitute winners and decide that you won't accept duplicate comments.
Instagram giveaway with AiSchedul
At this point, you enter the deadline and hit the 'Submit Contest Settings' button at the bottom.
Good job, you're all done!
However, AiSchedul is not just a giveaway bot but an all-around platform with all the features you will ever need for a successful giveaway.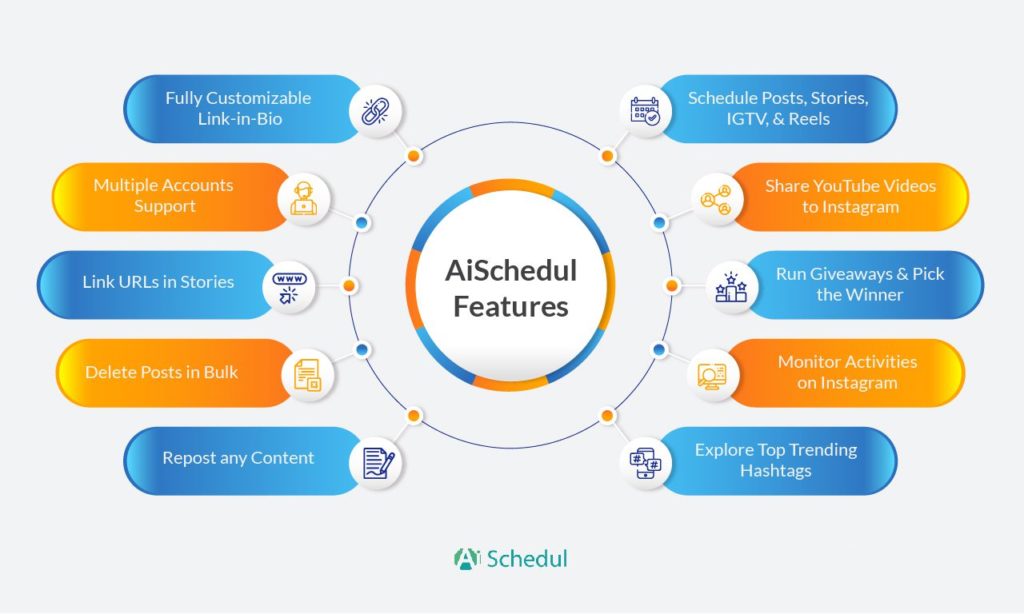 Using its tools, you can:
Schedule your giveaways for the best posting times on Instagram.
Mass DM Instagrammers who might be interested in taking part in your contest.
Create landing pages and gather email addresses.
Add multiple links to your Instagram bio and redirect your engaged followers to your other websites or social media.
Analyze the performance of your rivals' giveaways.
Find hashtags that will best suit your content.
Automatically DM all giveaway winners!
And much more! If you want to use the unique opportunity of your Instagram giveaways, AiSchedul is there to help you.
So, guarantee your giveaway success with AiSchedul right now!
2. Instagram Random Comment Picker
Comment Picker
After AiSchedul, you can consider using this Instagram comment picker. It is relatively straightforward. How can you use it? Just follow the steps below:
Login with your Instagram business account
Enter your Instagram URL
Get all 'unique' comments from your Instagram post
Start the Instagram raffle and pick a random winner from all the comments.
That's it! Now let's move on to the Wask Instagram comment picker and how that works!
3. Wask Instagram Giveaway Bot
Wask giveaway picker is another effective online tool for this purpose. This online platform makes the process of determining the winner extremely easy. All you have to do is to copy the URL to your giveaway post and paste it on the website.
Now, Wask comment picker automatically picks the winner for you. You can screen record the whole process for all your followers who ask: 'Are your Instagram giveaways real?' or 'How do Instagram giveaways work?'
In general, with Wask Instagram giveaway picker, you can choose your winners. But, that's all it offers!
4. Simplifiers
Simplifiers giveaway picker is yet another online tool for picking giveaway winners. It claims to be the most professional and fair platform out there for giveaway winners. But to what extent is that true? We can't tell! But we still stand on our word about AiSchedul being the best.
5. Easypromos Instagram Giveaway Bot
Easypromos is another Instagram Giveaway app. This app allows you to automatically acquire all comments left on your giveaway posts. You can select winners and alternates at random from all participants, or you can specify how many friends each contestant must mention in the comments section.
If your giveaway was created in collaboration with influencers or other brands, you can also collect feedback from various profiles. This giveaway bot is also compatible with other social media platforms such as Facebook and Twitter. For the first time, it is completely free to use.
Instagram Giveaway Builders
You are about to learn about three popular Instagram giveaway builders that come with free trials. You can use them to launch the giveaway on Instagram or get inspired!
Since they all come with a free trial, we suggest you get help from them. Trying these apps will cost you nothing.
#1 Shortstacker; Giveaway Bot
Shortstack giveaway builder
Shortstack is one of the Instagram giveaway builders best known among the brands. You are about to understand why!
Shortstacker is not just an Instagram giveaway builder but an all-in-one Instagram tool for those who want to grow their brand on social media. You can also use it to hold a contest on other platforms such as Twitter or Facebook. Moreover, this platform sports 90 Instagram giveaway templates and 30 themes to help you create your giveaway campaign on Instagram. Now let's look at the pricing:
Free trial: 5,000 views, 25 entries, and up to 25,000 likes
$29 a month: 10,000 views, 5,000 entries, and 25,000 likes
The business plan at $99 a month: 50,000 views, and 100,000 for entries and Likes
#2 Vyper; Giveaway Bot
Instagram giveaway builder Vyper
Vyper is a referral marketing tool that can help you with your giveaway. You can exploit this platform for various giveaways, including:
Viral Giveaways
User-generated giveaways
Milestone giveaways
Leaderboard giveaways
The pros of using Vyper is as follows:
Featuring super easy giveaway builders
Being stylish
Creating a range of rewards like 1st place, random winner, milestones, etc
Using 'bonus actions' to reward people for sharing, liking, and following
As for the pricing, Vyper offers a free trial for up to 250 leads a month and charges you $250 for revenue tracking in a month.
#3 Rafflecopter; Giveaway Bot
Rafflecopter Instagram giveaway builder
For running Instagram giveaways, Rafflecopter claims to be the most straightforward app. One of its best benefits is that the app will launch in under 3 minutes.
Instagram Raffle bot enables you to integrate several social media, run giveaways, and choose the winners in minutes.
Now that you know how to organize an Instagram giveaway and what are the best Instagram giveaway bots, let's get some ideas for Instagram giveaways to spark your creativity.
#4 Gleam
Gleam is a platform designed for hosting giveaways that can aid in establishing connections with one's audience and bolstering online presence. The platform offers a wide range of customizable options that can be tailored to meet individual needs.
To initiate the process, an account must be created and the desired giveaway type must be selected. The giveaway can be tailored to be simple or complex depending on one's preference, and the entry criteria and rules can be established, such as the duration of the competition and the required actions for participants to enter.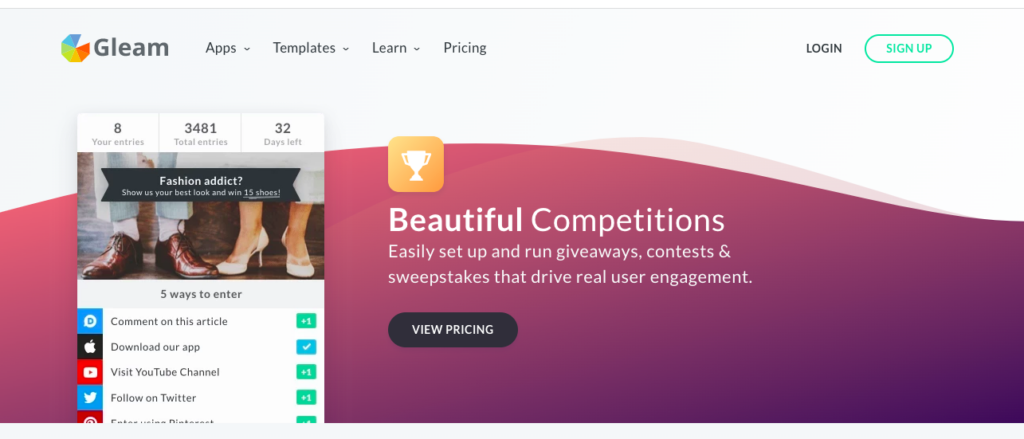 Gleam also provides a variety of tools to assist in the promotion of the giveaway, including integration with social media, email marketing, and referral tracking. These features can significantly enhance the reach of the giveaway and create greater engagement with the audience.
Overall, Gleam is a highly effective platform for those seeking to successfully host a giveaway or competition. It provides an intuitive interface and powerful tools to support growth in online presence and facilitate connectivity with one's audience.
Instagram Giveaway Ideas (Types)
You can indeed gain an average of 17000 fans through contests and giveaways! And to do so, you need to use the most brilliant contest ideas for Instagram. So, let's get started!
#1 Follow/Like/Comment/Share/Tag Your Friends To Enter
The simplest one is to ask your followers to take one of the actions above to be allowed to participate. Since the rules are too straightforward, many users may comply and take the steps. So, using this type, you can encourage more viewers.
Plus, the process of finding the winners is easier because an Instagram giveaway bot can handle it! However, if you don't know how to reward your followers in an ideal way, this type of giveaway wouldn't be effective in attracting a new target audience on IG.
Bear in mind that in such Instagram giveaways, you can specify that if anyone tags more of their friends, they will have a higher chance of winning. Plus, note that you don't necessarily need to select one of them. You can indeed choose a combination to draw more attention, likes, comments, and exposure!
For instance, you may ask the participants to follow your account, like your post, and tag 5 friends in the comments to stand a chance!
#2 Start A Challenge For Your Instagram Giveaway
Another effective method is to start a challenge and ask your followers to go through with it and tag you. For example, you could hold a photo contest and ask them to shoot pictures of the products they have purchased from you.
Then, you can pick the winner; of course, it won't be that easy because an Instagram giveaway comment bot doesn't cut it. You need to use a more advanced tool from among those who participated in the challenge!
#3 Repost To Feed/Story
Perhaps the most brilliant Instagram giveaway idea is to ask your followers to repost your content on the IG story. That is, the participants should post your giveaway or any content related to your products on their stories to have a chance!
It is highly beneficial since it helps you promote your brand from several accounts! Plus, this giveaway enables you to reach out to a broader audience! However, selecting the winners for a usual giveaway bot on Instagram might be a bit complicated!
#4 Hashtag Contest
With a hashtag contest, you may ask the entrants to use a unique hashtag in the comments section or in a post caption! If you have specified one hashtag that fits your content or includes your brand's name, you may even gain more exposure and go viral!
So, if you're thinking of asking your followers to leave a comment to enter the giveaway, you could make it a bit more sophisticated by including a hashtag. Doing so also allows you to reach better results. Just make sure you know how to identify the best IG hashtags!
#5 Caption This To Enter The Instagram Giveaway
As the name suggests, this Instagram giveaway idea involves you asking your followers to choose a caption for your picture or video. Granted it's a fun idea to entertain your followers, but it won't let you get 'new' followers since you're not asking the entrants to share the post on their feed or tag any friends!
#6 Open The Link In Bio
You might have noticed that these ideas mainly revolved around Instagram's success. But what if you need your followers' emails for your marketing strategy? What if your social media marketing focuses on getting more traffic for your blog?
In this case, none of the mentioned Instagram giveaway ideas would help. But lucky for you, we've got an alternative that can fulfill your expectations! By asking the participants to open the link in bio and fill out a form, you get to gather all the information and blog traffic you require!
You can add more than one clickable link in your bio by using AiSchedul link in bio tool. So, not only can you increase your Instagram engagement rate, but you get to further your cause! Isn't that delightful?!
#7 Loop Instagram Giveaway
Last but not least, we have loop giveaways. In such campaigns, several Instagram accounts pitch in to buy a prize and each will ask its followers to follow a number of accounts so that all the accounts that took part will experience a rise in their follower count.
However, keep in mind that hosting a loop giveaway on IG might not bring you closer to your goals. Let's take a look at the downsides:
Since you're asking your followers to follow many accounts, there's a smaller chance that they will engage with all of them!
The whole process of following many accounts is genuinely annoying, which means that your followers are less likely to go through with it!
Those who are willing to follow so many accounts are not interested in your content but in the prize. So, once the Instagram giveaway is over, they'll take their leave! 🙂
So, make sure you're aware of the facts before you consider this alternative!
The Impact Of Instagram Giveaways
If you still have reservation about whether you should start an Instagram giveaway, let's find out about the impact of an Instagram giveaway on your growth and engagement.
Well, giveaways are designed to grow followers. Mentioning and tagging another user can level up the amount of engagement. But how much?
The data shows that accounts that held Instagram giveaways and contests received 3.5 times more likes and 64 times more comments on average than regular posts.
It's impressive!! You just need to follow the mentioned steps and make sure that your followers know how to win your giveaways on Instagram.
That's why, we recommend you go over this article again, figure out your Instagram giveaway strategy, the platforms you'd like to use, and start running your very own successful giveaway!
FAQs on Giveaway bots
We've made an effort to cover everything you need to know about Instagram giveaways and comment picker tools in this post. However, in this section, we have compiled some questions that are frequently asked and provided answers to them.
1. Is Random Comment Picker Safe?
All you have to do when using a random comment picker bot is specify your criteria. These apps are quick and simple to use, and you cannot choose a winner without them.
Concerning the safety of these apps, we should state that there is nothing to be concerned about; they are safe. Instagram giveaway picker bots, such as the one provided by AiSchedul, are secure and can be used with confidence.
2. What Is A Discord Giveaway Bot?
As you may be aware, Discord is one of the most popular platforms, and although it is primarily used by gamers, other people use it to intend online classes, study groups, digital conventions, and so on. Discord giveaways are used to gain popularity on this platform. Discord giveaway bots are used to assist users in selecting a winner; they function similarly to Instagram giveaway bots.
Last Words on Instagram Giveaway Bots
As we just learned, Instagram giveaways increase your followers, comments, and likes up to 70%! The statistics show remarkable facts that make giveaways an absolute must. They can boost your sales, bring about more IG followers, and increase your engagement. Magical, right?!
Yet, to run better and more effective giveaways, you need the best giveaway picker out there.
AiSchedul is one of the best Instagram giveaway bots and apps that lets you have everything at your fingertips, from easy-to-follow instructions to rule and organize your giveaway to automated direct messages, etc.