Instagram features allow users to connect and engage with each other. One such feature is direct messaging (DM), which enables private conversations. While sending individual messages is a common practice, you may wonder how to mass DM on Instagram to save time and effort.
If you're fed up with having to send messages to Instagram users individually, this guide is for you. In this article, we will provide you with a comprehensive guide on how to effectively mass DM on Instagram, use the best DM apps, and ensure you can reach a larger audience and optimize your communication strategies.
If you're looking to learn how to mass DM on Instagram to target new leads, get more Instagram followers, turn followers into customers, or any other purpose, you'll soon find out how to do so utilizing a tool that lets you bulk DM for IG.
?Note: Here, we will also introduce you to the best DM app on the market; DMpro.
What Is Mass DM On Instagram?
Mass DM on Instagram stands for 'Mass Direct Message.' Instagram mass DM refers to the feature on the Instagram platform that allows users to send a direct message to multiple recipients.
Mass DMing on IG can be a powerful strategy for various purposes, such as promoting a product or service, sharing essential announcements, or connecting with many individuals at the same time.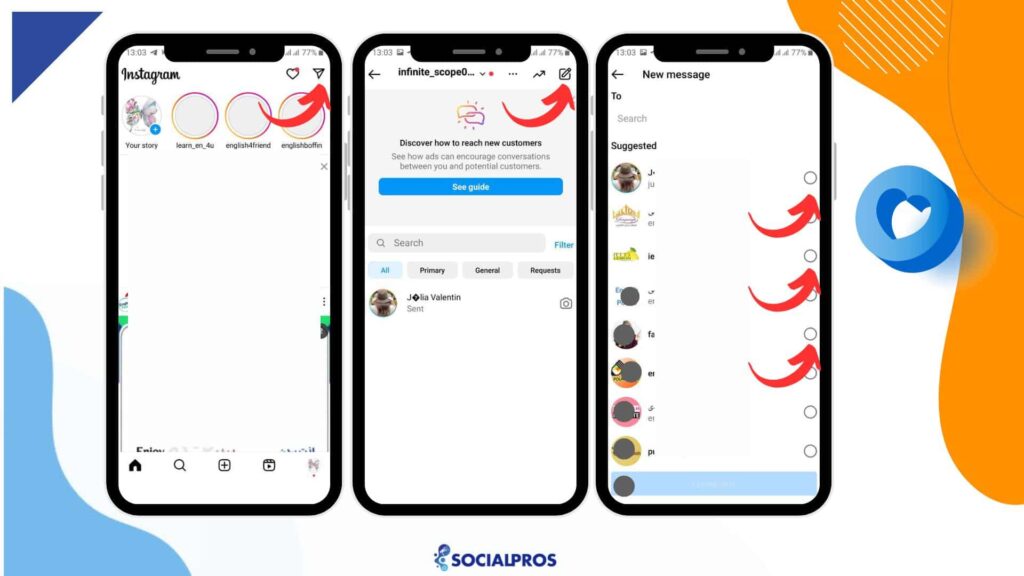 IG Mass DM enables users to reach a larger audience with a single message than regular direct messages, typically sent to individuals or a select group.
This feature is handy for businesses, influencers, and individuals who wish to communicate with their followers on a broader scale as long as they know how to send a mass DM on Instagram and slide into DMs effectively.
By using bulk text messaging (DMing), you can save time and effort by efficiently delivering messages to multiple recipients, showcasing your products and services, or making them follow you.
Why Learn How to Send a Mass DM on Instagram?
You might have reservations about whether to learn how to send mass messages on Instagram. Bear with us for a few seconds to see how essential Instagram mass DMs could be!
A normal individual could only send a certain number of Direct Messages (DMs) daily. But what if you are running a business account on Instagram?
Suppose you have managed to attract your target audience. In that case, you'll need to stay in touch with your existing clients and reach out to new ones regularly.
And if you fail to touch base with customers on Instagram and connect with them regularly, they'll eventually join the Instagram unfollowers squad of your account.
While if you pay attention to making consistent communication with your audience, you'll naturally gain more followers without the need for Instagram followers apps or Instagram followers free trial by only DMing.
Manual DMing vs. DM Automation
DM automation may offer efficiency and scalability but comes with several disadvantages. In converse, manual direct messaging (DMing) is a powerful approach as a personal touch is crucial to establish genuine connections and meaningful interactions.
Automatic DMs lack personalization, potentially leading to generic and impersonal messages that diminish audience engagement. Automation also carries the risk of spamming, lacks contextual understanding, and may fail to adapt to platform changes.
Compliance with Instagram policies is crucial, and limited customization options may hinder message effectiveness. Missed opportunities and negative user perception further highlight the drawbacks. Balancing automation with manual engagement is key to maintaining authenticity and building meaningful connections.
But if you use IG mass DM for business and need a tool to send mass DMs on your Desktop or your smartphone, most of the apps use automation for DMing. The only app that uses the manual DMing approach is the DM Pro app.
DM Pro is an innovative tool that harnesses the power of human-based managers to enhance the process of manual DMing on Instagram. With DMPro's dedicated account managers handling the manual DMing process, you can focus on other aspects of your business while confidently knowing that your Instagram growth is in safe hands.
Bulk DM tools for Instagram are available from DMpro, and they allow you to send mass messages to an unlimited number of users at once.
Why Should You Use a Tool to Mass DM on Instagram?
Sending messages to Instagram accounts would be impractical and takes a lot of time and effort to do something you can easily automate. Considering Instagram bots aren't part of the solution, we need to find new ways to mass DM on Instagram. So if no bots are involved, then 'How to send mass DM on Instagram?'
Instagram direct messages are an integral part of our experience on the platform. We use the function to stay in touch with our friends and other accounts. Aside from Instagram comments and stories, direct messages are our only tool to share our experiences and moments.
In addition, those using Instagram to grow a brand have to deal with lots of customers every day. Imagine how a business owner feels on Instagram. The inbox is often flooded with direct messages, complaints from dissatisfied customers, new orders, questions, and other things.
Moreover, the business owner needs to send several outbound DMs for various purposes. And if these owners don't do what's necessary to maintain an active presence, they might start losing Instagram followers.
When you combine all of these, you immediately begin to think about possible ways to optimize the whole process. And frankly, there's no better way to understand how to mass DM on Instagram efficiently than an Instagram mass DM service.
All in all, Instagram direct messages add a unique layer to our experience on the platform, and it could prove to be a useful function to grow your account organically. Few teams of Instagram managers can manage your IG DMs like DMpro direct bulk sender!
Want to know how to send a DM on Instagram? Let's get right into it and find out how to send mass DM on Instagram using the robust DM pro tool with which you can compose, schedule, and send messages to all followers on Instagram!
How to Mass DM on Instagram Using DMpro Bulk DM Tool
So now that you're aware of the importance of using a bulk DM service for Instagram let's find out how to send a mass DM on Instagram using DMpro, the best bulk DM tool for Instagram.
DMpro is the pioneer of DM Marketing, and they currently have a bulk message sender for FREE. This service allows users to create message templates, schedule their DMs, send bulk DMs Manually and automatically (if you want them), and a lot more!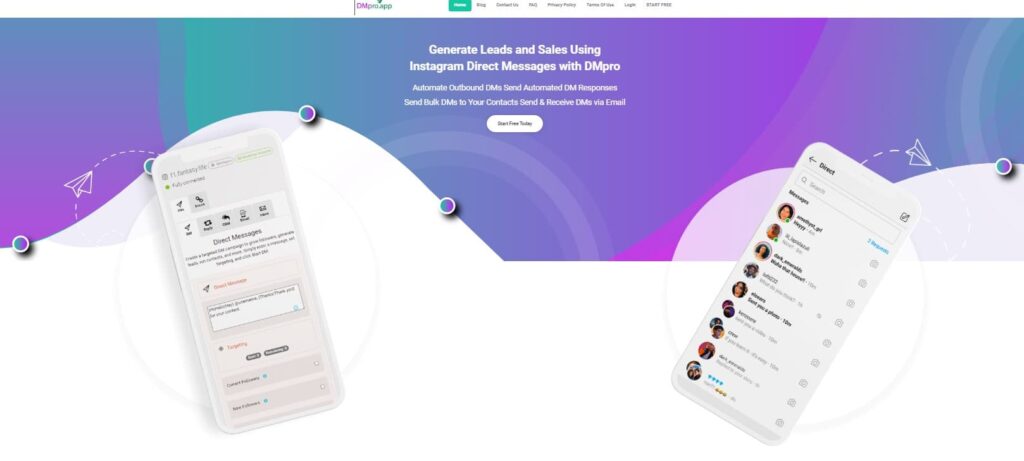 With DM Pro, you can rely on skilled managers who understand the nuances of effective communication. These managers engage in personalized conversations, crafting messages tailored to individual recipients. By utilizing DM Pro's human-based approach, you can ensure that your DMs are authentic, engaging, and resonate with your audience, ultimately fostering stronger relationships and driving better results.
In short, DMpro is the best Instagram bulk message sender. It is suitable for anyone who wants to know how to send a mass DM on Instagram!
Core features of DMpro include:
Bulk DMs: a feature to use for Instagram mass DM and send DMs to an unlimited number of Instagram accounts
DM Automation: schedule outbound DMs
Auto-response: use custom messages to auto-respond to any direct message
DM to Email: receive and reply to DMs in and from your Email of choice
DM Inbox: access all direct messages in a fully customizable inbox
Multi-account Support: use a single dashboard to connect a manage multiple IG accounts altogether
Compatible with all devices: log in to your account from any device (desktop included) and use the tool at full capacity
Embrace the personalized approach, build authentic relationships, and watch your Instagram business thrive with DMPro!
How to Send Mass DM On Instagram to All Followers With DMpro
So far, we've talked a lot about why you might need an Instagram bulk message sender and the benefits that come with using such a tool. Now it's time to walk you through how to mass DM on Instagram using DMpro.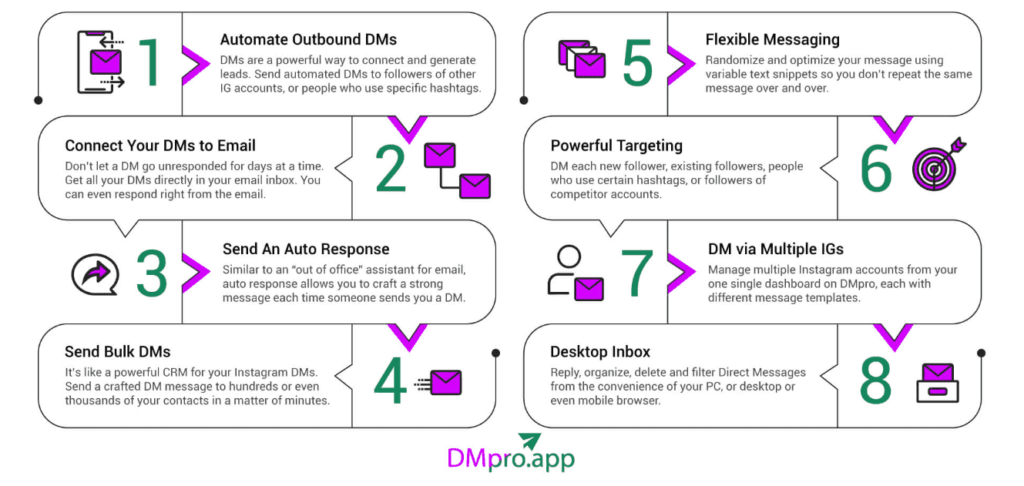 To see how to send mass DM on Instagram and get started with DMpro, you only need to follow the simple steps below:
First, go to DMpro.app and create your free account.
Secondly, verify your Email to start using the tool.
Once you click on the link sent to you from DMpro, the page will take you to your account's dashboard. (You can take the tour to become familiar with the features. Skipping is also an option since we'll walk you through the necessary steps in this article)
Now you'll be asked to connect your Instagram account. All you have to do is enter your account username and wait for the website to fetch the information.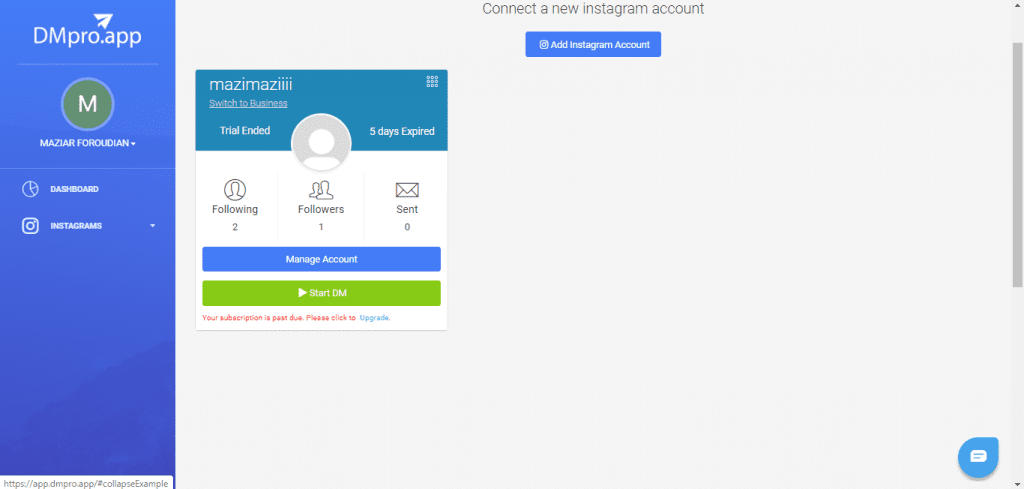 Specify your country and the city you live in (this is for their servers to use the closest IP address to locate you).
Then, hit 'Confirm Account.'
Now you'll be navigated to this page: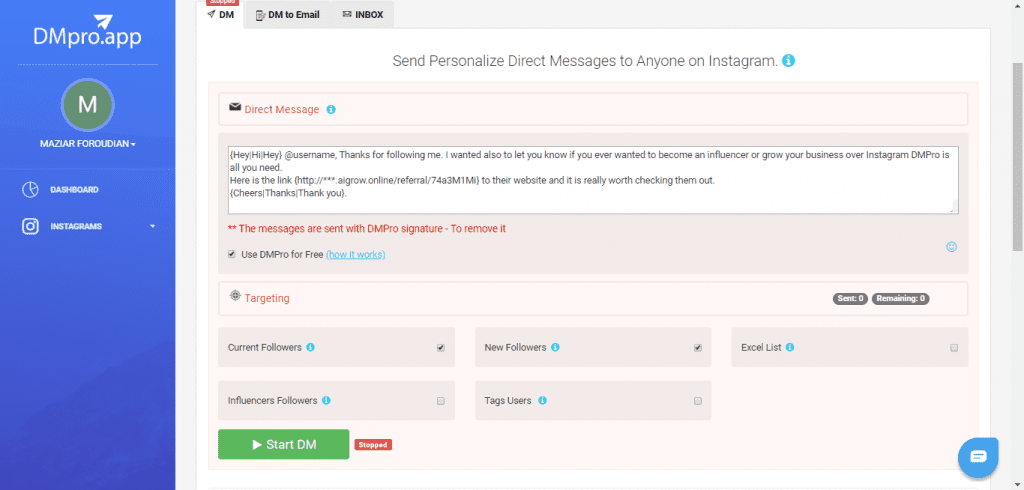 Hit the green 'Reconnect' button below your account ID, then press 'Next.'
Here, you have to enter your account's password and hit 'Submit.' (But why? We use a login server that connects to your Instagram account while keeping your information secure. By connecting to Instagram on your behalf, we can provide powerful features like direct scheduling, which our users desire. Rest assured this process is safe & secure.)
Now the website will redirect you to your account's dashboard on DMpro. The green light below your Instagram ID means that your account is fully connected.
To send mass messages on Instagram, head over to the 'Bulk DMs' tab.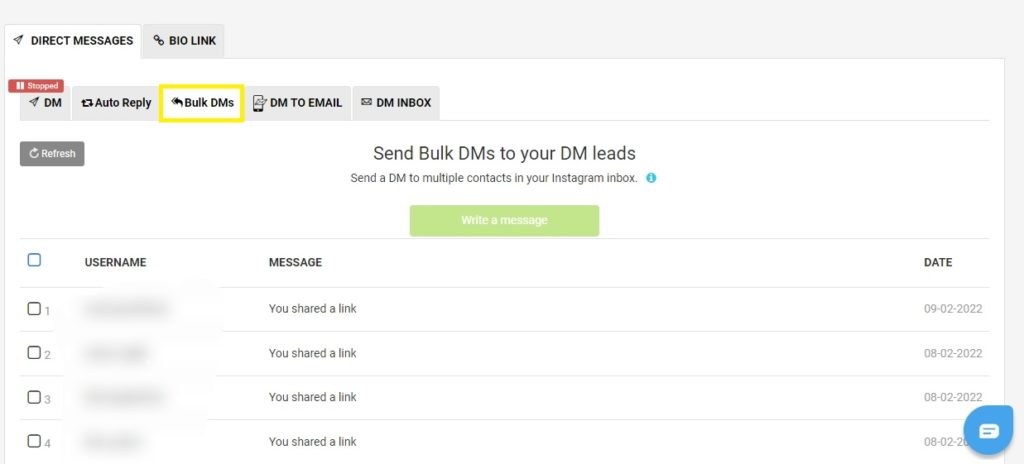 Select the accounts you want to send DMs to.
Write a message and hit 'Send DMs.'
Note that in your DM body text, you should separate the words that you want DMpro to use by straight lines (shift+) and put them inside brackets.
The tool will automatically shuffle them when sending bulk DMs. It's also important to mention that you don't have to worry about violating Instagram's daily limits at all since DMpro will not exceed the normal DM threshold.
And that's it! Now you can sit back and enjoy seeing this powerful Instagram bulk DM Instagram tool take care of the rest for you.
? Note: This is how to send mass DMs automatically and on your own, using DMpro you will have a dedicated account manager that help you send DMs manually.
How to Mass DM on Instagram (In-App Solution)
If you're interested in learning how to send a mass DM on Instagram using the official app, there's a way! You can create a DM group.
Whether you use Instagram on your mobile phone or desktop, you have the chance to manage your direct messages and create groups to send Instagram broadcast messages!
But how to send mass DM on Instagram creating a group chat?
Well, here are the steps:
Open the Instagram direct inbox and tap on the chat icon in the top right corner of the screen.
Then, select the Instagram users you want to send a message to and tap on 'Chat' in the top-right corner of the screen.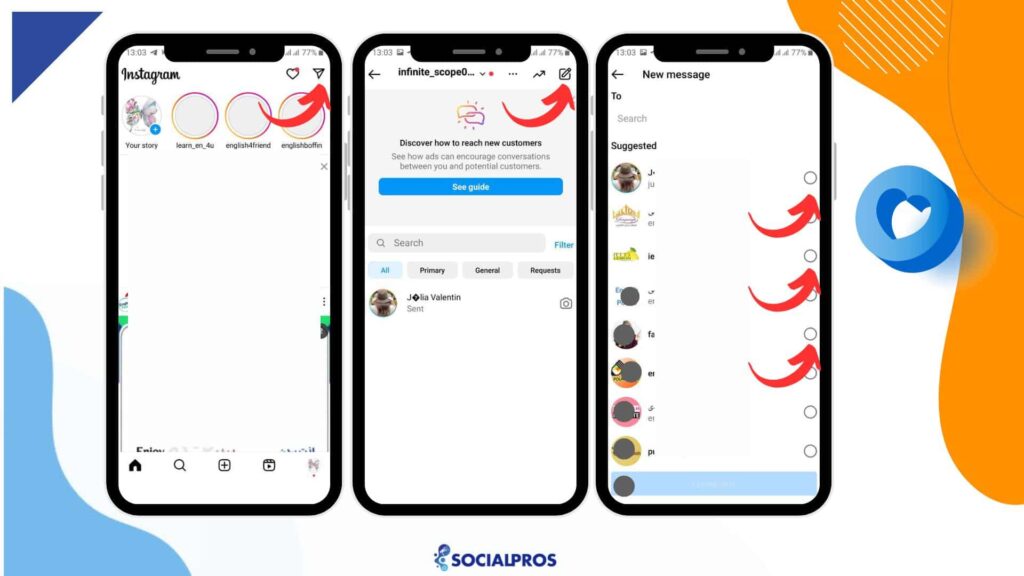 That's it! The app will immediately add the selected users to a group, and you can simply mass DM all those members simultaneously. Also, you'll have the chance to add or remove users after the group is created.
However, this way has some huge disadvantages:
You won't DM users individually, and this seems unprofessional,
All other group members have the chance to send DMs in your group, and after a while, it may turn into a spammy group that all members will prefer to leave and even unfollow you,
You won't be able to send unique coupon codes.
So, if you want to know how to mass DM on Instagram, what's your best shot? To use a reliable bulk/mass message sender!
Conclusion on How to Mass DM on Instagram
In a nutshell, knowing how to mass DM on Instagram correctly and sending bulk Instagram messages helps you:
Build trust on Instagram,
Promote your products,
Generate more leads,
Get more sales on Instagram,
Share coupon codes and pick Instagram contest winners in a shorter time,
And a lot more!
Unluckily, using the official Instagram app, you cannot send mass DMs without creating a group. So, you have to learn how to send a mass DM on Instagram using a reliable platform. However, we're hoping the Instagram bulk message sender free tool we introduced is helpful to you.
This Instagram mass DM service will allow you to send mass DMs to all Instagram users instantly without being spammy. So why not free yourself from all the trouble and get instant access to the bulk DM tool for IG?
FAQs
So far, we have answered your main questions on how to send a mass DM on Instagram. But, there's much more to this topic. So, this section will put forward and answer your frequently asked questions!
1- Can Instagram bots help send multiple messages to Instagram users?
Yes, several bots can help you get more followers, mass delete Instagram posts, or automate your DMs. And it's not illegal to use bots for your growth or messages. 
Yet, using bots, such as 9Plus Mass DM, is quite risky. One day, you might notice that you are shadowbanned on Instagram! So, what should you do instead?!
Either create an Instagram group or use DMpro, a reliable platform for this purpose! Now you know how to mass DM on Instagram in the safest possible way!
2- In Instagram mass DMs, can you add hyperlinks?
We've already covered how to hyperlink on Instagram. Although adding hyperlinks on Instagram posts might be complicated and inconvenient, it's not the same for DMs! 
You can easily send direct messages, including a link. And using a mass DM tool like DMpro, you can successfully drive blog traffic from Instagram!
3- How to send a message on Instagram?
We have covered how to mass DM on Instagram. But after all, you may have more straightforward questions. For instance, you may ask about sending messages to Instagram users you don't follow!
In that case, allow me to explain! All you have to do is:
Search for their name/username and open their profile.
If you follow them, there will be a 'Message' button. Once you tap on it, you can write and send a message!
However, if you don't follow them, you can simply tap on the three dots at the top right corner. Then, choose 'Send Message.' In this case, they will receive a notification from Instagram asking them to accept and answer your messages!