One day we woke up to find that social media have permeated into our lives so deep that we cannot do without them! And among all social media, Instagram with its distinctive features and tools shone ever-brighter. Through the power of Instagram messages, posts, stories, and reels, we connect with our family members and friends. And it is with Instagram DM that businesses have managed to attract their audience and sell their products.
Because of this network's popularity and effectiveness, many brands and business have chosen to mass DM on Instagram and reach out to potential followers. And yet, no matter whether you own a business account or a personal one, learning how to send Instagram messages and use them to your advantage is essential.
In this blog, we'll also introduce a highly reliable platform, DMPro, that can speed up your actions. Yet before we get into it, let's answer some basic questions on Instagram messages like: 'what does DM stand for?!' So, tune in to find clear-cut answers to all your questions regarding the Instagram chat section! 😉
What Does DM Mean on Instagram
What is DM and where is it on Instagram? Let's figure it out!
Instagram DM is short for Direct Message where you can directly interact with your IG target audience and perhaps bond with them! Sure, you can also communicate with your followers on your Instagram posts, captions, and stories. But Instagram DM is the only section you can conveniently text your followers, get to know them, promote yourself, and address their questions and concerns.
Can you imagine that until they introduced the direct feature in 2013, there was no way for us to directly speak with our friends on IG?! Now, almost 85 million users text on Instagram DM every month. It seems like we've come a long way from being unable to send messages to using Instagram direct for marketing and business!
Now, we can access our Instagram direct message through this icon in the top right corner of your screen. As you click on it, your Instagram chat list appears, allowing you to send DMs and see who you have texted before!
Learning the DM meaning and how you can send messages will allow you to foster a closer relationship with your fans and even turn your followers into customers. Not to mention that you can share your favorite posts as direct messages with your friends and family members.
So, now that you know the answer to 'What does DM mean?' let's learn how to use Instagram messages to the fullest! It's a great opportunity!
How to DM on Instagram
You know where the Instagram messages section is, but do you know how to private message on Instagram? Or even more specifically, do you know how to check DMs on Instagram Mac?!
In this section, we are going to cover all questions about sending messages on the Instagram app and web on different devices. Let's get to it then, shall we?!
How to Send Private Messages on Instagram App
Whether you have the Instagram application on your Android or iPhone, there are 3 methods you can exploit. Read on to find out!
#1 Access Instagram DM from your feed: To learn how to send private messages on Instagram, all you need to do is follow the steps below:
Open the Instagram application and click on the icon in the top right corner of the screen where you will access your list of chats.
Now, by pressing this icon, you can conveniently search for a username or pick one of your followers to text!
Once you're done choosing the recipient, click on 'Chat' and start writing your message.
As soon as you click 'Send,' they willI receive it!
It is really as straightforward as that! Now, let's move on to your next alternative!
#2 Send Instagram messages from the profile: Instead of accessing your Instagram chat, you can open the profile of anyone you'd like to text. There's a 'Message' button next to the 'Follow' option.
If you don't find the button there, tap on the three vertical dots in the top right corner of their profile and choose 'Send Message.' Now, you can easily write your message and send it!
#3 Share other posts on Instagram DM: Have you ever come across a post you've related with so much so that you wanted to share it with your friends? Or have you seen any content you would have liked your friend to see? Well, Instagram also allows you to send appealing or intriguing Instagram posts, stories, reels, and IGTVs as a direct message.
Once you see a post you want to share, you can click on the airplane icon at the bottom of each Instagram post. Then, by selecting the recipient and hitting 'Send,' they will receive it!
However, you need to bear in mind that if you're sharing a post or story from a private account, the recipient will see that Instagram is not showing the posts. That's because of Instagram's privacy policy where they can't show the content from a private page unless you follow that account!
Using these three methods, you can easily send messages and reach organic Instagram growth. Not to mention that you can always use a reliable Instagram DM app to create and send automated Instagram DMs in a split second! We'll get there soon enough, though. For now, let's focus on other aspects.
How to Reply to Messages on Instagram
Until recently, we weren't able to quote or reply to Instagram direct messages. But with every new Instagram update, we're getting more features. For instance, we can now hide likes on Instagram, or more importantly, reply to Instagram messages.
To do so, you only need to follow the steps below:
Choose the message you'd like to reply to and tap and hold it until a list of options appear.
At this point, select 'reply' and write your text.
After you send it, you'll notice that your message appears below the original message and in response to it.
That wasn't so complicated now, was it?! Yet, to make your job even easier, you can take this route:
Swipe right on the message you want to reply to.
Write your response and send it.
This is as straightforward as it gets. However, those who receive many messages, the Instagram DM notifications or the process of replying to each message may seem annoying. In such a situation, an effective platform, like DMPro, can be indeed practical, allowing you to send Instagram autoreplies.
How to Send Instagram Messages on Computer
Learning how to send private messages on the Instagram application hasn't been too challenging so far, right?! Now, to figure out how to text people on Instagram on computer, take the actions below:
Open Instagram.com and log in to your Instagram account with your credentials.
Then, tap on the DM icon next to the home icon.
Now, you can access a list of your previous chats or tap on the pen icon above and choose a new recipient from your followers.
Next, tap on 'Next' and write your message.
Finally, by tapping on 'Send' or pressing 'Enter,' the message will be sent!
You should be able to easily send Instagram messages on computer now.
And if you'd like to reply to a specific message on Instagram web, you only need to hover over the message until you see the 'Reply' option. Or, you can tap on the three horizontal dots and choose 'Reply.'
How to Check Instagram DM on PC
At this point, you already know how to send message on instagram on PC. For checking the messages, you follow similar steps:
Open Instagram web and tap on the airplane icon from the top bar.
Now, you can see all the messages you've sent and all the messages that has been sent to you.
If you've received a DM notification yet you can't find it on an Instagram chat, you need to consider two possibilities:
You're experiencing an Instagram DM glitch.
Your Internet connection is weak.
That's all you needed to know about checking Instagram messages on PC.
But what if you'd like to check and read Instagram messages without being seen?! In that case, you can count on DMPro which enables you to send and receive Instagram DM from your email without the trouble of a read receipt!
How to Update Instagram Messages
In fact, Facebook decided to merge its messenger with Instagram and Whatsapp, allowing the users to enjoy a new set of features. That's why in order to use the new Instagram messenger, you must go through an update.
To update Instagram messages, you can take the steps below:
Open the application and tap on the Instagram DM icon in the top right corner,
Now in the pop-up that appears, showing some of Instagram messenger's features, select 'Update.'
However, if you have already selected 'Not Now,' you should take these actions:
Open your Instagram profile feed and tap on the three horizontal lines to access 'Settings,'
Then, choose 'Update Messaging' and confirm it!
That's all you need to do!
With this new update on the Instagram messanger, you can understand how to react to messages on instagram, reply to DMs, reshare posts, or turn on the vanish mode on Instagram.
How to Use Instagram Messages to Your Advantage
You're becoming quite an expert in sendig Instagram messages! But still, managing your DMs can drive you crazy to the point that you forgo all its benefits and prefer to silent your Instagram DM!
Sending and replying to Instagram direct messages is not complicated or challenging, but if you receive many Instagram message requests or have many IG followers, it becomes almost impossible to manage! When you have your hands full, growing your brand, and building awareness, working on your DM strategy, how ever helpful it may be, can be quite problematic.
But worry not, friend! We're here to show you how to conveniently use the Instagram DM section effectively for your business. On your path, you're going to need some help from a trustworthy platform which can ensure your success!
DMPro: Facilitate Sending Instagram Messages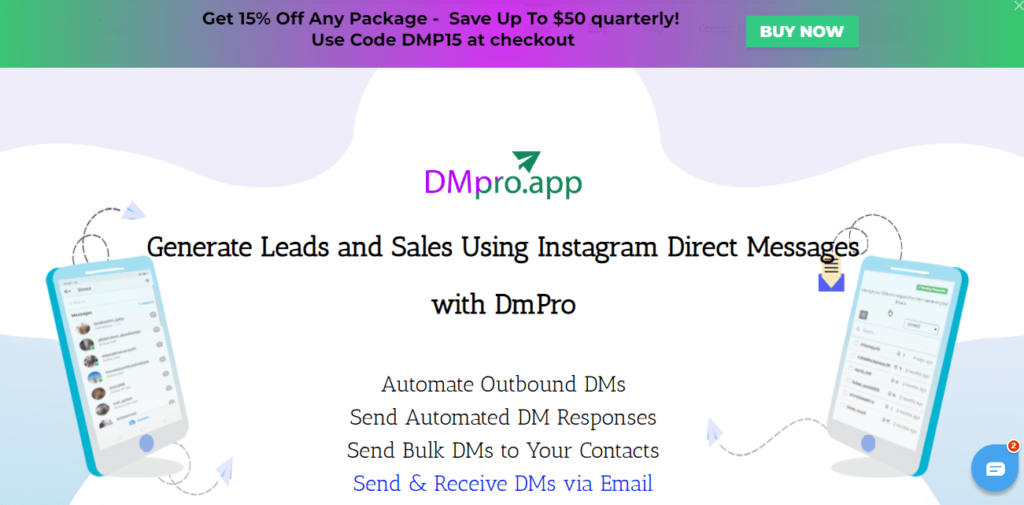 We hear you! Instagram messages are great for attracting a target audience, raising brand awareness, and increasing sales but sending an Instagram DM to a large group of followers takes a lot of time. But, it doesn't have to be this complicated!
DMPro, an incredibly helpful tool, can come to your rescue and facilitate the whole process. This tool enables you to:
Target new followers and potential customers of your brand.
Send bulk messages to your target audience, having the Instagram daily limits in mind.
Draft a response and let DMPro automatically respond to new messages.
Connect your Instagram DM to your Email so that you can sort and filter Instagram DMs, read them, and answer from the comfort of your own Email inbox!
And more! If you don't know how to direct message on Instagram on Mac, DMPro is your best bet! Isn't it fantastic to be able to monetize your Instagram and get more sales through your DM on any device?!
You don't even have to worry about your budget! DMPro offers 3 different packages, one of which is completely free with no hidden cost.
Using its free plan, you get to send 200 bulk DMs, 20 automated messages, create a desktop inbox, link your DM and Email, receive top-notch support, and much more! Its two other plans also offer a lot for a reasonable price. So, no worries about the cost; they've got you covered!
Guarantee your success with DMPro now and enjoy all the tools for free!
FAQs on Instagram Messages
The topic of Instagram DM is indeed extensive and needs detailed elaboration. So far, we've answer all your questions on 'how do you DM on Instagram?' And now, we've decided to provide an FAQ section to make sure we leave no question unanswered. Read on to find the answer to your questions!
1- How to React to Messages on Instagram?
Have you ever wished you could show reactions to your friends' messages?! For a long, long time, we could only like DMs. But with every new update, the future of Instagram looks even brighter! And now, this platform allows us to use other emojis on the DM section.
To learn how to react to messages on Instagram, follow the instruction below:
Open your Instagram DM and choose the conversation,
Then, tap and hold the message you want to react to,
Now, choose any reaction from the list!
Simple, right?! To find more information on how to react to Instagram messages, read this article!
2- How to Delete Instagram Messages?
We've all been there! You've DMed a video to the wrong recipient, sent the wrong message to a stranger, or simply mistyped a word. Now, how can you undo what you've done?!
To delete Instagram messages from both sides, you can follow these steps:
Open the conversation,
Now, tap and hold the message until the options appear,
Choose 'unsend.'
By unsending an Instagram message, you're making it unavailable for all recipients.
But perhaps you don't like to remove the message for the recipient; what then?! In that case, you can simply hold a chat and select 'delete.'
If you accidentally deleted a DM, you can learn how to see deleted messages on Instagam and recover them. Unfortunately, there's no such thing as an Instagram archive for messages, but there are efficient Instagram DM recovery tools you can exploit! So, don't worry!
3- How to Know If Someone Restricted You on Instagram DM?
If someone restricts you on Instagram, you can still send messages but they will appear as requests. And unless they accept the request, there won't be a seen receipt. From this, we can learn that if our messages go unseen for a long time while the recipient is active, we're probably restricted.
However, if you have the 'We restrict certain activity on Instagram' error, that's not related to the recipient. In fact, that's because Instagram is suspicious of your activities. Perhaps, it's because you've used unreliable DM tools or bots, or maybe you have taken too many action in one day. At any rate, you can read this article and fix the' We restrict certain activity on Instagram' error!
4- Are Instagram Messages Private?
Your Instagram DMs are indeed private to you and the recipient but they can indeed take screenshots without you knowing. But, by turning on the vanish mode on Instagram, not only are your messages private but they will also disappear after the session is over. And if anyone chooses to screenshot an Instagram DM, Instagram will let you know!
5- Can You View DMs on Instagram Without Them Knowing?
Reading Instagram messages without the seen receipt is unfortunately impossible on the official app unless you choose to restrict the user. But that's too time-consuming and annoying!
DMPro, allowing you to receive and answer your DMs on Email, can help you do so!
6- How to Unread Messages on Instagram?
Unreading messages on the Instagram app is indeed possible. You can tap and hold any conversation and choose 'Mark as unread.' however, bear in mind that unreading the message doesn't remove the seen receipt; you are merely flagging a chat to return to at an earlier date!
Over to You!
This complete guide on Instagram messages discussed every aspect of sending a DM. If you haven't yet mastered how to send Instagram messages on the application or web, you can re-read this article.
And don't forget to exploit DMPro for free to facilitate the whole process and convert your followers! If you have any questions, don't hesitate to let us know!