The way some Instagrammers share content always gets your goat to the point of rage! But stop being annoyed because you can learn how to mute someone on Instagram here!
Your friends and family may send you a lot of dull content and stories, but there is something that makes it difficult for you to unfollow or block them.
So, you can't deal with annoying accounts like a relative who constantly shares pointless content that you could never hope to understand or advertisers who constantly share FOMO marketing materials and only care about their bottom line.
Whether you are a marketer or an individual, there may be many people with whom you don't want to cut ties completely, but you do want to get rid of their posts, stories, and so on.
Therefore, muting posts and stories of these people on Instagram is the best solution for you. Remember that muting someone on Instagram differs from mass unfollowing or blocking them.
This way, you remain their followers but feel released from getting their stories or posts of any single move they share on social media.
In this case, you won't face any unfollowing consequences while you're still connected to them.
Now, let's see how to mute people on Instagram stories, posts, and DMs.
How to Mute People on Instagram
Some Instagram users have the propensity to take a ton of selfies and upload them all on the site frequently.
On the other hand, you may be a busy Instagram marketer with a large following, and there is no space for junk in your hectic life.
You want to enjoy your feed again and engage with your real followers on Instagram without seeing such followings. This is when you ask how to mute someone on Instagram.
Before knowing how to mute annoying accounts, let's know what happens when you use Instagram mute capability. Keep reading.
What Happens When You Mute People On Instagram
When you mute someone on Instagram, you will no longer see their posts in your feed. Additionally, if you mute their stories, you won't see their content at the top of your feed or the incoming messages they send you.
If you wonder how to find out if someone muted you on Instagram, Instagram will not notify users that get muted. Muting someone is not the same as restricting, blocking, or unfollowing them.
There are several ways to mute someone's posts and stories on Instagram. Keep reading to know how.
More Instagram tips: How to Hide Who You Follow on Instagram?
How To Mute Someone's Posts on Instagram
If you desire to get rid of some frequent nonsense posts of a tacky person, take a breath and check the step-by-step guide to mute or unmute someone's Instagram post and story:
Open your Instagram app,
Select the search icon,
Then, insert the name of the account you'd like to mute in the search bar and tap on their profile,
Select 'Following' ( It's under their username and above their posts),
Tap 'Mute' on the pop-up that shows up with two options,
Now, tap on 'Posts,' 'Stories,' or both.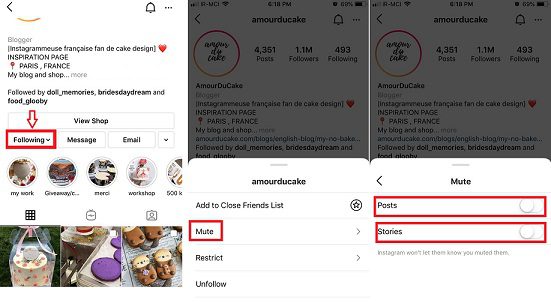 Congratulations, you will no longer be exposed to the annoying content of peculiar people you dislike.
More Instagram Tips: How To Become An Instagram Influencer
How to Mute a Single Instagram Post from Your Home Feed
If you are facing another boring post of a special someone on your home feed and want to cut it out, the only way you have is to use the 'hide' feature.
To do so, go through the following steps:
When a post that annoys you appear on your 'Home' feed,
Hit the three dots above the right of the post,
Tap and select 'Hide.'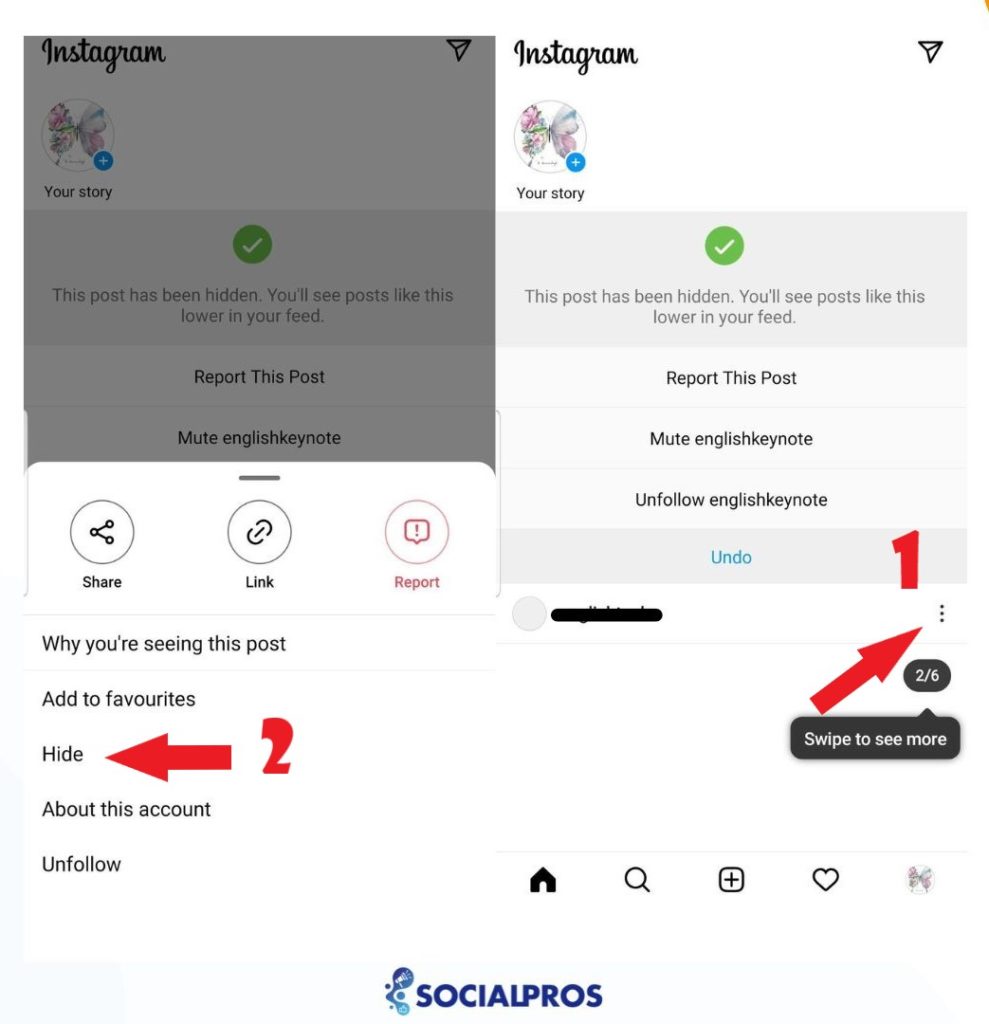 This way, the post will hide, and you'll see posts like this lower in your feed.
More Instagram Tips: Gain 1000 Free Instagram Followers
How to Mute Someone on Instagram Story
If you don't want someone's story to show in the bar at the top of Feed, you can mute their story. Using the method mentioned in the 'How to Mute Someone's Posts on Instagram' section and choosing 'Mute' and then 'Story,' you can mute users' stories on Instagram.
There is another way to mute someone's story on Instagram, to do so, follow these steps:
Press their profile picture and open their story,
Tap on the three dots,
This will show you two options,
Selecting 'Mute' will bring you another choice between 'Mute Story' and 'Mute Story and Posts.'
Hit the toggle slider for either or both of those options.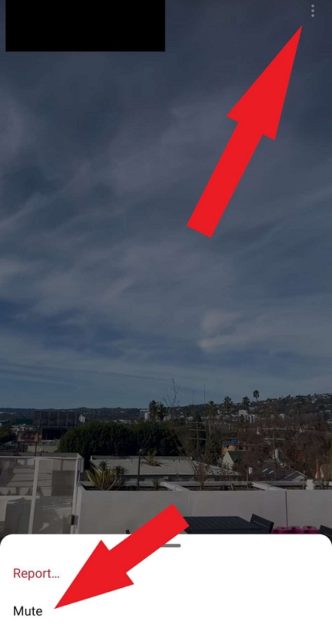 More Instagram Tips: Know and Beat Instagram's Daily Limits (2023 New Update)
How to Mute and Unmute Someone on Instagram Using a PC
You can mute people using your computer with the same methods as above, with minor tweaks.
Open your browser on your desktop or laptop and go to the Instagram website to mute annoying IG users on your PC.
Search the username of the person whose posts you want to mute.
On the user's profile, click the 'Following' located above the Instagram bio section and in front of the username.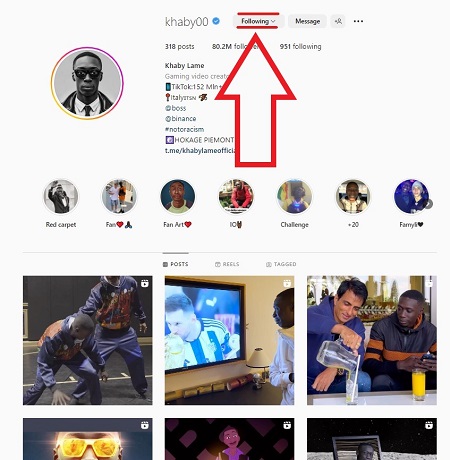 When the pop-up menu with five options appears, select 'Mute.'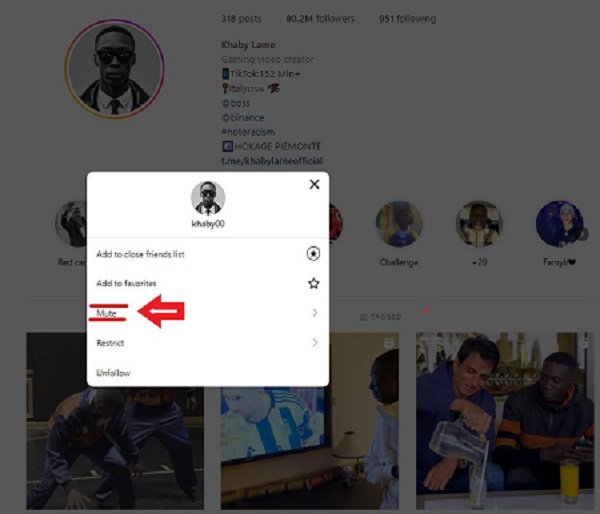 Following that, you have two options: mute stories or mute posts. You may also select both of them.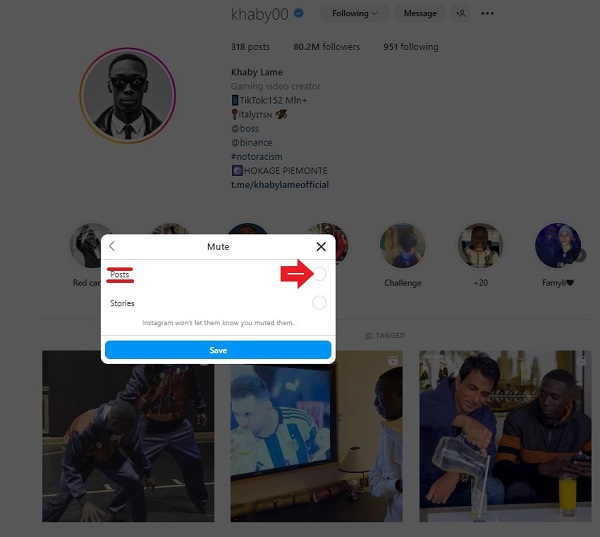 How to Unmute Someone on Instagram
After a while, you may regret it and want to unmute them by using all the above methods and toggling the 'Stories' or 'Posts.' However, there is another way to unmute people on Instagram.
Instagram has a feature that displays all muted accounts and takes you to their profile page, where you can unmute them by following the above steps. This method is ideal if you've started forgetting which accounts you've muted.
Follow the steps below to unmute people whose names you have forgotten:
Tap the three-bar icon in the top right corner of your account.
Then, navigate to the Settings menu.
To view the accounts you've muted, go to Privacy > Muted Accounts.
This also displays what content you have muted from them.
Unmute the account whose stories or posts you want to hear again.
How to Mute Someone on Instagram DMs
Many marketers receive bunches of messages and ads from random people. It may cause managers to ignore important and urgent messages non accidentally.
Of course, you can mass delete Instagram messages, but there is no option to mute them in bulk to avoid facing such an issue.
However, you can mute or unmute messages one by one. To do so, you need to follow the steps below:
First, open the Instagram app,
Then, tap on the direct or messenger icon in the top-right corner,
And next, tap the chat or conversation with the person you want to mute or unmute.
Tap the top right of your chat and the 'I' icon,
Now, slide the 'mute messages' or 'mute call notifications' option to mute/unmute someone's messages on that chat.
In this section, you can choose the option to 'mute video chat' too.
Use Third-Party Instagram Services
If you want complete control over your account, you can use a third-party service. AiSchedul is a third-party Instagram solution that allows you to schedule Instagram posts, monitor your competitors, repost and save other users' posts and stories, and so on.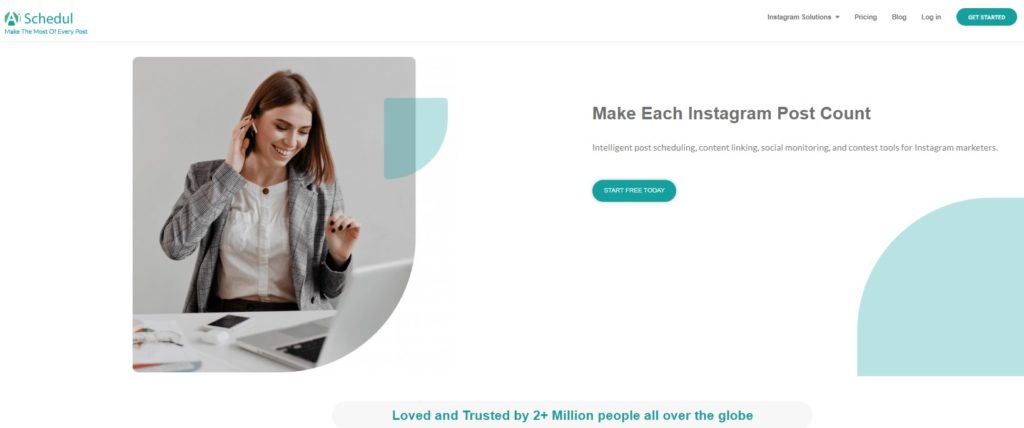 Using this tracking tool, you can view someone's posts and stories without having to unmute them whenever you want.
Read the AiSchedul review to know everything about this incredible service for Instagram. Now let's know how to save stories using AiSchedul.
How to Save Instagram Stories on PC
Using this wonderful tool, you can easily save Instagram stories on a PC. Moreover, AiSchedul allows you to view private Instagram accounts.
Now to track someone on Instagram:
Log in to your account.
Select 'Manage Account'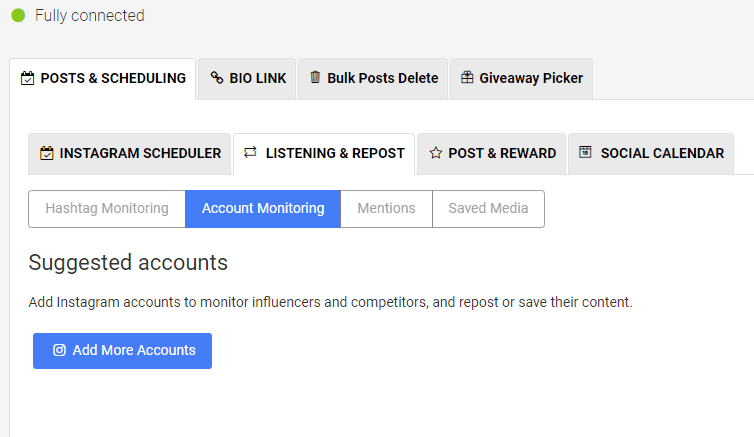 Now, select the 'POSTS & SCHEDULING' and 'LISTENING & REPOST' tabs and upload your photos.
Now, choose the 'Account Monitoring' tab.

Next, hit the 'Add more accounts' button.
Add the accounts you want to inspect.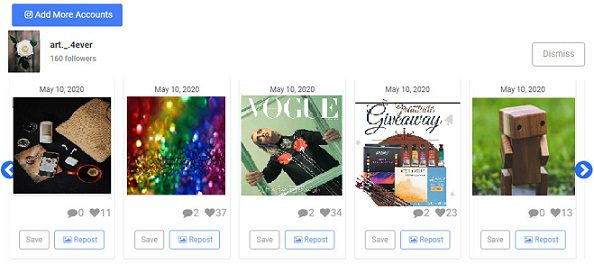 Finally, you can select, save or repost each post you desire.
Take Over Control of Your DMs with DMpro
Additionally, the good news is that there is an Instagram management tool that lets you send Instagram messages using your PC, connect and forward your DMs to your email, and many other features related to Instagram DMs.
Indeed, it would be best to forward Instagram messages to email and mute multiple conversations simultaneously. DMpro is an IG-friendly app that allows you to add several Instagram accounts to your single dashboard. Then, you can connect each of them to an email address.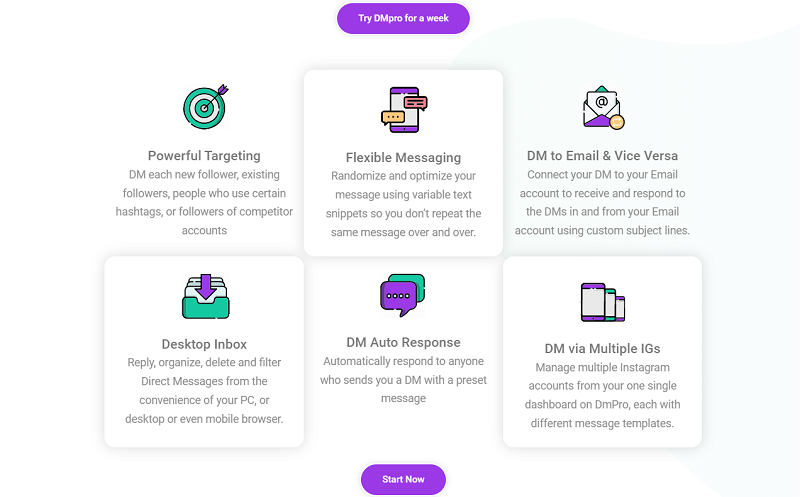 Since then, an email will notify you every time you receive a direct message in your direct inbox. Also, using this feature, you can read unsend messages on Instagram.

So to connect DM to your email and mute people on Instagram, follow the steps below:
Sign up for your free DMpro account.
Press 'Manage Account'
Hit the 'Direct Messages' and 'DM to Email' tabs.
Now, confirm your email address.
From now on, you'll receive all the DMs in your email.
Here, you can mute people on Instagram and not face their messages anymore.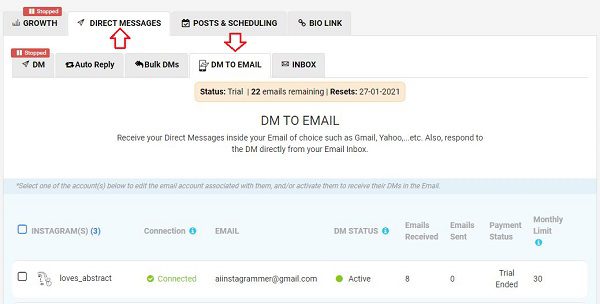 Moreover, via DMpro, you can instantly respond to DMs from email and mark it as unread to respond in the future. In addition, you can add any tags or labels like your emails. Above all, this helps you to read messages without being seen.
Presently, you can instantly recover your DMs if you delete a DM accidentally or a virus attacks your property. Read this DMpro review to know more about this service.
FAQs on How to Mute Someone on Instagram
Now you have precise and helpful information on how to mute people on Instagram. However, there are some questions and in-app solutions that many users might ask. So I'll share them with you:
1. What's the Difference Between Muting and Blocking On Instagram?
When you block someone, you are no longer one of their followers, and they are no longer one of yours. Muting them, on the other hand, prevents you from seeing their posts and stories in your feed while remaining their follower.
Furthermore, when you block someone, they will be unable to find you when they search your username to view your posts. Depending on the situation, you can either mute or block a user on Instagram.
2. Is the Restrict Option the Same as Mute on Instagram?
Restricting someone on Instagram is not the same as muting or blocking them. The Instagram Restrict feature was introduced as a general pro feature to prevent people's activities from appearing on your account.
Instagram restricting allows you to hide someone's Instagram activity without blocking them. By limiting what restricted accounts can post on your profile, you gain more control over the comments you and your followers see on your posts.
On their end, everything appears normal because restricted users can still comment on your posts, send you messages, and view your profile like any other user. Take the steps below to restrict someone on Instagram:
Tap the tree dot in the top right corner of the user's profile,
Then tap Restrict at the new menu that appears,
A pop-up window will appear stating that the user is now restricted.
You can learn more about them by tapping 'Learn More' or 'Dismiss' to return to their profile.
3. How to Check if Someone Muted You on Instagram?
If you ask, 'How do you find out if someone on Instagram muted you?' There is no way to find out, and there is no way to see a list of those who have muted you.
However, with a few tricks, you can figure out who muted you. For example, if someone who used to engage in your posts or frequently viewed your Instagram stories goes silent or no longer appears on your story's Viewers list, they may have muted you, especially if they are still engaged in other people's posts.
This could indicate that the user has muted your stories or that the user has muted both your stories and your posts.
4. How to Unmute Posts on Instagram?
To unmute posts of someone on Instagram:
Find the muted user's Instagram page.
Pick 'Following' below their profile image.
Tap on 'Mute.'
Then, unmute posts by turning the 'Posts' switch 'off.'
5. How to Unmute Someone on Instagram Story?
If you mute someone's story, you won't see their story next to others at the top of your feed. So whether you change your mind and want to unmute their stories, you need to:
Tap their username from their Feed post.
Select 'Following' below their profile.
Tap "Mute," then tap next to 'Stories.'
6. Why Is My Instagram Story Muted?
When you tap an Instagram Story while your phone is silent, you expect it to be muted. You can override and play the sound on the Story by pressing the volume button.
7. Why Can't I Mute Someone on Instagram?
You may be unable to unmute someone for a variety of reasons. For example, if you've blocked someone's account, you won't be able to unmute them unless you unblock them.
Furthermore, if you have unfollowed someone, you will not be able to unmute them because you will no longer receive their posts or stories in your feed.
Final Thoughts on How To Mute Someone On Instagram
When you mute someone on Instagram, you can still view their stories by going to the end of your stories and tapping their profile image or visiting their Instagram page. Indeed, muting people on Instagram only prevents them from showing up in your account feed.
We showed you how to stop seeing someone's Instagram posts without unfollowing or blocking them in this post. Remember that you can mute and unmute multiple messages at the same time by using a powerful DM tool like DMpro.