Have you ever thought of getting an email notification when you receive an Instagram DM? What about sending and receiving your Instagram DMs in your Email inbox? Well, we are here to tell you how to forward Instagram messages to email with ease.
Actually, only being able to draft, send, and receive Instagram DMs on your smartphone and using the official Instagram app may not seem an inconvenience to the average Instagram user. But if you're a larger channel sending and receiving hundreds of DMs every day, you need a more professional tool to better manage your DMs.
Here we are going to tell you everything about how to connect your DMs to your Email of choice and enjoy the benefits.
You May Also Like: 
A Free Tool To Forward Instagram Messages to Email 
AiGrow is a great tool for Instagram marketing. Or let's call in the best  All-In-One Instagram marketing tool
Actually, it helps you:
And many other cool features you can use to manage your Instagram account easily and more effectively. Among the features, today we are going to focus on how you can connect your Instagram direct messages to your email of choice (Gmail, Yahoo, or any other email providers) and enjoy managing DMs from your email inbox.
With AiGrow you can:
Get an Email Notification each Time You Receive a DM
As you can guess from the title, using this tool you can connect your Email to your Instagram messages and never miss a DM anymore. Luckily, you can add several Instagram accounts to your dashboard and connect each of them to an email address. Then, you will be notified with an email each time you get a message in your direct inbox and you can forward Instagram messages to email easily. Also, using this feature, you can read unsend messages on Instagram.
Send and Receive Instagram DMs in your Email Inbox
Not enough to get a notification? Well, that's not all. You can even get or send your DMs from your Email. Each time you receive a DM, you'll get an email with the same content of your DM. you can easily respond from there, or mark it as unread to respond later. Additionally, you can add any tags or labels, the same as what you do with your emails. Also, this helps you to read messages without being seen.
(how to set it up in 2 minutes)
Sort and filter DMs, the same as your Emails
Another advantage of getting DMs in your email is that you can easily sort and filter your DMs, the same as your emails. (the option is not available even on the Instagram app). Also, you can create folders for your Instagram DMs and organize them even better than the original app. (setup guide)
Add Attachments to your DMs, with the Ease of your Emails
And here's the surprise! Moreover, you can add any attachments including images, videos, links, and URLs to your Instagram DM from the interface of your email. So, upload photos and videos from your laptop (or any other devices) and send them directly to your Instagram.
Here's how to set it up:
How to Use AiGrow to connect DMs to your email?
This is really easy. To do all the things we have mentioned in the previous parts, you just have to follow these steps:
First, create a free account here. Then, on your dashboard, log in to your Instagram. (you can add several accounts and enjoy managing them at a time), and click on "Manage Account". Find the "DM to Email" tab and add your email of choice.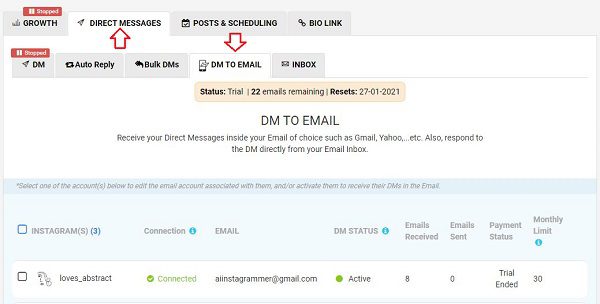 After confirming your email address, you'll receive emails containing your Instagram DMs each time you have new messages. So, sign up for free right now and enjoy!
How to Enable Email Notification for Instagram Messages? In-App Solution
Instagram allows users to enable email notifications for Instagram messages and missed notifications. To do so, you just have to go to the notifications settings and in the email and SM section, turn on the reminder notifications.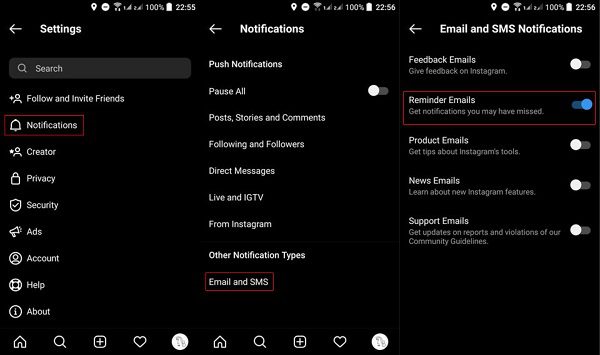 By the way, note that this just works when you forget to check your in-app notifications for a long time, and using this feature, Instagram just reminds you to check them out. So, AiGrow dM to email feature is still the best way to receive DM notifs on your email. 
Also Read: An Easier Way to Manage Instagram DM Notifications
How to Export Instagram Chat?
Instagram also allows you to export your chat. Actually, by exporting your Instagram chats, a file will be sent to your email which contains all your messages, posts, comments, and other data on your Instagram account. To export your Instagram chat, follow these steps:
On the Instagram app or website, go to the account settings, and in the

Security

section, tap on

Download Your Data

.

After entering your email address, tap on

Request Data

. Here, you'll be asked to enter your password. After that, just tap on

Done

. 

In 48 hours, you will receive an email from Instagram with the subject Your Instagram Data. Here, you can find all your messages. 
Read More: How To Recover Deleted Instagram Messages? 5 Easy Ways
Forward Instagram Messages to Email! Yes or No? 
Of course, YES! To wrap it up, if you are managing a business Instagram account and you are getting tons of DMs every single day, you will need to be able to manage your DMs professionally. So, why don't you try to manage your DMs in an email-like environment? Yes! Using AiGrow, this is possible. So, go ahead, read the article meticulously, and try the mentioned features to nail it!