If you have ever tried to schedule Instagram posts for free, you have definitely heard about AiSchedul. In this article, we are going to have a closer look at this platform, its features, services, prices, and pros and cons. So, let's start and see why it is known as the best Instagram scheduler! 
What is AiSchedul?
Well, AiSchedul is a complete package of Instagram management tools that enable you to manage multiple Instagram accounts simultaneously, schedule posts and stories on them, and much more than this. Additionally, it is integrated with growth services, DM management tools, and an all-in-one bio link tool which all help you grow your Instagram followers organically using a single dashboard. But to know how it exactly works and what are its features, keep on reading. 
AiSchedul Features
As mentioned above, AiSchedul is more than just an Instagram scheduler and it helps you with most of your Instagram marketing strategies. In the following, I'll talk about each feature in detail. But first, let's see how to create an account and add Instagram accounts to it:
Step 1: Click here to sign up for free. Then, enter your name, last name, email address, and set a strong password. Then, click on the "Register Now" button.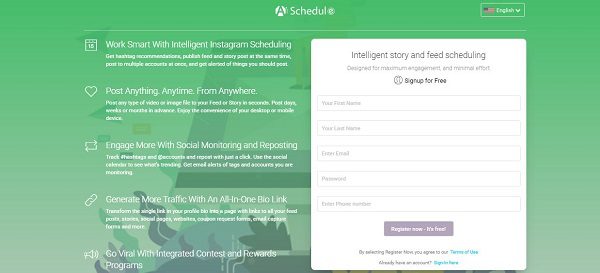 Step 2: Now, on your dashboard, click on the "Add Instagram Account" button and add as many accounts as you want. 

Note that you can add up to 80 accounts to your dashboard and manage them all in a single place. So, don't hesitate to add all your accounts and save a great deal of time managing multiple accounts. 
Now that you have successfully created your account on AiSchedul, it's time to start using the features and manage your accounts more intellectually.
1- Instagram Scheduler
At very first sight, AiSchedul is popular because of its amazing Instagram scheduler. Using this scheduler, you have the chance to:
Schedule posts and stories for free,

Search for multiple hashtags

and share them on your first post comment, 

Share your scheduled posts on stories as well, 

Delete the scheduled posts after a specific period of time automatically, 

Import photos via

Unsplash

instead of uploading them, 

And share posts on your multiple accounts simultaneously or with specific time differences to avoid being blocked by Instagram. 
To schedule or repost content using it, just open the scheduler tab on your dashboard and upload your contents, write down captions, and set the time and date.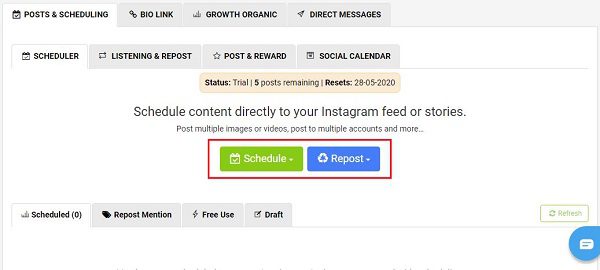 2- Listening & Repost App
Another amazing part of AiSchedul that will help you with your marketing goals is the Instagram monitoring app. Using the features of the "Listening & Repost" section, you will be provided with the chance to: 
Track and monitor multiple Instagram hashtags, 

Monitor your competitors' activities and see their latest posts without following them, 

Find and manage all your Instagram mentions

and repost them directly on your accounts if needed, 

And save the photos and videos you like and categorize them to check or repost them later.

3- Run Automatic Giveaway Contests
As you may already know, if you are building a brand on Instagram and want to grow your business in a short period of time, Instagram giveaway contests can really help you boost your followers in 1-2 weeks. However, running Instagram giveaways, setting rules, tracking the users' actions, and picking the contest winner takes a great deal of time. 
AiSchedul has a solution for this. Using the "Post & Reward" app, you can automate your Instagram giveaway contests and save your time. 

4- Social Calendar
And finally, the last option that will help you manage your content intellectually and share high-quality and creative posts on your account is the Instagram content calendar. Using this content calendar, you'll know about all special events, see the latest posts about a specific date, and you can repost the content on your own account.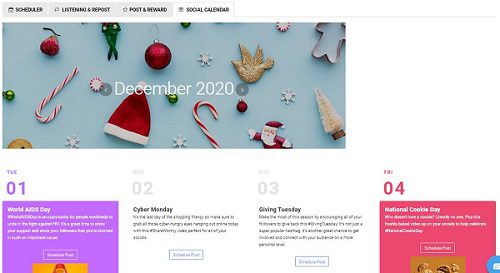 AiSchedul Pricing 
There are 3 different plans offered by AiSchedul. As you can see in the image below, there's a plan that is free forever, and using this one you can schedule at most 5 posts per month and automate giveaway contests once a month. However, if you want to have unlimited access to these intriguing features, I recommend you to purchase the Pro package. This one is just $19 per month.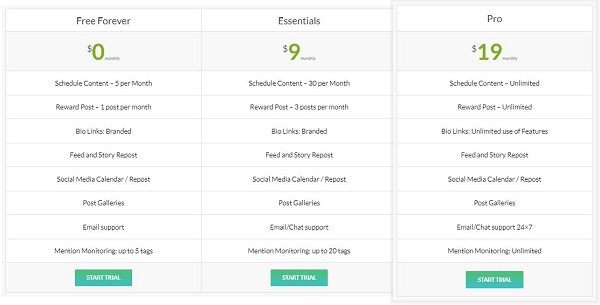 AiSchedul Pros and Cons
Well, as we discussed in the previous sections, this platform has many amazing features. But if I want to compare it to similar platforms, I can say that it is way better than its alternatives because: 
It offers a plan that is totally free forever, 

You can add up to 80 accounts to your dashboard without extra charge, 

It has the most complete package of apps and tools to manage your Instagram posts and stories, 

There's no need to download and install any apps to use and can be used on Windows, macOS, Linux, Android, iOS, and other operating systems just by opening a web browser;

And it is integrated with amazing growth, DM, and bio-link tools. 
And if I want to mention some of its demerits, I may just say that: 
It has a poor UI/UX design.
So, the pros definitely outweigh the cons and it's worth trying. 
Bottom Line
When running a business on Instagram, you have to keep track of many activities and manage your time when publishing content, engaging with your audiences, and managing multiple accounts. So, to avoid making mistakes or missing the best time to post on Instagram, we recommend you to use an Instagram scheduler and automate as many tasks as you can. Here, we reviewed AiSchedul, one of the best Instagram schedulers out there. Read the article carefully and sign up for free right now.