Managing a business account on Instagram and keeping track of every single message you receive takes a great deal of time. Instagram archive messages feature provides a smart way to declutter your inbox while preserving important conversations.
Sometimes you have to find your Instagram archived messages and read your old conversations. What can you do in these cases? Instagram Archive Messages feature is especially handy when you want to keep certain chats out of the main chat list.
You might wonder how to archive Instagram messages. Can you do it through the official Instagram archive messages, or need to get a hand from the best Instagram DM apps on the market?
In this comprehensive guide, we'll delve into various aspects of Instagram archive messages, including how to archive Instagram messages, recover deleted ones, and optimize your DM messaging experience. This also helps you find the best way possible to access your archived messages on Instagram, hide or unhide conversations, and more.
💥Note: If you're looking to archive your Instagram messages and avoid any delays swiftly, we recommend utilizing the AiGrow managed-DM package. This package facilitates the seamless connection of your DMs to your email for effortless archiving.
What Does Archive Mean on Instagram Messages?
Introduced in 2017, the Instagram archive feature opened new doors to Instagrammers all around the world. Using this feature, you can now hide photos and videos from your feed without having to delete them permanently.
When you archive Instagram posts or stories, only you can have access to it, and it'll be invisible to your followers. So, what about archiving Instagram messages? What do you think? Can you archive Instagram messages?
Actually, it's one of the Instagram archive shortcomings! While this is an awesome feature, it's fair to say that it's incomplete. Unlike Facebook or WhatsApp, you can't archive Instagram messages using the official Instagram app.
So, what are you supposed to do with your confidential chats then? What if they fall into the wrong hands? Keep reading to find out!
Can You Archive Instagram Messages?
Many users often wonder, 'Can I archive Instagram messages?' Although an official Instagram Archive Messages feature doesn't exist, there are alternative methods to achieve this task: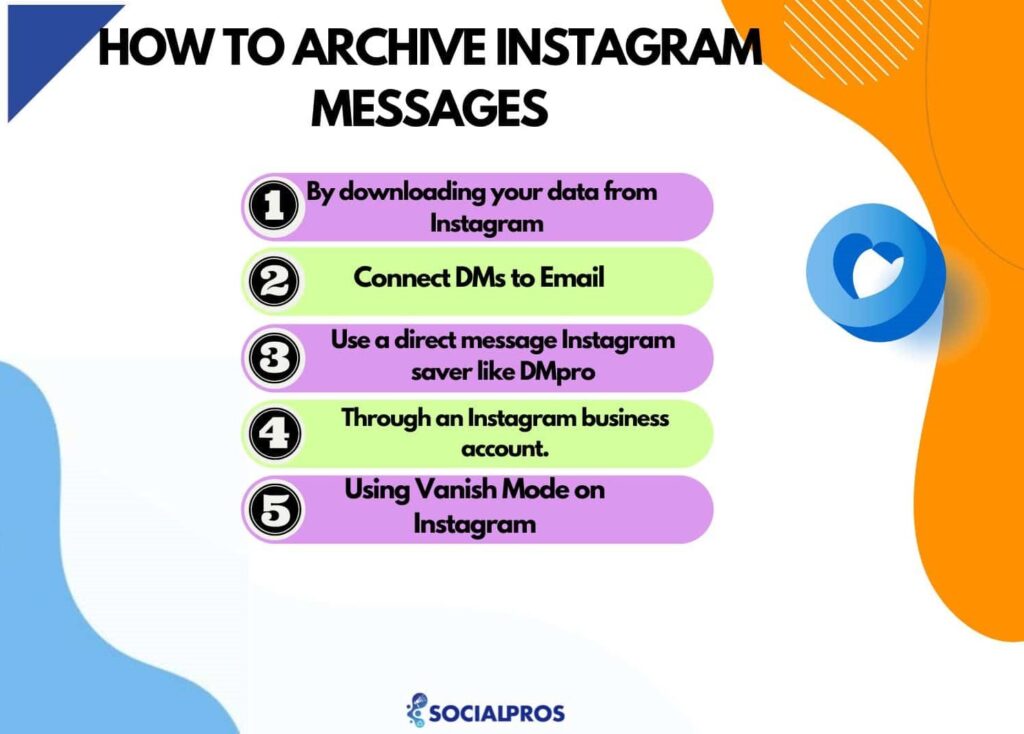 Why Archiving Instagram Messages?
You may ask, what is the point of archiving text messages? Archiving messages on Instagram is a useful feature that allows you to organize your messages without permanently deleting them.
You can archive IG messages to manage your DMs better, especially when you use a joint Instagram account or enlist the services of an Instagram manager.
This can be incredibly helpful for various reasons:
Privacy: Archiving lets you keep certain conversations private without the need to delete them entirely.
Storage Management: By archiving messages, you can free up space on your device without losing valuable chats.
Temporary Removal: If you have a group chat that's currently inactive, archiving it temporarily removes it from your main chat list.
Decluttering: Archiving messages helps in keeping your main chat list uncluttered by moving less important conversations to a separate section.
Efficient Management: For those using joint Instagram accounts or managing multiple accounts, archiving helps in streamlining message organization.
Now let's see how to archive Instagram messages.
How to Archive Instagram Messages
As mentioned, sometimes you may need to archive Instagram messages, especially when you wish to add an admin to a shared business account. Unluckily, the official app has no feature called 'Instagram archive messages,' and hence, you can't archive your old messages to better manage your DMs.
But hopefully, there are 3 ways to make an archive of your DMs and protect them all in a safer place like your computer, backup drive, or even email inbox. Let's see how to do it!
#1 How to Archive Instagram Messages by Downloading Instagram Data
One way to archive Instagram messages without using any third parties is to download your Instagram data. Actually, in this way, you receive all your data, including DMs, comments, posts, etc. If you prefer not to use any third parties at all, this can be a great way.
Note that currently, the option to obtain your data from messages that are end-to-end encrypted is solely accessible through a computer. If you have enabled secure storage on Instagram, you have the capability to download a duplicate of all your end-to-end encrypted messages whenever you wish.
Your data contained within end-to-end encrypted messages encompasses:
Instagram direct conversations you've engaged in with others encompassing both sent and received messages.
Associated attachments like files, images, and various media that have been sent and received.
How to Download Data from Instagram
If you want to know how to save pictures from Instagram or how to save Instagram voice messages, knowing how to download data from Instagram is helpful. This is a good way how to see archived chats on Instagram too. For downloading your data from the secure storage:
Tap on the menu situated in the lower-left corner, followed by selecting 'Your Activity.'
Proceed by clicking on 'Download End-to-end Encrypted Data' at the page's bottom, then move to the next step.
If your device lacks authentication, you might be required to input your PIN.
Key in your Instagram account password, then click on 'Request download.'
The download process will take place in your browser after your file is ready for retrieval.
After a few hours, Instagram sends you a huge compressed file containing all your DMs. Opening the 'Messages.json' file, you can access all your DMs and even search among them.
However, this way has some disadvantages:
Each time you want to access your Instagram archive messages, you have to follow the same path and Instagram sends you all the data from when you created your account, not from the last time you got a backup.
Storing all the files you receive takes a great space.
And finding the information you need from the files you received is not that easy.

Does Instagram Save Deleted Messages?
When you delete or unsend Instagram messages, the platform does not store or include those specific messages in the downloaded data file. However, it's important to note that if IG messages disappear due to reasons other than deletion, such as technical glitches, they may still be included in the Instagram data file that you download.
So, if you ask, are Instagram messages deleted forever? The answer is affirmative. Instagram will indeed erase messages that you delete or choose to unsend, and these messages will not be archived.
#2 How to Archive Chats on Instagram by Connecting DMs to Email
Luckily, there's a better way to archive Instagram messages: connecting Instagram DMs to your email inbox! Well, this is not something that you can do using the official Instagram features. However, by using a safe and secure third party like AiGrow, you don't have to worry about it.
AiGrow is an Instagram management service that allows you to grow organically on Instagram and manage all your tasks in a more organized way.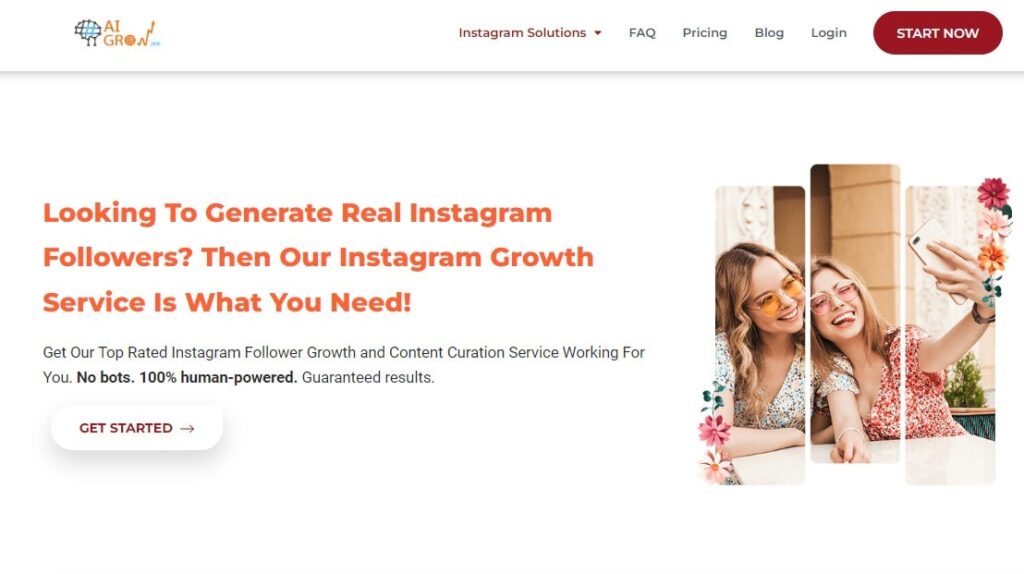 Using this super amazing tool, you can connect your DMs to your email inbox and manage your DMs without checking your Instagram. All you have to do is to sign up for free, go to the 'DM to Email' section and connect to your DM inbox. Then, each time you receive a message on Instagram, you'll get an email containing your DMs. So, you are able to:
Reply to DMs by replying to emails,
Marking messages as unread,
Filter your messages by sender,
And also archive Instagram messages.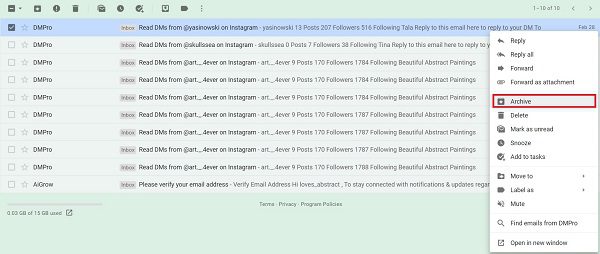 So, take your Instagram DM game to the next level with AiGrow's Managed DM Service! Using AiGrow managed DM package; you can better manage your old messages, easily see archived messages and focus on building meaningful connections with your audience!
Want to know more about AiGrow? Read this AiGrow review.
#3 Save Instagram DMs by DMpro Direct Message Instagram Saver
Tired of worrying about the security of your Instagram DMs and the potential loss of precious photos or videos from friends? Whether you're a business owner leveraging Instagram for marketing or a content creator striving to stay connected with your audience, fret not about missing important DMs.
All you require is a dependable Instagram DM saver to effortlessly download and safeguard your messages, images, and videos. DMpro provides the Finest Instagram DM saver for users.
Additionally, if you wonder how to see archived messages on Instagram, DMpro lets you easily access your old conversation, search through them and find special DMs.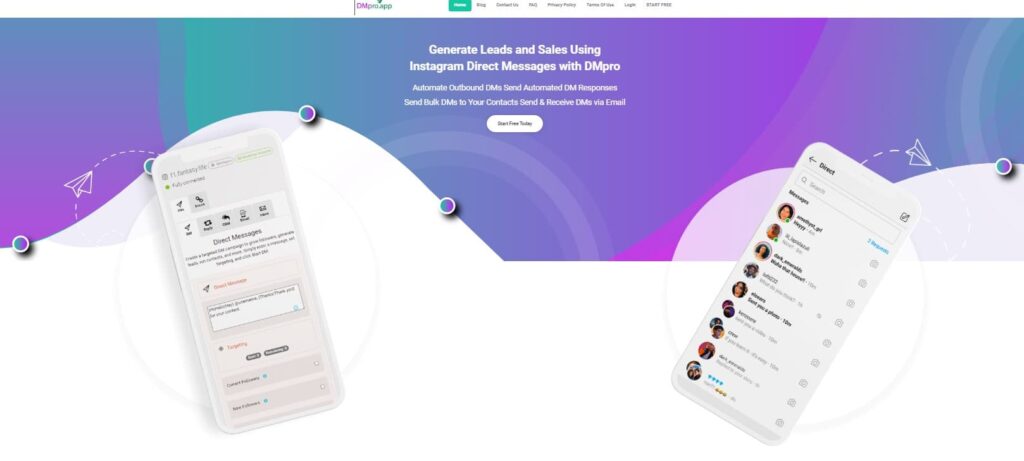 Meet DMpro, your ultimate ally in managing IG direct messages, and not just that – it excels as a reliable Instagram DM saver. With DMpro, the potential to enhance your business through Instagram's direct messages becomes a reality.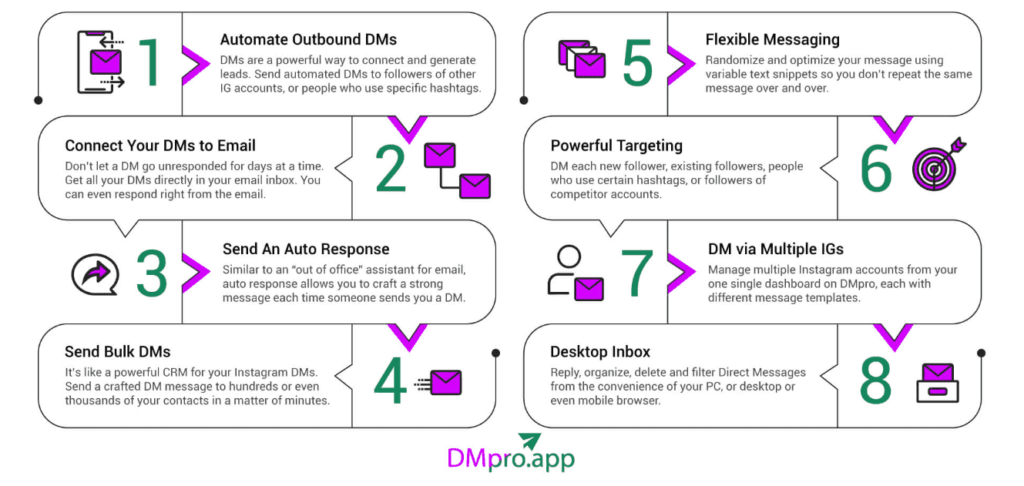 DMpro Instagram DM Downloader is a seamless method to download Instagram direct messages directly to your email. Moreover, DMpro's safety measures ensure that your messages are tailored to prevent any inadvertent sending of spam messages on Instagram. So, What are you waiting for?
With DMpro as your top choice for an Instagram DM saver, you unlock an array of features designed to enhance your messaging experience and transform your Instagram direct messages into a potent marketing tool. Don't miss out on this opportunity – join DMpro and take your Instagram communication to the next level.
How to Archive Instagram Messages [Indirect Ways]
We've already discussed the most simple ways you can use to archive your messages for later use. Let us now learn about two more ways that do the trick, however, in a more complicated way.
#4 How to Archive Chats on Instagram Through Instagram Business Account
Here's an interesting yet complicated one! Imagine you and your friends have a secret chat and you don't want anyone to know about it. By switching to a professional account, you can safely archive your messages and view them later on.
Take the steps below to find out how to archive chats in Instagram DMs.
First, you need to switch to a business account. To do so:
Go to your profile and tap on the three lines in the upper right corner of your screen,
Tap on 'Settings,'
Tap on 'Account',
Scroll down and select 'switch to professional account.'
Now, it's time to archive Instagram messages. To do so:
Go to your direct messages,
Tap and hold the chat you'd like to make invisible,
And select 'move to general.'
Now, all you need to do is to switch back to a personal account to finish the process.
In order to switch back to a personal account:
Tap on the three bars on the upper right corner of your page again,
Tap on 'Settings,'
Select 'switch account type,'
And choose 'switch to a personal account.'
And that's how to archive Instagram messages using business accounts. Now, you won't be able to see your archived chat in your DM inbox anymore. And neither can your snoopers! However, this approach is rather a time-consuming one.
If you wish to accelerate the process, sign up on AiGrow; the most advanced Instagram tool.
Pro Tip: If you're curious to know how to see archived messages on Instagram after using this method, simply switch back to an Instagram professional account after the threat is gone!
#5 How to Archive an Instagram Chat Using Vanish Mode
You've definitely heard 'prevention is better than cure.' Why not stop such situations from happening rather than having to deal with them afterward? Well, vanish mode on Instagram is the prevention here!
By using this feature, you can engage in private conversations with your chat buddy in the first place. Messages exchanged in vanish mode will not be visible in the regular chat box.
Wondering how to archive messages on Instagram using the vanish mode feature? Follow the instructions below:
First, go to your DM inbox,
Then, open the chat you'd like to hide from your regular DM inbox,
Next, swipe up to turn on vanish mode on Instagram,
Finally, when you're done chatting, simply swipe up once again to go back to your regular chat box.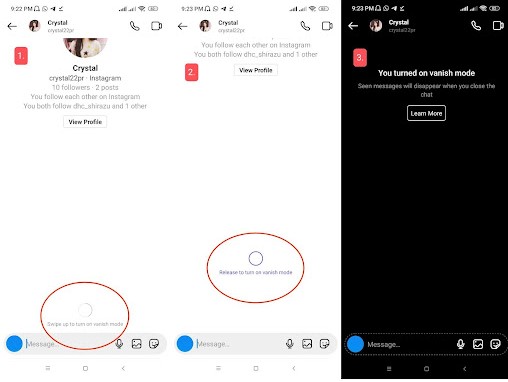 This is also how to hide Instagram conversations.
Pro Tip: The messages sent in vanish mode will only remain there for a short while. Therefore, if you wish to archive Instagram chats and keep them for good, try other methods mentioned earlier in this article.
How to Hide a Conversation on Instagram without Deleting It
No matter if you are managing a personal account or a business one, Instagram doesn't have any official features to hide or unhide messages. However, there are some ways to remove conversations from your inbox without deleting them permanently. Keep on reading to find'em out.
Restrict the Sender
If you want to hide a chat from your DM inbox temporarily, restricting the sender can be an amazing option. Actually, when you restrict someone on Instagram,
So, to hide a conversation on Instagram, open the sender's profile and then:
Tap on the three dots icon on the top right corner of the screen,
Tap on the 'Restrict' button,
And confirm your restriction.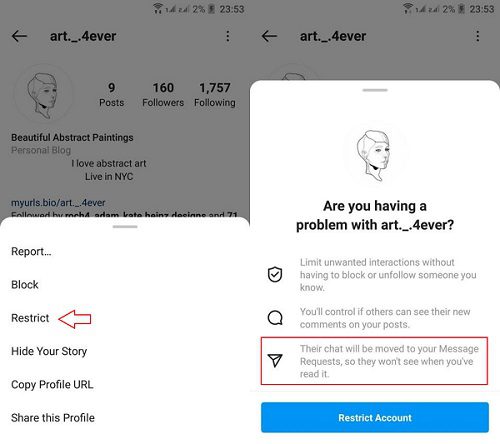 That's All! Whenever you need to access their DMs, just go to your Instagram message requests and unrestrict them.
By the way, note that this way, you just move them to the requests, and people who access your inbox can still check these messages. So, jump into the next section for a better solution.
Forward DMs to Email and Delete the Chat on Instagram
In the previous sections, I told you how to connect DMs to your email inbox to archive messages. Well, the truth is that when you do this, your messages will not be deleted from your email inbox unless you delete the emails. So, a good way to hide Instagram DMs is to keep the emails containing them and delete the original conversation from Instagram.
This way, you can perfectly protect your messages from other account managers. So, sign up for free on AiGrow and connect DMs to your email.
How to See Hidden Direct Messages on Instagram
It may happen that you receive a DM notification on Instagram, but when you check your DM inbox, you see no direct messages! Why does this happen?
Well, at first, you might think that this is an Instagram DM glitch, but this is not the only reason for not seeing any messages. There are two other potential reasons as well:
You've just received a new message request,
The sender of the message has removed it!
In the first case, you can access your hidden DM from the 'Request' part: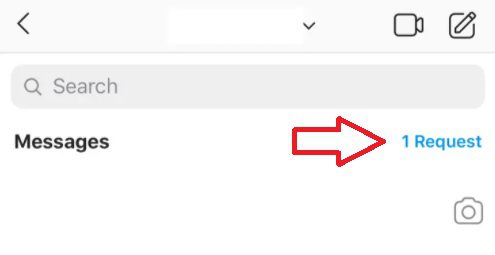 But when the second case happens, you have to use a third-party app like AiGrow to read the unsend messages through your email inbox.
Final Words on Instagram Archive Messages
To wrap it up, Instagram doesn't have any official features to help you archive messages or manage old conversations in an organized way. But there's no need to worry! Here, we taught you how to archive Instagram messages, hide them, and manage them easily.
However, if you don't have the time to go through all those steps, sign up on AiGrow right now to archive your Instagram messages effortlessly and hassle-free! 100% guaranteed!
FAQs
Thus far, we've provided you with an all-inclusive guide on how to archive chats on Instagram. Now, let's go over some of your frequently asked questions.
Q1. Can I Archive Instagram Messages?
Basically, there's no direct way for you to archive IG messages. Instagram has not activated the archive feature for DMs yet. However, you can use some indirect ways such as using an all-in-one app like AiGrow to help you get the job done.
We have vehemently covered all the methods you can use to archive your chat in Instagram direct messages. Therefore, make sure to read this article meticulously to find the answer.
Q2. What Happens When You Archive a Post on Instagram?
Instagram archive feature allows you to hide your photos and videos from your IG profile. When you archive a post, all its likes and comments will be kept. The only thing that happens is that it'll be removed from your profile, and transferred to your archived folder.
Q3. Why do my DMs not Appear in My Data?
If specific DMs are missing from your downloaded Instagram data, it could be due to you unsending them. If you did so, these messages were removed from the platform and might not be included in your data download.
Q4. Can I Retrieve Messages I Archived a Year Ago?
Yes, archived messages remain accessible unless you choose to delete them permanently.
Q5. Do Instagram Messages Have a Storage Limit?
There's no official storage limit for messages, but excessive messages might affect app performance.
Q6. Can I Archive Group Chats?
Yes, you can archive both one-on-one and group chats for better organization.