Instagram messages disappearing is a common issue that users have been experiencing. This problem occurs when messages suddenly vanish from the chat history, making it difficult for users to retrieve or reference previous conversations. The disappearing messages issue can be frustrating, especially when important information or conversations are lost. It can disrupt communication and cause confusion between users.
There are a few possible reasons for this problem. Also, you can use a reliable Instagram DM app to help you avoid Instagram messages disappearing; DMpro is definitely worth considering. Its ability to preserve your conversations and its other useful features can greatly enhance your Instagram messaging experience.
In this article, we will help you find the reasons and solutions for the disappearance of Instagram messages.
Are You Interested in Using Instagram Direct Messages to Generate More Leads and Sales?
Why Are My Messages Disappearing?
Imagine you're talking to someone on Instagram, and you step away from the conversation for a bit. Then, when you open the app again to check for new messages, you'll notice Instagram messages disappear. Everyone who uses Instagram might be affected by this problem.
The mystery, though, is what happened to a particular Instagram direct message. Also, some users even experienced Facebook messages disappearing. Several factors are at play here, some of which we will address below.
Also, we suggest you use the DMPro service. The service aims to help users manage their Instagram direct messages (DMs) more efficiently. It offers several features to help you avoid common problems with managing DMs. We will talk more about this effective Instagram Dm marketing tool in the coming sections.
Instagram Message Disappeared-Vanish Mode
Disappearing messages, or "vanish mode Instagram", is a fantastic feature for those who want to know how to make messages disappear on Instagram. Messages mentioning Texas, images, or videos are the ones that mysteriously vanish.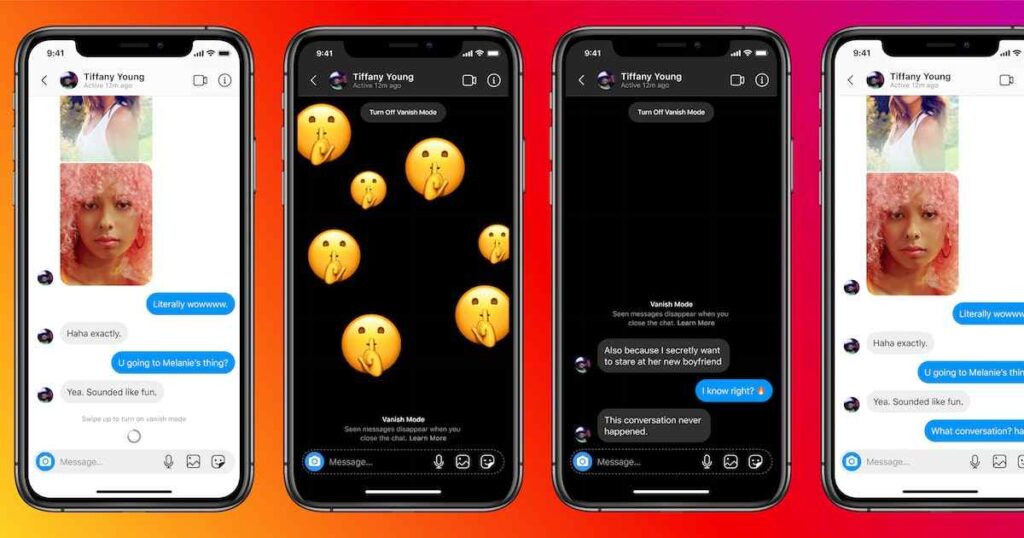 You might face this question; why do photos disappear from Instagram messages? When Instagram's vanish mode is activated, all conversation history and the inability to access the related photo or video are deleted. However, there are so many ways to know how to get rid of vanish mode on Instagram.
Instagram Messages Disappear Due To Unsending Messages
The sender may have unsent the message(s) if you realise that one or more of the messages you have received (but not sent) have vanished. Let's say you wrote a message to someone you later came to regret, but you don't want to cut ties with them or delete your account completely.
If you change your mind about sending such messages, you can always delete them. It's also worth noting that you can always resend a message but can't remove them all at once.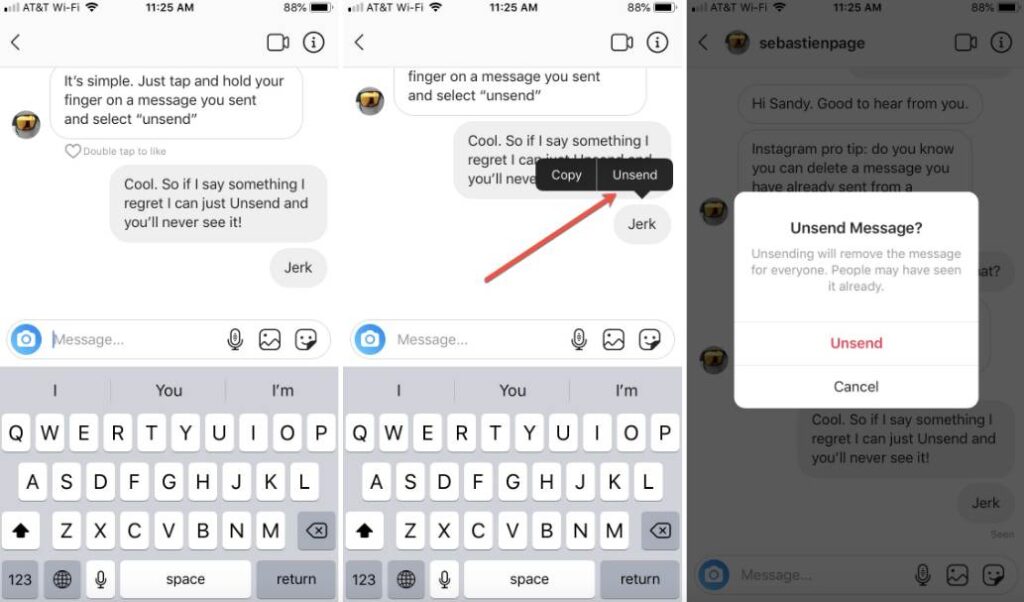 Therefore, if you find that all of a person's communications have vanished, but your own are still visible, and that person has not blocked you, they likely have unsent the messages.
Read More: Instagram Message Recovery Tools
Text Message Disappeared Because Instagram User Has Blocked You
If the person you were communicating with on Instagram suddenly stops responding to your direct messages, it may be because they have blocked you. This is one of Instagram's principles designed to keep users' personal information secure whenever they want.
When a user blocks another, they are locked out of their direct messages and group conversations. As a result, you won't be able to see the thread in your direct messages inbox if the other party has blocked you or if you have blocked them.
Read More: How to Recognize and Stop Instagram Spam Messages?
Disappearing Message Instagram Due to Deactivated Instagram App
If you deactivate your account, no one will be able to see your profile, follow or unfollow you, or contact you in any way. Despite this, old Instagram posts remain viewable. You won't see the user's real name, but you can track down their chat thread by looking for their "Instagrammer" id.
Thus, you may access their communications even if a friend deletes their account. This shows that the messages are not lost and can still be accessed.
Messenger Messages Disappeared Due to Internet Connection
A weak or unstable internet connection can cause Instagram messages disappear problem. When the connection is interrupted or slow, the app may struggle to recover the disappearing text messages android from the server. This can be particularly frustrating if the messages were not fully downloaded before the connection issue occurred.
It is advisable to check the internet connection and ensure it is stable and strong. Restarting the device or switching to a different network, such as Wi-Fi or mobile data, may help resolve the issue.
Additionally, updating the Instagram app to the latest version and clearing the app cache can also improve the app's performance and reduce the likelihood of text messages disappearing problem due to internet connection problems.
Server Issues for Instagram Messages Disappear Error
When Instagram's servers experience problems or undergo maintenance, it can cause Instagram messages disappear issue. As a result, users may see iPhone text messages disappeared issue until the problem is resolved.
During server issues, users may encounter Instagram messages disappear errors, delays in sending or receiving messages, or an inability to access their message inbox altogether. This can be frustrating for users who rely on Instagram for communication purposes.
However, it is important to note that server issues are usually temporary, and Instagram's technical team works diligently to resolve them as quickly as possible. In such situations, it is advisable to be patient and wait for the server issues to be resolved. Users can also check Instagram's official social media accounts or website for any updates regarding the ongoing server problems.
What Causes Instagram Messages Disappear After Refreshing?
Instagram messages are not saved on your phone permanently. When you pull down the notification screen in Instagram, the app checks with the server for any new messages and shows them on your cell phone; if you haven't stored the messages you've received in the past on your smartphone, you may clear the screen.
Additionally, Instagram features a "Vanish Mode" that lets you send messages that vanish once the receiver has viewed them or after you exit the conversation. You may switch this feature on and off for private conversations as needed. When Vanish Mode has been activated, messages in a conversation will vanish once the conversation is refreshed.
Instagram Chat Disappeared but Not Blocked
If an Instagram chat suddenly disappears and neither party has blocked either of you, a few things may have occurred.
Disappearing message Instagram due to technical problems: Chats may sometimes vanish on Instagram as a result of technical difficulties. If the text message disappeared after you log out, try signing back in.
Instagram messages disappear error due to Deleting: If the other party deletes the Instagram message, it won't appear in your inbox, and you will see Instagram chat disappeared but not blocked.
Instagram disappearing message due to archiving: If you unintentionally archived the conversation, it will not display in your inbox but may be accessed in your archived messages.
Disappearing messages Instagram due to privacy settings: Your discussion with the other party may no longer be available to them, and they may face Instagram messages disappear issue if they've altered their privacy settings to prevent messages from non-followers or non-mutuals.
Instagram Message Request Disappeared? Here Is Why
If you're wondering, "Where did my message request go?" you're not alone. There are just a few responses for you:
The recipient removed their reply.
The other party has blocked you.
The account of the other party has been disabled.
Due to your compliance with the DM sender's request, the message has been transferred to your inbox.
How To Fix Instagram Messages Disappear Problem?
If you're experiencing issues with Instagram messages disappear probelem, here are a few troubleshooting steps you can try:
Update the Instagram app: Make sure you have the latest version of the Instagram app installed on your device. Developers often release updates to fix bugs and improve app performance.
Restart the app: Close the Instagram app completely and then reopen it. This can help refresh the app and resolve minor glitches.
Check your internet connection: Ensure that you have a stable internet connection. Poor connectivity can cause messages not to load properly or disappear.
Clear app cache (Android): If you're using an Android device, you can clear the app cache. Go to your device's Settings, find the Apps or Application Manager section, locate Instagram, and tap "Clear Cache." This can help resolve any temporary data issues.
Reinstall the app: If the problem persists, you can try uninstalling the Instagram app and then reinstalling it. This can help fix any corrupted files or settings.
Contact Instagram Support: If none of the above steps works, you can contact Instagram's support team for further assistance. They can provide specific guidance or investigate the issue on their end.
DMPro: Your Ultimate Manual DM Marketing Solution
Are you looking to take your direct message (DM) marketing to the next level? Look no further! DMpro's service is here to revolutionise how you engage with your audience through direct messaging on various platforms.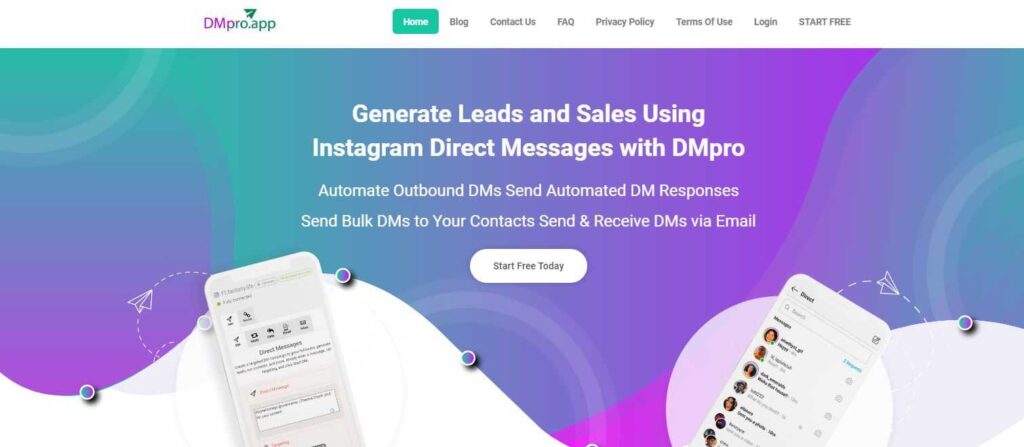 Our commitment to a manual approach sets DMpro apart from other automated DM marketing services. We understand the importance of personalised communication and its impact on building meaningful connections with your customers. That's why our expert marketers will handle your DM campaigns with utmost care and attention to detail.
Sign up now and get instant access to the DMpro service.
DMpro Features and Benefits
Personalised Messaging: Our skilled marketers will craft tailored messages that resonate with your target audience. By understanding your brand and target market, we ensure each DM is unique and relevant, increasing the chances of conversion.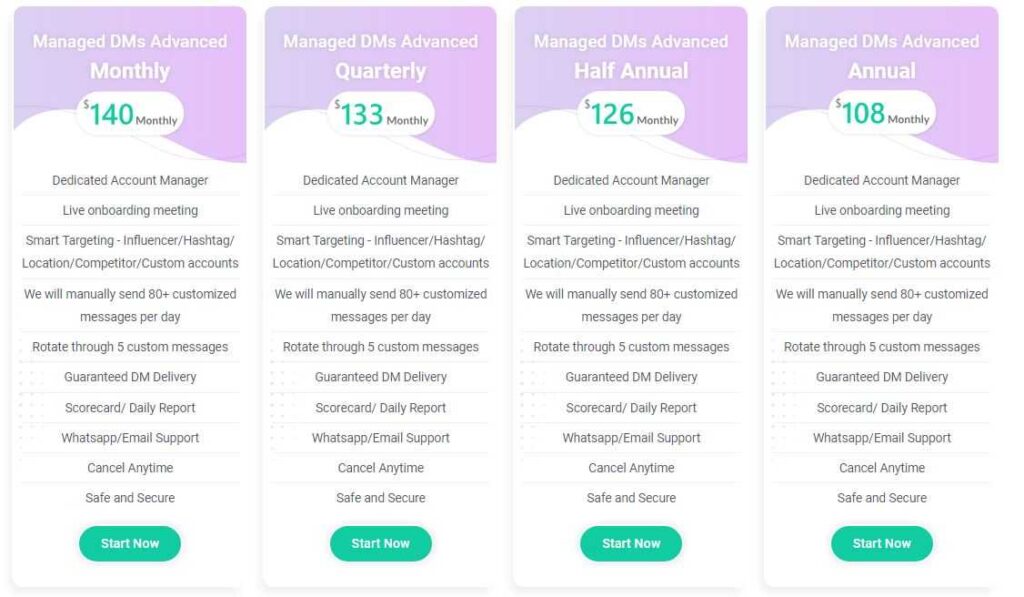 Human Touch: Unlike automated services, DMpro adds a human touch to your DM marketing. Our team will engage in real-time conversations, respond to queries, address concerns, and build relationships on your behalf. This personal touch helps establish trust and loyalty among your customers.
Customized Strategies: We believe in a customised approach to DM marketing. Our team will work closely with you to understand your goals, analyse your audience, and develop strategies that align with your brand's voice and objectives. This tailored approach ensures maximum effectiveness and ROI.
Analytics and Reporting: We provide detailed analytics and reports to track the performance of your DM campaigns. From open rates to click-through rates, we offer valuable insights that help you optimise your messaging and achieve better results.
Schedule Your Walk-Through Session Now
Why Should You Choose DMpro Service?
At DMpro, we prioritise quality over quantity. Our team reviews each DM before sending it out, ensuring the content is error-free, engaging, and aligned with your brand guidelines. We take pride in delivering high-quality messages that leave a lasting impression.
Also, DMproadheres to strict privacy policies and ensures compliance with platform guidelines. Your data and customer information are handled securely, giving you peace of mind.
Don't let your DM marketing efforts go unnoticed. Choose DMpro and let our team of experts take care of your DM campaigns, ensuring personalised, engaging, and effective communication with your audience. Get ready to witness the power of manual DM marketing!
Visit our website or contact us today to learn more about how DMpro can transform your DM marketing strategy. Let's take your brand to new heights together!
FAQs
Q1: Do Instagram Messages Get Deleted Permanently?
Instagram, against popular belief, stores user information indefinitely. As a result, you shouldn't give up hope if you accidentally erase your Instagram direct messages. Instagram messages may be recovered for up to 48 hours after they've been sent.
Q2:If You Unfollow Someone on Instagram Will Your Messages Disappear?
No, unfollowing someone on Instagram does not delete or remove any messages or conversations you have had with that person. Unfollowing only means that their posts will no longer appear in your feed, but your messages and conversations will remain in your direct message inbox.
Q3: If I Deactivate Instagram Will My Messages Disappear?
If you deactivate your Instagram account, your messages will not be deleted. However, your account will become temporarily inaccessible, and your profile, photos, comments, and likes will be hidden from other users.
Q4: Why Did My Messages Disappear on Instagram?
Instagram occasionally experiences technical issues that can cause messages to disappear temporarily. In such cases, the messages usually reappear once the issue is resolved.
Q5: Do Voice Messages Disappear on Instagram?
Voice messages sent through Instagram Direct are typically stored in the chat history unless manually deleted by the user. However, please note that Instagram's features and policies may change over time, so it's always a good idea to refer to the most up-to-date information provided by Instagram itself.
Q6: Why Are My Text Messages Disappearing on Instagram?
Instagram frequently releases updates to improve the user experience and fix bugs. It's possible that a recent update caused some issues with the messaging feature, resulting in the Instagram messages disappear issue. Make sure you have the latest version of the app installed.
Q7: If You Block Someone on Instagram Will Your Messages Disappear?
If you block someone on Instagram, the messages you have exchanged with that person will not disappear from your own account. However, the blocked person will no longer be able to see the messages or contact you through Instagram.
Q8: Why Did My Old Instagram Messages Disappear?
Sometimes, after updating the Instagram app or due to a technical Instagram DM glitch, you may face an Instagram message disappear error. In such cases, restarting the app or reinstalling it can help resolve the issue.