Do you find yourself scrolling endlessly on Instagram, wasting time, and feeling distracted? Or maybe you're simply ready to move on and delete Instagram altogether.
So, do you know how to delete Instagram account?
Whatever the reason, deleting your Instagram account is simpler than you might think.
This article will walk you through the steps to delete your Instagram account quickly and easily.
Save Your Instagram Data before Deleting Your Account
Are you thinking of deleting your Instagram account? Before we explain how to delete Instagram account, you should save all of your important data first.
It's important to ensure you've saved all your data before learning how to delete your Instagram account. Doing so can help access your memories and posts if you ever decide to come back and create a new account.
Here's how to save your data before deleting your Instagram account. 
Before taking any action, make sure you download all the information associated with your profile. You can do this by following the steps below:
First, open your Instagram.
Now, tap on your profile picture in the bottom right to go to your profile.
Then, tap in the top right, then tapYour activity.
Tap Download your information.
Here, you should enter your Email address to receive a link to your data.
Finally, tap Request Download.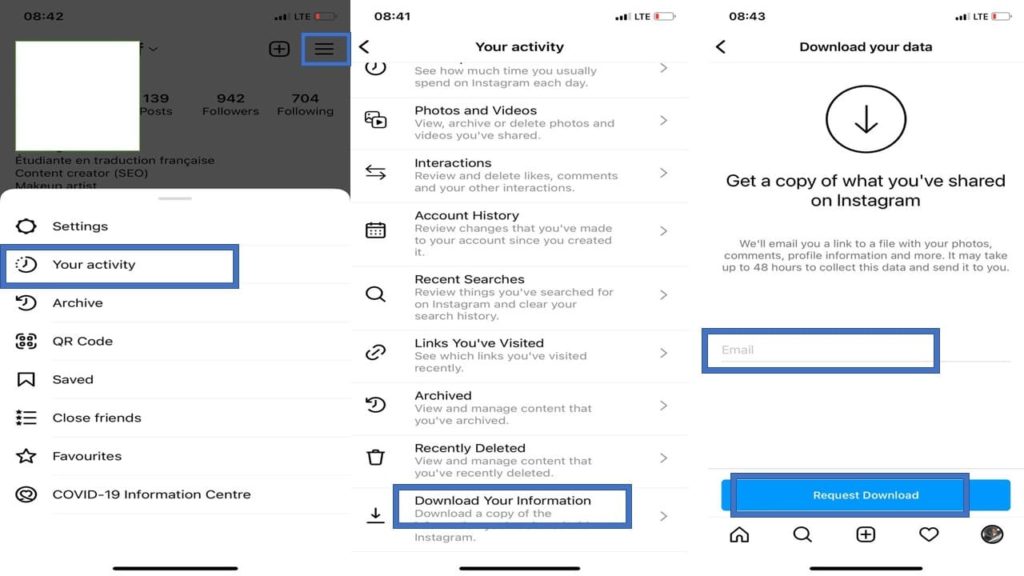 How to Delete Instagram Account Permanently
If you're wondering how to delete your Instagram account permanently, then the process is relatively simple. Whether you've had enough of the platform and need a break, or just want to start fresh with a more popular Instagram username, we have everything you need to know about getting rid of your Instagram profile for good.
But remember that you can just delete your Instagram account with the browser. Regarding users' questions' about how to delete an Instagram account on iPhone, we should mention that no matter if you have IOS or Android operating system, you should do it with your PC.
To do so, follow these step-by-step instructions:
First, log in to your Instagram account online. ( you can not do it from the app)

Once logged in, click on your profile picture at the top right corner of the page.
Then, tap on 'Edit Profile from the drop-down menu.'
Scroll down to the bottom of your profile and select 'Temporarily disable my account.'

There Instagram will be asked why you are disabling your account and will give you some options to choose from various listed reasons.
Re-enter your account password.

Click or tap Temporarily Disable Account.
This is how to delete Instagram account simply and permanently.
How to Reactivate Your Instagram Account
If you deactivate your Instagram account and want to reactive it, follow the steps below:
Open the Instagram app on your phone or launch it on your browser.
On the Instagram home screen, enter your login credentials.
Tap 'Login,' and your account will be restored.
If you change your mind about closing your account only minutes after you disable it, you'll have to wait approximately 24 hours before you can reactivate it again.
Instagram typically takes several hours to complete deactivation requests. Until the account is disabled, it won't be possible for you to reinstate it.
How to Delete Instagram without a Username or Password
Now, you should know how to delete your Instagram account without a username or password.
Also, it is necessary to know how to delete Instagram without a username or password if you've been hacked and want to protect your personal information.
Deleting your Instagram without a username or password is possible in just a few steps. 
The first step is:
Go onto the official Instagram page.
Locate the 'Delete Your Account' page within their Help Center. 
From there you'll need to select the reason why you're deleting your account.
Now, you should confirm it by entering your email address or phone number associated with that particular account. 
Once you submit this information, you should receive an email with further instructions on how to complete the account deletion process. 
It's important to keep in mind that once an Instagram account has been deleted, you can't reactive your Instagram account again. Therefore, make sure you back up your photos and videos beforehand.
Access Instagram without a Username/Password on Android or iPhone
Are you a user of Instagram and want to access your account without entering the username and password each time? Then, continue reading this section.
All of the users can access their Instagram accounts using their Google or Facebook credentials. This is done by accessing the 'Sign in With' option and selecting either Google or Facebook from the list of options available.
Doing so will allow users to log in automatically without entering any usernames or passwords into their devices every time they try to log in.
FAQs on 'How To Delete Instagram Account'
Last but not least, let's quickly answer the users' questions about the topic!
#1. How To Delete An Instagram Account On Android?
There is no difference between Android and IOS in terms of deleting Instagram accounts. You should sign up for your account via PC:
First, go to your profile and tap on 'Edit profile.'
Second, scroll down and click on 'Temporarily disable my account.'
Here, you should answer the questions and choose between options. 
Enter your password again. 
Click or tap Temporarily Disable Account.
#2. How To Delete Second Instagram Account?
It has the same structure. There is not any difference if you want to delete your first account, second, or third. You should use your Instagram on your desktop to delete your account.
#3. Why Is There no Delete Account Option On Instagram?
To delete your Instagram account, you have to access your Instagram through a web browser on a desktop. The option was not available within the app.
Conclusion – How to Delete Instagram Account
In conclusion, deleting an Instagram account is a serious decision; so it's important to know the potential risks and benefits of doing so.
With the new tips for 2023, you now have the information to make an educated decision about whether or not this is right for you.
If you decide that deleting your Instagram account is what's best for you, this guide has outlined all the steps to help make your transition a smooth one.